They say a picture speaks 1000 words. So how many words can an AI infographic speak?
I have long used Pinterest as a source of information when learning more about AI.
You can find a lot of interesting AI infographics using Pinterest as a source.
But not all infographics are created equal.
Don't worry though, I've summarised 10 of the best for you today.
We're covering a wide range of topics, so I know you're going to take something new from these graphics.
Let's dive on in to AI infographics!
Machine Learning Revenue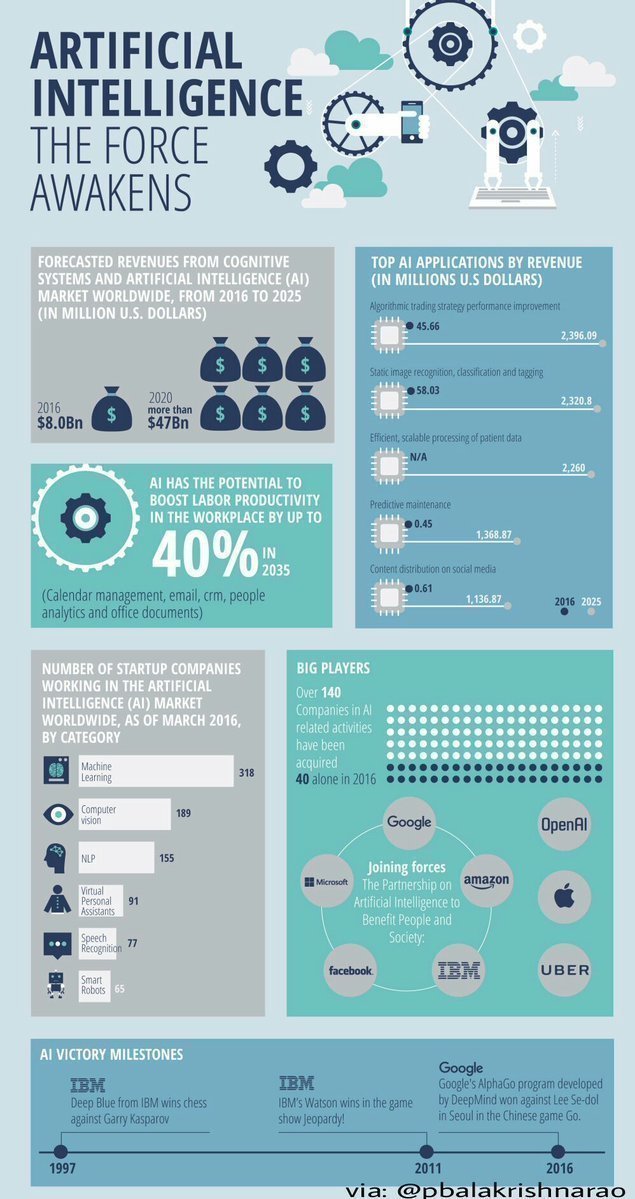 What covers: Revenues related to different machine learning techniques
What I like: The way they split out the various industries and how AI is used
Original website: Twitter
Internet of Things (IoT)
What covers: The impact of IoT
What I like: The fact that it covers the positive and negative aspects of IoT. Especially all of the accidental orders – it's fascinating!
Original website: Business 2 Community
History of Artificial Intelligence
What covers: The history of the development of Artificial Intelligence
What I like: Seeing how technology has developed from being proposed. It is especially interesting to see how quickly machine learning developed once the processing power required was achieved.
Original website: Big Cloud
Machine Learning Algorithms

What covers: The top machine learning algorithms used today
What I like: It helps you to prioritize which techniques to focus on when you start learning how to implement machine learning techniques.
Original website: Dezyre
Machine Learning in R

What covers: How to use machine learning in R
What I like: A lot of information about the different techniques you can use to implement machine learning in R. I love how useful this infographic is. You can learn a lot from it.
Original website: U Collection Infographics
Data Management
What covers: How data is being used, and the challenges of data management in business.
What I like: It covers the positives and negatives of data management on this infographic. You so often just hear about the positive side for business, it's interesting to see the challenges. Plus the colour scheme on this infographic looks excellent.
Original website: Pinterest
VR Technology
What covers: The use of VR technology
What I like: It's interesting to see a AI Infographic that goes deep into one topic. I love this infographic as you can learn a lot about the different uses of this exciting technology. In particular, I was interested to learn more about how it is used for city planning.
Original website: Raconteur
Security and Big Data
What covers: Securing big data
What I like: Data security is such an important topic. However, it can be very technical and confusing to understand at first glance. I love how this infographic pulls out the key points and makes it easy to understand.
Original website: pinimg
Big Data Banking
What covers: Big data in banking
What I like: The world of banking is a mystery to most of us. It is often seen as a challenge to understand, so it is interesting to see how bankers are using big data. It's great that this AI Infographic can lift the veil on how these companies are calculating those all-important banking metrics.
Original website:Startup digital business
Predictive Analysis
What covers: How predictive analysis is used
What I like: It is interesting to see the different applications of predictive analysis. This infographic features a variety of different visualizations that show you a lot of information in a small space. They really go deep in this AI Infographic to help you understand exactly where your skills as a data scientist can be applied.
Original website: Raconteur
What have we learnt?
So there you have 10 of the best AI Infographics on Pinterest.
My personal favorite is the one on the impact of IoT. I think it's refreshing to see the balance of the positive and negative of this technology as it becomes increasingly integrated with our homes.
I hope I have been able to show you how AI Infographics can help you understand some of the more complex aspects of AI quickly.
Pictures really are one of the best ways to ingest new information.
Want to see my attempts at infographics? Check out this article where I have included an infographic on how to start a machine learning career.
Which is your favourite? Let me know in the comments.
Ready to get started with Machine Learning Algorithms? Try the FREE Bootcamp
Love it? Pin it!