Looking for an honest Writesonic Review? Here we go. Content creation has become the bread and butter for every online business these days. As the competition is skyrocketing, it has become necessary for businesses to create unique and engaging content pieces on a daily basis.
No matter how many copywriters you hire, they can't match the speed and efficiency of an AI writing tool. Sure, these tools do come with their set of limitations. But they can be a massive time saver as they can speed up your content creation process and generate articles on the go.
Today, I'm going to review a highly popular AI tool called WriteSonic. I'll be covering all the important features and highlights of this powerful writing software.
If you are confused about whether it's worth putting your money into, give this article a good read. You will have your answer.
About WriteSonic
WriteSonic is an AI-based writing assistant that can create engaging and data-driven content in minutes. Or sometimes even seconds! Founded by Samanyou Garg in 2020, the company is headquartered in San Francisco, US. 
The force behind WriteSonic is the Generative Pre-trained Transformer (a.k.a GPT-3) technology. GPT-3 is an advanced language model that has been trained on billions of data sets and can generate human-like texts within seconds. It's a revolutionary technology of the present era.
Getting Started With Writesonic
Using Writesonic is pretty simple. As you log in to your account, you will see a library containing several writing templates. Some of them include-
Article Writer
Paragraph Writer
Facebook Ads
Content Rephrase
Product Descriptions
Instagram captions
Landing pages
Text Summary
You can choose your desired template. For example, let's take the Paragraph Writer template. When you click on this template, you will see a handful of options on the side-hand side.
Fill in these details. Type in your topic, enter targeted keywords, and select the tone of your choice. Now if you see at the bottom left side of your screen, you can choose the number of outputs you want to generate, and then click on the generate button. I have chosen 3 outputs, so when I click on the generate button, I will get 3 different results. I can choose the one that I find most suitable. If you're not satisfied with the given outputs, you can click on regenerate and get different results.
Similarly, you can click on other templates, enter a few details, and generate content within minutes.
1. User Interface
The User Interface of Writesonic is minimalistic and appealing to the eyes. The colors are soothing and the main screen has limited options, giving it a clutter-free look. You see a library featuring different use cases presented in a very organized manner. On the left panel, you see a few options such as saved files and bulk upload. Overall, the interface looks quite decent and is easy to understand for someone using the tool for the first one.
2. Templates
WriteSonic's library contains more than eighty templates supporting multiple use cases. They are classified under different categories – Articles and Blogs, Ads and Marketing Tools, General Writing, E-commerce, and Social Media, to name a few.
Recently, WriteSonic has added two new templates – ChatSonic and Make your own AI. These are the first two templates that will be shown to you when you open your dashboard. I have explained ChatSonic in a later section of this article.
The other one is the 'Make your own AI' template, where you can train the AI to write exactly what you want. It is an interesting addition. For example, I used this template to write a poem on motherhood. All I had to do was give it some context/background and write my instruction. You can see the results in the below screenshot.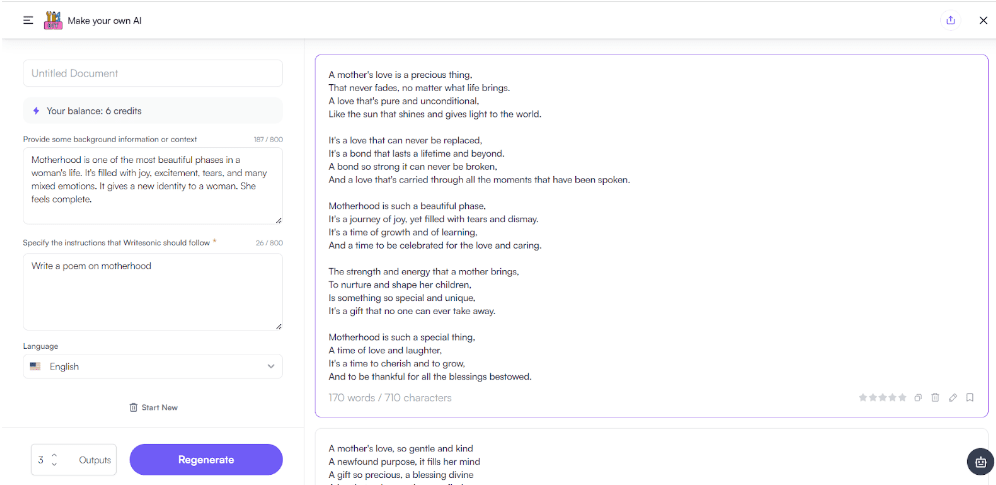 Some of its popular templates include
1. AI Article Writer
The Article tool helps in generating full-length articles and blogs through a step-by-step process. It involves 4 steps.
First, you have to provide the keywords for the topic you want to write about. The AI will analyze them and suggest 5 different topic ideas to choose from.
Once you choose a suitable topic for your blog post, it will then generate introduction paragraphs in the second stage. Note that you can select the number of outputs you want for each stage. In case you are not satisfied with any of the outputs, you can generate more outputs.
In the third stage, you need to select your blog outline. Based on your previous selections and inputs, the tool will suggest you multiple outlines. Each outline will contain several headings or sections that will be covered in your blog post. You can choose the one that you find most suitable.
At last, the AI will generate your entire article. It will take a few seconds to study all the inputs and then create the article for you. The quality of the article will heavily depend on the kind of input you have provided at each stage. So if your inputs are clear and specific, the result will be pretty much good.
2. Paragraph Writer
The Paragraph tool is one of the most impressive features of WriteSonic. It can generate an entire paragraph for you by using just one sentence. You just have to write a single sentence to give the AI some background for the content. The AI is smart enough to understand the context of your sentence and will give you complete information based on that. I have tried it many times and it has worked almost always.
3. Instant Article Writer
The instant article writer is a great feature if you have bulk requirements for blog post creation. It helps you create articles with just a single click. All you have to do is – be as precise as possible with the title. And click on generate. That's it! Within seconds, you will have your article ready. It's a really handy tool when you are loaded with work and want to get instant results.
4. Email
If you work in the corporate space, sending out emails is a routine task. If you're an email marketer, it's crucial to write compelling and professional-looking emails to attract leads and customers. With the help of AI, you can create emails on the go. To generate an email copy, you have to enter the receipt's details and briefly describe what you want to convey. It will only take a few seconds for the AI to generate the entire email body for you.
Other Templates include
Facebook Ads
Google Ads
LinkedIn Ads
Product Description
Landing Page
Article Rewriter
AI Article Ideas
Text Extender
Content Rephrase
Conclusion Writer
And many more
3. WriteSonic Key Features
Let's have a deep look at WriteSonic's Key Features
1. Photosonic
Photosonic is an AI-based art generator of Writesonic. It's an image-to-text converter that can produce high-quality images based on your text inputs. To create your desired image, all you have to do is provide the AI with a brief description of the image that's on your mind.
It doesn't take more than a few seconds to generate the image. Remember that the quality of the image depends on your input. The more precise your input, the better the output.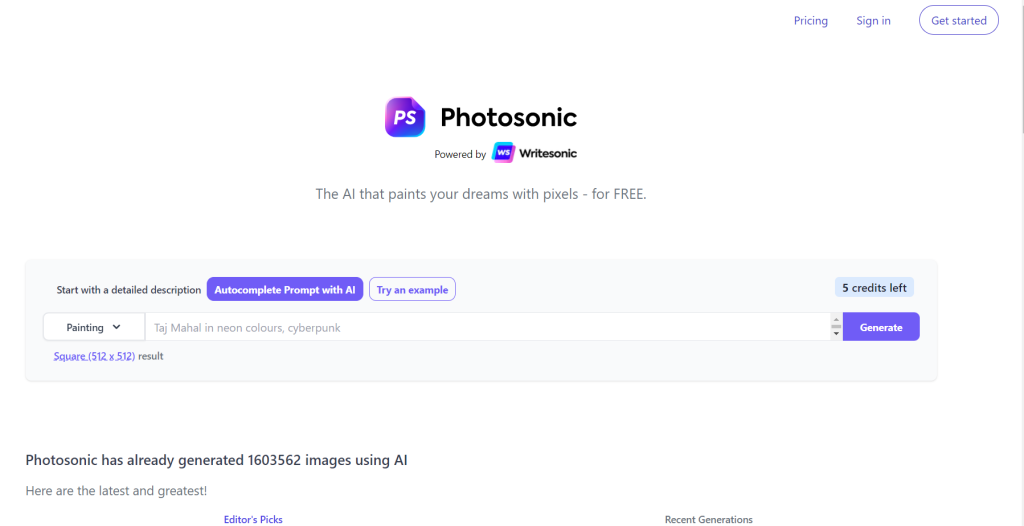 With Photosonic, you can create any kind of image, be it paintings, animations, graphics, logos, portraits, cartoons, realistic photographs, and much more. You can be as creative as you want with your description. And wait for the AI to do its magic.
One good thing about Photosonic is that it is not an add-on feature of Writesonic. So you don't have to pay separately for it.
2. ChatSonic
Chatsonic is one of the latest additions to Writesonic. It is essentially a conversational chatbot, just like Chatgpt. Chatsonic is one of the most dynamic tools powered by AI which you can use to get answers to your questions and generate content and images by providing a topic. If you have used Chatgpt, you will understand this tool quickly. It works in the same way.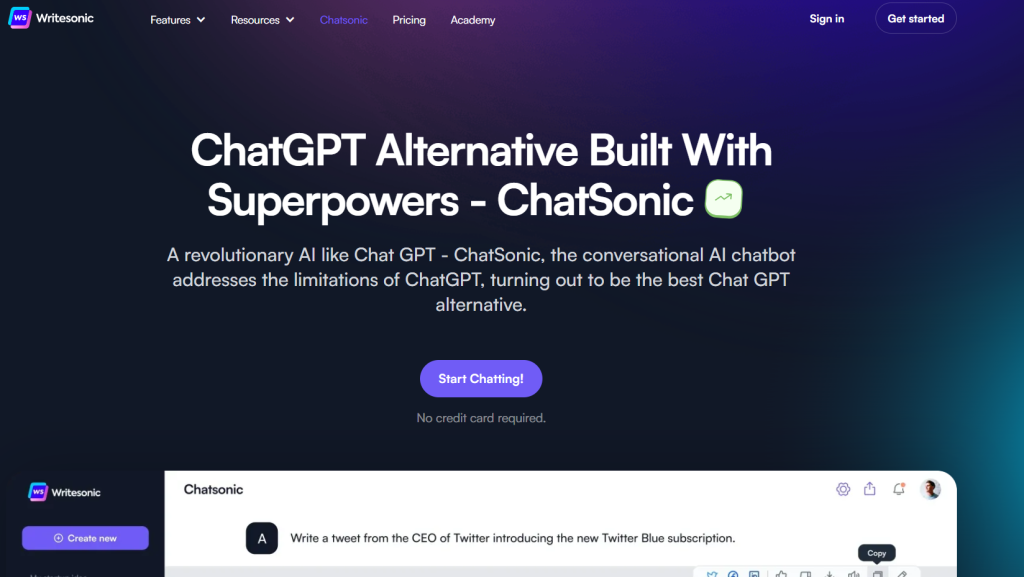 You can ask it to do anything. For example, you can write "Rewrite the <text> creatively" or "Summarize the <text> in two points". You just have to give it some instructions and it will generate results accordingly. Be as clear as possible to get the perfect output. If you're not satisfied with the outcome, you can make some tweaks to your input and regenerate the response.
Having used both Chatsonic and Chatgpt, I can say that Chatgpt is a more refined tool that can give you better outputs. Chatsonic is good, but it does require some improvement.
3. Integrations
To enhance writing and provide a better experience to its users, Writesonic offers a few integrations. These include:
4. Surfer SEO
Surfer SEO is one of the most advanced and widely used SEO tools. Writesonic partners with this software to help you create content that is not only engaging but also optimized for search engines. Through Surfer SEO integration, you can get to know what your competitors are posting, do keyword research, and make your content SEO-rich. That way, you can do both content creation + content optimization on a single platform.
5. WordPress
If you're a blogger on WordPress, you would love to know that WriteSonic offers integration with this platform. If you want to publish your blogs on WordPress, you can do it directly from WriteSonic.
6. Zapier
Zapier is a popular tool that helps automate your tasks. You can take advantage of Zapier Integration and perform tasks like publishing your content to over 3,000 different apps all at once.  
4. Grammar and Plagiarism Check
WriteSonic has in-built tools for both Grammar and Plagiarism purposes. The Grammar checker of Writesonic is pretty decent; it corrects the majority of the errors in your writing. If you paste the content into Grammarly's editor and run the tool, you will get a score anywhere between 83-89. Which is not bad, right?
The built-in plagiarism checker also works quite well. If you're doubtful of it, you can check the content on some other plagiarism tool and see what score you get. In most cases, it won't be less than 94%.
5. Customer Support
WriteSonic has a Help Center on its website where users can get answers to most of their queries. Further, it offers tutorials and detailed product guides that cover almost every aspect of the software and help users understand the software easily.
There is also a Facebook group of WriteSonic that consists of around 3-4k members. You can engage with other members and get your doubts clarified. Besides, the software also offers email-based support. It is interesting to note that the support team of WriteSonic promises to respond to your email query within 2 hours. Now, that's incredible!
Pros & Cons Of WriterSonic
Here we listed some pros & cons of WriterSonic, let's have a look.
WriteSonic Pros
Simple User-Interface
Plenty of learning resources for the users
Integrations with various applications
API Access
Good for creating long-form content
Affordable pricing
WriteSonic Cons
Not the best tool for writing on technical topics
Cross-verification of the information is required
One cannot entirely depend on this tool
Pricing
Most AI tools follow a standard method of pricing their product. WriteSonic, however, has a slightly different pricing method. It classifies its prices on the basis of the quality you desire and the number of words you want.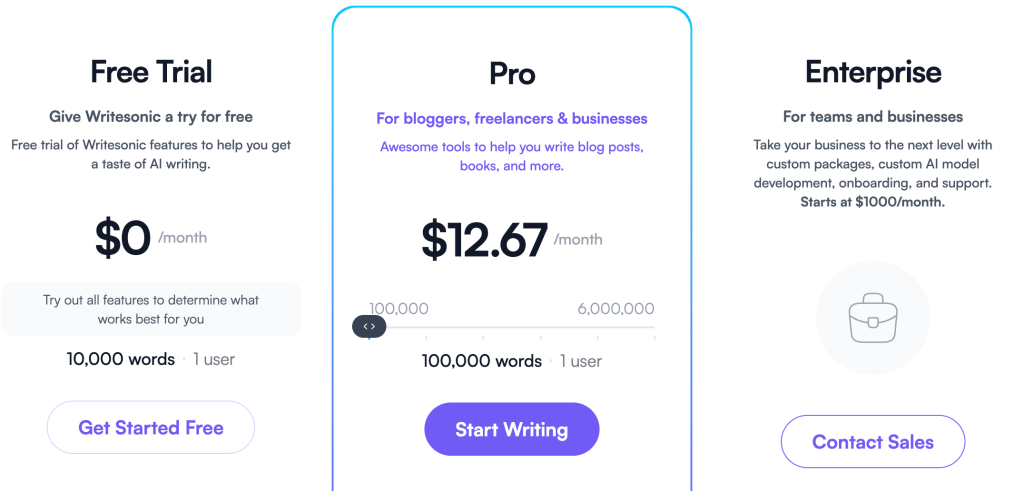 You can choose the quality as per your requirements and content strategy. For instance, if you want to produce bulk content where you want to prioritize quantity over quality, you can go for Average or Economy. But if your focus is on quality, then you should go for Premium. The prices will vary accordingly, with Premium Quality having the highest price tag. 
The prices start at $19/month. The number of words offered varies depending on the quality chosen. (Refer to the table below)
Writesonic also offers a free plan which gives you 10,000 words for free every month. However, you only get access to limited features in this plan. Besides that, it also has a custom plan designed for large teams and businesses.
Related Links
Final Thoughts: Writesonic Review (2023)
We are living in an age where a new piece of content is being created every minute. There has never been a greater demand for content than now. And with this rising demand, the need for AI writing assistants is only increasing with each passing day.
These AI-based tools have the potential to generate thousands of content pieces in much lesser time. WriteSonic is a leading tool in the AI industry. It is packed with many advanced features and houses a huge library of templates. With WriteSoic, you can easily overcome writer's block and create any type of content effortlessly.
Its two recent additions – ChatSonic and Make your own AI – are worth giving a shot at. If you are a long-form content writer, you can try its AI Article Writer tool, which I think does a fab job. Of course, you need to do a bit of editing and tweaking, but the tool saves you a great deal of time.
The software has received good responses from the users and is constantly working to make further improvements and get better. Moreover, its pricing is highly affordable even for an entry-level writer. In my opinion, WriteSonic is worth every penny you spend on it. If you're still not sure, you can try its free plan and explore the software before going all in.