Many people think that writing is easy. All you need is a good grasp of the language and knowledge of the subject. But, that's far from the truth.
Imagine a case where you have to deliver a big number and work under tight deadlines. That's when it becomes challenging.
And that's where technology comes into play. Today, we have AI writing tools that can help you write high-quality content at an incredible speed. No wonder every company – big or small – is taking the help of AI to scale their businesses.
In this blog post, I'm going to review two highly popular writing assistants – Jasper AI and Copy AI. Both these tools are excellent. If you're in the content writing business, chances are you must have heard of both.
But which one is better for YOUR needs? Which one is worth investing in? To help you get answers to these questions, I'll be showing you a head-to-head comparison between these tools. I'll also walk you through the stand-out features, limitations, and pricing of each of them to give you a clear picture.
Comparison Table: Jasper AI vs Copy AI
| | | |
| --- | --- | --- |
| Features | Jasper AI | Copy AI |
| Templates | 50+ | 90+ |
| Quality | ⭐⭐⭐⭐⭐ | ⭐⭐⭐⭐⭐ |
| Long form editor | Has a free plan that gives 2k words per month, pro plan is available at $49 for unlimited words | ⭐⭐⭐ |
| User Interface | ⭐⭐⭐⭐⭐ | ⭐⭐⭐⭐ |
| Languages | 25+ | 25+ |
| Plagiarism checker | Integration with Copyscape | No |
| Grammar checker | Integration with Grammarly | No |
| SEO tools | Integration with SurferSEO | No |
| Free Trial | Yes | Yes |
| Price | Starts at $39/month | Has a free plan that gives 2k words per month, the pro plan is available at $36/month for unlimited words |
Quick Answer
Jasper AI is the perfect tool for creating long-form content. Although it supports multiple content formats, it's best known for generating full-fledged blog posts. It also offers more features than Copy AI. The pricing, however, is on the higher side. If that is not your primary concern, then go for Jasper AI without giving it a second thought. It's just better overall.
Now you may be thinking – if Jasper is THAT good, why should you go for Copy AI? One definite reason is the price. Copy AI has a free plan which gives you 2,000 words every month for absolutely zero cost. Secondly, Copy AI is a fantastic tool when it comes to generating short-form copy. So if you need more promotional content like Google or Facebook Ad copies, Copy AI is the tool for you.
Underlying Technology of Jasper AI and Copy AI
Both Jasper and Copy AI are based on the same underlying technology: OpenAI's GPT-3.
GPT-3 is a language model that uses DeepL to generate human-like text. The output generated using this technology can easily give tough competition to human copywriters.
About Jasper AI
Jasper AI is a writing assistant powered by Artificial Intelligence (AI) that can help you create content of any type. It is one of the most flexible content writing tools that I have known of. With its freestyle commands feature, you get the flexibility to create content according to your preferences and style.
The output quality of Jasper is excellent and its Boss Mode feature sets it apart from other AI writing tools. Let's take a closer look at Jasper's features.
Stand-out Features of Jasper
Here we have explained all the features of Jasper in detail.
1. Freestyle commands
Most AI writing platforms have pre-built templates for creating content of different kinds. Using these templates, you can get content in multiple formats simply by inserting the basic information. These templates are a massive time saver.
However, their downside is that they offer you very little flexibility when you want to create something unique or outside those pre-designed patterns. That's where Jasper's freestyle commands feature comes into the picture.
All you have to do is give instructions (commands) to the AI and it will follow as instructed. For example, you can write "rephrase the above paragraph in a more friendly tone" or "explain the above paragraph in 3 bullet points" and it will perform those tasks for you.
2. Jasper Recipes
What comes to your mind when you hear the word "Recipe"? A cake recipe? Or something similar? Well, Jasper's recipes are not very different. Just like a food recipe, the recipes in Jasper are made of steps that lead to the outcome. Jasper Recipes are nothing but a bunch of commands (instructions) that you enter to get the desired output.
For example, a blog post's recipe may include the following steps:
Write a brief for the topic
Suggest a blog title
Write an introduction
Prepare a blog outline
Write about section 1 of outline
Write about Section 2 of outline
Write about section 3 of outline
Write tips on <something related to the topic>
Write a conclusion
Write a FAQ section
3. Jasper Art
One of the most notable features of Jasper is its Art tool. Apart from creating stellar content, Jasper is also known for generating unique images for your blog posts. This feature is so advanced that you can create any kind of image that you have in your mind, no matter how complex it may be. You simply have to provide a brief description of the image you want and let the tool do its magic.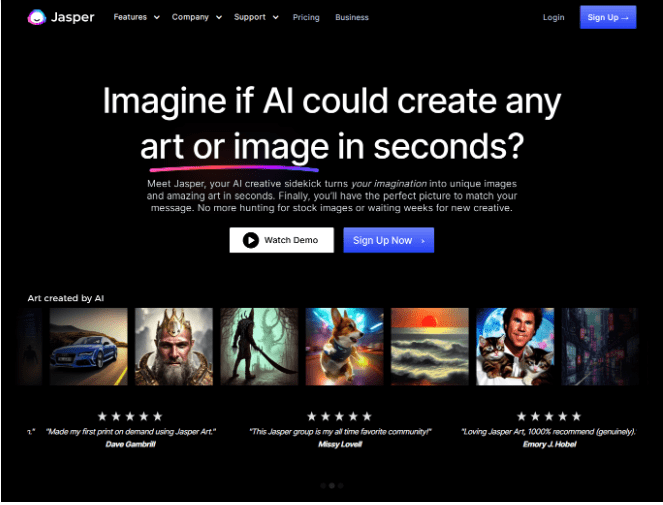 For example, you can type in "A penguin wearing a hat walking on the streets of London". Jasper Art will give you four outputs based on this input. You can choose the one that best matches your imagination.
4. Voice commands
You have already read about Jasper's freestyle commands feature. Now, what are voice commands? Well, this one is for the lazy peeps who don't want to do all that typing. Just kidding! Basically, Jasper's voice commands convert your speech into text. You can give oral instructions and Jasper will give you the desired output. So you can give your fingers some rest and use your voice instead to generate content quickly.
5. Integrations with SurferSEO, Grammarly, and Copyscape
Some AI assistants have built-in SEO tools to make your content SEO-rich. These tools, however, are limited in their functionality. They may not perform many SEO functions that you would want. This problem is solved with Jasper as it integrates with SurferSEO – a top-rated and advanced-level SEO tool.
And for grammar and punctuation, it offers integration with Grammarly – one of the best tools to correct basic writing errors and improve readability.
Lastly, for the plagiarism check, there is Copyscape integration. It is the most popular and premium plagiarism checker with 99% accuracy.
Other Features
Intuitive interface – Jasper AI has an intuitive interface that makes navigating across the tool very easy.
Writing Templates – Jasper offers 50+ writing templates to suit multiple content formats.
Customer Support – Jasper has quality customer support. Apart from a Help Center on their website, they also have a direct email messaging system. Users who have purchased a higher plan get priority with their queries.
25+ language support
Limitations of Jasper AI
For a beginner or a small business owner, Jasper can be expensive software.
When it comes to complex or highly technical concepts, Jasper may not give you the expected results. You need to cross-check the information to ensure its accuracy.
Jasper AI Pricing
| | | |
| --- | --- | --- |
| Plan | Billed Monthly | Billed Annually |
| Creator | Starts at $49/month | Start at $39/month |
| Teams | Starts at $125/month | Starts at $99/month |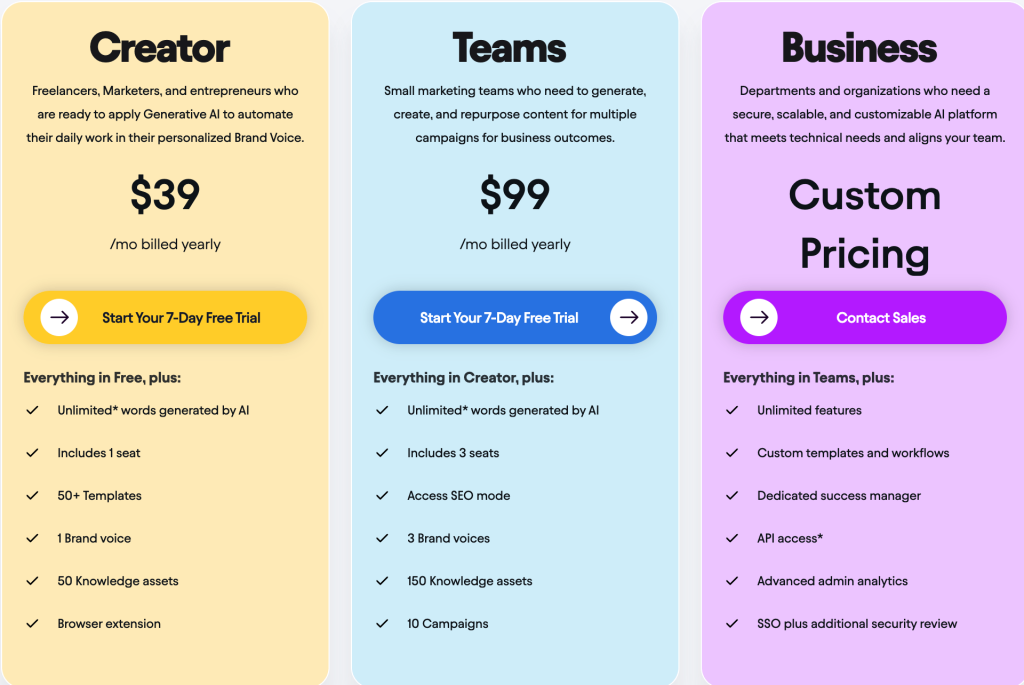 About Copy AI
CopyAI is a fantastic AI writing tool, mainly focused on producing short-form copy. From email newsletters, social media captions, and digital ad copies to product descriptions, Facebook posts, product reviews, etc., Copy AI excels at all kinds of short-form copies.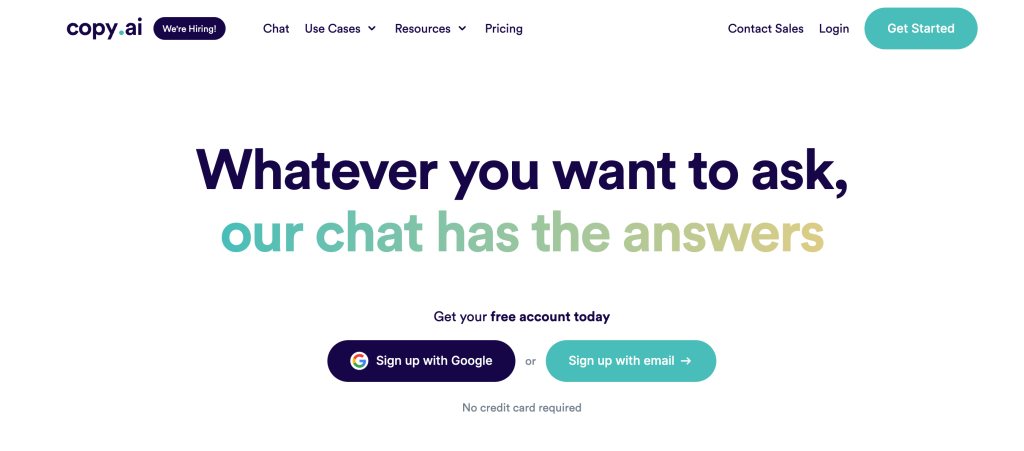 Just like Jasper AI, it uses deep learning technology to understand your target audience and create content that resonates with them.
Stand-out Features of Copy AI
Here we have explained all the features of CopyAI in detail.
1. Largest Collection of Templates –
Compared to Jasper which offers 50+ templates, CopyAI offers a much higher number i.e 90+ templates. No other writing platform has this huge collection of templates.
2. Blog post wizard –
CopyAI has a blog post wizard where you can create long-form content such as blog posts. You can also type in the targeted keywords that you want to include in your content.
3. Great Learning Tutorials –
Even though the tool is easy to get the hang of, it offers plenty of learning resources to help you understand the platform and use it in the best possible way. Not only does it help you with creating your account and getting started, but it also offers useful tips on how to write content that connects with your target audience and brings in good results. 
Other Features
Free Tier – Jasper has a free plan which gives you 2k free credits. You can try all the templates within the free plan. The best part is that it does not even require your credit card details.
Customer Support – Just like Jasper, Copy AI too has an excellent customer support team. In addition to the Help Centre, they also have an instant messaging system that directly connects you with their support team.
25+ languages support
Limitations
Although CopyAI is a great tool, it lacks many important features. For example:- it does not have an in-built SEO tool or a plagiarism checker.
It's only effective for writing short-form copy. I have used its blog post wizard for creating blog posts and honestly, I didn't like the output it generated. So, when it comes to long-form content, CopyAI fails to deliver quality results.
Copy AI Pricing
Copy AI has a free plan that gives 2,000 words per month at $0.
The Pro plan can be bought in two ways:
| | |
| --- | --- |
| Monthly-based | Annual-based |
| starts at $49/month | starts at $36/month |
Related Links
Final Verdict – Jasper AI vs Copy AI (2023)
If you're looking for a flexible tool for writing long-form content, Jasper AI is the ideal choice. The cost is well justified by the sheer number of features and adaptability it offers.
CopyAI, on the other hand, is great for email marketers and social media advertisers, who are in constant need of short-form copy like captions, titles, descriptions, etc.