There has been a growing demand for copywriting software. More and more entrepreneurs and marketers are now turning to them to create content for their businesses.
Honestly, I didn't like the idea of it at first. Being a writer myself, I thought the content that I write would be much superior to that generated with the help of copywriting software. After all, the human mind is more creative and logical. But I hate to admit that I was wrong.
While these software tools are not perfect (as they come with both pros and cons), they can help you create multiple content pieces quickly and easily. Today, I'm going to review one of these software, known as CloserCopy. 
There are both positive and negative reviews of it on the internet. So, I'm going to present you with an unbiased and honest review of ClopserCopy, so that you can take a call on whether you want to invest in it or not.
Let's dive in…
Short Review of CloserCopy
Closercopy is a copywriting assistant powered by AI. It is an easy-to-use platform that allows you to create fresh, engaging content in minutes. What sets it apart is that it utilizes its own AI technology (and not uses GPT-3) to produce content.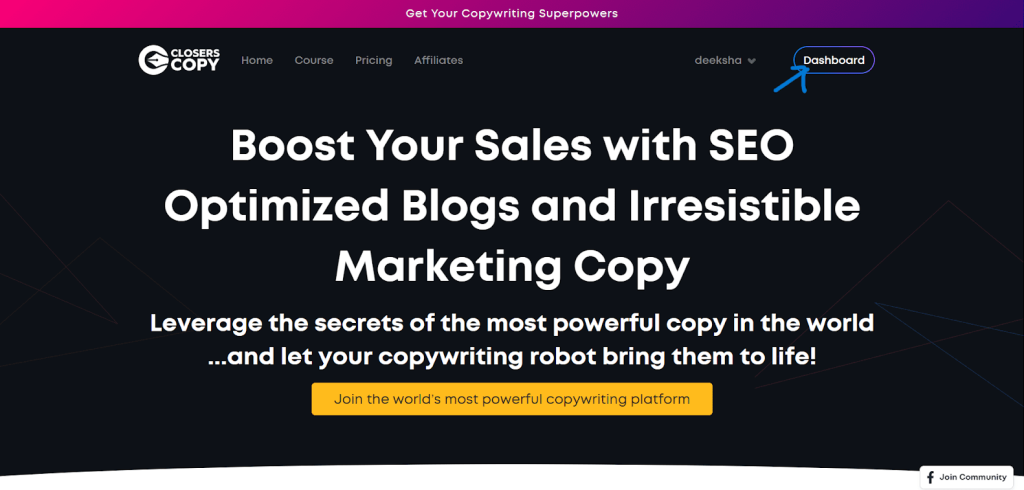 With Closercopy, you can write and publish your blog posts, newsletters, and ebooks; create landing pages to generate leads; create infographics, videos, and presentations; and manage your social media channels with just one login.
I also think it is a great tool to find the perfect headline and outline your thoughts quickly with its built-in templates. I love the design of the dashboard, which gives you everything you need in an easy-to-read format.
It has a range of features and a huge library of templates to choose from, with 60+ marketing frameworks. Another noteworthy thing I found is that it supports as many as 127 languages! Plus, it is beginner-friendly; so even if you are starting out, you will not find it complicated.
It also has a robust search engine optimization (SEO) system with which you can optimize your content for search engines. Furthermore, Closercopy enables you to track your content performance in terms of views and shares to help you improve the next post.
The platform integrates seamlessly with Gmail, Google Drive, and Dropbox so that your content creation process never has to stop.
How does it work?
It is pretty simple to use Closercopy. You simply need to log in and go to the dashboard. It will take you to the project page where you can start & save a new project and create documents that come under that project. Refer to the below images to get a better idea.
Once you open the document, you will see a blank page on your screen and various tools on the side and top bar. With the help of these tools, you can create any type of content you wish. You can also format your document easily with its formatting tools provided at the top.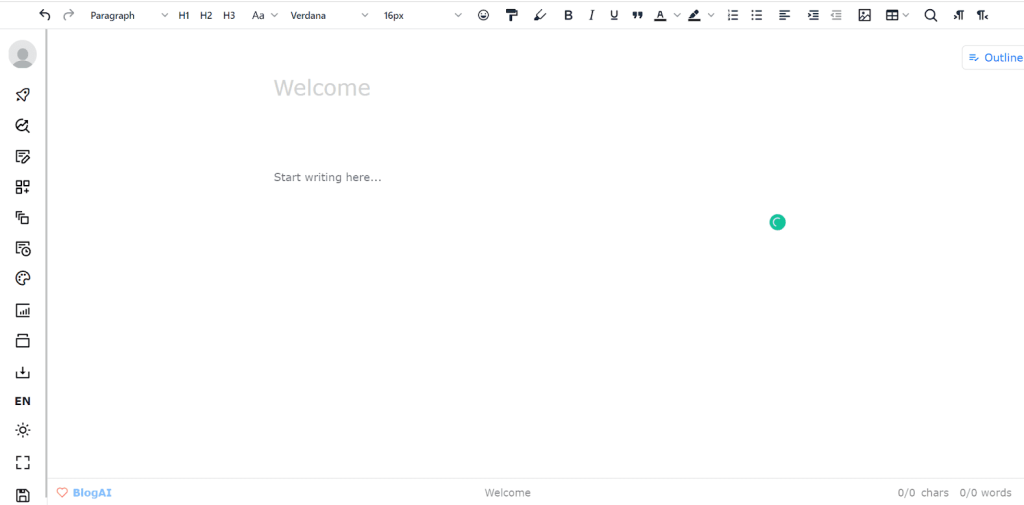 To create content, just type in your keywords and write a sentence or two for briefing. In less than five minutes, you will have a blog post with original content ready to be published on your website.
Once you have generated a few pieces of content, you can edit them for quality before uploading them. Closercopy also includes a plagiarism detector which helps make sure everything is unique.
Features of CloserCopy
Closercopy offers a variety of features that help writers to produce compelling content in no time. It has all the basic tools, such as a spellchecker, grammar checker, and plagiarism detector. These will save a great deal of your time. You can also use Closercopy as a speech-to-text program to record your voice and have the text written in real time. 
Other more advanced tools include the Compete feature, Compose feature, Long-form editor, and others. I have discussed these below in more detail.
1. Compete feature
Compete is a powerful tool for competitive analysis and keyword research.
The tool does the hard work of scanning and analyzing the top 10 pages for a keyword, then gives you a report showing which domains are ranking at what positions and how many links each domain has.
This way, you can find out who your competitors are, monitor their progress over time, and research keywords to make an informed decision about where to invest your time.
2. Compose feature
The Compose feature under beta mode allows you to quickly and easily create blog posts. You can use it to automate the writing process while still getting your voice into the content.
It can produce outlines, headings, and subheadings and do keyword research. However, you cannot create your own heading as it does not have the option of a custom outline. I found this as one of its major drawbacks.
This feature can generate a 700-word blog piece in 5 minutes, but it will require a lot of improvement and fine-tuning by you.
3. Long-form editor 
Long-form content is one of the many features of this software. It is perfect for writers who want to create a blog post or an eBook but don't have enough time on their hands.
When you click on the long-form tool from the left-hand side toolbar of your page, it will open a window on the right-hand side where you will find plenty of tools such as Headline, outline, introduction, paragraph, conclusion, benefits, and many more. These will make up different parts of your blog.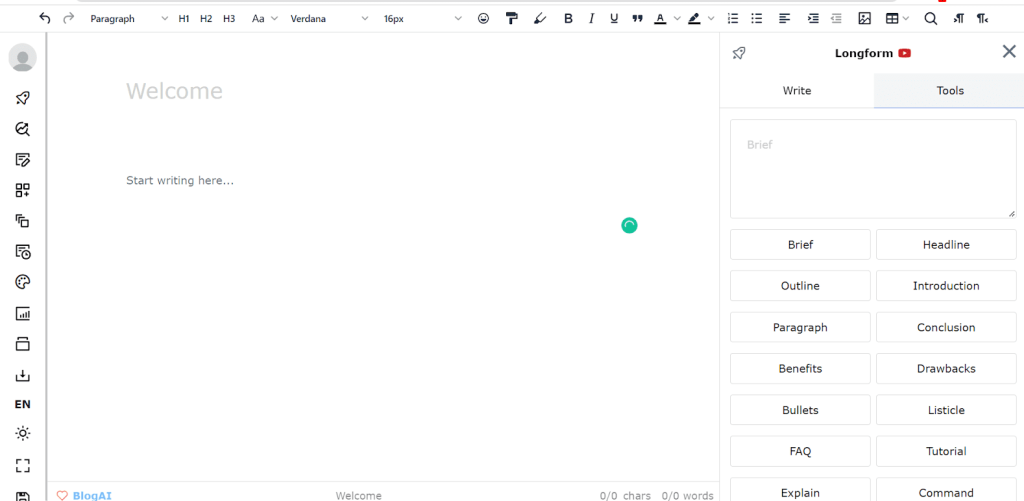 The long-form feature allows you to write text up to 5,000 words long and export it as a PDF, DOCX, RTF, or TXT file. There are no restrictions when using this feature; you can type anything you want and insert links and images without any limits.
However, the content it generates entirely depends on what information you are feeding it. So, you must provide a clear, relevant, and accurate description of the topic. Only then can it produce content that matches your expectations?  
4. Insights & Analytics
Insights and analytics are other useful features of CloserCopy. This software offers an emotional tone scoring tool, keyword density finder, and spam analyzer.
When you're writing your post, it is important to maintain the right tone. The emotional tone scoring tool helps you measure the sentiment of your post by reflecting percentages of different emotions present in your content. It helps to eliminate words or phrases that may carry any sort of negative emotion. Check out the below image to understand better.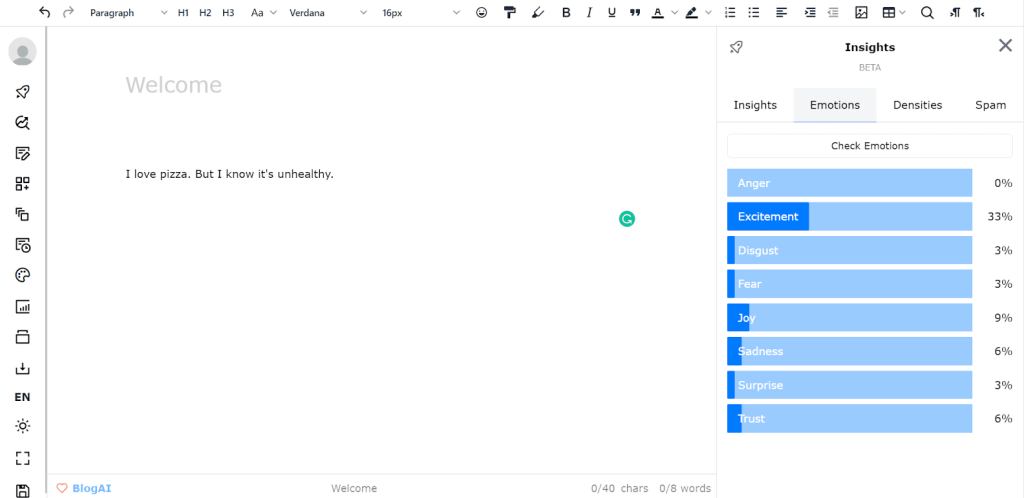 Another crucial thing is keyword density. Your post must have the right number of keywords for SEO purposes. The keyword density finder tool helps you find how many times a particular keyword has been used in your blog. So you can add or eliminate some if required.
The spam analyzer is generally used for email content. You don't want your emails to land in the spam folder of the recipient. For that, you can use the spam analyzer, which will remove any part of your content that is likely to put your email in the spam folder.
5. Writing Wizard
The Closercopy wizard tool is a simple way to take the guesswork out of what can be a complicated process. The wizard takes you through all the steps from idea to execution, so it's easy for anyone to use.
It provides you with guidance and suggestions to make your copy better. For example: When you are writing a copy, it will suggest words that you can use and how you can format the document. It will also highlight your mistakes and let you know about the parts that need improvement.
The wizard tool is highly beneficial when writing sales letters, emails, and offers.
Frameworks
I was blown by the fact that Closercopy provides you with nearly 60+ frameworks to create different types of content. For example: To write a blog, you'll use one framework type for the main content of your document, and another for the headings, titles, and subheadings.
In the framework's library, you can find multiple options such as:
Ads
Blogs
Emails
Direct Response
Social media
Landing Page
Press Releases
Courses
Podcasts
Product reviews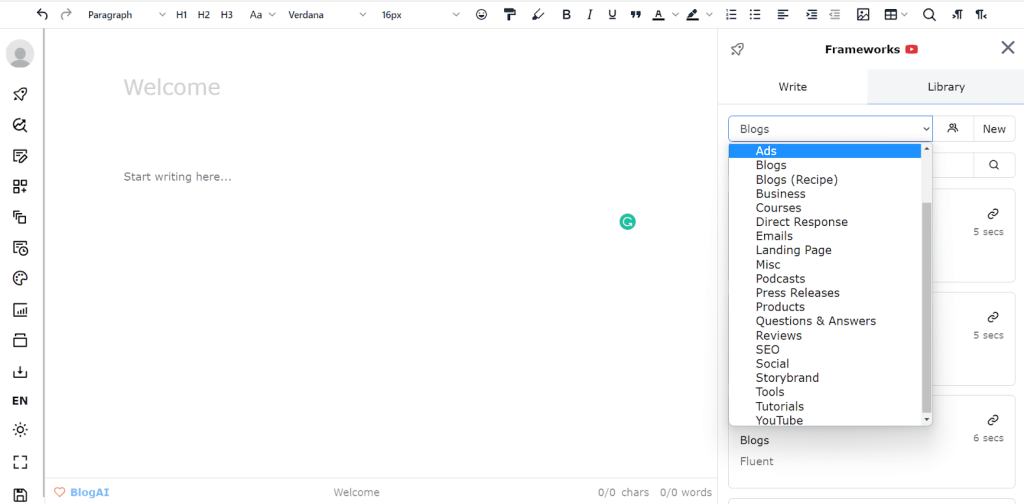 When you click on any of the above-listed options, you will see different sections under each of them. For example: Let's say you want to write an email copy. When you choose the email option from the library, you will find three sections under it – subject line, opening, and call to action (CTA). You just have to provide some information and it will generate all of these components for you.
Using these frameworks will save you a lot of time and effort because you won't need to think about how to format certain sections of your post. They will act as guidelines and generate content for you quickly.
Pros and Cons
In this section, we have given the pros & cons of ClosersCopy, let's get inside it.
Pros
Offers you the best lifetime deal (One-time payment)
Uses its own proprietary AI algorithms to generate content (not GPT-3).
Comes with three unique AI algorithms to support different types of content
Offers a range of templates and marketing frameworks
Integration with the Copyscape tool to check for plagiarism
Supports a whopping 127 languages
Cons
UI needs some improvement and can be made simpler
Does not offer a free trial
The insights feature is quite basic and gives low-level insights
Sometimes takes too much time to generate content
Pricing
CloserCopy offers 3 different packages based on your needs. These require you to pay on a monthly basis. Their pricing is as follows:-
Power – $49.99/monthly
Superpower – $79.99/monthly
Superpower Squad – $99.99/monthly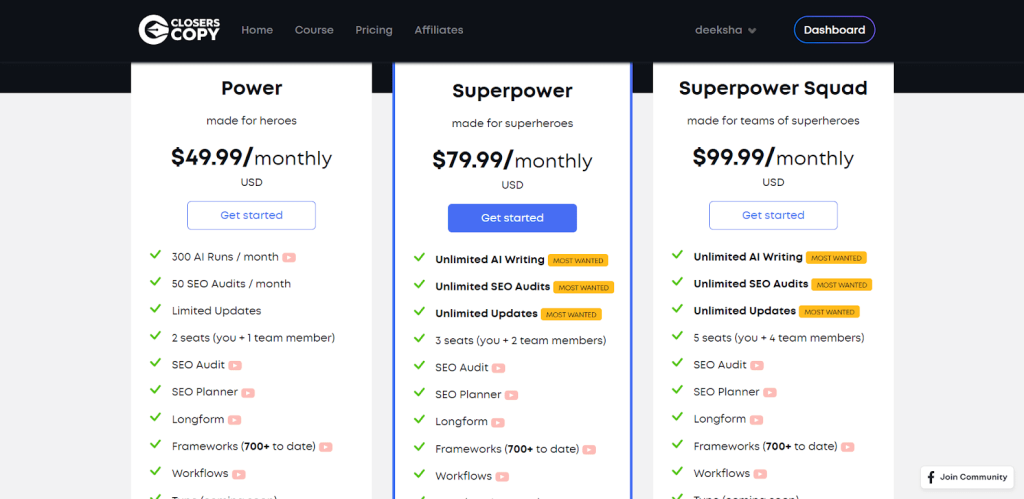 What's exciting is the company also provides a 14-day money-back guarantee in case you're not happy with their product. Now, who wouldn't want to try it?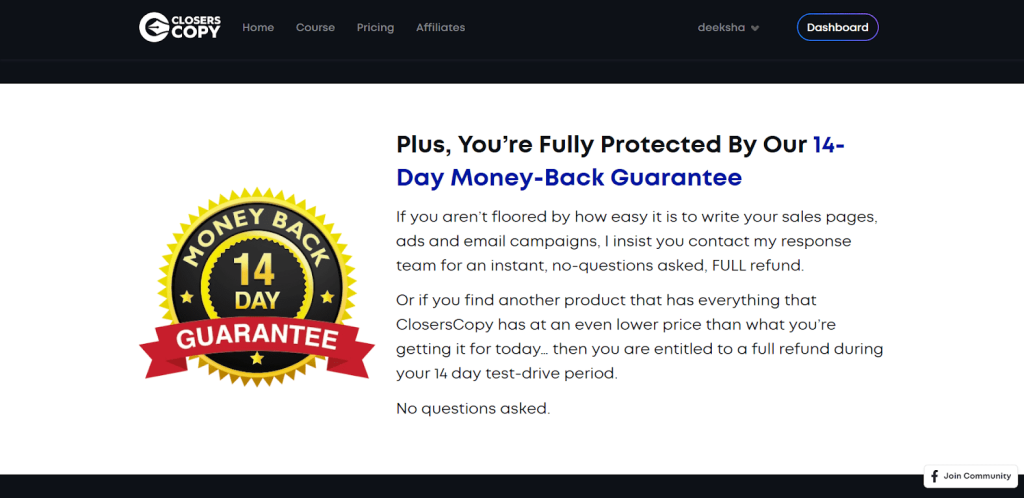 Though what sets Closercopy apart from other tools is its lifetime deal. It is a one-time payment, which means that all updates and new features are free for life. You won't have to pay for upgrades or new features. Besides, you can create as many projects as you want. This would help you save a lot of time & money in the long run. However, it is only offered for a limited time. So, you need to grab it if you get to see it.
The Lifetime deal comes at the following prices under 3 different packages:
Power – $397/one-time payment
Superpower – $497/one-time payment
Superpower Squad – $697/one-time payment
Conclusion – Is Closercopy worth it?
I have used Closercopy for a while now. It has been pretty helpful when I need to write blog posts or articles. It is easy to use, and I can save time on formatting. Although it is not perfect, I recommend this app if you are looking for a simple way to create well-formatted content.
At the end of the day, Closercopy is worth it if you are a new business or have a small budget. But if you have more capital to invest, other options might be worth looking into. Alternatives like Jasper AI and Copy AI are better equipped and more reliable platforms.
Frequently Asked Questions:
Does ClosersCopy compatible with Mac and PC?
Of course, ClosersCopy is compatible with PC and Mac, you don't need to install or download anything.
Do they offer a money-back guarantee?
Yes, they offer 14 days of money-back guarantee on any plan, you need to contact its customer support team and they will return your full money. 
Can I promote this platform?
Yes, you can promote this platform, as you sign up you will be able to join its affiliate program and earn a huge commission.
When do I get access to this tool?
As you complete your order you will be able to get full access to this tool.