Many marketers are turning to various SEO tools to get a better ranking on Google. These tools can make your job as a marketer much easier.
WriterZen is one such tool that has an easy-to-use interface and strong features. However, is it suitable for your needs? Is it costly? What are its key features?
To answer these questions, I have done unbiased research on this tool. In this blog post, I will discuss WriterZen's features, pricing plans, pros, cons, alternatives, FAQs, and who it's best for.
So, keep reading to discover everything you need to know about WriterZen.
What is WriterZen?
WriterZen is a tool that creates SEO content with the help of AI. It helps in discovering new topics, creating unique content, and performing topical research.
While it has many distinctive features, WriterZen's primary focus is on three main elements – Content Creator, Keyword Explorer, and Topic Discovery. The keyword importer and plagiarism checker are additional tools you get.
WriterZen was first launched in the Southeast Asian industry in 2018. It received a significant following and has recently been launched globally. While there are other famous tools available, like Jasper AI, WriterZen stands out because it is easy to use.
Who should use WriterZen?
WriterZen's a great AI tool to optimize your writing for search engines and create unique content. It has many features like topic discovery, keyword research, and keyword clustering to find the best keywords and topics for your content.
You can use it for creating content, writing ad campaigns, and finding high-ranking keywords and topics. So it's a great tool if you're a content writer, programmer, blogger, marketer, designer, or business owner. Moreover, it's more affordable compared to other options in the market.
WriterZen features
WriterZen is undoubtedly an outstanding content-creation tool. To make it easy for you, I have explained its best features in detail.
1. Topic discovery
Selecting a topic to write an article or blog post can take a lot of time, and conducting extensive research on your own can be even more exhausting. The topic discovery tool can suggest relevant topic ideas based on your keyword preferences. It gives you Google-suggested insights for questions, comparisons, and prepositions.
Ultimately, the decision of which topic to choose depends on your target audience and favorable search volume. Using this feature is very easy. Simply input a keyword into the search bar, and it will scan the top ranking websites for all related keywords. This will save you a considerable amount of time on keyword research.
2. Keyword explorer
With the keyword explorer tool, you can do keyword research or apply several filters to categorize them according to your preferences. This tool also provides statistical insights for each keyword, such as SERPs, search volume, keyword ideas, and cost-per-click.
To use this tool, enter a keyword on the search bar and specify the country and language. Click on search, and now you have the list of keywords of the top-ranking pages and their global search volume.
3. Keyword data (KD)
The KD tool is divided into four categories — phrase match, total, also search for, and having the same terms. This tool gives you an overview of your keyword's search volume, cost per click, golden score, and a trend graph. Additonally, you can use the keyword difficulty feature. Ranking higher on Goolgle becomes easy if your keywords have a low difficulty level.
4. Content Creator
The content creator tool helps you create an outline for your content. But it's not as robust as Jasper AI's content creation tool. There is room for improvement in WriterZen's algorithm, as it sometimes suggests irrelevant keywords.
The first step is to select an outline from the competitor's content or Google-suggested insights. Next, you can select the keywords you wish to include in your content based on their volume, usage, and relevancy. These selected keywords will then be added to your content writing wizard to help you in writing your article.
5. AI Assistant
WriterZen's AI assistant is based on GPT-3 technology. It assists you in your content creation process by expanding your outlines into readable paragraphs. Other features are – rewriting paragraphs and creating content ideas and content structure. You can also enhance the tone and quality of your content by switching writing styles.
The cost of the AI assistant add-on plan is $99 per month or $84 per month if paid annually. With this add-on, you get limited word generation, 70 AI templates, and more.
6. Keyword clusters
The keyword cluster tool helps in creating a content funnel and maximizing your conversion rates. It can be used to create your content outline too. This will enhance your SEO score to rank higher on Google.
7. Keyword insight
With this tool, you get a list of questions related to the keywords you've searched. They are questions asked by people on the search engine. Using this feature, you can create FAQs for your blog posts and build a well-defined plan for your content.
8. Plagiarism checker
As a content writer, this tool will help you verify your content for any plagiarism. But it may not be entirely accurate. To sum up, it is a moderate tool to verify if your content is original.
9. WriterZen Academy + Online Community
WriterZen offers a course on SEO fundamentals. It is a free online training program to help you learn the basics of Search Engine Optimization.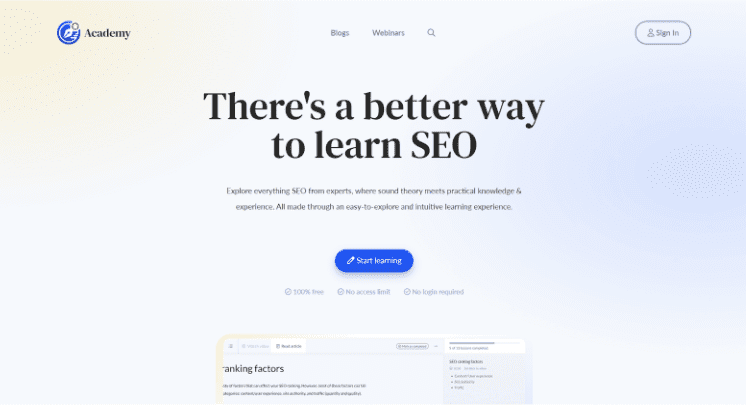 They also have an active online community that can be found on various social media platforms such as Facebook, Twitter, LinkedIn, Instagram, and YouTube.
WriterZen pros
Let's have a look at the pros of WriterZen
1. User-friendly interface
WriterZen's user interface is designed to be intuitive and user-friendly. It is easy for beginners to access all the tools and features.
2. Affordable pricing
WriterZen offers affordable pricing compared to other AI writing tools, making it accessible if you're on a budget.
3. Credit limits
There's a lifetime deal with credit limits on WriterZen through AppSumo. You can use the content creator tool 70 times per month, the Keyword Explorer tool for up to 250 words, and the Plagiarism Checker for up to 40,000 words. You also get 200,000 keyword credits.
4. Topic research features
The All-in-title and KGR features help you find unique ideas for topics and identify hidden keyword opportunities.
WriterZen cons
Let's have a quick look at WriterZen Cons
1. Content Creator is average
WriterZen's content creator tool is helpful for suggesting keywords to include in your articles. However, it's not as good as other tools like Jasper AI and Frase.
2. No backlinks
You can't add backlinks with WriterZen.
3. Competitor analysis cannot be done
You cannot perform a competitor analysis with WriterZen.
4. Average results when checking for plagiarism
The plagiarism checker is not as accurate as other leading tools in the market.
WriterZen reviews by current users
Many CEOs, bloggers, copywriters, and marketers are using WriterZen and are satisfied with the results. WriterZen has helped them boost their productivity and drive organic growth. Some of them have shared their positive experiences with WriterZen.
Let's take a look at the screenshots from G2 below.
Average user rating for WriterZen: 4.7/5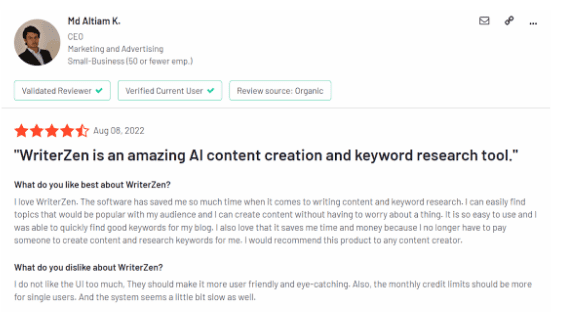 WriterZen has over 10,000 active users, 30,000 content briefs, 8 million keywords, and 20,000 content briefs discovered. It is a reliable and affordable writing and SEO tool that offers a range of features to help you optimize content.
Let's take a look at its pricing.
WriterZen pricing plans
| | | |
| --- | --- | --- |
| Basic | Standard | Advanced |
| $27 per month | $41 per month | $69 per month |
| Solo users | Small teams | Big agencies |
| 50 keywords per day | 75 keywords per day | 150 keywords per day |
| 25,000 keyword credits per month | 40,000 keyword credits per month | 100,000 keyword credits per month |
| 50 content briefs per month | 70 content briefs per month | 150 content briefs per month |
| 5,000 AI words per month | 8,000 AI words per month | 15,000 AI words per month |
| 50 topics per day | 75 topics per day | 150 topics per day |
| 3,000 keyword imports | 7,000 keyword imports | 12,000 keyword imports |
| 25,000 plagiarism checks per day | 40,000 plagiarism checks per day | 100,000 plagiarism checks per day |
| 20 keywords list | 50 keywords list | 100 keywords list |
WriterZen alternatives
If WriterZen does not interest you, it is not your only option. There are many tools in the market that offer similar features. Here are some of the top alternatives to consider.
Frase
Jasper AI
SEMrush
SurferSEO
Marketmuse
Clearscope
Related Read:
Final thoughts on WriterZen Review (2023)
From the review, it is clear that WriterZen is an excellent choice for beginners who need keyword research tools like All-in-title, KGR ratio, and Keyword Clusters, all at an affordable price. Moreover, the plagiarism checker makes it an all-in-one option for content creation.
However, if you need a top-quality content creation tool for your website, then UberSuggest, Jasper AI, or Frase might be the ideal tool for you.
WriterZen may not be the best option for creating top-quality content, but it is still a valuable tool for optimizing content and improving website traffic. It is worth considering, particularly for those on a tight budget.
FAQs
Is there a free trial with WriterZen?
WriterZen provides a free trial to all new users. It's a 7-day trial which does not require any credit/debit card detail to access it.
How much does WriterZen cost?
WriterZen comes with 3 pricing plans. The basic plan costs $27 per month. The standard plan costs $41 per month. The advanced plan costs $69 per month. 
Can I cancel my WriterZen subscription?
Yes, you can cancel your subscription under 48 hours of purchase.
How can I contact the WriterZen team for support?
You can email WriterZen at support@writerzen.net.
Can I get a lifetime deal with WriterZen?
Appsumo offers a lifetime deal on WirterZen with credit limits. This plan allows for 70 monthly uses of the content creator tool, up to 250 words for the Keyword Explorer tool, and up to 40,000 words for the Plagiarism Checker. Additionally, you will receive 200,000 keyword credits.
What payment methods does WriterZen accept?
You can pay with Mastercard, American Express, Maestro, Visa, and Discover cards.
Is WriterZen user-friendly?
Yes, WriterZen has a user-friendly interface that is easy to navigate. It is an ideal tool for beginners.
When will the daily and monthly credits renew?
Your daily credit refreshes every 24 hours, while your monthly credit refreshes on the same date each month as when you activated the tool.
Where can I find tutorials on using WriterZen?
You can find many tutorials on WriterZen's YouTube channel and Facebook Community.