Not everyone can write well. But everyone can improve. For those who want to write like a pro, there's Grammarly.
Grammarly has become increasingly popular in recent years as more and more writers discover the benefits of this online writing tool.
But is it really that good?
Is it the ultimate writing assistant out there?
And most importantly, is it worth the price tag it comes with?
To get the answers to all these questions, read my comprehensive review of this software. Find out if the tool is worth the hype and whether or not you should invest in it. Let's go!
Overview of Grammarly
Are you someone who is in the business of writing professional emails or a lot of content on MS-word, docs., etc.? And do you wish you could use a tool that would correct all your spelling errors grammatical mistakes and make your writing look more professional? If yes, then Grammarly is your answer! But what is Grammarly?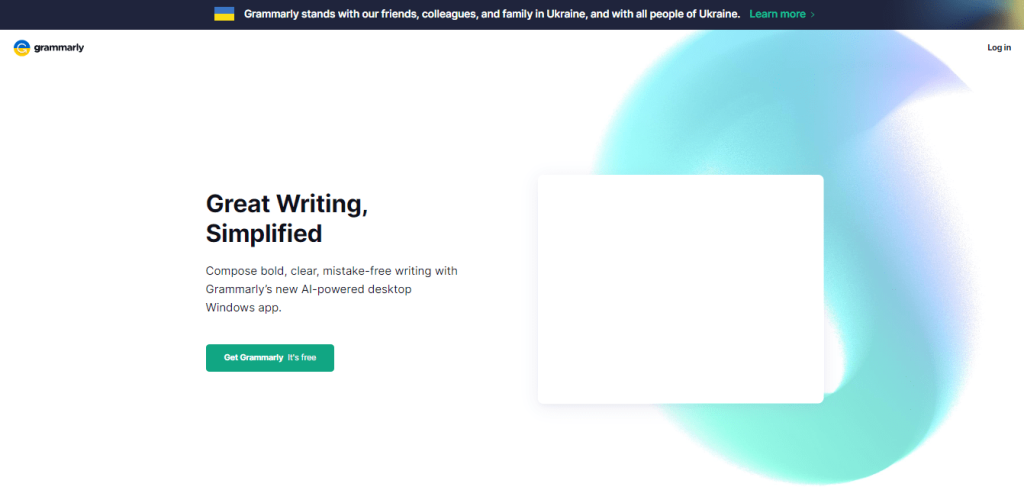 Grammarly is an AI-based writing assistant that helps you write better. It checks for grammar mistakes, spelling errors, and punctuation. But the real beauty of Grammarly is that it doesn't just spot and fix errors, but it also provides explanations on why an error occurred and how you can fix it.
I use Grammarly when I write blog posts to ensure I am putting the right words together and using the correct sentence structure. I sometimes even use it as a plagiarism checker (available only for premium users). It alerts you if it finds that any of your text has been copied from elsewhere.
This editing tool is also great for proofreading business documents or emails, resumes, cover letters, and personal statements before you send them out to employers or universities.
The online version is pretty easy to use. All you need to do is copy and paste your text into the space provided, and it will show you the results. And the best part is that you can install its browser extension that will automatically spot errors as you type a document or email.
Immediate benefits of using Grammarly
Here are some of the benefits you will get with a Grammarly Premium membership:
– Catch misspelled words, typos, and grammatical errors as you write on your computer or mobile device
– Get suggestions to improve sentence structure and word choice while writing
– Look up word definitions without leaving your document
How has Grammarly helped me?
I have been using Grammarly for more than three years now. And it has helped me in more ways than I could have possibly imagined. Firstly, it has saved me tons of time that I would have spent manually correcting my grammatical errors and punctuation.
Not just that, Grammarly has also helped me to:
Identify weak adjectives and choose better ones.
Avoid using overused terms.
Stop using overly long or complex sentences.
Use better sentence structure.
Avoid embarrassing typos in my blog posts and emails.
Who can use Grammarly?
Anyone who writes can use Grammarly. It is a must-have tool for all writers, whether blogging about your latest vacation or writing for a publication. Even if you are not a professional writer but only write occasionally, you should still use Grammarly — at least its free version. Anyone who wants to improve their writing skills must try this software.
Below are the people who can benefit from using this software:-
Bloggers
Freelance writers
Copywriters
Content marketers
Content publishers
Authors
Journalists
Students
Essayists
Small business owners
Notable Features of Grammarly
Grammarly offers a range of features to assist you in writing. Its free version comprises all the basic tools to check grammar, punctuation, and spelling. The premium version offers more advanced features and detailed insights. Below I have explained some of its noteworthy features in detail.
Step #1: Writing Goals
Knowing your goals before you start writing will help you avoid confusion and ensure that your work is on point. Grammarly's Writing Goals option helps writers identify their audience, tone, domain, and intent. See the image below to get a glimpse of it.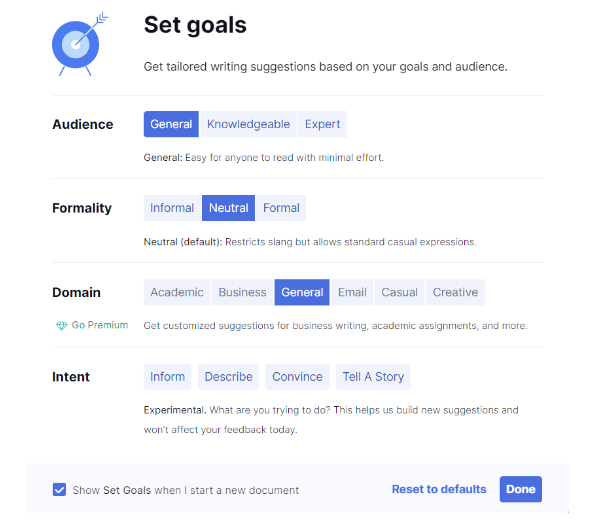 As you can see, Grammarly provides different options for each writing goal. You can set these goals according to your requirements. For example: If you're writing about a Europe tour, your audience would be general and the tone can be set to informal/neutral.
Step #2: Performance and Readability
Grammarly gives you a score on the overall performance of your text. The score is given out of 100 based on the following parameters.
Word-count
Character count
Reading time
Speaking time
Another aspect is the readability score. It is one metric used to measure content quality. The readability score indicates how difficult it is to understand your text, and the score is calculated based on factors like word length, sentence length, etc.
Writing with a high readability score makes it easier for readers to grasp what you are trying to say. It also helps you get better search engine ranking because Google's algorithm favors pages that users can easily scan through and comprehend quickly.
Step #3: Suggestions
Grammarly provides various suggestions divided into the following categories:
Correctness – checks grammar, punctuation, and spelling
Clarity – makes writing concise/easier to understand
Engagement – makes writing more exciting and conversational
Delivery – helps create the right impression on your reader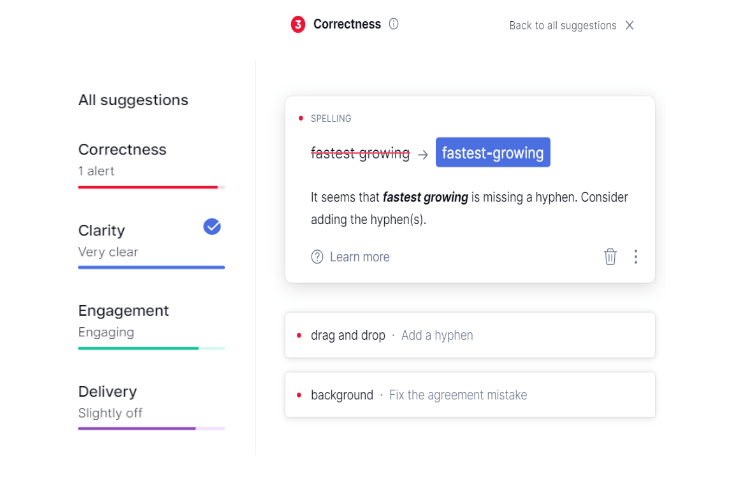 While most of its suggestions are on point, some may not be suitable for you as Grammarly does not understand the context of your words. You need to trust your instincts when a suggestion provided by Grammarly does not feel right to you. Based on that, you can either accept or reject the suggestion.
Some advanced-level suggestions are provided only to premium users. However, it marks them with a yellow line under the text. So, as a free-version user, you can still know which parts need improvement.
Step #4: Plagiarism Checker
Grammarly's plagiarism detection tool can tell when a writer is likely to have copied someone else's writing. If they detect plagiarism, they will alert you with a specific score and can point to where the plagiarized text was originally taken from. They also include links that show where it was found on the internet, so there is no denying it. However, this tool is only available to premium users.
Step #5: Language preferences
Currently, Grammarly only provides support for the English language. However, it gives you the option to choose from different variants of English:
American English
British English
Australian English
Canadian English
There are very subtle differences in the spelling and grammar of different variants. I often used to get confused between "centre" and "center," "organize" and "organise", and more such words. By setting my language preferences in Grammarly, I could know and correct all such mistakes.
How Much Does Grammarly Cost?
For more advanced functions, Grammarly offers a premium version. It also gives you a 7-day free trial of the premium version. After that, if you wish to continue using it, you will have to purchase it. The current pricing of Grammarly's premium version is as follows:
Monthly Plan: $30.00/month
Quarterly Plan: $20.00/month
Annual Plan: $12.00/month (most popular)
If you have continuous writing work, it makes sense to go for a quarterly or annual plan. The quarterly plan will save you 33% while the annual plan will save you 60% on the individual monthly price.
Free Version vs Premium Version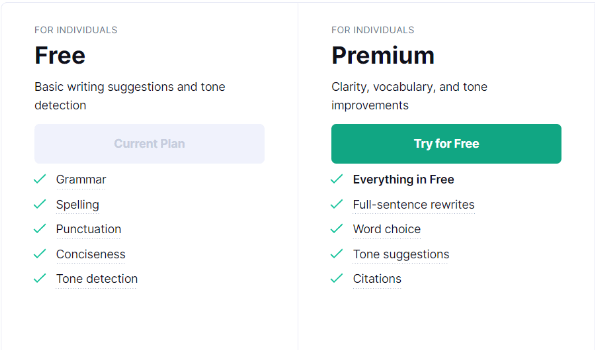 Check out this link to see all the differences between the free and premium versions of Grammarly.
If you're on a tight budget, go for the free version. In my initial days of writing, I only relied on the free version. It contains most of the features that are offered in the Premium version. It underlines basic grammatical and spelling errors in red and suggests fixes for the same. You also have the option to switch between different variants of English in the free version.
Try the premium version when you are ready for an upgrade or when you have more work coming in. Apart from the basic features, the premium version offers a more advanced grammar checker, word suggestions, plagiarism detector, and additional writing insights. It also spots more mistakes and offers in-depth explanations wherever possible.
The best premium tools of Grammarly include:
The plagiarism report
Inappropriate tone
Better word choices for overused words
Simplifying complex sentences
Readability scores and reports
Areas of improvement
Like any other software, Grammarly isn't perfect. It could be improved in quite a few areas.
The current price of the premium version is $30/month, which is expensive for most writers. The makers can come up with a more affordable plan.
Their marketing is very pushy. Grammarly tries too hard to sell its premium version, to the point that it becomes annoying. Their marketing team needs to chill!
Grammarly supports only the English language. As such, it is only useful to those who write in English. It should come up with more options for languages to reach non-English speakers.
It is not 100% accurate. Grammarly certainly cannot replace a human editor. Sometimes it provides wrong suggestions. One needs to be skilled enough to know where it is going wrong.
Different ways to use Grammarly
You can use Grammarly in five different ways:
1. Grammarly Web App – You can access the web app of Grammarly by typing in app.grammarly.com in your web address bar. Once you get there, paste any piece of writing directly into the app and it will scan your entire text and propose fixes. Once you're done, you can download the edited content piece or copy and paste it wherever you want.
2. Grammarly Desktop App – Another option is to download a desktop app. It can be downloaded both on windows and Mac. The desktop app is much faster and smoother. But make sure you have access to the internet while you are using it.
3. Grammarly Browser Extensions – This is my favorite thing about Grammarly. Grammarly offers extensions for different browsers, including Chrome, Firefox, Safari, and a few others. Once you install the plugin, it will automatically scan any piece of writing (emails, Google docs, etc.) in real time. You won't need to log in to the app.
4. Microsoft Plugin – Grammarly offers a plugin for Microsoft Office for the frequent users of MS-word. Once you install it, you can check for errors and fix them as you write your article on the word document.
5. Grammarly keyboard – To provide an even easier experience, Grammarly also offers a keyboard, which is available for iOS and Android. Once installed, the keyboard app will check any texts or messages you type on your mobile devices and instantly provide suggestions.
Pros & Cons: Grammarly Review
There are lots of reasons of using Grammarly, but it has some disadvantages also. So here we have given some pros and cons of using Grammarly.
Pros:
Real-time grammar correction
Easy and very simple to use
Very easy to understand its language
Highly accurate
English fluency
Citation style formatting
Full-sentence rewrites
Plagiarism detector
Cons:
Limitations in the free plan
Only work in the English language
Alternatives to Grammarly
ProWritingAid – ProWritingAid is a more affordable and almost as powerful tool as Grammarly. Besides, it has no limitations or word count restrictions, unlike Grammarly which has a cap of 50,000 words in 24 hours. I can say it's a close alternative to Grammarly.
Whitesmoke – While Grammarly is a more powerful tool, Whitesmoke comes with a big advantage that it supports nearly 55 languages. This means it's perfect for international users or those with a second language. It is also a cheaper option.
Writer – A relatively new writing assistant, Writer is becoming the preferred choice of many businesses because of its vast integration options. The software mainly focuses on brand identity and company efficiency.
You can find many other similar writing tools on the internet. It's just that their marketing game is not as strong as that of Grammarly. So they fall under the radar. But you can explore them and see if they work better for you.
Related Read:
Conclusion – Is Grammarly worth your investment?
As someone who has used both the free and premium versions of Grammarly, my suggestion to you is — if you're a student or a newbie in the writing field, go for the free version. It will be enough. However, if you are into a full-fledged marketing business or are a seasonal writer, you should invest in the premium version. It's worth it!