Training an algorithm to write millions of pages in a few seconds, who wouldn't love such technology?
Copywriters, marketers and content creators are in awe of this new age of AI copywriting tools. But with the excess demand, the paradox of choice may leave you in an overwhelming state.
As per the recorded stats, 98% of copywriters are using AI-powered tools and software for content marketing. This means AI-powered copywriting tools are operational and time-saving.
In this blog, we are going to discuss the best easy-to-use AI copywriting software that can make your life easy as a content writer/creator.
Let's dive in!
Top 10 AI Copywriting Software Tools: In A Nutshell (2023)
| | | | | |
| --- | --- | --- | --- | --- |
| | Tool | G2 rating | Quality of support | Ease of use |
| 1. | Copy AI | 4.8 | 9.5 | 9.4 |
| 2. | Jasper | 4.8 | 9.3 | 9.4 |
| 3. | Copysmith | 4.3 | 7.9 | 8.1 |
| 4. | Rytr | 4.7 | 9.2 | 9.5 |
| 5. | Anyword | 4.7 | 9.1 | 9.3 |
| 6. | Headlime | 5.0 | Nil | Nil |
| 7. | Bertha | 4.7 | 8.3 | 9.0 |
| 8. | Scalenut | 4.7 | 9.4 | 9.5 |
| 9. | Frase | 4.7 | 9.8 | 7.8 |
| 10. | Writesonic | 4.8 | 9.2 | 9.5 |
1. Copy AI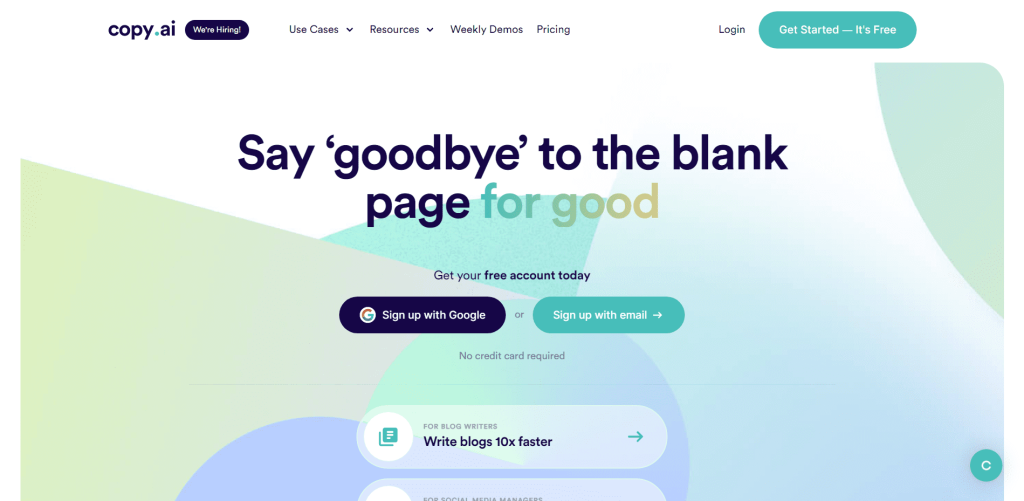 With more than 3 million users, Copy AI is one of the best copywriting tools in the market. If you are out of ideas for creating an outline for a blog, you can use this tool. All startup teams, email marketers, business owners, social media managers, and freelance writers can benefit from this tool.
With more than 90 tools and templates, this tool is available in 25+ languages and is suitable for people worldwide. Copy AI is best used for creating blog outlines. If you are a blogger and need some creative ideas for your blog, this tool can be a great choice.
Pricing:
You can get this tool for free for some limited content. Further, it's $49 a month for 40 thousand words, and for 100 thousand words, it costs $99.
Pros
User-friendly interface
Affordable as compared to other softwares
High-quality content
Cons
No SEO tool is integrated
Content review and scoring is not available
2. Jasper
The next AI copywriting software on the list is Jasper. With 5-star reviews, It has over 80k users around the globe. It comes with more than 50 templates to write any kind of content, such as taglines, captions, website content etc. Integrated with Grammarly and Surfer, this tool has much to offer you.
This tool is used by many top companies such as Google, IBM, Amplitude, HarperCollins and more. Integrated with SEO, it can help create long-form blogs that can rank on search engines more rapidly.
Pricing:
The pricing of this tool starts at $49, including Boss Mode, for $99 a month. You can customise the plans according to your requirements.
Pros
Easy to use
Boss mode with a long-form copy editor.
Accurate content with Good readability
Cons
Less affordable
Not good for technical content
3. Copysmith
Another copywriting tool I recommend is Copysmith, which suits e-commerce and marketing agencies. The features included in this AI copywriting software are Campaign creator, long-form content generator, and integrations with Google Ads, Chrome, Shopify, Frase, Google Docs and more. This is a must-try tool to manage your work in less time.
Pricing:
The affordable pricing of this tool starts at just $19 a month with 50 credits. The professional plan comes with 400 credits at $59 per month. You can opt for an enterprise plan after submitting a request for it.
Pros
Inbuilt SEO intelligence
Create more content in less time
Build campaigns
Cons
Although it takes less time long-form content does meet quality
Less responsive support team
4. Rytr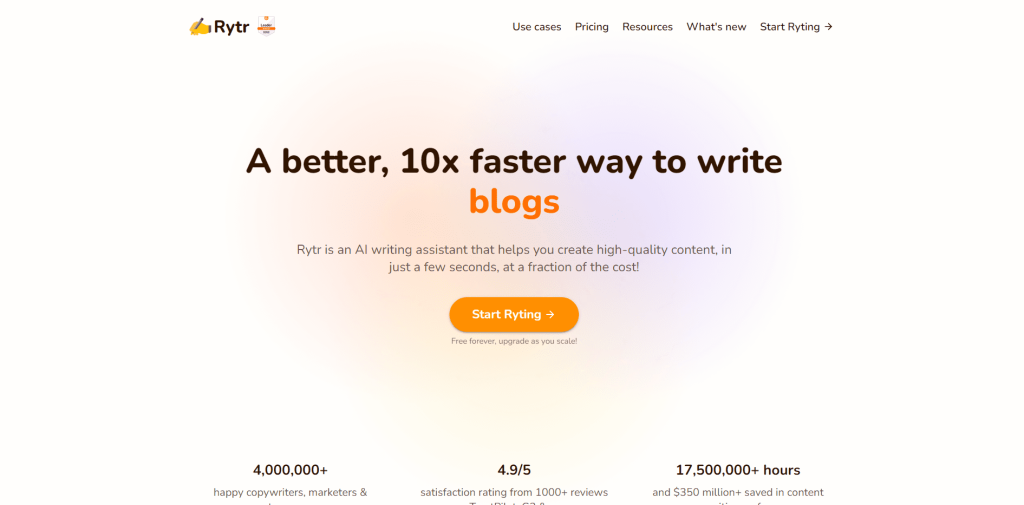 With more than 850k users globally, Rytr is the right software for AI copywriting if you are in need of creating professional content. Sales and Marketing agencies can boost their businesses by using this SEO-integrated writing tool. Moreover, it comes with a browser extension to be used in Gmail, Messenger, Slack, WordPress, Word etc.
Pricing:
The free plan offers 10k characters and 5 AI image generation a month.
The Saver plan for $9 comes with 100k characters and 20 AI images generated per month. The yearly plan is free for two months for $90 a year.
The last unlimited plan for $29 offers the generation of unlimited characters with 100 AI images a month.
Pros
Integration of apps using inbuilt API
Simple and Convenient
Affordable to purchase
Cons
Sometimes, Low-quality content is generated
Customer support service is not up to the mark
5. Anyword
Anyword is another one that you can choose to make good revenue. This tool can be used to create good-quality content for freelance bloggers and marketers. You can write anything—blog entries, social media postings, emails, advertisements, and more—in minutes.
Pricing:
You can use Anyword for free until you reach 1000 words. The other plans you can choose are 'Data-Driven Basic' for $79 a month with a limit of 30,000 words and 'Data-Driven Unlimited' for $239 a month.
Pros
Easy-to-use interface
Good customer support
Cons
No integrations with apps
Unrelated output content
No free plan
6. Bertha
Bertha is a tool available in 20 languages which you can choose for rewriting pre-existing content. Also, it comes with a writing assistant that can help you improve the quality of your content. Bertha-Art is a great feature that generates images using AI related to your written content.
The fact that it is available as a WordPress plugin is just one of its many outstanding qualities. Contrary to many other AI-powered writing softwares, Bertha is compatible with all WordPress themes and is simple to install on your WordPress website.
Pricing:
It is just $10 per month for writing or rephrasing 15000 words and generating 60 images. The unlimited plan for $99 a month offers you 500 thousand words with 440 images.
Further, you can add more credits as you pay more.
Pros
The free plan is worth
Refund if not found useful
Cons
Only WordPress subscribers can use this software.
7. Headlime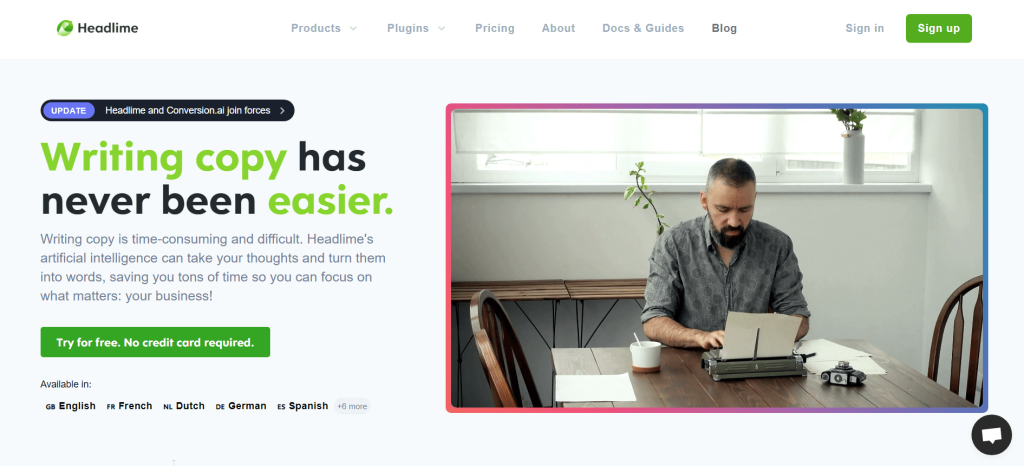 Headlime is another AI copywriting software you can opt for. You can create heavy content blogs and articles, captions, headlines, slogans, and much more using this tool. Moreover, headlime is one of the first copywriting tools that came into the market.
With this tool, you can create content in eleven different languages. There are over 1700 pre-made templates available for you to use.
Pricing:
A free trial is available, further there is an individual plan for $59 a month. According to the requirements, businesses can buy this tool's subscription for $399 per month.
Pros
Very user-friendly and simple to use
Generate catchy titles and captions
Best for Email Writing
Cons
Customer service is not good enough.
Content suggestions need some improvement
8. Scalenut
The next tool is Scalenut, which is one of the best AI copywriting tools. Use this tool for creating Ad copies, Emails, Long-form blogs, product descriptions, Reports and a lot more. It also provides you with SEO support while creating content.
Pricing:
It is available for free with a maximum limit of 2,000 words. The premium plans per month are as follows:
Individual – $12 for 100 thousand words
Growth version – $32 for unlimited words
Pro version – $60 with unlimited words and all features
Pros
Chrome extension available
A lot of templates are available
You get an SEO optimized content
Content with copywriting AIDA rules
Cons
While paraphrasing might change the meaning sometimes.
No customizable templates
Due to lots of features, it may take time to get used to Scalenut
9. Frase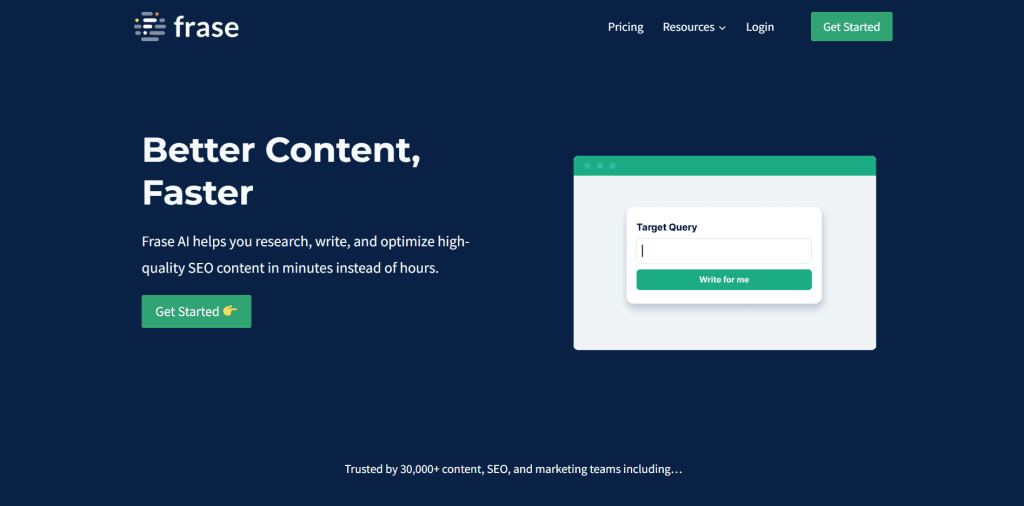 Small business owners can best use this copywriting tool. It creates more engaging content as compared to other softwares. The content generated can target the audience and help you bring more conversions.
Pricing:
The $19.99 solo plan offers you 4 credits. In addition, the $44.99 basic plan comes with 30 document credits for a single user. There is another Team plan for $114.99 with unlimited document credits, which three users can use.
Pros
Generate content that ranks quickly
Score your content performance
Cons
Being new in the market, not much customer support is available.
There's no live chat support option available
No free trial is available
You can only create 30 docs per month with the starter plan
10. Writesonic
Writesonic is the last on the list but the best one. It comprises a feature to write 80 types of content, such as Quora answers, Facebook Ads, Youtube titles, brand captions, etc. It comes with Semrush and browser integration.
Pricing:
There are 5 different plans for this tool:
A free version with 10 credits.
The basic plan for $15 with 100 credits.
$45 for the unlimited plan with unlimited credits.
The startup plan is $95 with unlimited credits.
The agency plan is $195 with all the features included.
Pros
Speedy output
Great user experience
Good customer support
Cons
A little expensive choice for newbie writers.
You can access it on Mac or your computer, not on android.
It takes forever to load and this can be frustrating to customers.
Related Read:
Conclusion: Best AI Copywriting Software (2023)
All in all, AI Copywriting Software will surely be going to benefit copywriters a lot by upscaling their content creation process. Still, all they have to do is utilize this tool after analyzing both its pros and cons.
Every tool is easy to learn and use. Choose a free trial option and then see what suits your business strategy. This way you can pick the best AI copywriting tool to achieve your business goals.
Frequently Asked Questions: 
Can anyone use AI copywriting tool without any technical knowledge? 
Of course, anyone can use AI copywriting tools without any technical knowledge as all the AI copywriting tools are user-friendly and easy to use. 
Do businesses try AI copywriting before committing it? 
Absolutely, most of the copywriting AI tool offers a free trial so that they can test it and examine whether it is worth your hype before making any committing.