Creating fresh, engaging content is a time-consuming and enormous task that requires a lot of imagination and dedication. So, it might be time to send out a distress signal in order to keep up with the ever-increasing demand for content that converts. Your best option? An artificial intelligence content generator.
Artificial intelligence platforms are the newest trend in content creation, blogging, and copywriting in general. Although professionals like writers might be intimidated by AI, it can actually be used to produce high-quality results with little input from humans.
For example, motivational quotes that inspire you and give you an adrenaline rush do not have to be the work of the human mind. An AI quote-generating tool can achieve the same result, if not better. You don't have to spend all night trying to come up with quotes on your own.
Continue reading as we talk more about AI-generating software, the benefits, and challenges of using AI tools, and mention 10 of the top AI-quote generators available online for you to produce high-quality quotes.
AI Quote Generators: In A Nutshell (2023)
Here is a list of the top 10 AI quote generators, along with their key features for you to make a conscious decision on which AI to choose for your organization:
| | | |
| --- | --- | --- |
| Sr. No | AI Quote Generator | Key Features |
| 1. | ScatterPatter's Incorrect Quotes Generator | The ScatterPatter's Incorrect Quotes Generator is an application that generates personalized quotes, dialogue, dialogues, and jokes between different individuals. |
| 2. | Simplified.co | Simplified AI is a software tool that enables you to construct, collaborate, and scale marketing initiatives. The free content writing program allows you to produce unique text for movies, advertisements, quotes, goods, blogs, and more. |
| 3. | Codepen.io | CodePen.io is a social programming software that lets you write code in the browser and view the results in real time. The AI quote generator can deliver outstanding quotations to distinguish your website from competitors. |
| 4. | BoredHumans.com | The phrases on BoredHumans.com are created using the OpenAI-developed GPT-2 transformer-based language model. It is trained to guess the following word when given a starting point based on the content of eight million online pages. |
| 5. | Mini Web Tool | Mini Web Tool is built on a constantly updated online collection of motivational quotations, meaning that you do not need to spend a great deal of time searching for fascinating quotations because they are continuously added. |
| 6. | Robot Quote Generator | Using artificial intelligence-generating technology, Robot Quote Generator will assist you in creating the most amusing quotes. You can utilize everything you make in your creative endeavors, such as blog entries, essays, and journals. |
| 7. | InspiroBot | InspiroCorp established Inspirobot.me in 2015, and online users have been enjoying it ever since. It is a free website that generates an infinite amount of original inspiring quotes. |
| 8. | Random Word Generator | Random Word Generator is an easy-to-use random quotation generator, so you don't have to worry about building anything or choosing colors. This website is user-friendly, speedy, and meets almost all of your text needs |
| 9. | QuoteRules | QuoteRules is a one-of-a-kind chatbot that generates customized quotes and propositions based on one-on-one discussions with leads. QuoteRules also provides a live chat handover, allowing users who require more assistance to connect with a live support agent. |
| 10. | ZenoZeno | ZenoZeno is an artificial intelligence quote bot that attempts to sound human by anticipating the next phrase in a sentence until it reaches a period. The algorithmically generated quotations may serve as a daily inspiration. |
The TOP 10 AI Quote Generators
There are a lot of AI-powered quote generators online, and it's hard to say which one is the best. Even so, we've picked out ten of the best online quote generators for you to try.
1. ScatterPatter's Incorrect Quotes Generator
ScatterPatter's Erroneous Quotes Generator is a website you can use if you want some hilariously incorrect yet hilariously humorous quotes. The website is an excellent resource for generating amusing and unusual quotations. You may find yourself pondering the meaning of these quotations, but that is what makes them so special and visually stunning.
It can be used to trick friends and family by fabricating a misquoted passage. With the use of a chatbot that is programmed to generate humorous discussions and ships between numerous characters, fake conversations are fabricated. The quotations are generated by putting in the text a popular quote and inserting some more words into it.
The amazing thing about AI Quotes Generator is that it enables you to choose the exact length of your quotation and whether you want it in a small or large font. It totally depends on you!
The Social Media Quotes Generator generates intelligent and pertinent quotes and phrases for your company by using your social networking platform to retrieve keywords. Utilizing the Simplified.co quotes software will help save a significant amount of resources, time and energy when developing new posts to market your company. It is an excellent method for creating targeted, shareable, and engaging content.
2. Simplified.co
You can choose the length of the quote – short, medium, or long based on the organization's marketing strategy. You may use these created quotes to post on different social media platforms such as Facebook, Instagram, LinkedIn, Twitter, etc., or as the description/tags/comments of a YouTube video. If desired, you can manually modify them depending on client requirements.
3. Codepen.io
Codepen.io allows you to input a javascript code that, given a keyword, generates an AI-generated inspirational statement. It should create one uplifting quotation for each line. You may have heard that only the best quotations should be shown on your site.
That is completely accurate! This AI generator will provide you with impressive quotations to make your project stand out from the competition. Simply enter the words you wish to quote and tap the Generate button. The program will then locate the appropriate source and transform it into an amazing quotation.
4. BoredHumans.com
This is a simple but powerful tool that lets you choose from a wide range of themes and categories, such as love, death, prestige, success, failure, and many more. You can then choose a quote based on how you want it to be written and how big the font is. The finished version is an image with text that says whatever you want it to say.
With BoredHumans.com, there are no restrictions to what you can make, so there are probably thousands of possible combinations, and we are quite impressed by how easy it is to change every part of a quote. However, some basic parts, like the space between words, still need work.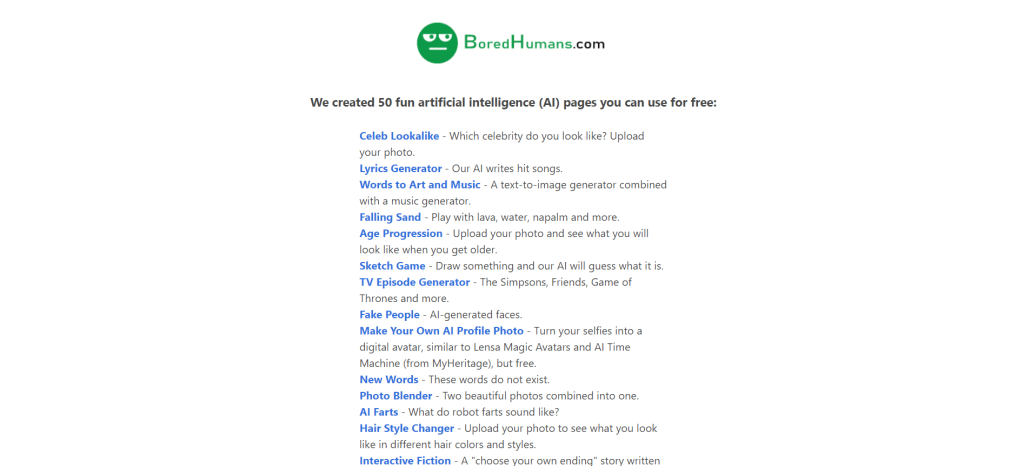 5. Mini Web Tool
This generator produces inspirational quotes at random. It appears to be built on an internet database of motivational phrases, which is likely updated frequently. This means that you do not need to spend a great deal of time searching for fascinating quotations because they are continually added. Choose between two distinct modes – the first line only or the entire text.
Each quote is preserved in a cookie on your system, so you will not lose them if you navigate away from the website or exit your browser. The list of quotations does not appear to be sorted alphabetically or according to any other criterion; rather, a few totally random quotations appear first, followed by more recent quotations from further up the list.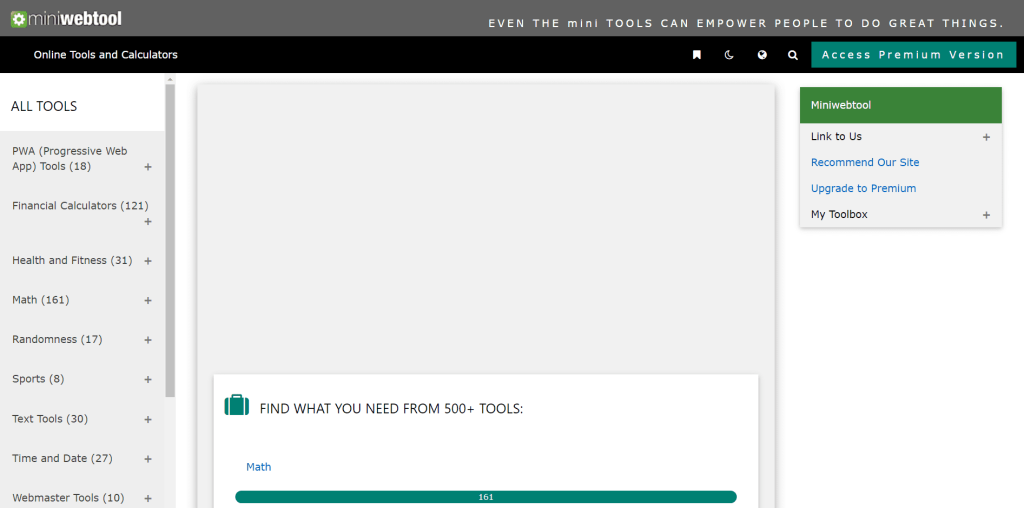 6. Robot Quote Generator
AI Robots Quote Generator assists you in writing about AI robots by providing you with suitable quotations or phrases. This AI generator will assist you in creating the most humorous quotes; it is a useful tool. You can use everything you produce in your project, such as articles, social media posts, blogs, etc. Because the generators employ AI to generate results, it is likely that the quotes and phrases they produce belong to someone else. Therefore, you must make sure to authenticate the content's source. If you utilize our generators, you must provide a backlink to their webpage.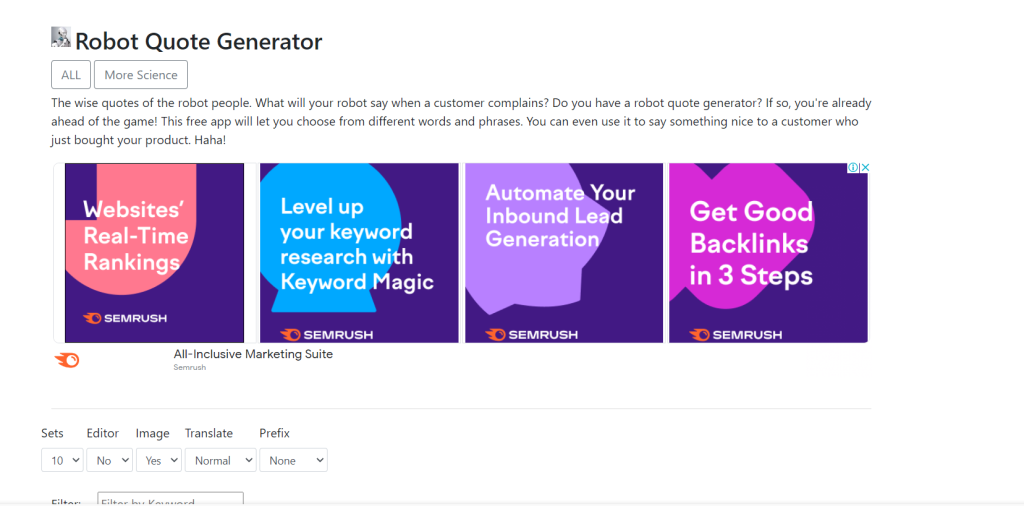 7. QuoteRules
You only have to discover where to go to be able to find absolutely brilliant quote-generating platforms online, it's really not that hard. And to make it even easier, we have done the research for you! QuoteRules is an online quote-generating platform that allows you to generate an entire list of quotes, according to your needs. 
There are numerous amazing quotes (read unlimited) about AI to be found in this database. The website is meticulously organized, fully optimized, and well-designed to deliver the finest results.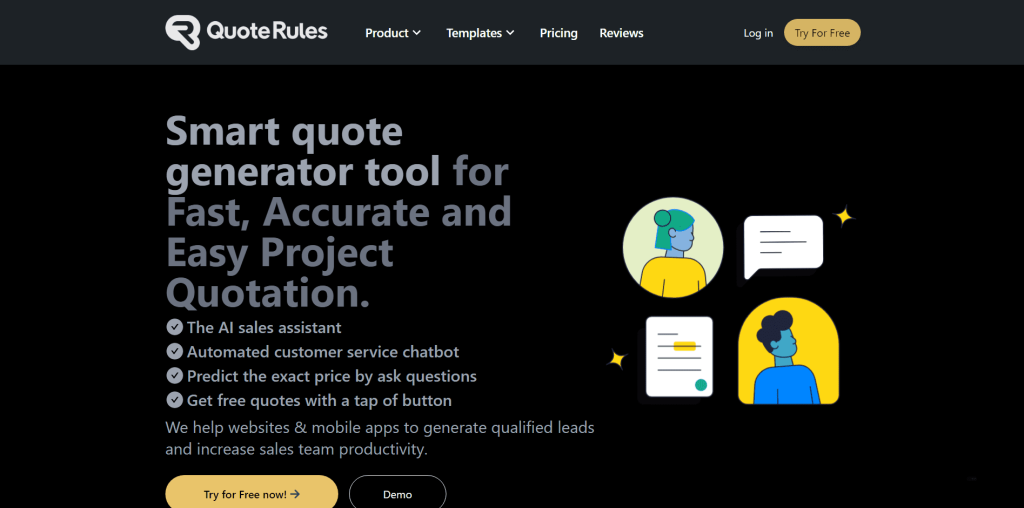 8. InspiroBot
InspiroBot, a program that makes quotes using techniques from AI, such as machine learning, is one of the best AI quote generators out there. Even though you can't ask questions as you would to Google (What was that quote on dolphins?), the generator will allow you to get inspired when you require it most.
InspiroBot was made to help people be more productive at home, school, or the office by giving them motivational quotes. This is why it is also called the AI inspirational quote generator. Oftentimes, all you need is a little push to get your creative juices flowing. InspiroBot is helpful in these situations. Just ask it for something inspiring, and wait for it to generate the quote.
Although, you cannot close your webpage or switch to another app. And if you don't get the right idea, InspiroBot will keep answering different versions of your question until you find one that suits you.
How does the AI generator figure out what kind of result will make someone feel inspired? Well, motivation is defined as a feeling that comes from being exposed to something new or important, meaning that new and fresh ideas are always a great source of motivation and inspiration.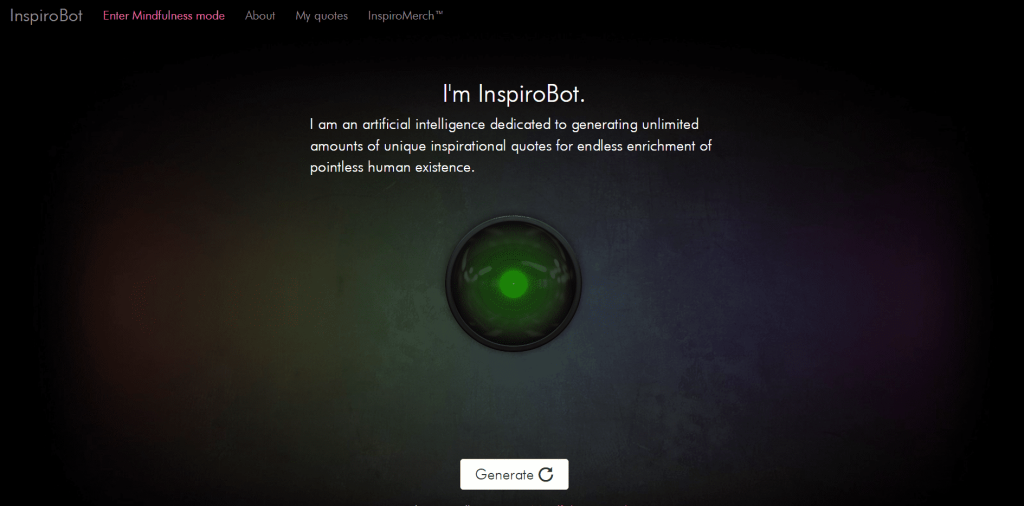 9. Random Word Generator
This is among our top online quote generators. It's a really easy-to-use random quote generator, so you don't have to stress about customizing anything or choosing colors; everything kind of just works the way you want it to. It has numerous options, such as Inspirational sayings and Witty quotes, and you can simply create a quote to your liking by choosing that category.
The website has a beginner-friendly interface, generates results quickly, and covers almost all your needs! Furthermore, it not only generates photos with your chosen text, but you can also download them on your desktop or directly send via mail.
When you use this website, it makes a lot of interesting pictures, like words made up of letters where each character is unique or a series of letters flying by each other in an order after which they are put together to make words.
10. ZenoZeno
Zenozeno, a compilation of sixty inspirational statements, is generated by DeepMind AI about love, technology, and life. These quotations are developed algorithmically and might serve as daily motivation. Each quotation is accompanied by a poem created by an artificial intelligence network skilled in most of Shakespeare's literary works. They can also serve as material for your upcoming project or as a discussion topic at tonight's supper. Make the most of these free ideas derived from AI while you can.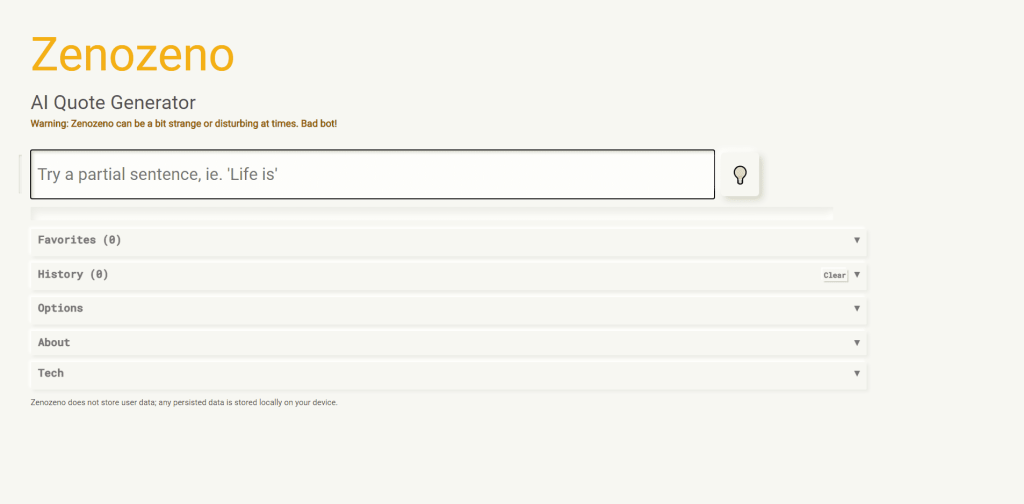 Conclusion
AI quotations are an excellent resource for gaining inspiration and depth of understanding of the human mind straightforwardly. AI tools learn to generate motivational sayings from a variety of sources. Therefore, there is a quote for everybody. Several of these tools are ideal for social media interactions.
Chess is an example of a task that researchers are continually attempting to make computers capable of performing. However, they are also concentrating on tasks that involve inspiration.
They are currently acquiring systems that generate quotations that sound human. As the science and technology field continues to grow, we can now access these quotations from the comfort of our own homes. Use them to alter your disposition or to draw inspiration for a new idea or project.
FAQs 
Is there an app to make quotes?
Text2Pic, Image Quote, Quote Maker, Quotes Creator, Jusgramm, Text on Photo Square, PicLab, and Textgram are just some of the many apps available to make quotes.
How old is InspiroBot?
InspiroCorp launched Inspirobot.me in 2015, and users have been appreciating it ever since. It is an artificial intelligence (A.I.) dedicated to producing unique motivational quotes for the unending betterment of human existence.
How can I create my picture quotes?
To create your picture quote, just upload your photo or choose one of the many templates available, add your text along with the finishing touches, and save your picture!
Who created the InspiroBot? 
InspiroBot is created by Jesper Sundness and Peder Jorgenson To create the quotes.