Technology for voice cloning has been around for a while and has advanced significantly since its invention. It was once primarily used for amusement, but it has since developed to include several wider commercial and professional applications.
Large quantities of voice samples and specialized equipment are no longer needed for voice cloning to work properly.
The ability to mimic any type of voice has gotten a lot easier thanks to recent advancements in AI and voice synthesis technology. Today, we use AI-generated voices frequently in video games, branding, animated feature voiceovers, voice commands, audiobooks, etc.
Let's just say that compared to a decade ago, AI voice generators have practical advantages for both individuals and companies. Because of this, picking the best AI voice generator is essential for generating a voice that sounds seamless and natural. An AI voice generator can be used to produce voice overs for your videos, convert blog posts into podcasts or videos, and more.
AI-powered voice-generating tools are abundant on the market. Finding the ideal voice generator might be challenging because you have so many options available. This article, however, seeks to eliminate any doubts you might have by suggesting the best AI Voice generators currently available on the market.
AI Voice Generator And Its Features: In A Nutshell
| | | |
| --- | --- | --- |
| Sr. No | AI Voice Generator | Key Features |
| 1. | Murf.AI | It has a grammatical assistant, enabling you to create proofread scripts which only improves your voice-over job. |
| 2. | Play.ht | It works well as a paid and free voice generator; with a variety of languages and vocal styles to pick from, Play.ht is well worth a look. |
| 3. | Replika | Replika is a perfect text-to-speech generator for game, film, and animation developers, thanks to its large library of voice templates from real professional actors. |
| 4. | Lovo.AI | Lovo.ai is an excellent text-to-speech generator that is powered by an outstanding AI. |
| 5. | Resemble.AI | Resemble.ai is a powerful AI text-to-speech generator with a variety of business applications. |
| 6. | Speechify | Speechify is a simple AI speech generator that can convert any textual content into flawless natural-sounding voices in only a few clicks. |
| 7. | Sonantic | It can convert screenplays into believable AI voices in minutes and assist you in obtaining genuinely expressive voices by utilizing many voice performance characteristics. |
| 8. | Spik.AI | Spik.ai is easy to use, free, and efficient, however, it has very few features. |
| 9. | Woord | Woord is a low-cost AI voice generator that can produce a wide diversity of voices from an infinite amount of text. |
The Top 10 Best AI Voice Generators In 2023
You can use a variety of AI voice generators for your personal or professional needs. Here are ten of the best AI voice generators for you to choose from:
1. Murf.AI
Murf.AI is a flexible text-to-speech voice generator that provides you with voiceovers of studio quality for a range of business applications. The program includes a sizable voice library with over 115 distinctive voices in 15 different languages. Its AI is capable of recreating your voice in the appropriate tone while understanding every punctuation mark and exclamation point you feed it.
Additionally, it has a built-in grammar checker that enables you to create fact-checked scripts that only improve your voice-over work. You can publish your video, music, and photos using the tool as well for flawless voice synchronization. With its enterprise plan, the tool also provides an impressive feature for collaboration.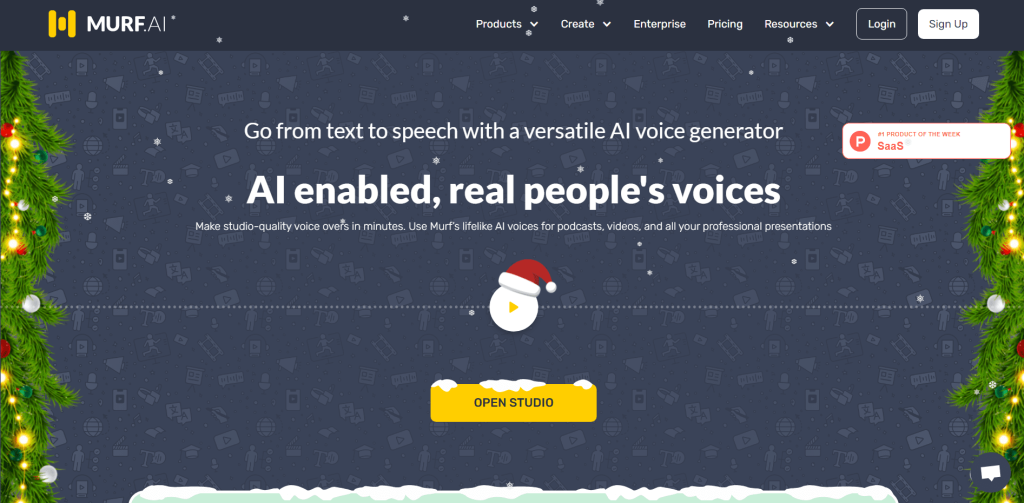 Pricing:
Available plans include a free version, a Basic plan priced at $13, a Pro plan at $26, and an Enterprise plan priced at $83.
Features:
Create voice-overs that are unique to you
Support for text and audio input
With a single subscription, you can access the entire voice library
Instant generation of high-quality voice
Collaboration with a team online
2. Play.ht
Play.ht is an online voice generator that allows you to generate high-quality text-to-speech. Due to its straightforward UI, the platform is incredibly simple to use. On the home page, there is a text box where you can enter your text, choose the language, gender, and voice style, as well as the conversion speed.
The platform supports more than 60 languages, offers 570 distinct AI voices, and can be used for both professional and private purposes. Both a free and a paid version are offered. Although the free version is quite good, there are fewer voice styles available. You can download your produced speech from the platform in MP3 and WAV formats as well.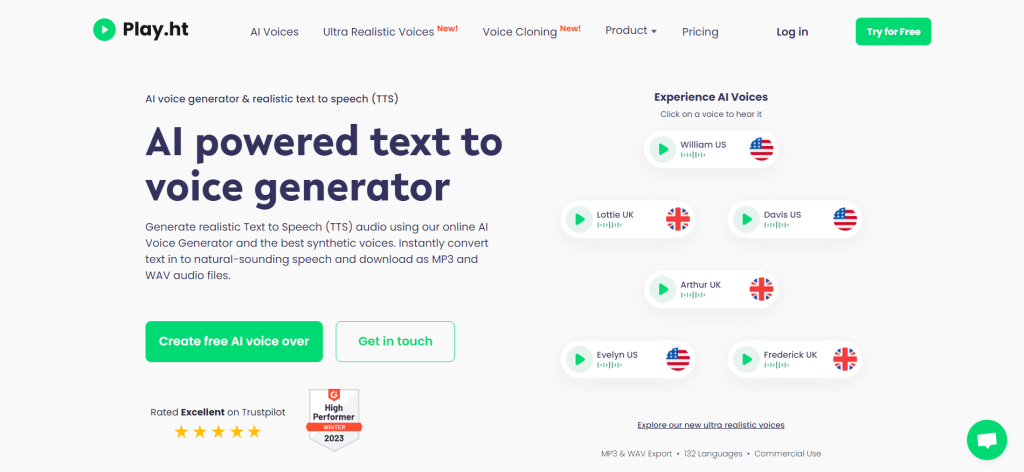 Pricing:
There is a personal ($19/month), professional ($39/month), growth ($99/month), and business plan ($199/month) version in addition to a free one.
Features:
Using voice inflections to modify speech tone
Easily view all voice formats before using them
Customize the pronunciations in speech
Try out different speech patterns
3. Replika
Replika includes a large gallery of AI voices created by industry professionals. This website offers a wide range of demo voices that you can experience for zero cost before registering to its premium membership.
Replika will transform your provided text into a human-sounding voice with the necessary voice tone and emotions on demand, depending on the voice type you choose.
After you've inserted your script, you can adjust the pitch and volume to sound angry, sad, pleased, startled, and more. The synthesized voice is available as an MP3, OGG, WAC, or FLAC file at 22 kHz. The platform provides 30 free minutes of voice credits, allowing you to play with all of its voice genres.
Pricing:
Try it out for 30 minutes without any cost, purchase 4 hours of credit for $24 or 100 hours for $300, or go with a customized enterprise plan.
Features:
Try out several voices from Replika's enormous voice library
Include voice effects
Prototyping of a voice line
Change the tempo, pitch, tone, and amplitude of your speech
Script development
4. Lovo.AI
Through its user-friendly platform, Lovo.ai enables developers and casual users to create voice-overs that sound human and generate speech from text. The platform includes more than 180 voice types in 33 different languages. Additionally, the platform is constantly being updated with fresh voices, giving users a wide range of options.
Within 15 minutes, the tool produces customized voices. On this platform, the text-to-speech conversion only needs to be done in three easy steps. Additionally, users can make use of its API to produce voices with the ability to accurately mimic human emotions.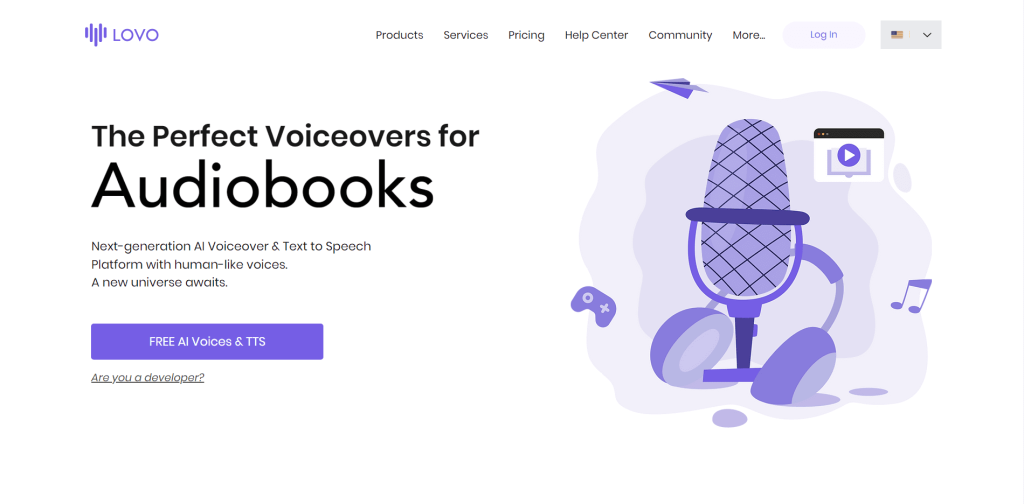 Pricing:
There are three options: a free version, a personal plan ($17.99), and a freelancer plan ($49.99).
Features:
Unrestricted sharing, conversion, and listening
Access to a fairly large voice library
You can convert approximately 15000 characters at once
Self-made voice cloning
5. Resemble.AI
Resemble.ai operates on multiple fronts. In addition to generating speech from text, it can also produce text for adverts with a single click. Additionally, the platform may generate a personalized voice that can be used as a voice assistant for Amazon, Google, and others. Call center agents can also use the software to clone and customize the voices of their agents.
Resemble provides four ways for crafting synthetic voices – you can compose voices using API, shoot up to 50 samples instantly on the webpage, choose from a multitude of voice performers, or submit unscripted, unprocessed audio.
Pricing:
The basic package is $30 per month. You can also contact the Resemble team for a plan that fits your needs.
Features:
You may modify the voice of your brand and create dynamic IVR agents.
It permits instantaneous language dubbing.
A single click is sufficient to generate AI text for marketing.
6. Speechify
We adore Speechify because it can convert text in any format into realistic-sounding speech. Any PDF, email, document, or article you feed on this internet platform can be converted into audio so you can listen to it instead of reading it. You can change the reading speed as well, allowing you to listen to the transformed audio at a 5–9 times faster speed than usual.
You can pick from more than 30 voices, both male and female, that sound natural. Additionally, the software has enough intelligence to recognize over 15 different languages. Speechify's capability to seamlessly generate scanned written texts into audible audio maybe its best feature.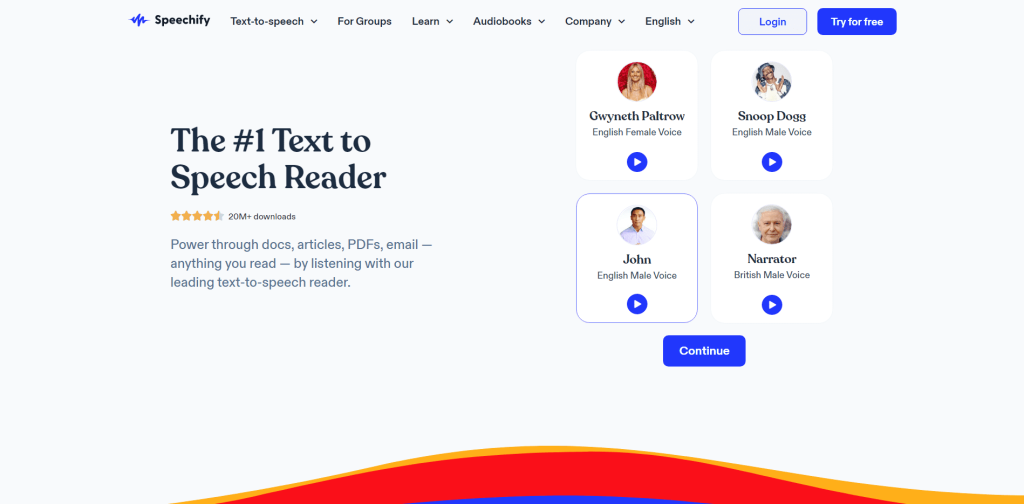 Pricing:
There is a basic plan that is free to use, and the cost of the premium plan is $139 a year.
Features:
Scan and convert written text to voiceover
Google Chrome and Apple Safari extensions
Save files on various devices
More than 30 voices for you to choose from
More than 15 supported languages
7. Sonantic
Sonantic is an intelligent AI voice generator that is immensely popular in the entertainment industry due to its capacity to generate expressive AI voices that sound lifelike. You can quickly modify the tone of your created speech to reflect a range of human emotions, including anger, grief, and happiness.
The software can swiftly convert text into speech. Sonantic enables production directors to obtain high-quality voice-over material for their productions within minutes. In addition to controlling the pitch and tempo of voice-over work, the platform gives customers complete control over all voice performance factors.
Pricing:
Sonantic offers customized pricing plans.
Features:
Export of high-quality sound.
Choose from a vast selection of professional voiceovers.
Modify or adjust the pitch, loudness, tempo, and tone of AI Voice.
Change the intensity of emotion between high, low, and medium versions.
8. Spik.AI
Spik is a web-based voice generator with a reputation for producing natural-sounding text-to-speech. Spik, like Play.ht, provides a simple user interface to help beginners quickly generate a voice from the text they enter into the text box on the Spik homepage.
Spik can create convincing voice effects because it employs machine learning technology effectively. This app is entirely free. However, non-registered users can only create files from the text that does not exceed 300 characters.
To produce files with up to 1,000 characters of text, you must register for the website's service. In addition to text, Spik.ai supports SSML, or Speech Synthesis Markup Language, to make the generated speech sound more natural.
Pricing:
It is free to use, and all you need to do is register on the website.
Features:
Utilization of TEXT and SSML for speech generation
Three-step procedure for generating speech
It is free to use
Choose from three distinct English pronunciations
9. Woord
There are two very convenient ways to generate speech using Woord. To initiate the process, you may either enter the text to convert manually or input the URL of a full article. Similar to other quality voice generators, Woord offers an extensive library of bespoke voices to pick from.
From its collection, you can choose the style, gender, nationality, and accent. The platform currently provides over sixty voices in over ten distinct languages. The voice generation process is also quite rapid. You can preview the created voice by clicking the 'Play' button, or you can immediately download the MP3 file.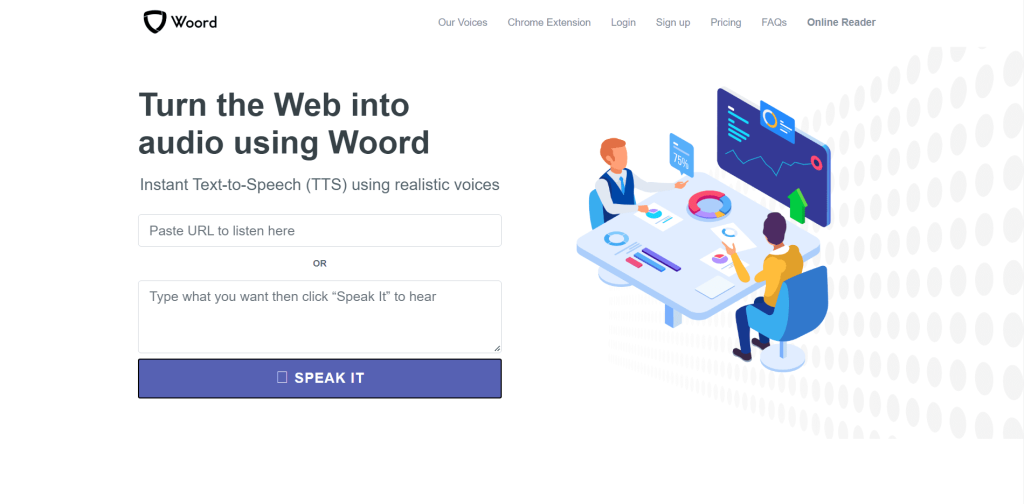 Pricing:
Along with the free plan, Woord offers a standard Plan ($24.99/month) and a premium plan ($99.99/month).
Features:
Create and spread synthesized voices across several platforms.
Chrome add-on browser.
Text-to-speech generation is unlimited.
OCR is used to extract text from pictures and PDFs.
Conclusion
That's a lot of online AI voice-generating software.
As a concluding note, it is now possible to create realistic voices using the most recent advances in AI. AI does more than just read your text aloud; it fills the text with the tone, feelings, and organic breaks.
The computer software that analyzes spoken and written language makes up the AI voiceover tools. They study the voices and tones of real voice actors to simulate them.
Moreover, these tools will continue to improve over time.
The tools are currently the most effective for reading English. The majority of the tools do, however, support multiple languages. Our personal experience has shown that the AI voice generator makes a language sound more robotic the less common it is. This is expected given the dearth of training data for languages other than English.
You can record voice overs for videos, turn blog posts into podcasts, set up IVRs and mobile greetings, and do a lot more with AI voice-generating tools.
FAQs
What Is the Best AI Voice Generator for Your Business?
Murf.ai is the best AI voice generator overall. This tool enables you to effortlessly create voice overs that sound human for videos, audiobooks, coursework, ad campaigns, and more.
How Does an AI Voice Generator Work?
Using intelligent machine-learning models, AI-based voice synthesis operates. These models process tens of thousands of hours of voice tapes made by actual voice actors. These tools do this so they can listen to the recordings and learn how to talk.
Is There a Usage Limit for Voice Generation?
Most voice-generation software has a maximum number of minutes that can be generated. If you perform voiceovers infrequently, software with a strict character count is irrelevant. However, if you are a professional user, you must ensure that the limitations will not hinder your process.