Copywriters can be worn out if they have to create more content with the same amount of time and money. In fact, you can make more content that is perfectly optimized without spending more money. All you need are two software – Jasper and Surfer SEO. Jasper Ai is a smart AI writing assistant that works well with Surfer SEO to create highly optimized content and generate results.
This partnership makes a lot of sense since both Surfer and Jasper AI are tools for content creators that help them get more done. In the end, this integration makes it easier for marketers to write more and deliver content that gets results.
In this article, we'll teach you how to get the most out of this integration of two of the most popular SEO content tools available.
What Are Surfer SEO & Jasper AI?
If you're still new to the idea of using AI to write high-quality, original, SEO-friendly content, here's a quick overview of both tools to help you understand what they do.
Surfer SEO is an on-site optimization software that evaluates a website's performance against those at the top of search engine rankings. Surfer SEO does a thorough analysis of a website to show what it lacks. This feature is very helpful for content strategists who want to find activities that build content. Surfer SEO has a keyword analyzer, an extension for the content editor, and an AI outline generator. It also helps you improve your blog's SERP ranking after it's already out there.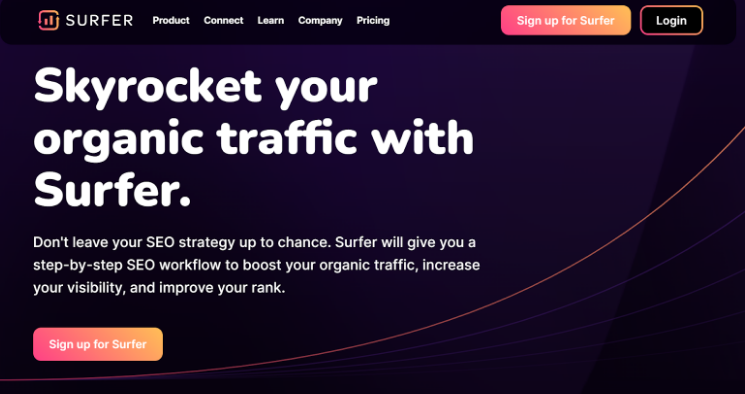 Jasper AI, on the other hand, is a tool for generating different kinds of content, using artificial intelligence. It can make emails, blog posts, posts for social media, and articles. Jasper AI is straightforward to use and can be tailored to your specifications. It also has a plagiarism checker built in to make sure your content is unique. With a better ad copy, the tool can help you get more people to click on your ads. The artificial intelligence engine makes ads that get people's attention and turn them into leads.
How To Integrate Surfer With Jasper? (Step-by-Step Process)
Integrating the features of Jasper with Surfer is an easy process. The only requirements are Boss Method on Jasper and the existing Surfer account. If you do not already have a Surfer SEO account, create one! Furthermore, you must subscribe to Surfer SEO individually apart from your Jasper account to use this service.
There are a variety of ways to integrate Jasper and Surfer-based SEO content optimization strategies. The most common of which is as follows:
Sign in to your Jasper account and turn on the SEO option. You can accomplish this by navigating to your settings and turning on the SEO option. It will be in the panel for customization. When you switch it on, a green icon will appear to indicate that it has been correctly activated.

Enter the dashboard by clicking on the SEO sign to start a fresh document in Surfer.
You can open the Surfer dashboard on the left corner of the document by tapping on the SEO mode option at the top of the document.
To get to the Surfer dashboard, you have to sign in to a Surfer SEO premium account. Don't forget to sign in to Surfer SEO in another tab of the same web browser, and hold the Jasper AI documents tab open.
After logging in, you need to reload the Jasper AI document page. The Surfer suggestions will show up on your screen as soon as you refresh it.
After enhancing your content with Jasper and Surfer SEO, it is time to press 'publish.' However, simply publishing the article online does not mean that the work is complete. It's good SEO practice always to add new content to your posts. This means you can continue to use Surfer SEO to find new keywords that are more relevant to your post and add them.
Additionally, if you still have any questions regarding integrating the tools, please contact either company's customer service – they are quite responsive and helpful.
Surfer Not Showing on Jasper: Here's What You Can Do!
If you followed all of the steps in the preceding guide properly, but still cannot access Jasper AI, cross-check the following list:
You must be signed in to both Surfer and Jasper AI using the same web browser. Firefox and Chrome are the best browsers.
Turn off any pop-up blockers that you have on your webpage.
If your browser is connected to a VPN and the Surfer menu is not appearing, consider disconnecting the VPN.
If you're using Chrome, make sure that Jasper AI's third-party cookies are turned on so it can tell if you're signed in to Surfer or not.
After making sure of all of the above, Surfer will be on Jasper. If it still doesn't show, you can get in touch with the Jasper AI support team – they will help solve your problem.
Related Read:
Conclusion
Using the Jasper AI tool and the Surfer SEO tool together is a great way to get more people to visit your website. The Jasper AI helps you write high-quality content, and the Surfer SEO tool can help you find keywords you might not have thought of before. It can also help you optimize your webpage for those keywords so you can start getting more traffic.
So, what're you waiting for? Start using these tools right away to see how they can help you get more people to visit your website.
FAQs
How Do I Use SEO Surfer?
Surfer can be used to study the first page of search engine results for a specific keyword. You can then use this information to optimize your webpage. The concept here is that the top page results are ranked for a reason, and you can also rank your webpage if you mimic your competitors' on-page SEO strategies.
Is Surfer SEO free?
Surfer currently offers three free tools: Grow Flow, the AI Outline Generator, and Surfer's keyword research program, which allows you to examine Google's SERPs
How much is Jasper per month?
Starter plan pricing starts at $24 each month when paid annually or $29 per month when paid monthly; this cost includes up to 20,000 words monthly.