In today's competitive world, content marketing is becoming increasingly essential for business owners. Countless tools are claiming to be the ultimate solution for SEO and writing. But with the many options, it becomes more confusing to decide the best one.
Among these tools, the two very popular choices are Jasper and Frase. If you are wondering which one to choose, I've prepared a head-to-head comparison to assist in your decision.
In this post, I have covered all the aspects, from key features to pricing details, which will help you pick the one that fits your needs perfectly.
Jasper vs Frase: Head-to-Head Comparison (2023)
Here we give you an insight into Jasper vs Frase in detail
| | | |
| --- | --- | --- |
| Feature | Jasper | Frase |
| AI technology | GPT-3 Model | In-house technology |
| Supported Languages | 25 | 20 |
| Content type | Both long-form and short-form | Both long-form and short-form |
| Content tone | Flexible | Neutral |
| Plagiarism check | Yes | No |
| Integration | Grammarly, Surfer, Copyscape | Google docs, WordPress, Search engine console |
| SEO features | Yes | Yes |
| FAQ integration | No | Yes |
| Customer support | Email support system | Support ticket system |
| Price | Starts at $49/month | Starts at $14.99/mont |
Quick Answer
Putting it in simple words for you so you get a quick insight about Jasper & Frase.
Jasper AI is a powerful tool for writing long-form content and churning out original and SEO-friendly content at lightning speed. If you need a quick and efficient writing solution, Jasper AI is the way to go.
Frase, on the other hand, is amazing when it comes to SEO optimization and creating outlines. If you're an SEO expert or content marketer looking to boost your rankings and optimize your titles, this tool would be a perfect choice.
Before taking a deep dive into their features, let me begin by explaining the tools first.
What is Jasper, and how does it work?
Jasper is an AI-powered writing tool that can write any form of content ranging from blog posts to ad campaigns. It's a virtual assistant that can create SEO-friendly content 5 times faster than the average human speed. Jasper can make writing more convenient and your life a little easier. Want to know more more about Jasper, then check out our in-depth Jasper AI Review here.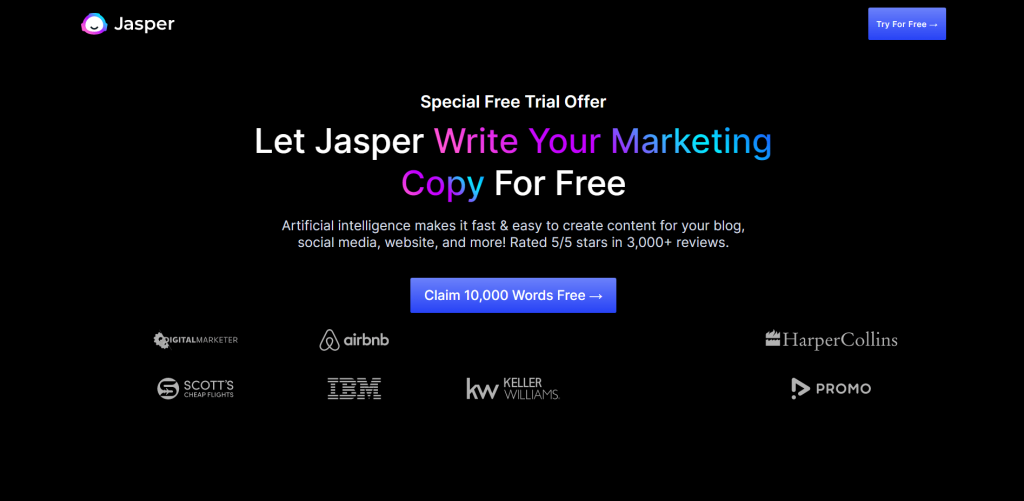 Process
The entire process to create your desired content on Jasper takes less than a minute. Don't believe me? Keep reading
Step 1: Your first step would be choosing the appropriate template. Jasper comes with a wide range of templates like a long-form assistant, creative story, video description, etc.
Step 2: Now you need to give the keyword along with the specifics you need. You must be precise about the details, otherwise, it could lose the connection.
Step 3: Well, there isn't a third step. You just have to click on generate and that's about it. There you will have the required content in a matter of seconds.
What if Frase, and how does it work?
Frase is an AI-based SEO tool used for content optimization. With this tool, you can optimize your write-ups for search engines and create high-quality content. Its unique features simplify your work process and help you stay updated and always on top.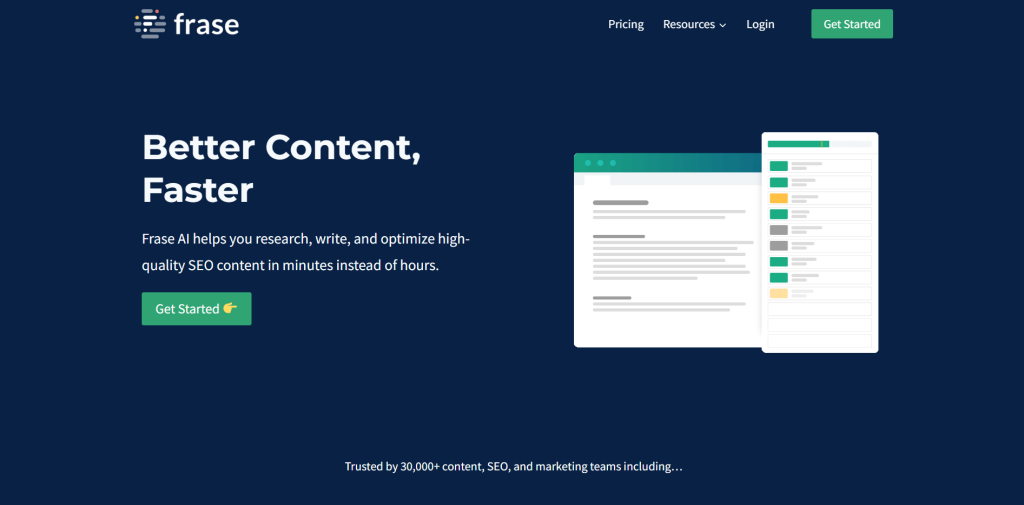 Process
Frase is a magical wand for content researchers. It can create content briefs by scanning the entire internet with just a few clicks. Let's see how
Step 1: Search for the keyword. Once you have done that, the tool will show you the top-ranking keywords to get you started.
Step 2: You can then generate a solid outline structure, which acts as a base for your writing.
Step 3: After creating your content piece, you can run it through the software to get an analytical score and compare it with the top competitors.
Step 4: Make the necessary changes and Bingo! – the best SEO-optimized content is ready.
Features
When you're trying to decide between Jasper and Frase, it's crucial to understand the key features and capabilities of each tool. While both have similarities, there are some standout features as well. So let's dive into it and help you decide which one suits you better.
Standout Features of Jasper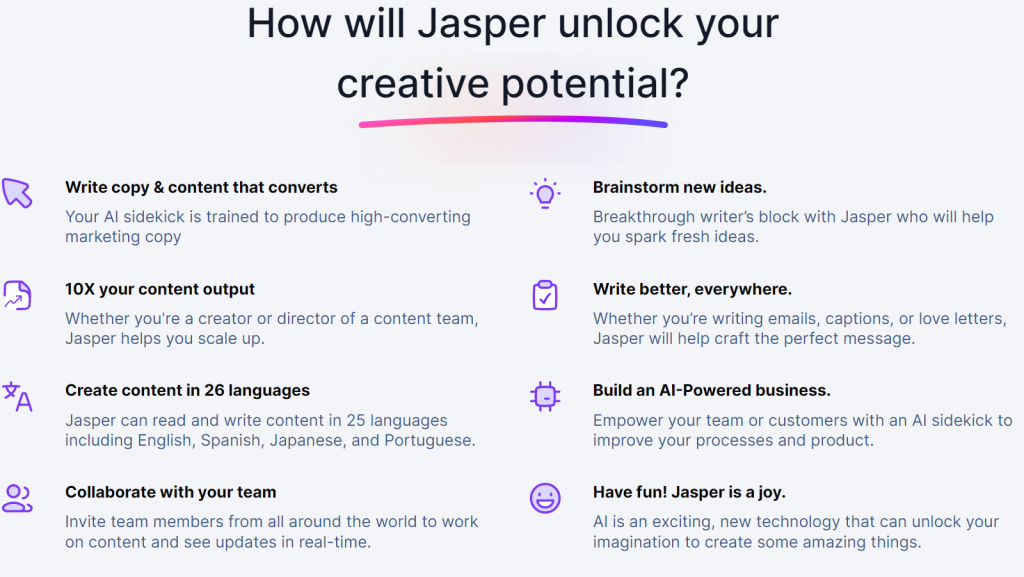 You might think that "recipes" here has some technical meaning. But, much like a food recipe, Jasper AI recipes is a feature where you give a set of commands to get the content piece.
You can easily create a blog post by adding the necessary sections you need, such as the title, intro, succeeding paragraphs, conclusion, etc.
The boss mode of Jasper takes your content to the next level. This feature is known for producing high-quality long-form content at an impressive speed. It allows you to use freestyle commands to customize your output. You can also review up to 3,000 words of your previous work and create content that matches its tone and style.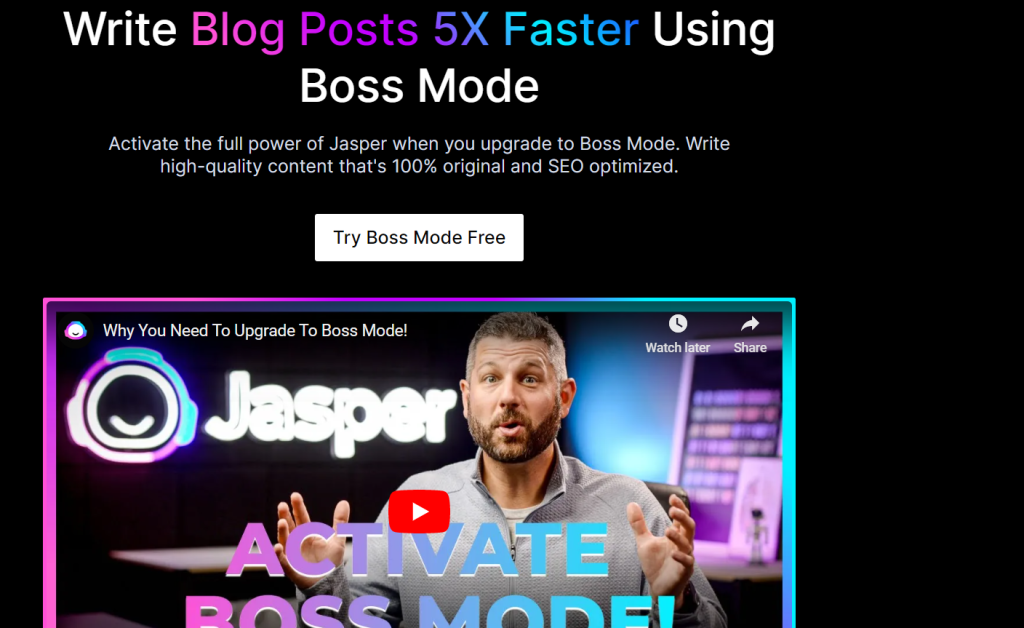 Whether you are an experienced content writer or a beginner, this feature can help you streamline your workflow and boost your productivity.
Jasper AI Art generator is a newly introduced feature where you can quickly create new images using your imagination. You just have to provide a brief description of the image and the tool will give you the precise image you had in mind.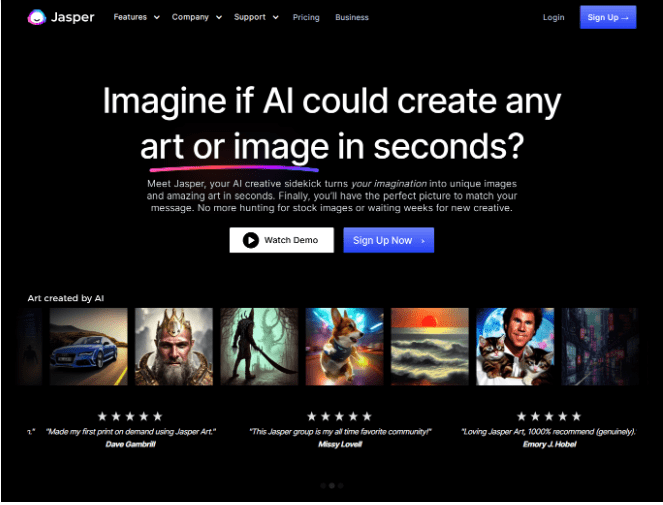 With this tool, you can generate as many images as you like. Content creators can now convey their message through images to connect to their audience.
Jasper's AI voice dictation feature is a game-changer, especially for those who are running short on time. All you have to do is speak the information to the tool, and it will generate the output for you.
This feature is beneficial for generating content while doing other tasks. It makes the process of writing more efficient.
Standout Features of Frase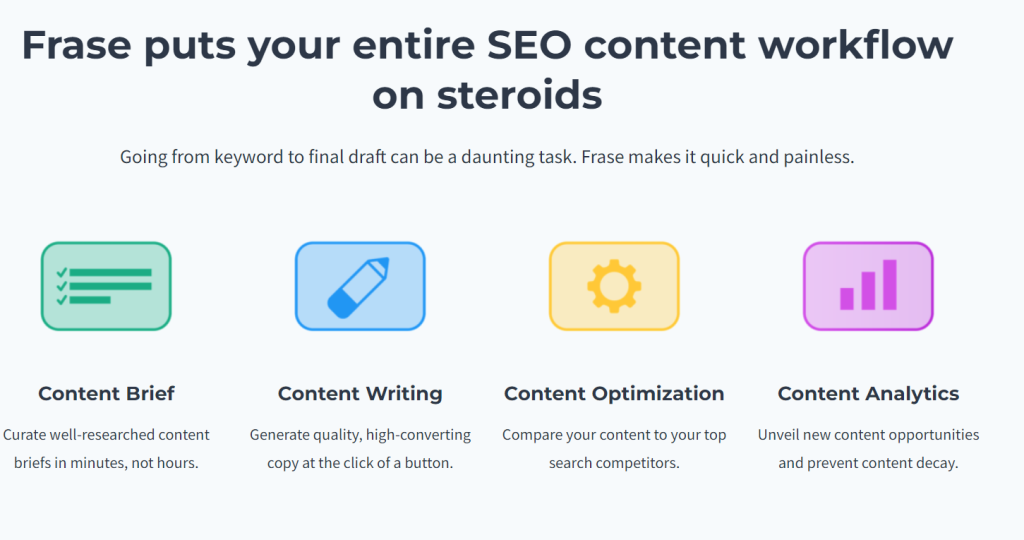 As a content creator or strategist, you know how tiring, and time-consuming keyword and topic research can be. With Frase, you can find out what questions your audience is asking and create optimized content by answering them.
This feature can also be helpful if you want to include an FAQ scheme in your article.
To write effectively, it's essential to have clear content briefs when creating articles. Frase makes it achievable by considering several factors such as SERP, overview, top 20 pages, statistics, etc.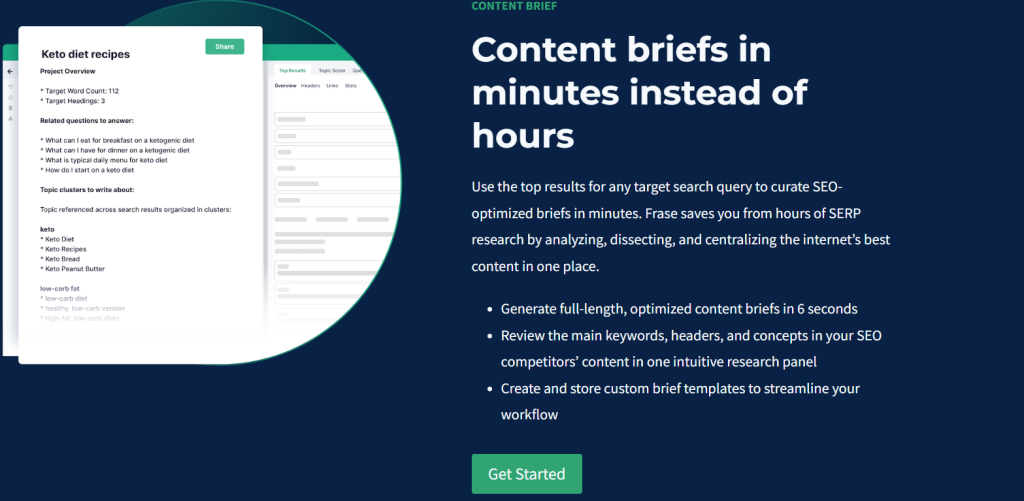 It allows you to add sections manually or automate them for you.
Whether you're a content researcher looking for data or a content marketer trying to understand a topic, Frase's Answer Engine has got you covered.
It crawls your website to learn about its content and builds an intelligent knowledge base to answer users' queries.
Other Features of Jasper AI and Frase
Jasper is suitable for entrepreneurs, freelance writers, and agencies as it can create original content from the many templates it offers in no time.
Frase is more suitable for enterprises, individual creators, and teams because of its briefs, comparison, and research techniques.
Jasper uses the GPT-3 platform which is created by OpenAI, which allows it to use the AIDA and BAB frameworks into this tool.
Frase uses an AI technology created in-house for copywriting.
Jasper has a more visually appealing interface that contains color and design elements to enhance the user experience.
Frase has a streamlined, functional interface that focuses on simplicity and ease of use.
Jasper offers features like boss mode and 50+ templates that make it a fine choice for all types of content.
Frase is great for generating content briefs, but it may not be as effective for long-form guided writing.
Jasper has integrations for Grammarly, Surfer, and Copyscape to provide a comprehensive content approach.
Frase offers integrations with Google Docs, WordPress, and Search Engine Console to optimize your writing process.
Jasper has an email support system and community forum for a quick resolution of user issues.
Frase offers online documentation and a support ticket system for technical queries.
Pros and Cons
Every comparison is incomplete without weighing the pros and cons. Let's take a closer look at what these tools have to offer and see where they shine and where they might fall short.
Jasper pros
Valuable 50+ templates
Enhance existing content
Write content in 25+ languages
Five times faster than human speed
Put an end to writer's block
Jasper cons
Might produce repetitive content at times
Not the best choice for highly technical content
Frase pros
Complete analysis for better ranking
Optimized content briefs
Comparison with top competitors
Save time spent on research
Rewriting and paraphrasing assistance
Frase cons
Not suitable as a writing tool
Sometimes give factually inaccurate content
Price Comparison
I have scoured the internet and gathered all the information on Jasper and Frase. But I know that one necessary piece of the puzzle might still be missing – the pricing plans. Don't worry, I have got you covered.
Jasper Pricing
Jasper offers three different pricing plans — starter, boss mode, and business – each tailored to meet the needs of a specific audience.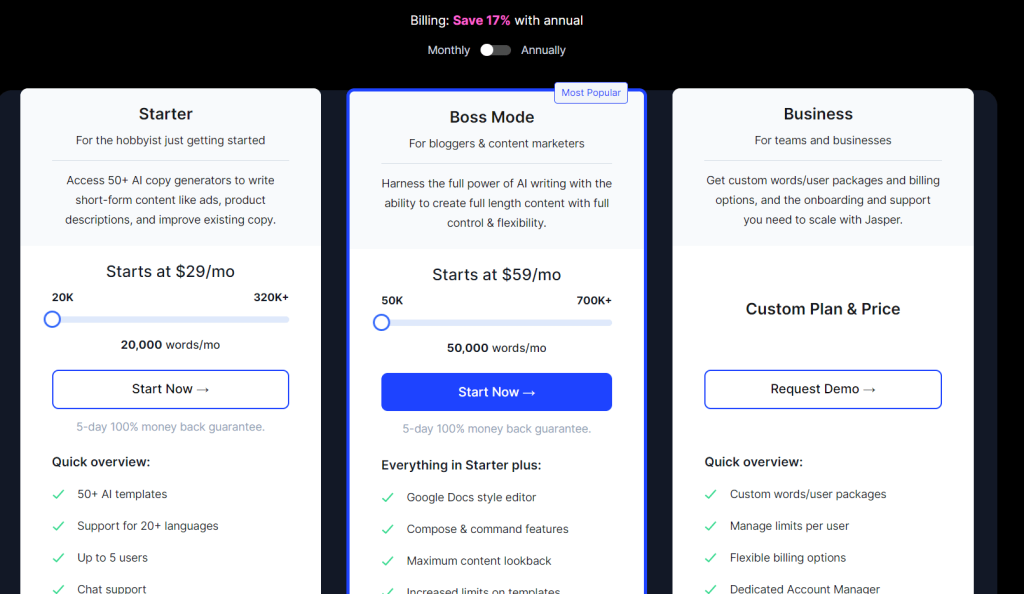 These plans come with a range of features designed to cater to your target market. They are credit-based, meaning that each plan gives a certain amount of credits/words to use within the month. These credits reset at the start of each billing cycle.
Starter– Starts with a monthly plan at $49/month and gives 35,000 words and 50+ templates. Its annual plan is $40/month.
Boss mode– It starts with a monthly plan at $99/month and offers 100,000 words, along with chat support and command features. Its annual plan is $82/month.
Business– This is a custom plan designed for your specific requirements.
Frase Pricing
Frase offers three-tiered pricing plans to meet the demands of different users.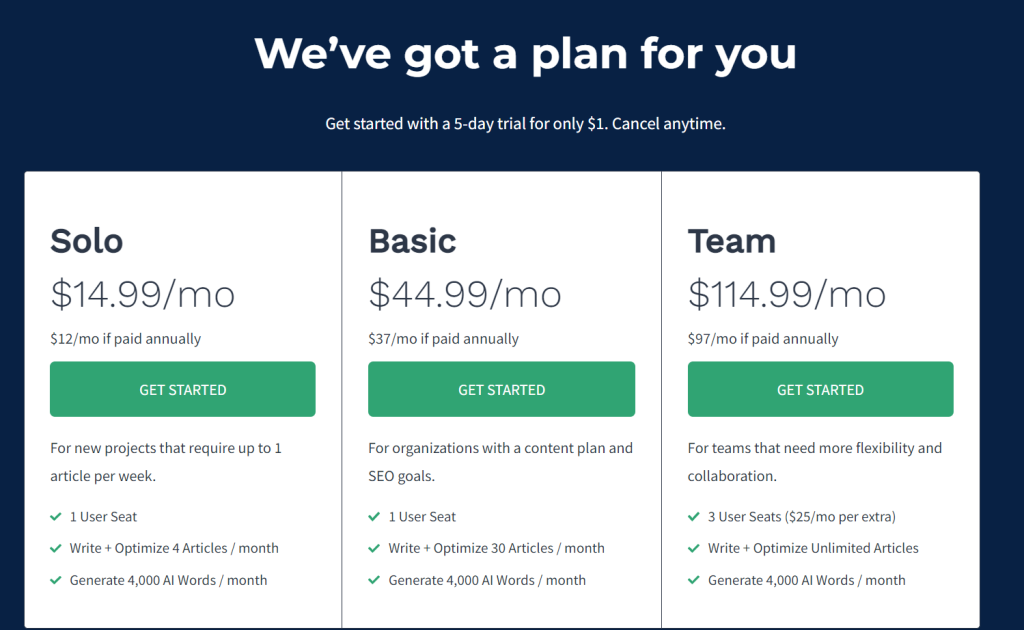 Whether you're a small business owner looking for a basic plan or an enterprise-level company expecting advanced features, Frase has a pricing option that will suit your needs.
Solo– Starts with a monthly plan at $14.99/month, ideal for new projects. It offers to write and optimize 4 articles a month for a single user. The annual plan costs $12/month.
Basic– Starts with a monthly plan at $44.99/month for organizations with SEO goals. It provides a single user with 30 articles a month. The annual plan costs $37 per month.
Team– Starts with a monthly plan at $114.99/month, ideal for teams that require more flexibility. It presents three user seats and unlimited articles. The annual plan costs $97/month.
Final Verdict: Jasper AI vs Frase (2023)
I hope that by now, you have got an idea about Jasper and Frase.
Jasper is the right tool if you want to write high-quality content quickly. Its voice dictation, recipes, and integration features make it stand apart. It is the ultimate choice for those seeking a well-rounded tool for content creation and optimization.
Frase is the better choice if you're more interested in optimizing your content for search engines and creating outlines. It excels in SEO efforts, brief generation, and copywriting. It is ideal for content marketers who wish to drive more traffic to their websites.
Ultimately, both tools have their own strengths, and it's up to you to decide which tool will serve your needs.
Frequently Asked Questions: 
Do Jasper and Frase both offer free trials? 
You can get 7 days of free trial on Jasper AI and Frase offers 5 days of free trial for all its users. 
Is Jasper SEO-friendly? 
Of course, Jasper is fully SEO-friendly and creates only optimize content. 
What are the advantages of Frase.io? 
Frase can compare your content to the top-ranking content, offers in-depth data analytics, and improve your ranking on Search engines.