AI chatbots are software applications that use natural language processing (NLP) to interact with people. The conversations you have with an AI chatbot are human-like because it is based on machine learning.
Chatbots constantly learn from conversations to analyze patterns of human responses and adjust to new situations. The most common examples of chatbots are Cortana, Google Assistant, Siri, and Alexa.
You can use chatbots to help customers order a pizza, book an appointment, or solve their queries. Around 60% of the customers preferred a chat service to solve their issues instead of talking with an agent.
AI chatbots are used by businesses worldwide to enhance customer experience. 55% of companies worldwide have generated top-quality leads with the help of chatbots.
Top 10 AI Chatbots: In A Nutshell (2023)
| | | | |
| --- | --- | --- | --- |
| S. No. | Chatbot | Best for | Pricing |
| 1. | Tidio | Small and medium-scale businesses | $15.83 per month |
| 2. | Drift | Sales and marketing | $2,500 per month |
| 3. | Pandorabot | B2C messaging | $19 per month |
| 4. | Netomi | Customer service | Custom price |
| 5. | Ada | Automated customer/employee interaction | Custom price |
| 6. | Paradox | Recruitment | Custom price |
| 7. | Proprofs | Customer support | $19.99 per month |
| 8. | Replika | Personal use | $19.99 per month |
| 9. | Wati | WhatsApp customer service | $28.77 per month |
| 10. | Survey Sparrow | Conducting surveys | $19 per month |
List Of Best AI Chatbots In 2023
Here we have explained all the AI chatbots in detail.
1. Tidio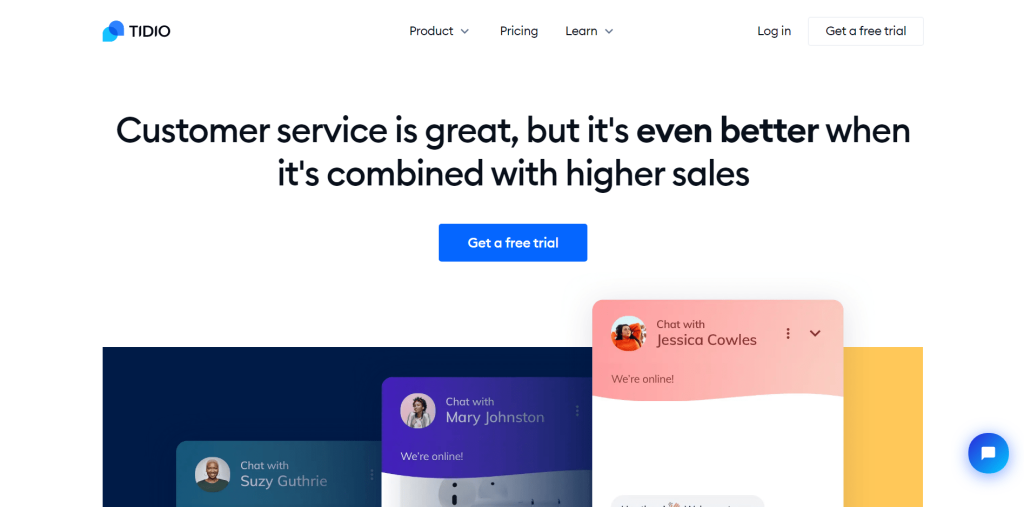 Tidio allows you to build chatbots without knowing how to code at all. It comes with 35+ free templates that you can choose from. It also has a drag-and-drop editor that makes the process of building chatbots easy and fast.
These chatbots have three nodes. They are called actions, triggers, and conditions. Actions tell the chatbot what it should do. Triggers tell the chatbot when to launch. Conditions are circumstances under which the chatbot should act.
You can fully automate your business with Tidio's chatbots. It can be used for upselling, placing an order, product recommendations, and much more.
Features:
The drag-and-drop tool makes it very easy to build chatbots. You don't need any knowledge of coding.
There are many pre-designed templates to choose from.
You can fully automate your chatbot's responses when the operators are busy.
Measuring customer satisfaction becomes very easy with the survey tool.
Rating: 4.8 /5
Pricing:
| | | | |
| --- | --- | --- | --- |
| Free | Communicator | Chatbots | Tidio+ |
| $0 per month | $15.83 per month | $32.53 per month | $240.83 per month |
2. Drift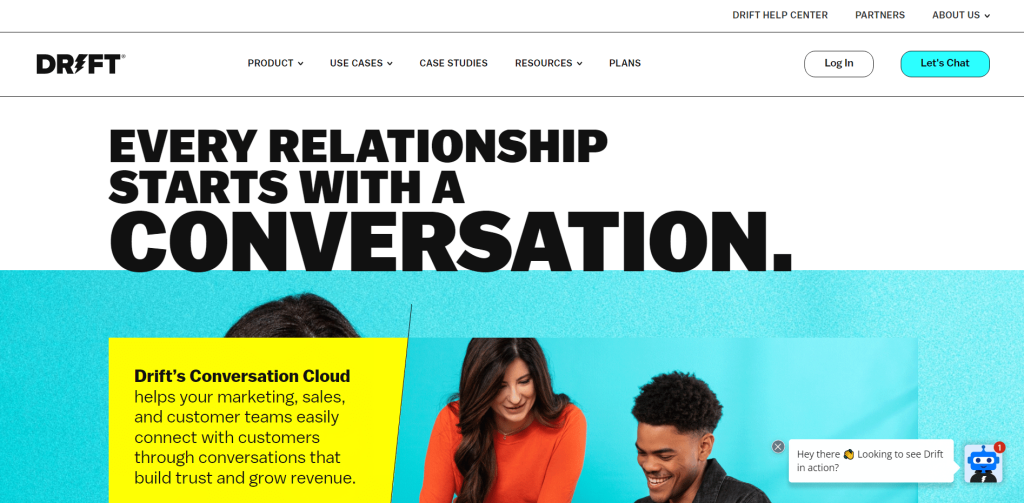 Drift is a tool to customize customer-chatbot interaction. You can customize the chatbot's conversations based on situations. This will make sure that the right conversation happens in the right situation.
Brands like Smartling, Tenable, and Benefits have been using this tool and are getting great results.
Drift engages with the visitors of your website and instantly sends interactive messages. These messages are specific for each visitor and every page. The idea behind this is to deliver an experience to the visitors which is highly personalized.
Features
This tool allows you to schedule sales meetings very easily.
You can quickly know about the interests of the visitor and share related content with them.
It can integrate with other tools like Hubspot, Salesforce, Google Analytics, Zapier, and many more.
You can send follow-up emails to viewers who left the chat in between.
Rating: 4.5 /5
Price
| | | |
| --- | --- | --- |
| Premium | Advanced | Enterprise |
| $2,500 per month | Custom price | Custom price |
3. Pandorabot (Mitsuku)
Pandorabot helps you to build a custom chatbot for commercial use, customer service, and entertainment purposes.
Pandorabot is a cloud-based service. It has received the award for the most human-like-conversational platform in the world by Loenber Prize.
You can use Pandorabot with Line, Twitter, Slack, Telegram, and other mobile and web devices.
The language used by Pandorabot is Artificial Intelligence Markup Language (AIML). It is multilingual. You can code AIML scripts in any language of your choice. The only drawback is that Pandorabots do not support machine learning.
Features
It is voice-enabled. You can easily add the speech-to-text and text-to-speech functions in the chatbot.
You can download your code any time you want. It is very convenient because the code is not locked.
Pandorabot provides free resources like training courses and an online community for like-minded people.
Apart from AIML, you can also use other languages like Python, Java, PHP, Go, Node.js, and Ruby.
These chatbots are context-aware. The decisions made by Pandorabot are smarter than other AI tools.
Rating: 5 /5
Price
| | | | |
| --- | --- | --- | --- |
| Sandbox | Developer | Pro | Enterprise |
| Free | $19 per month + 2 weeks free trial | $199 per month + 2 weeks free trial | Custom price |
4. Netomi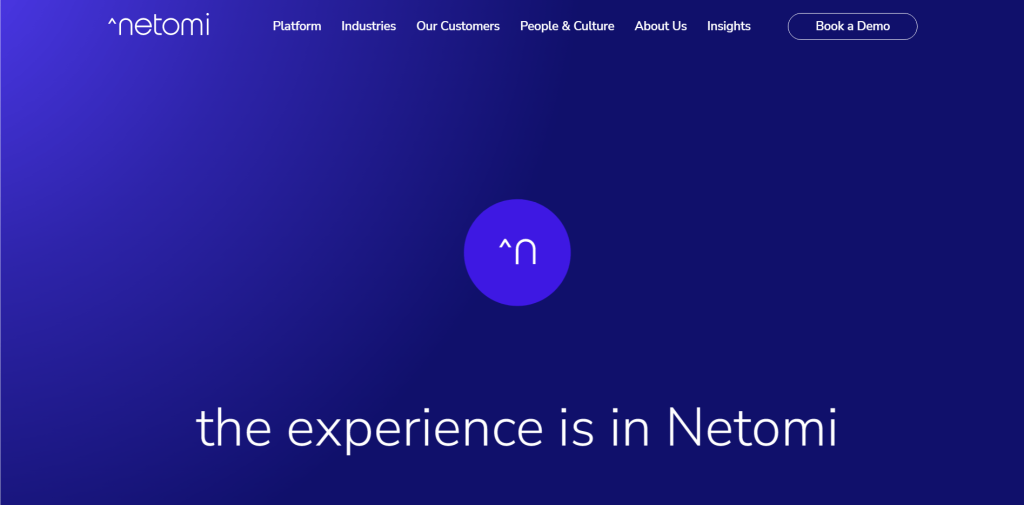 Netomi uses advanced Natural Language Understanding (NLU) that makes it highly accurate in customer service. Leading brands like Target and Nescafe are using Netomi.
It is easy to use because of its intelligence and omnichannel feature. Whether it's emails, Messenger, Google Home, or in-app chat, you can control everything in one place. The customer service team at Netomi will help you provide excellent service to your customers.
Netomi has solved 87% of the customer inquiries at Westjet. This is the highest automation rate an AI platform has ever had.
Features
The chatbot understands customer queries and solves them smartly. It is conversational and structured to give the best results.
It can comprehend the natural language of customers efficiently. Therefore, it reduces the repetition of questions and helps avoid customer frustration.
Netomi is best for conversations about eCommerce, entertainment, fintech, SaaS telecom, travel, & hospitality.
It can be used with agent desks or as a standalone.
The chatbot includes menus and suggestions to solve user problems.
Rating: 4.1 /5
Price:
Netomi has not provided any pricing information. You will need to contact them or book a demo to know about their pricing.
5. Ada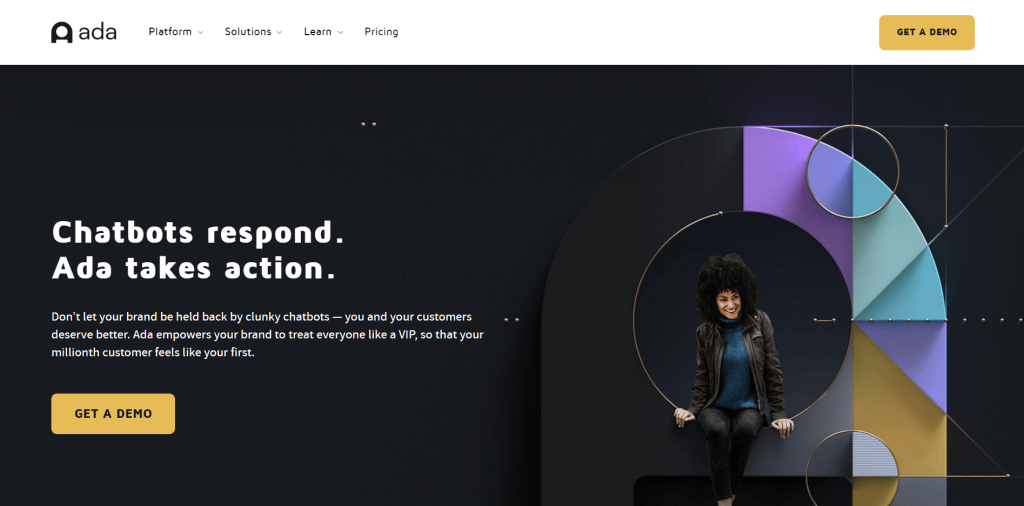 Ada focuses on building your brand through seamless interaction with customers and employees. It is an automated brand interaction (ABI) platform that can help you build a chatbot without any knowledge of coding.
It offers a huge app directory to integrate the chatbot with it. This library includes Shopify, Salesforce, WhatsApp, Messenger, Calendly, and many others.
Ada is a tool that automates conversations. You can save costs of interaction and focus on growing your brand's revenue.
Features
The chatbot builder is easy to use. It is a no-code tool that makes it user-friendly.
You can produce tailored responses for customers and employees based on events.
The chatbot is fully customizable.
Ada uses SMS to deliver personalized messages by eliminating expensive call centers.
It supports multiple languages.
Rating: 4.6 /5
Price
| | | |
| --- | --- | --- |
| Core | Advanced | Pro |
| Custom price | Custom price | Custom price |
6. Paradox (Olivia)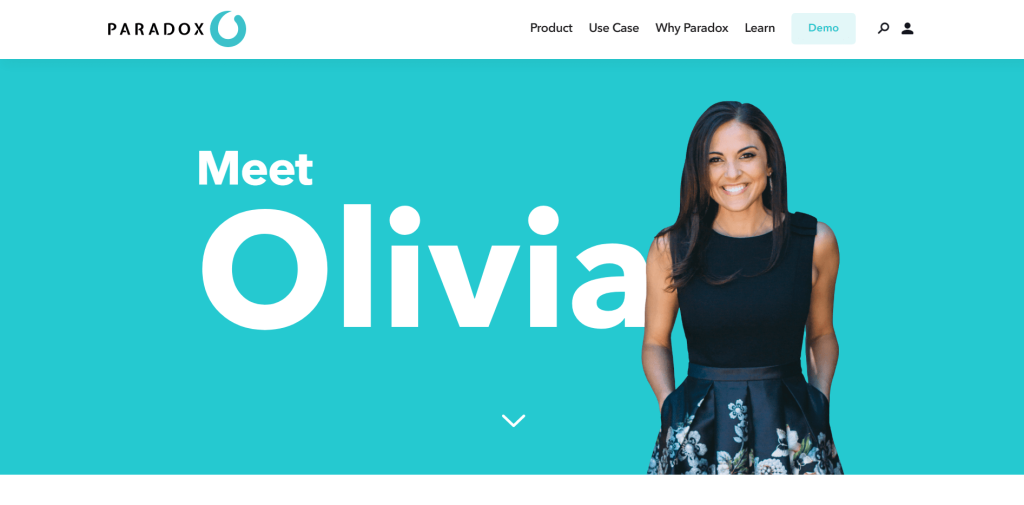 Olivia by Paradox is essentially a recruitment app that makes the process very easy. You can schedule video interviews or reschedule them at your convenience. This AI tool lets you answer candidate queries with its 24 hours support.
Olivia makes the recruitment process a conversational experience for the candidates. Candidates are asked for their feedback about the hiring process.
You can customize the rating process with emojis, text, or whatever suits your company's style. It was found that 95% of the candidates gave positive ratings to Olivia's recruitment process.
The conversations with Olivia are human-like. It can process a large number of applications so you don't have to worry at all.
Features
Olivia can gather information about the candidates without making them fill out forms. Everything is done with the help of conversations.
Candidates get 24×7 support where all of their doubts are answered even after business hours.
It supports multiple languages and can shift from one language to another easily.
Interview automation makes it very convenient for recruiters to hire people.
Rating: 4.6 /5
Price:
Paradox has not provided any information about pricing. You will need to contact them by scheduling a demo.
7. ProProfs ChatBot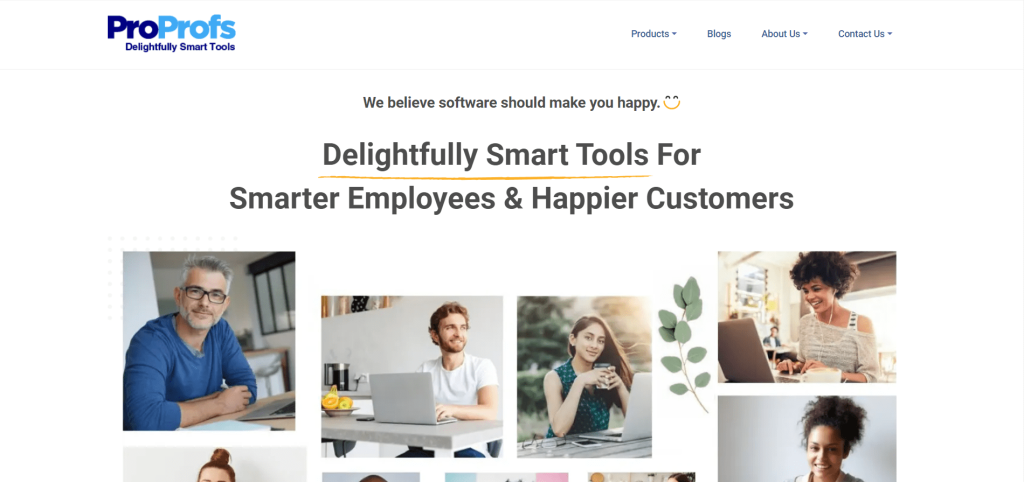 Proprofs is a chatbot-building software for businesses that want to find more leads, improve their sales processes and achieve customer satisfaction.
You can fully automate customer support with a chatbot, book appointments, or transfer the chat to a human support team.
Proprofs is very easy to use. It provides a few free chatbot templates to beginners. Its interface is beginner-friendly with the drag-and-drop feature. No prior coding experience is required to build a chatbot.
You can access the chats as an operator from anywhere and on any device.
Features
The analytics tools give you a bird view of the chatbot's performance. You can make changes to improve its performance.
Canned responses reduce the response time with customers. They are predefined responses shared with a customer in case of a similar query.
The chat engagement tools help you track visitor behavior and start a chat with them based on that.
Proprofs can be integrated with other tools like Mailchimp, Salesforce, Shopify, WordPress, Zendesk, and many more.
Rating: 4.5 /5
Price
| | | |
| --- | --- | --- |
| Free | Monthly plan | Annual plan |
| 15 days free trial | $19.99 per month | $239.88 per annum |
8. Replika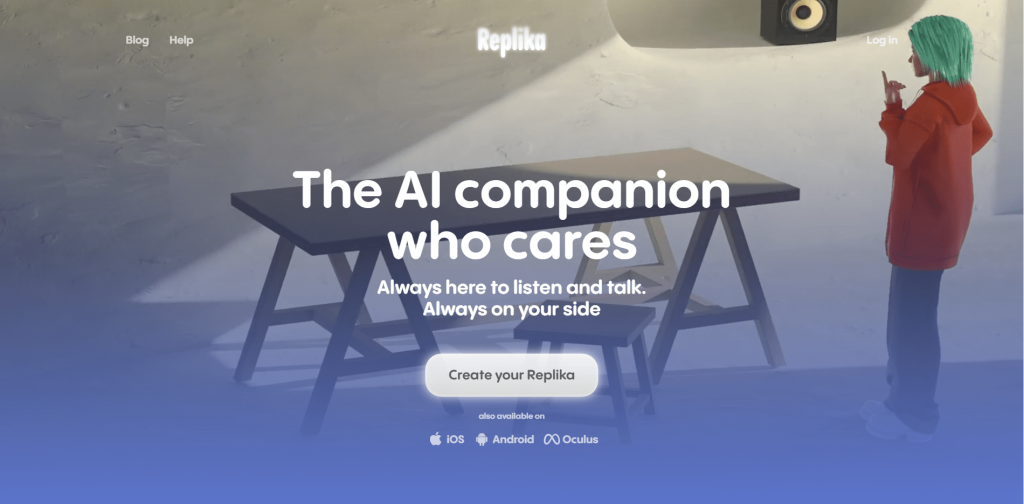 Replika is an AI companion chatbot. It's an empathetic friend who is always ready to chat with you. This AI tool is not for business purposes.
Replika is widely used in many countries. You can chat with Replika about your day and relax, just like you would with a friend.
An amazing feature is that you can video chat with Replika in augmented reality (AR).
The more you talk to Replika, the more it will talk like you.
Features
This AI tool lets you choose the interests your Replika will have. You can select the style you want them to have or what personality they embody.
Replika is available on Android and iOS.
Replika can help people with anxiety. You can even build better habits with the help of your AI companion.
AR video calls with an AI chatbot are the best feature Replika offers.
The conversation that you have with Replika will be very human-like.
Rating: 4.1 /5
Price
| | | | |
| --- | --- | --- | --- |
| Free | 1 month | 12 months | Lifetime |
| Free with limited features | $19.99 per month | $5.30 per month | $299.99 billed once |
9. Wati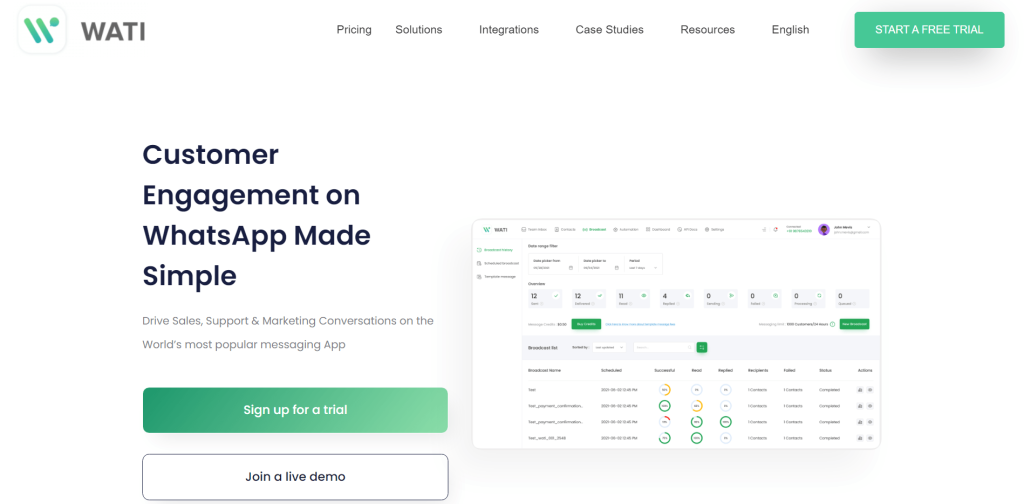 Wati is a chatbot for WhatsApp to simplify customer engagement. Apart from WhatsApp, it can also be integrated with Shopify, Zoho, Woocommerce, Hubspot, Zapier, and many other platforms.
Sales, support, and marketing teams can benefit from this tool. It can reduce the time taken to respond, resolve customer issues, and give personalized offers to customers.
Wati is trusted by leading brands like MPL sports, Oppo, Cigna, and Oye rickshaw.
If you want to send personalized messages to your customers, Wati is the best tool. It allows you to share video messages as well.
Features
Wati is a no-code chatbot. Even with no knowledge of coding, you can build a chatbot for your business. The interface has a drag-and-drop feature.
You can shift the conversation to human support whenever the need arises.
You can add CTA buttons in the chat.
It has integrations with WhatsApp, Zapier, Shopify, and Hubspot, amongst others.
Rating: 4.6 /5
Price:
| | | |
| --- | --- | --- |
| Free | Standard | Professional |
| Free trial | $28.77 per month | $57.55 per month |
10. Survey Sparrow
Survey Sparrow is a chatbot tool to conduct customer surveys. It is used to enhance product, customer, and employee experience.
It conducts surveys with a chat-like experience.
The surveys can be completed anytime and anywhere. The conversational feature increases the completion rate of your survey.
It is an omnichannel platform that consolidates the data in one place.
With the help of surveys, you can keep track of the trends and gain a deeper view of the people.
Features
It's a conversational survey with interactive features.
Actions and responses can be fully automated.
Offline surveys help in offline data collection.
Employee performance reports can be made. Therefore, keeping track of productivity and employee satisfaction becomes very easy.
This tool can be used in multiple languages.
The surveys are customizable.
Rating: 4.4 /5
Price
| | | | | | |
| --- | --- | --- | --- | --- | --- |
| Free | Basic | Premium | Business | Enterprise | 360 Assessments |
| Free trial | $19 per month | $29 per month | $99 per month | $499 per month | $79 per subject |
Related Read:
Key Takeaways: Best AI Chatbots (2023)
All the chatbots on this list are unique. If you're looking for a survey chatbot, you might want to use Survey Sparrow. If you need a chatbot for recruitment purposes, Paradox is the best option.
Some AI chatbots are excellent for a team of people. Some are great for a single person's use. Some can be used for commercial purposes, while some can be used for personal use.
It depends on your requirements. So, choose the software that would suit your needs and would come under your budget.