Today, everything is AI-led. This cutting-edge technology came in 2016 and its usage has escalated over the years.
We can see automation spreading in various sectors like writing, technology, marketing, music, etc. With the correct application of these tools, results can be astounding.
It is also true for the music industry. Many tools have emerged over the years that take the help of machine learning and AI to create music for musicians and songwriters. Many composers, singers, and instrumentalists now use these tools as a source of inspiration and to supplement their talent.
You don't have to understand the complex technology behind these platforms. They generally have a simple user interface that makes music creation easy peasy.
Most of these tools generate sounds from scratch while some can continue filling the pattern of the music provided as a reference. All of these tools can be used by amateurs and professionals of any age and experience. 
What Is AI Music Generator? 
AI music generator uses an algorithm to generate music. These algorithms can be instructed on actual music to create new music similar to the original one. Artificial Intelligence music generators can be used to create remixes and musical pieces or accompaniments for musicians.
It also creates soundtracks for media, video games, and movies. Nowadays this AI music generator popularity is increasing day by day as they have the ability to create interesting and unique music.
Top 9 AI Music Generators: In A Nutshell
Here is a list of the top 9 AI Music generators we can use today:
| | | | |
| --- | --- | --- | --- |
| S. No. | Music Generator | Best use | Price |
| 1. | AIVA | Emotional tracks | €11 / month+ VAT |
| 2. | Amper | Easily operated | $5 Personal license |
| 3. | Soundraw | Unlimited downloads | $19.99/month |
| 4. | Boomy | Revenue generation | $8.99/month |
| 5. | Humtap | Free to use | $0 |
| 6. | Ecrett Music | Customize music | $14.99/month |
| 7. | MuseNet | Mimics famous singers & composers | To be decided |
| 8. | Amadeus Code | New inspiration and ideas | $9.99/month |
| 9. | Jukebox | Create complex music | Not available |
1. AIVA
AIVA is the most popular AI music generator that uses different algorithms tried on roughly 30,000 individual compositions. It has years of training to produce almost any genre of music.
This tool not only allows you to create music from scratch but also enables you to edit your existing music. You can just select your specifications like mood, genre, etc., and AIVA does the rest of the job for you.
Whether you are a beginner or a professional composer, this AI tool can boost your creative process. It specializes in creating emotional soundtracks for movies, ads, video games, etc.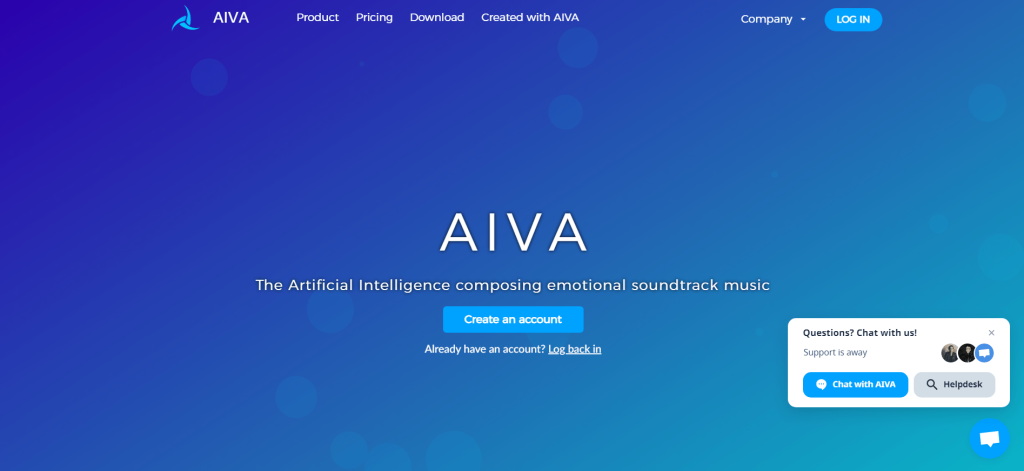 Key Features:
Variety of presets and music formats
Music in MP3, WAV, and MIDI formats
Edit soundtracks effortlessly
No headache about the licensing process
Modify pre-existing tracks
In-built radio station
Pricing
| | | |
| --- | --- | --- |
| Free | Standard Annual | Pro Annual |
| €0 | €11 / month+ VAT | €33 / month+ VAT |
2. Amper
Amper is another great cloud-based music generator program. It is by far the easiest tool available in the market. You may not need any prior knowledge of music composition to use this app. It uses AI-based algorithms to generate music in different genres.
You can create soundtracks from pre-recorded pieces and modify them into full songs using instruments, musical keys, tempo, and more. This tool is designed for both creators seeking new inspiration and musicians looking for collaboration.
Amper eliminates any copyright claims against you. You can create a free account and use the free version, which has some basic features. However, to explore all the features thoroughly, you must upgrade to the pro edition.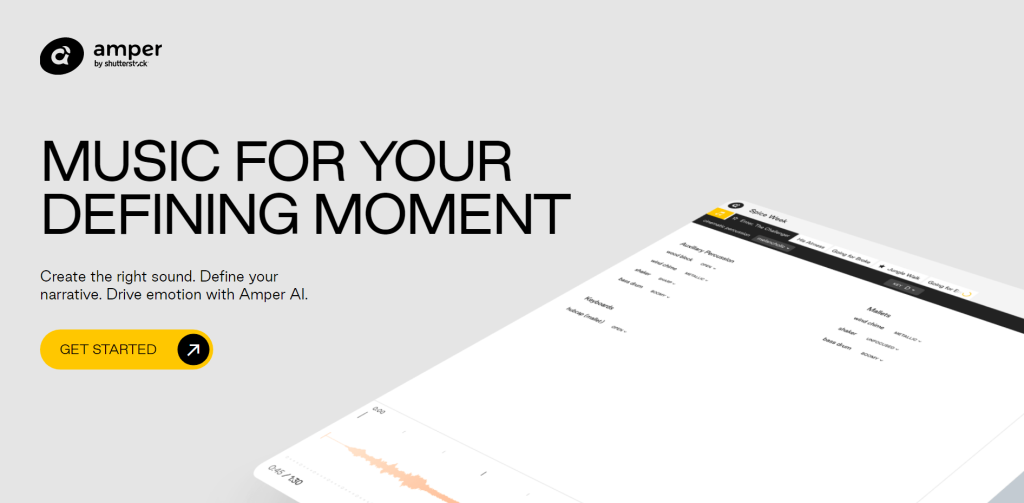 Key Features:
Easy to use
Broad range of applications
Creates music quickly
Large variety of samples and instruments
Tools to improve production
Total control for your convenience
Pricing
| | | |
| --- | --- | --- |
| Free | Personal license | Professional license |
| $0 | $5 | $25 |
3. Soundraw
Soundraw is an innovative music generator that allows song customization using AI-produced phrases. It combines artificial intelligence with manual tools to create custom-made new melodies for you.
This platform enables you to fine-tune a musical composition by selecting the themes. You can adjust the length and position of the chorus according to your need. It even provides 50 downloads per day.  
It also comes with a creative interface that is also user-friendly. The software is compatible with Google Chrome and Adobe Premiere Pro. With this app, you can "stop searching for the song you need and just create it", as its tagline goes.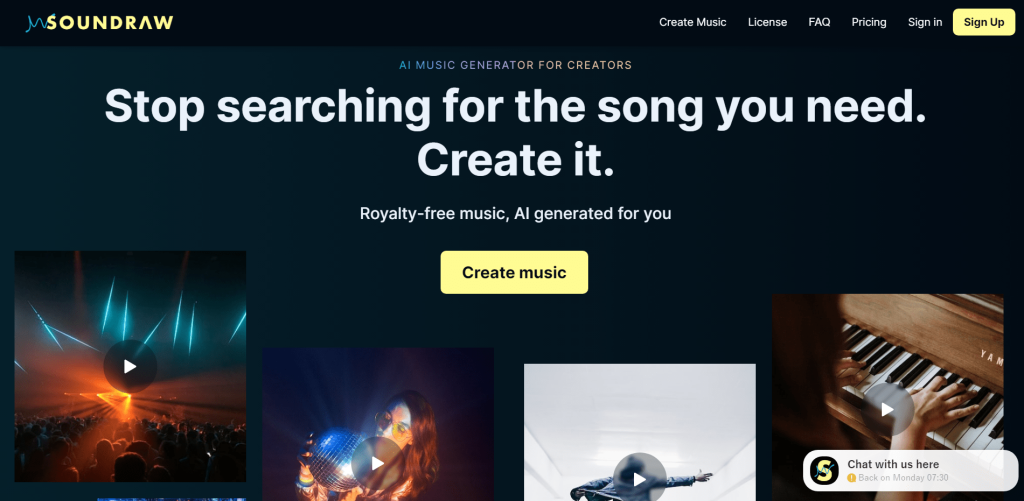 Key Features:
Combination of AI and manual tools
AI-generated phrases
Custom-made tracks
Unlimited downloads
Simple yet unique interface
Plug-in compatibility
Pricing
| | | |
| --- | --- | --- |
| Free | Monthly | Annual |
| $0 | $19.99/month | $16.99/month |
4. Boomy
Boomy is an amazing music composer that helps you create songs within seconds using automation technology. It plays an essential role in increasing access and reducing the entry barriers to music composition.
You can create original music just by selecting a song type say rap beats, and then clicking on "create song." You will get the option to save or reject it, which will create a personalized profile for you.
What makes this tool different from others is its revenue-generating feature. It provides the opportunity to release your songs on all major streaming platforms worldwide. You can earn streaming revenue from networks like youtube, Spotify, etc.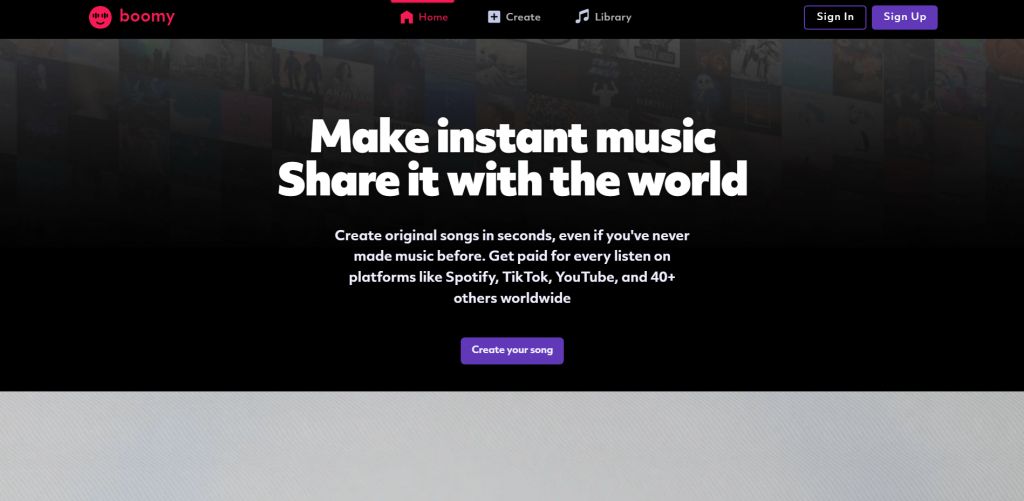 Key Features:
Creates in seconds for free
Music automation technology
Range of functionalities
Personalized profile
Earn revenues from major platforms
Free and subscription editions
Pricing
5. Humtap
Humtap is an AI-powered software that produces professional-quality music, especially beneficial to those who struggle to shape their ideas. As the name suggests, Humtap presents a unique feature to produce an entire song with just a hum.
Humming a melody will prompt the program to compose a song along with different instruments. Once the music is created, you can modify the pace and begin to add beats and vocals with just a single tap.
Apart from the above qualities, this tool also offers to add videos or slideshows to your newly composed songs. It even develops a virtual space where users can join to communicate through real-time audio and video chat.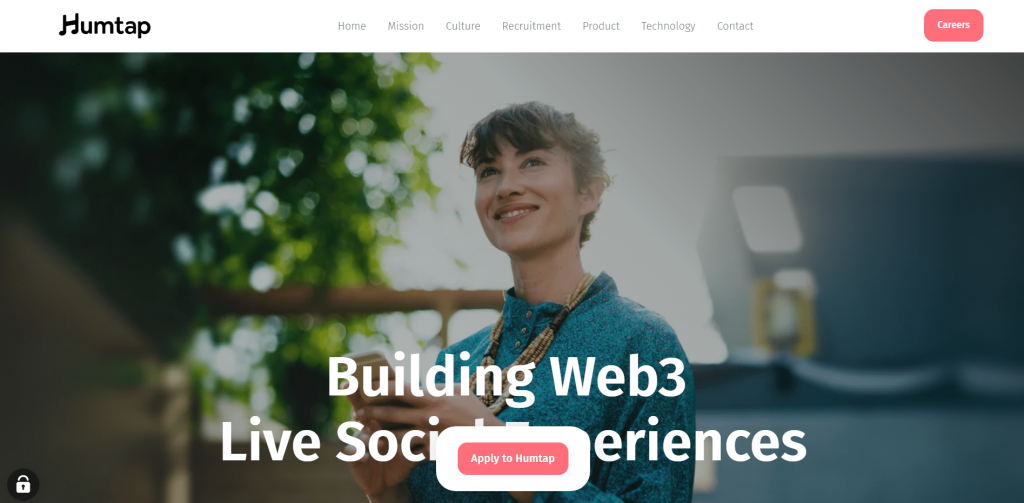 Key Features:
Studio-quality music
Just hum and tap
Instruments that amaze the audience
Built for Web3
Mobile live streaming
Real-time content creation
Pricing
Humtap is a FREE AI music software
6. Ecrett Music
This AI music generator can be used by professionals as well as amateurs because of its wide range of tools. Made by a team of composers, musicians, designers, and engineers, Ecrett Music enables creators to choose the right type of music for their content.
Its AI can help you decide on the right kind of music for any video or game, completely royalty-free with no issues of licensing. All you have to do is select one type from Scene, Mood, and Genre. Click on "Create" and you will have music made by the AI.
You can even customize the music with a few clicks and manage your favorites easily.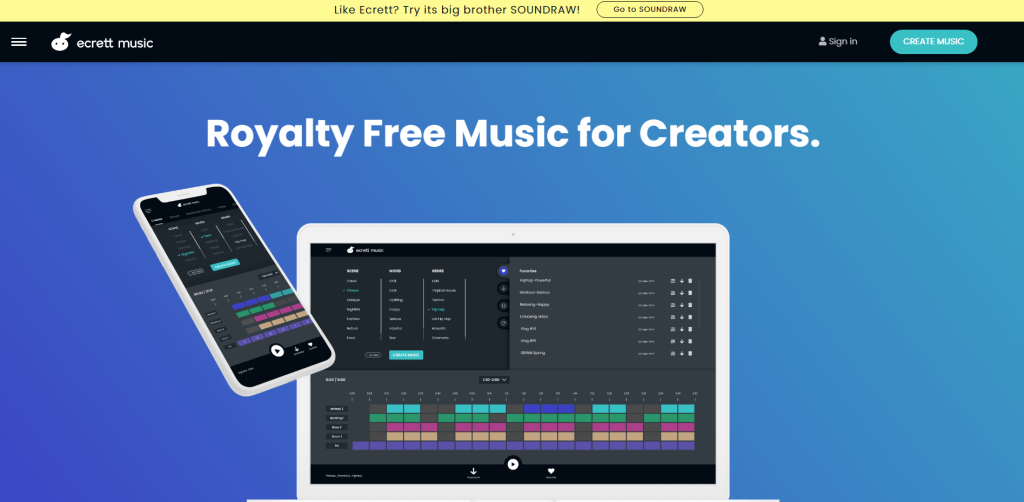 Key Features:
Simple user interface for a smooth workflow
No worries about licenses that enable music for all types of content
Download or customize the music with just a few clicks
500K+ patterns added monthly
Pricing
| | | |
| --- | --- | --- |
| Free | Individual | Business |
| $0 | $4.99/month | $14.99/month |
7. MuseNet By OpenAI
Musenet is a product of OpenAI, the leading company in the field of AI. This tool uses AI to generate music and songs with up to 10 instruments with 15 different styles. Best features? It can copy the styles of famous composers like Mozart!
It is a deep neural network that works on the same unsupervised technology as GTP-2. It has the ability to create 4-minute versions of musical compositions. The AI studies different types of music for a long period of time and predicts the next note which will suit the melody.
You can listen to Mozart's Rondo alla Turca in Chopin style on their website. Try and start with a short snippet of music or make the music from scratch.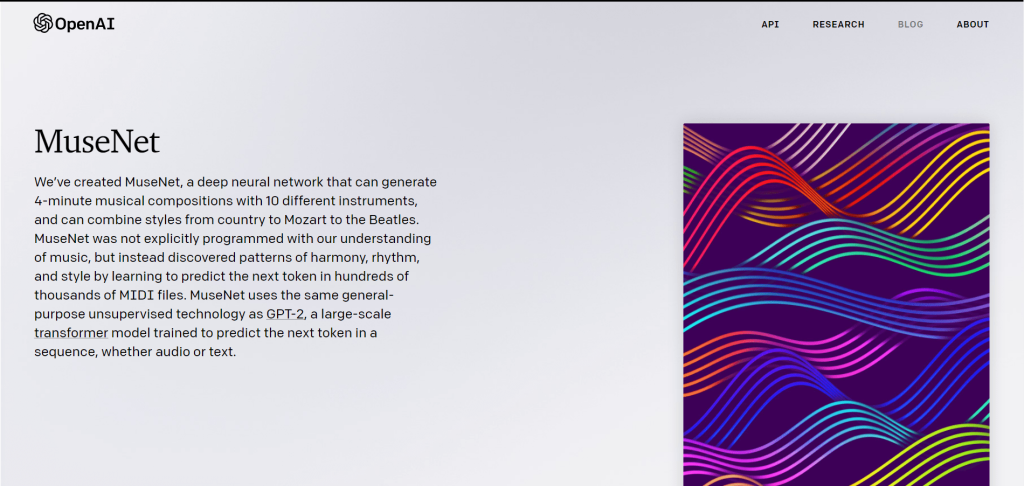 Key Features:
Various different samples to choose from
The AI can mimic famous composers and musicians after studying them
Understand the broad context of songs rather than understanding the short sections.
Mix and match different forms, styles, and melodies.
Pricing
MuseNet is still developing but you can check out some demos on their websites for free.
8. Amadeus Code
This wonderful music generator is very easy to use and has tons of features that benefit musicians and songwriters. Anyone can create melodies instantly with Amadeus Code.
Used by TechCrunch, Music Business Worldwide, and RollingStone, this tool does not disappoint. The AI reads some of the most famous songs to create new music from scratch.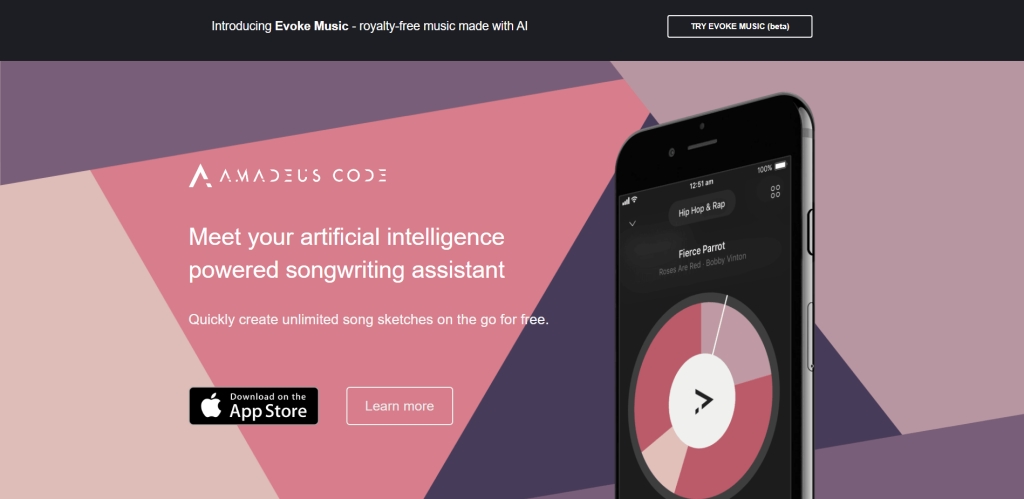 Key Features
Take inspirations and ideas with the new content and chords added everyday
Create complete songs or sections with just one click
Export the music with MIDI files to your DAW
Works on iOS
Pricing
| | | | |
| --- | --- | --- | --- |
| Starter | Pay as you go | Premium | Enterprise |
| $0 | $1.99/month | $9.99/month | Coming soon |
9. Jukebox By OpenAI
Another AI Music generator by OpenAI, this tool was launched in 2020. Its working is not difficult. Just upload a snippet of audio and wait for the neural network to do its magic.
The neural network or the AI trains on a dataset of 1.2 million songs using high-level algorithms. This is done to teach them how to solve problems and understand the variations in patterns. This ultimately helps with the generation of even the most complex music.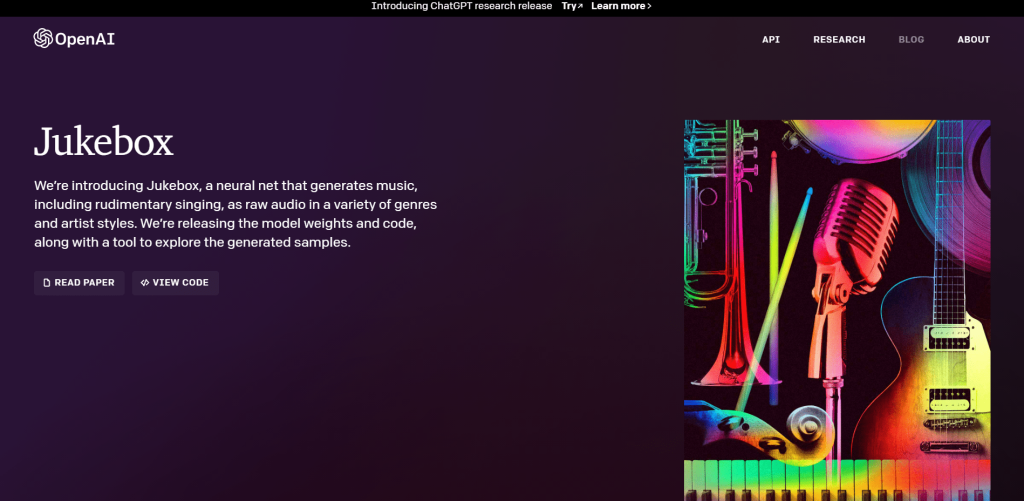 Jukebox was trained on Eminem's and Juice World's famous song Godzilla and produced its own version which is available on Youtube.
If you want to learn the details about its working or listen to demos, click here.
Related Read:
Final Thoughts
From content creation to literally drawing human faces, there is very little that AI can't do. AI has become a part of almost every business field, music generation being no exception.
The audio made from these tools can benefit content creators on the internet, video games maker, filmmakers and musicians, and songwriters. The results achieved have been amazing and continue to impress the audience.
Go on and try these music generators and let us know which one you liked the most.