Have you ever genuinely wished that you could write a story on the spur of the moment, rather than spending hours mulling over ideas or staring at a blank screen? Thankfully, we have listed some Best AI Script Generator.
With this artificial intelligence (AI) script-generating software, all you need is a prompt or a topic, and the tool will take care of the rest and create a complete story for you.  These tools demonstrate the ever-increasing sophistication of artificial intelligence. They are not only useful because of the time they save, but also because they can inspire you to think in ways you haven't before.
So, if you're seeking a way to get your imaginative juices flowing or you need a fast and simple solution for coming up with a plot idea, make sure you check out these AI script generator tools. They will help you come up with a story quickly and easily.
Top 9 AI Script Generators: In A Nutshell
Here is a list of the top 9 AI script generators, along with their key features for you to make a conscious decision on which AI to choose for your next piece:
| | | |
| --- | --- | --- |
| Sr. No | AI Script Generator | Pros |
| 1. | Charisma | No coding skills required |
| 2. | ShortlyAI | Allows you to generate unlimited words every month |
| 3. | ContentBot.AI | Offers free access to all features |
| 4. | ScriptBook | Has a free trial option for all features |
| 5. | Jasper | Extremely easy to use interface |
| 6. | Copy.AI | Easy to use and offers SEO tools |
| 7. | DeepStory | Allows you to set the topic and genre in advance |
| 8. | Rytr | Supports several languages and offers a free plan |
| 9. | Plot Generator | Allows you to add character details, objects, and settings to your pieces. |
9 Best AI Script Generators To Try In 2023
Here is a list of the best artificial intelligence (AI) script generators that can assist you in writing stories or novels, irrespective of your experience or genre. We will provide an overview of each product's features, pricing, and any other information you need to make an informed choice.
1. Charisma
The Charisma app is an artificial intelligence script generator that can virtually engage with its users by sketching characters that can interact and play. It's not just a tool for creating artificial intelligence scripts; it can also be used to create live-chat scripts for use in games or educational materials.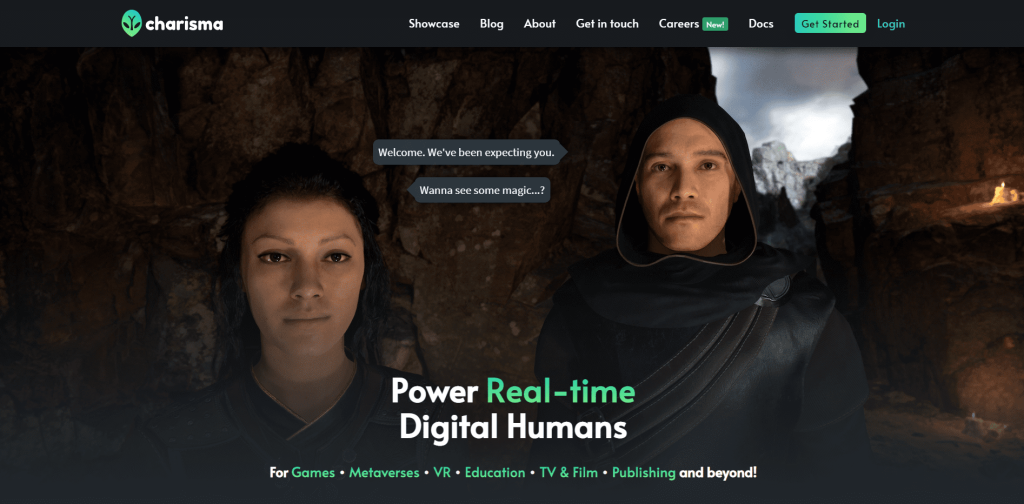 This artificially intelligent story generator generates scripts by having the characters interact with the users. It's possible to give your characters distinct voices, expressions, and personalities when using speech recognition. Each character's responses to incoming user inputs are informed by natural language processing and stored memories.
Pricing:
Although the software is free to use, a license is required to download and use the produced scripts on some other platform.
Advantages:
There are both text-based chats and voice recognition available
Coding is not necessary anywhere
Users can create realistic characters
Disadvantages:
Completely AI-generated narratives are unavailable.
2. ShortlyAI
ShortlyAI is an additional excellent AI script-writing tool that may be used for a variety of purposes, including book writing and tale writing. Due to its tremendous success, Conversion.ai, the same firm that runs Jasper.ai, acquired this website within three to four months after this article's publication. In addition, it is built on the GPT-3 algorithm, one of OpenAI's most powerful AI algorithms for generating unique content modeled after humans.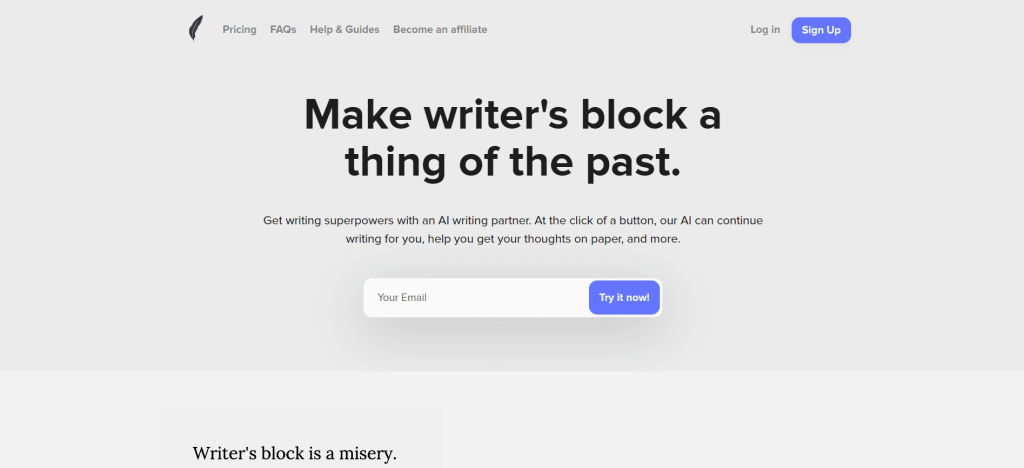 The user interface of ShortlyAI is much easier to use than that of other similar AI script-writing platforms, and we liked composing long-form pieces with it. This is software that you should use daily if you're just starting in the script and narrative writing process, and it's also the ideal one if you're starting your company. In addition to short stories and novels, you may use this tool to compose advertisements, storylines, website material, emails, etc.
In terms of pricing, ShortlyAI is highly competitive in the market, given its capabilities and features. It differs from other AI writing programs in that it offers a single plan that can be purchased annually or monthly.
Pricing:
ShortlyAI's pricing begins at $65 per month and includes strong command tools, infinite words, and constant updates.
Advantages:
ShortlyAI is an excellent AI script-writing tool for authors of short stories and novels.
It is affordably priced and offers limitless access (with fair usage).
It has a good long-form editor that allows you to compose stories without being distracted.
Disadvantages:
Despite the acquisition, Jasper.ai serves as the primary focus of conversion.ai
Not the most affordable choice available
Occasionally, content that is intended to be factual must be altered because it contains errors
3. ContentBot.AI
ContentBot.ai is undoubtedly one of the market leaders. Continuously innovating and moving the sector in new directions, to the benefit of content marketers, agencies, and founders. ContentBot excels at both short- and long-form writing.
Recently, they released 'Blog Shot,' a program that allows you to generate a whole blog post with a single click. In addition, they offer a drag-and-drop blog post generator that enables users to construct high-quality blog articles by dropping content blocks into the design.
Pricing:
The pricing for Contentbot.ai starts at $29.0 a month, and they also have a Premium plan for $79.00 per month. It also offers a free trial with 5000 credits.
Advantages:
You have free access to all platform features
You receive 5,000 complimentary words for AI writing
Disadvantages:
You must pay for more credits (they do offer a prepayment option).
4. Scriptbook
This AI narrative creator is the same as the beta version of DeepStory but with more advanced features. In addition to generating the script via its sub-website DeepStory, the algorithms examine and validate the script to determine if it conforms to contemporary production standards.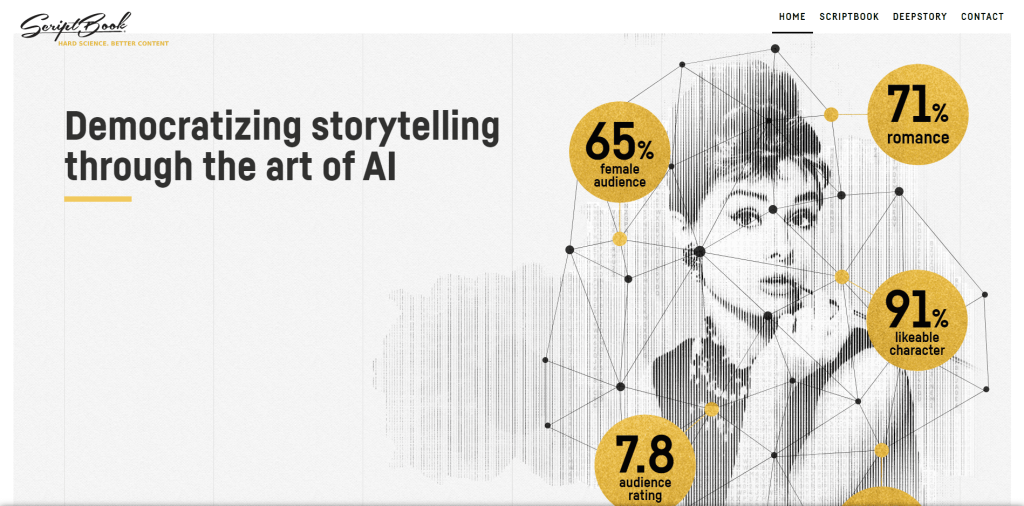 To write scenes, you can provide references and outline characters and genres. You can also supply extra AI story finisher qualities, such as adjusting the nature of characters and the narrative's major topic, as well as setting a budget and rating expectations.
Pricing:
The free plan includes only external analysis. The basic package costs $199, while the standard plan costs $1999 and contains additional validations. Companies can negotiate for personalized premium plans.
Advantages:
Several tools are available for overall script validation
Fastest script analysis in less than six minutes
Available demos for all features
Disadvantages:
Subscriptions are expensive
A minimum of 2 days is required for a thorough validation
5. Jasper
Jasper is a useful tool for creating content for your stories that includes complex and comprehensive three-dimensional characters. It speeds up the creation of amazing stories and content. This is a fantastic tool for those who struggle with creativity, find it difficult to come up with plot stories, or are merely interested in AI-generated scripts.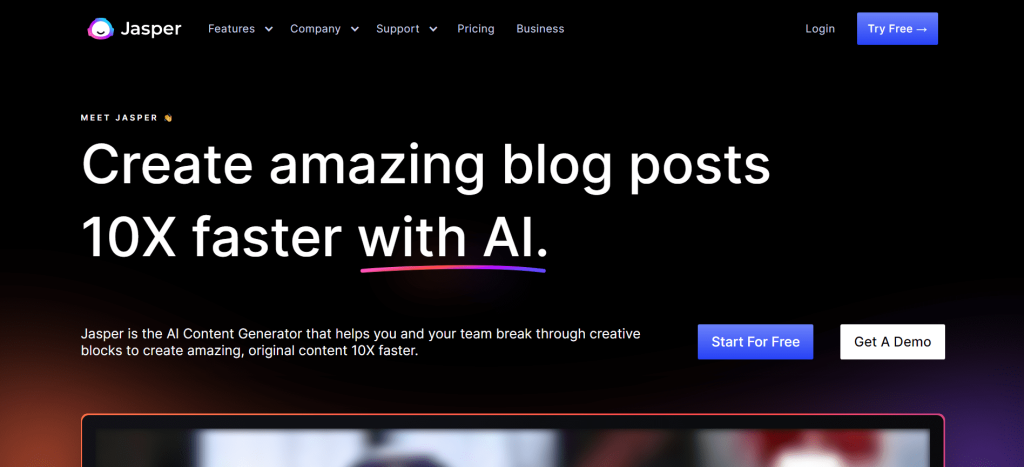 Furthermore, Jasper provides over fifty templates to assist you with story ideas and supports over twenty languages. The program is extremely easy to use and it provides free AI writing of up to 10,000 words.
Pricing:
Jasper offers a 7-day free version for 10,000 words to get you started. 
Advantages:
Produces blog posts in a fraction of the time that human writers would.
Produces non-plagiarized content.
Disadvantages:
The generated content must be fact-checked, as dates and technical descriptions may be incorrect.
Utilizing the tool requires overcoming a learning curve.
6. Copy AI
Copy AI is an artificial intelligence writing helper that offers copywriting solutions for online shopping, blogs, and more. It was established in 2020 and provides reasonably priced AI content writing services. Copy AI provides more than 90 AI products, including "AI writer," a one-click article-writing assistant!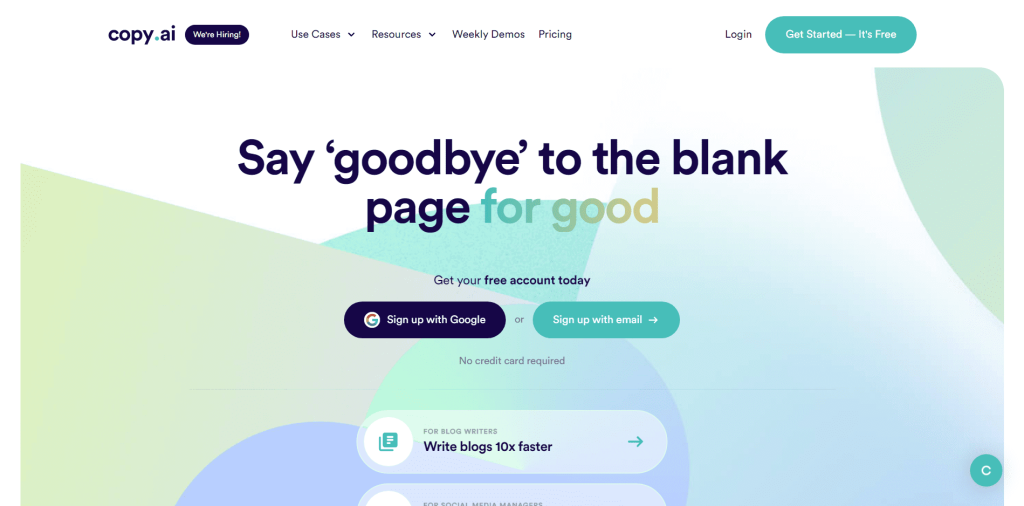 It is based on the most efficient AI language model in the world. Copy AI is assisting tens of thousands of individuals in boosting their creativity and transforming the content creation process.
With their free plan, even those with little expertise in generating their own articles can do it fast and easily thanks to cutting-edge technology that makes original copies automatically.
Pricing:
Copy AI offers a no-cost, no-credit-card-required free plan. They also provide a monthly plan for $49 per month and a yearly premium plan for $420 a year.
Advantages:
It provides an introduction to AI content generation
For the first month, you will receive 100 free content creations
There is no restriction on the number of times text can be generated
Disadvantages:
There are no interactive text creation
Limited content credits beginning with the second month
7. Deepstory
DeepStory is another useful AI writing tool that can help you overcome writing barriers. It generates information that resembles a script automatically. Users may enter their scene in a new script or select one from the list of sample scenes provided.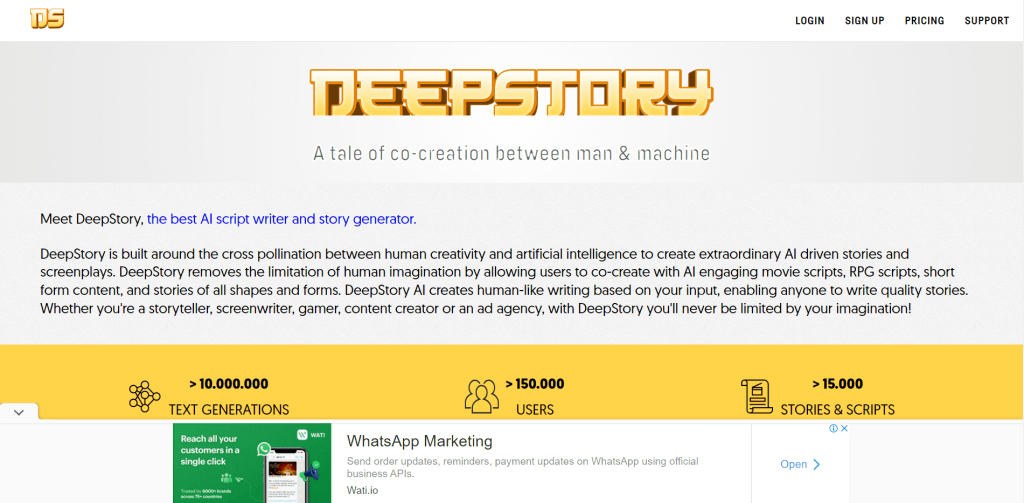 It mimics the process of writing a screenplay to generate multiple types of content, including action, protagonist notes, and dialogues. It facilitates the completion of a scene by analyzing contextual cues and helps in script layout. You can also share and download the scripts written by AI with ease.
Pricing:
This software is free to use, but registration is required to access all features after a certain period.
Advantages:
Users can customize the genre and cast.
Can create an unlimited number of scripts for free
Disadvantages:
Only a few reference films are provided
AI-generated stories do not appear to be written by humans
8. Rytr
RYTR is a dynamic tool for generating blogs, taglines, sales content, short stories, and page fillers. It is a completely sophisticated AI short story generator. You can immediately start the AI story generator by launching the app, selecting the language and tone, the content format, and providing keywords to highlight.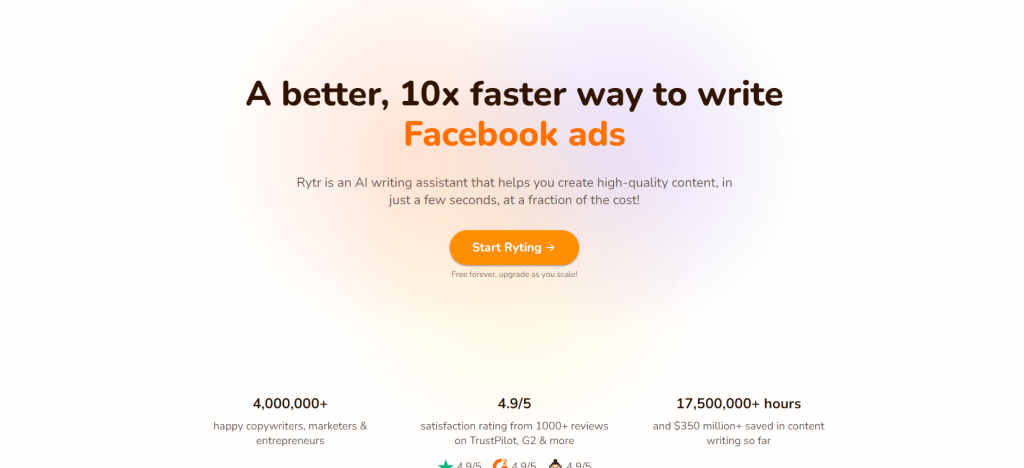 After writing the content, you can edit, modify, and reformat it using the best SEO analyzer software and formatting icons. It can also be extended to work directly with Shopify and WordPress platforms.
Pricing:
The free version is limited to 5000 characters each month. The basic plan costs $9 per month, while the unlimited plan costs $29.
Advantages:
There are over 30 languages and 20 tones available
The content can be edited later
Disadvantages:
Not ideal for extremely lengthy scripts.
Only a few keywords are allowed
9. Plot Generator
If you are searching for an interactive AI script generator online application, Plot Generator can assist you by providing a complete script written by AI using your characters and set descriptions. There are multiple input fields on the website for creating and defining protagonists, sidekicks, and antagonists.
You can add fantastical characters, objects, and settings to your stories to make them unique. Though the platform is still in development and lacks a selection of reference scripts, it is still possible to produce input-based AI-generated stories.
The plot generator application also includes a random filling feature that chooses the AI-based characteristics without user input. In addition to movie scripts, you can also create a pen name if you wish to become a famous, anonymous author!
Pricing:
The software is completely free to use.
Advantages:
Multiple options for selecting and generating the plot
Offers a fully completed AI-generated script
Disadvantages:
Not ideal for writing blog posts and articles
The software is still undergoing development
Conclusion: Best AI Script Generator (2023)
Using basic inputs, AI script generator solutions are designed to facilitate the creation of original content. Using the principles of artificial intelligence, any AI script generator can generate a plot, style a story background, and compose the story's text with the necessary keywords and instructions.
There are both free and paid versions of the top five online AI script generator platforms, each of which includes several remarkable features. Try one out right now!
Related Links
FAQs 
Can an AI write a script?
Yes, but it's not simple or inexpensive. Scriptwriting is a highly creative process that takes many hours to complete. It cannot be completed by an AI in less than ten minutes.
Is there a free AI text generator?
QuillBot, a free AI-generated writer and paraphraser, lets you rewrite or create content in a few clicks. Numerous features are included in it, such as a grammar checker, a spinning tool, and a plagiarism checker.
Do AI story generators create original content?
Yes, the majority of AI story generators produce original material. However, if you intend to sell your writing or publish it online, make sure to confirm that the piece is entirely original. To identify plagiarized content from any text, use tools like Copyscape.