Building a website has become easier than ever with the rise of artificial intelligence. Gone are the days when you had to learn complex programming languages or hire a team of developers to create a professional online presence.
Whether you are a business owner or an artist looking to showcase your talent, AI website builders can provide you with a quick and cost-effective way to create your dream website. However, with the many options available, you might wonder which one's worth it.
Well, don't you worry. To help you avoid the risks, I've done the research and compiled a list of the best options available to generate your desired website.
Top AI Website Builders: In A Nutshell
If you're in a hurry and don't have the time to go through the complete list then check our detailed comparison table to find the right one for yourself.
| | | | |
| --- | --- | --- | --- |
| S. no. | Website Builder | Best Use | Price (Lowest) |
| 1. | Wix ADI | Creative freedom | $0.96/mo |
| 2. | Zyro | Unique AI tools | $2.33/mo |
| 3. | Jimdo | Hands-free experience | $3.62/mo |
| 4. | Bookmark | Global audience | $11.99/mo |
| 5. | 10Web | Site Speed Booster | $10/mo |
| 6. | SITE123 | Ease-of-use | $5.80/mo |
| 7. | B12 | Business-critical sites | $42/mo |
| 8. | Weblium | Personalization | $8.25/mo |
8 Best AI Website Builders To Create Websites In 2023
Here we have explained all the tools in detail.
1. Wix ADI
Wix is one of the most famous and functional website builders that has been in the market for a long time. It has an entire AI-based interface that currently hosts over 160 million websites.
It comes with attractive templates and fantastic features and provides a step-by-step procedure to guide new users in building websites.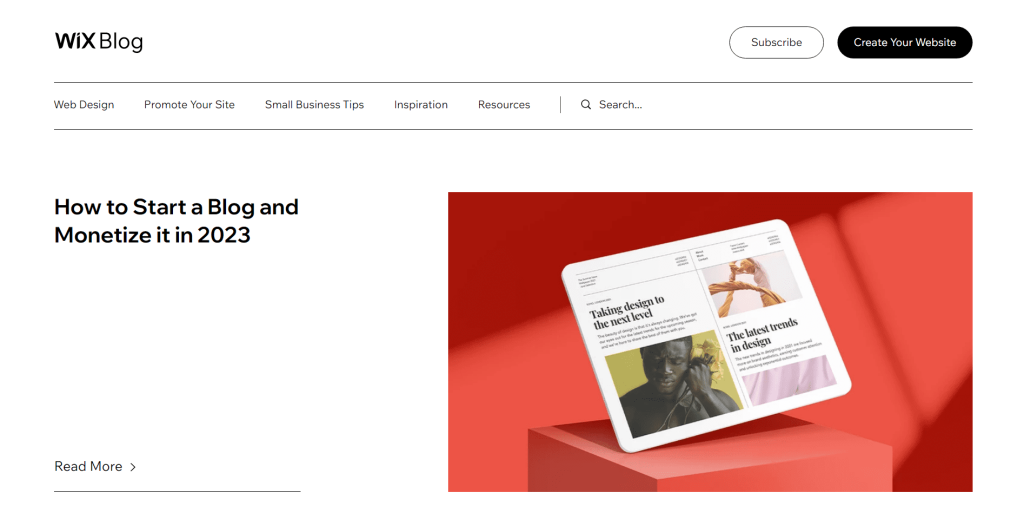 How does it work?
Wix ADI creates websites through a series of questions. You will be asked about the type of site you want to make (online store, business site, blog, etc.) Then you will need to feed in details such as your business name, location, and theme.
The system will find existing information about your business (through social platforms) and create your desired website by auto-filling the details. You can easily edit your website if you want to make any particular changes.
Key Features
SEO Originator- It creates personalized SEO plans with recommendations for better ranking.
Business name developer- It helps you choose a name that reflects your brand by asking for three keywords.
Title generator- Suggests appealing headlines and titles for your website.
Mobile editing- It allows you to edit your website from your mobile phone.
Pros
Quick and easy to use
Great for beginners
Smart business tools
Auto-fill personal info
Cons
Pricing
| | | | | | | | |
| --- | --- | --- | --- | --- | --- | --- | --- |
| Plan | Connect Domain | Combo | Unlimited | VIP | Business Basic | Business Unlimited | Business VIP |
| Amount | $0.96/mo | $1.51/mo | $2.23/mo | $3.92/mo | $2.71/mo | $3.62/mo | $6.04/mo |
2. Zyro
Zyro is a newcomer in the website-building market aimed at small businesses. It is constantly growing and has managed to gain over 250,000 users. It can create fully-professional and feature-rich projects in no time.
The platform offers additional AI tools like the AI writer and AI heatmap, which differentiates it from other website builders.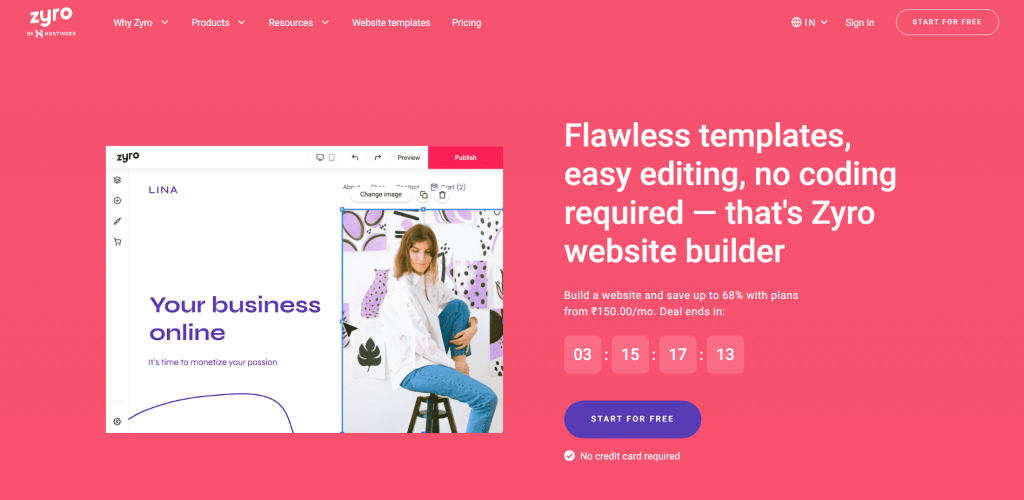 How does it work?
When using Zyro, you will get two options – to let AI generate your website or use the regular manual editor. Then you will have to decide on a theme that will determine the profile, font, color, etc, of your website.
Make sure you select the theme carefully as you will not be able to change it later without losing your progress.
You can add extra features such as a gallery, Instagram feed, about us, services, contact, etc. Once you fill in all the details, you can select one of the two website designs given by the AI or generate again for additional options.
Key Features
AI writer- It quickly creates SEO-friendly content with the help of your topic, category, and about section.
Responsive Templates- It offers multiple pre-designed templates with drag & drop editing features.
AI Heatmap- It analyzes your website and highlights the areas that are most likely to attract the attention of your users.
Slogan generator- It generates unique ideas and impressive slogans which you can use in the project.
Pros
Clever AI tools
Top-quality site-building experience
30-day money-back guarantee
Quite affordable
Cons
Limited option to switch template
Issues with backup
Pricing
| | | |
| --- | --- | --- |
| Plan | Website | Business |
| Amount | $2.33 /mo + VAT may apply | $3.23 /mo + VAT may apply |
3. Jimdo
Jimdo creates a personalized website-building experience by removing all the unnecessary elements from the process. Its Dolphin web designer uses an AI chat method to ask specific questions and creates a ready-to-use website in just three minutes.
How does it work?
The tool first asks whether the website will be managed by an individual or a group. It generates two drafts based on your responses to the questionnaire. It automatically fills the content on the site, including your business name, info, and description.
Jimdo does not give you the choice to pick the layout; it is chosen by the system. After the entire process finishes, you can alter images and other content as per your liking.
Key Features
Intuitive designing process- It analyzes all your information and creates the website without any hassle with a suitable template.
Contact form- It provides contact forms for your website to find out why people are visiting your website.
E-commerce features- It offers a variety of eCommerce features like product layouts, discount codes, payment methods, etc.
Social marketing- It allows you to connect your website to Facebook to attract more users.
Pros
Flexible customization
Multi-platform proficiency
No transaction fee for stores
Cons
Limited templates
No real-time assistance
Pricing
| | | | | | | | |
| --- | --- | --- | --- | --- | --- | --- | --- |
| Plan | Play | Start | Grow | Unlimited | Basic | Business | VIP |
| Amount | $0/mo | $3.62/mo | $6.04/mo | $15.11/mo | $6.04/mo | $7.85/mo | $15.11/mo |
4. Bookmark
Bookmark is an AI-powered builder that specializes in creating innovative websites for businesses, portfolios, web stores, and landing pages. It is one of the simplest, easiest, and fastest website builders.
Its AI assistant called AIDA has a visual editor and the necessary technicalities to create high-quality websites.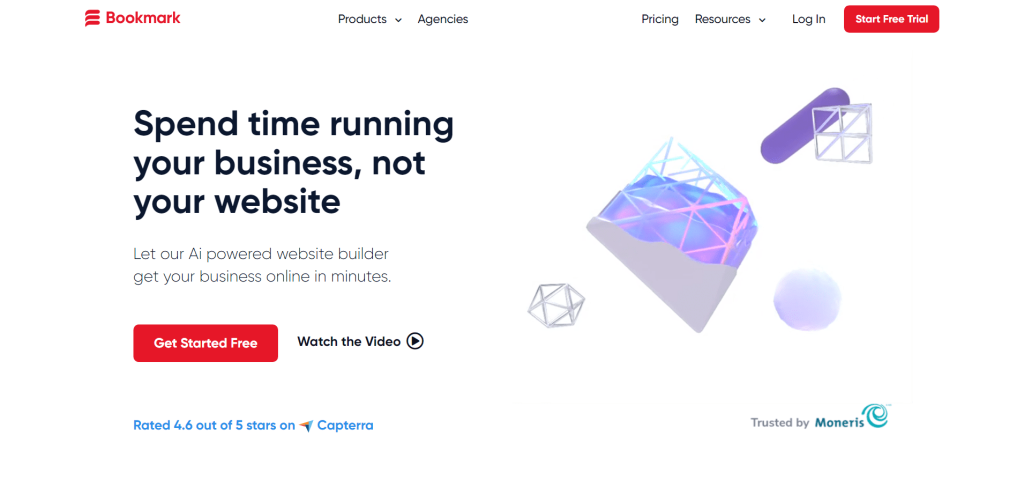 How does it work?
Bookmark asks for your niche, social media links, and site preferences. AIDA chooses the best images, text, color palette, and animation and creates a functional website for you.
If you do not like the first design, you can simply ask AIDA to start over. There are a lot of editing options so that you can customize it according to your needs.
Key Features
Multilingual support- It automatically translates your website into over 100 languages and saves up to 3 translated versions.
HTML Coding- It allows HTML code embedding for those familiar with programming, allowing for the publication of specialized projects.
Daily backup- It creates a daily backup for you to make changes without any worries.
Online Course- It provides a training program for beginners for SEO optimization and increased sales.
Pros
Unlimited bandwidth
Auto optimization
Excellent interactive tutorials
Cons
Fewer integrations
Steep learning curve
Pricing
| | | |
| --- | --- | --- |
| Plan | Professional | Business |
| Amount (Billed Yearly) | $11.99/mo | $24.99/mo |
5. 10Web
10Web is a platform that offers web hosting and management services, including one-click site migration, web security, and page speed booster. It can recreate your website within WordPress using its AI tool called Elementor.
It has a plugin device and a visual editor that creates a new website using the URL of your existing website.
How does it work?
You just have to paste the URL of every page you want on your new website, such as the about section or homepage. The AI will recreate the website by copying the design, structure, text, color, font, and any other elements.
With the help of its Elementor-based editor, you can make new changes or add more pages until you are convinced with the results.
Key Features
Premium widgets- It provides access to various widgets to enhance the functionality of your website.
Page speed guarantee- Its image optimization and cache services claim to improve the loading speed of your site.
Automatic virus scan- It thoroughly scans your website to make sure it's free from any malware or hackers.
Preview- It provides a staging setting to make sure no technical issues occur while implementing changes.
Pros
Speed optimization
Reliable hosting
Free malware removal
Cons
Exclusively for WordPress
Not the best user-interface
Pricing
| | | | |
| --- | --- | --- | --- |
| Plan | Personal | Premium | Agency |
| Amount | $10/mo | $24/mo | $60/mo |
6. SITE123
SITE123 is a client-focused software that can create a well-rounded website requiring minimal editing. It aims to remove any possibility of human error by giving a preselected list of options.
It can be useful in promoting both commercial and non-commercial businesses.
How does it work?
Pretty much like every other software, SITE123 also creates a website by asking a few initial questions. By filling in the type of website, its name, and the language you want to use, you will be able to access your website.
It has a website structure tab that allows you to change the entire design in one click. However, it lacks customization of the font of a specific text as the changes are made to the entire website.
Key Features
Analytics- It integrates with Google Analytics to provide in-depth analytics for your website.
24/7 Support- It offers full-time customer support with various contact options, including live chat, email, and phone lines.
App Market- Its market provides a wide range of applications, widgets, add-ons, and a form builder for a better user experience.
Pros
Useful business features
Responsive templates
Good speed capability
Cons
Little creative freedom
Low design score
No eCommerce features
Pricing
| | | |
| --- | --- | --- |
| Plan | Free | Premium |
| Amount (Billed annually) | $0/mo | $5.80/mo |
7. B12
B12 website builder is different from other software as it provides a hybrid platform combining AI with expert designers. It connects the power of technology with human creativity to create a one-of-a-kind experience in website-building.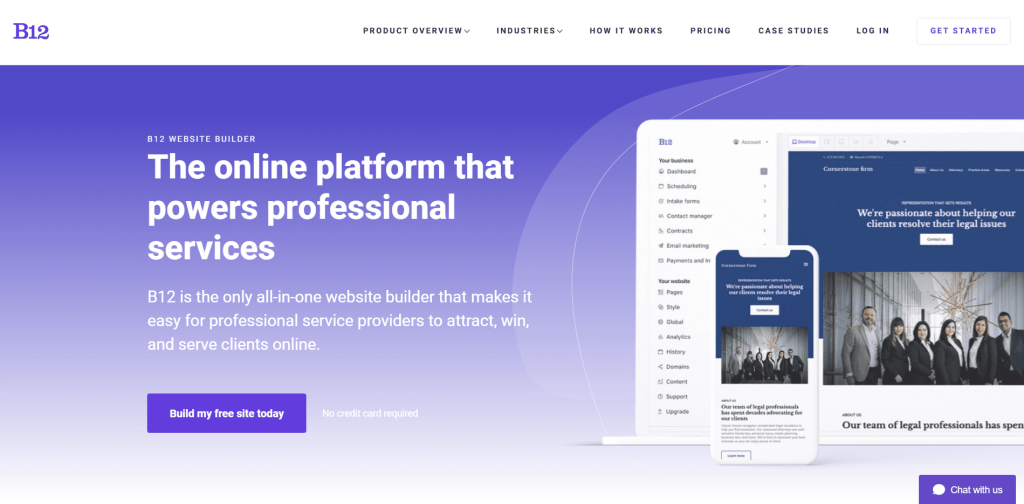 How does it work?
To get started with B12, simply register and answer a few questions about your business profile. The AI will scour the web and prepare a specialized draft of your project. In the next step, you will have to review that draft and provide feedback to the designer.
The designer will work on customizing the project based on your feedback and deliver a fully functional website within a week.
Key Features
Human-assisted AI- The combination of AI and a human designer benefits in making a unique website tailored to your requirements.
Conversion-ready copy- Its algorithm can automatically fill new sections or pages with images and text for easy conversion.
Integrated set of tools- It offers a range of advanced tools such as storytelling, content import & export, blogging, copywriting, booking service, etc.
Pros
Carefully selected and reviewed website layouts
High-quality website drafts and ease of use
Cons
Time-consuming
Communication barriers
Pricing
| | | | |
| --- | --- | --- | --- |
| Plan | Basic | Professional | Advanced |
| Amount (Billed Yearly) | $42/mo | $169/mo | $339/mo |
8. Weblium
Weblium is a self-service platform for building websites that do not require any coding skills. While AI does not play a significant role in the building process, it does assist with editing through the use of a Smart Design Supervisor.
With over 300 pre-made templates to choose from, Weblium makes it easy to create professional websites for various industries and businesses.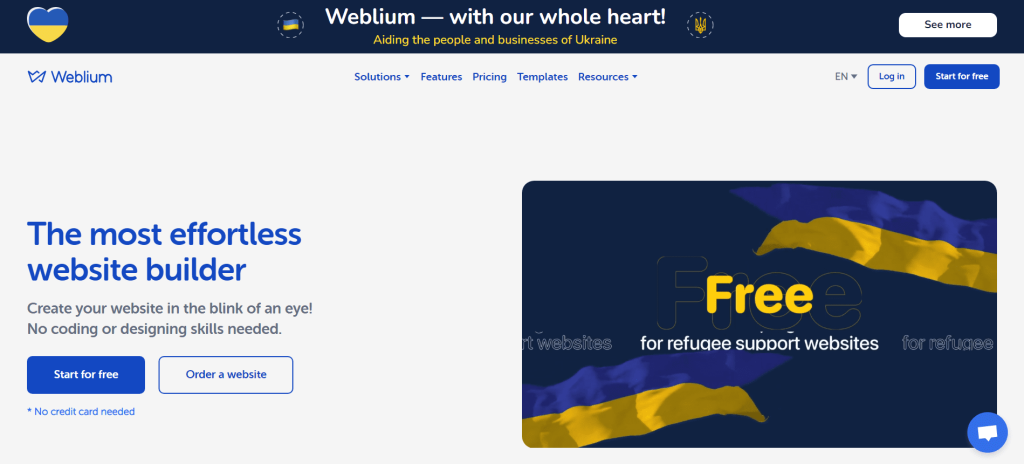 How does it work?
The process of creating a website using Weblium is pretty simple. Start by giving some information about your company. Decide a suitable theme, put in images, text, and other details, and prepare a layout.
The AI tool will automatically adjust the font size, lines, and spacing for your convenience, saving you manual hours. Once you are satisfied with the results, you can go ahead and publish your website.
Key Features
Tips menu- It gives you the estimation of how long each task takes to guide you through the building process.
Cloud hosting- It offers stability by hosting all the sites on Google Cloud Platform (GCP) for top-notch performance.
SSL Certificate- It includes a free SSL certificate to ensure secure data transmission for site visitors.
Pros
Quick customer response
Dynamic editing of the website
Mobile optimized templates
Cons
Not suitable for eCommerce
You do half of the process
Pricing
| | | | | | | | |
| --- | --- | --- | --- | --- | --- | --- | --- |
| Plan | Free | Pro | W-Start | W-Base | W-Growth | W-Ultimate | E-commerce |
| Amount | $0/mo | $8.25/mo | $250/mo | $440/mo | $600/mo | $950/mo | $700/mo |
Bottom Line: Best AI Website Builders (2023)
Now the question that comes to mind is whether an AI website builder is the ultimate solution. While there may be some debate over their level of control and customization, they can still be a valuable tool for streamlining the website-building process.
If you want an AI that can handle everything for you, Jimdo is the way to go. On the other hand, if you are looking for aid in the building process but still want to retain control over the layout, Wix would be the right choice.
In the end, it's up to you to decide which one serves your needs best and fits your budget.