Want to know the 9 Best AI Design Software for Marketers & Designers? Lets Go. Graphic design has become an integral part of every business's marke9 Best AI Design Software For Marketers & Designers In 2023ting activities. According to a report by Piktochart, 81% of business organizations are making use of graphic design in various formats. And nearly 51% of B2B businesses prefer using visual assets in content marketing.
These statistics show the rising demand and a growing market for graphic design. Marketers and designers are taking the help of infographics to communicate their brand message effectively.
Coming up with new and innovative ideas for design can take up a lot of time. Graphic designers spend days designing the perfect logo for a business. However, with AI entering the design industry, the task has become much easier and faster.
AI designing tools are designed to assist graphic designers in creating visual assets in far lesser time. They simply make the process easy. These tools use artificial intelligence to understand your product or brand requirements and suggest designs based on that. You can choose different elements like color, font, shape, etc., and make further edits if needed.
There are plenty of designing software available online. In this article, I'm going to discuss the top 9 AI design tools of 2023. Each tool comes with its own specialty. So the choice will depend on your specific requirements. Read this article to get a quick overview of each of these tools. 
Top 9 AI Design Software: In A Nutshell
Below is the list of the Top 9 AI Design Software
| | | | |
| --- | --- | --- | --- |
| Sr.No. | TOOL NAME | BEST FOR | PRICE |
| 1. | Adobe Sensei | Predictive analytics | Available on Request |
| 2. | Khroma | Creating color palettes | Free |
| 3. | AutoDraw | Drawing | Free |
| 4. | Let's Enhance | Resizing images | Starts at $12/month |
| 5. | Uizard | Website UI designs | Free plan, then starts at $15/month |
| 6. | Remove.bg | Removing backgrounds | Free plan, then starts at $32/month |
| 7. | Designs.ai | Team collaboration | Starts at $29/month |
| 8. | Fronty | Creating code for websites | Starts at $4.92/month |
| 9. | Deep Art Effects | Generating artworks | Starts at $9/month |
9 Best AI Design Software In 2023
Below is the list of the Top 9 AI Design Software that you should try once. So without any delay lets get inside it.
1. Adobe Sensei
Adobe Sensei is a leading AI platform known for providing enhanced customer experience and designing capabilities to its users. It can help you create stunning designs in no time with the aid of artificial intelligence and machine learning. The users do not have to spend hours searching for the perfect images for their designs. The AI does that for you. It also allows you to customize the designs and personalize them as per your needs.
The tool uses predictive analytics to predict what the customers want and design products that are relevant to them. Besides, it helps streamline workflows and automate repetitive tasks, which allows users to focus on their core task, i.e., ideating and creating designs.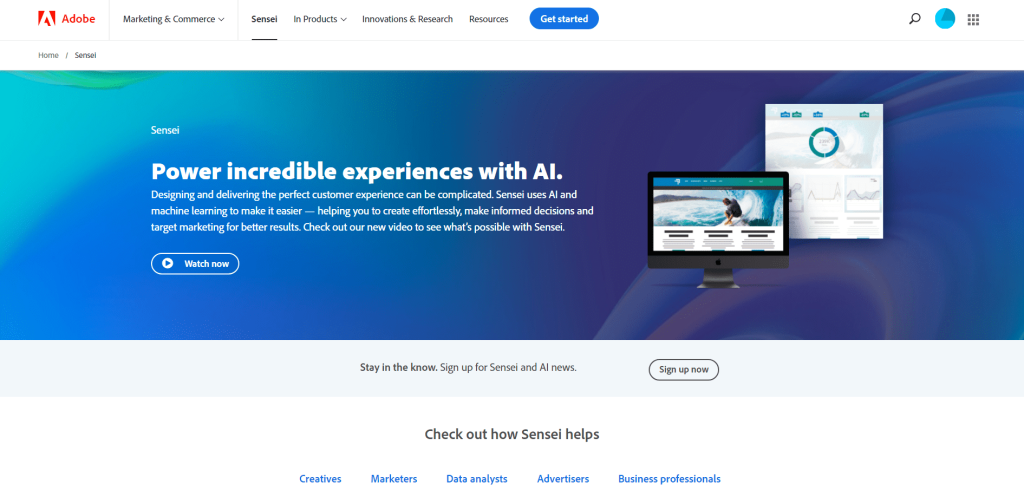 Key Features
Automated Forms Conversion
Image discovery and manipulation
Business and real-time intelligence
Predictive analysis to predict future trends
One-to-one marketing personalization
Workflow automation
Pricing:
Available only on request
2. Khroma
Every image editor or graphic designer knows how crucial is the role of colors in a design. Your design must have a perfect blend of colors to convey the right message to the audience. Gone are the days when designers would spend all day searching for the right colors and creating their color palettes. Today, we have tools like Khroma that use artificial intelligence to pick the right colors for you and create countless color palettes based on your color choices.
The app's algorithm works in such a way that it automatically detects the color tones which you have used in your previous designs and suggests color combinations that match your color preferences. Plus, it asks for your 50 favorite color shades and creates palettes based on that information.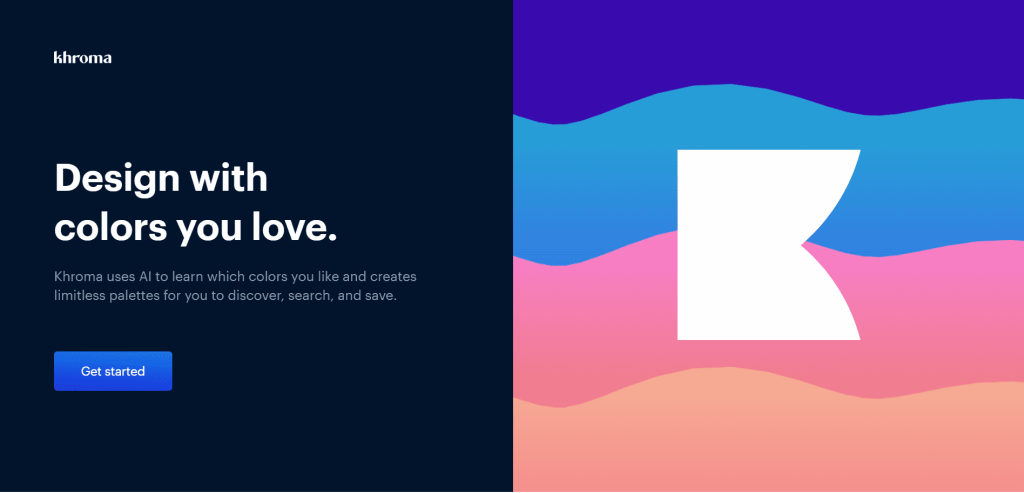 So you do not have to search for each color individually. However, you can always discover and create new color combinations. You can also upload images and the AI will take a hint from them and suggest colors accordingly.
Key Features
Color search option
Plenty of color palettes
Infinite combinations
Personalized algorithm
Mark your favorite colors
Pricing:
Khroma is a free tool
3. AutoDraw
AutoDraw is a web-based app used mainly for drawing purposes. Created by Google's Creative Lab, the tool aims to make drawing an enjoyable activity for all. If you are a doodle artist, cartoonist, or just someone who loves to draw, this tool will come in handy for you.
It helps you to draw quickly and refine your artwork. With the help of its predictions and suggestions, you can draw with utmost ease. You can draw even the most complicated designs with the assistance of this AI-powered tool. It also allows you to download your drawing as a PNG file on your computer and share it on social media.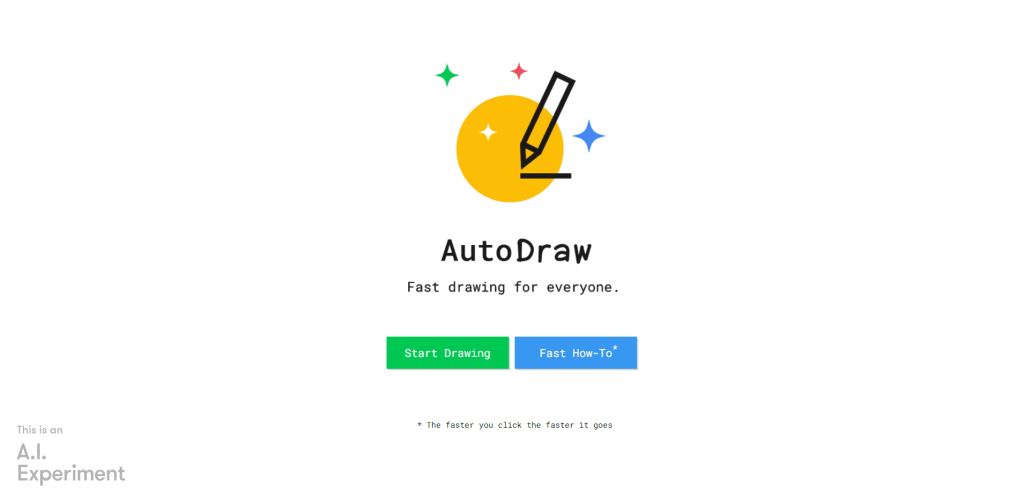 Key Features
AI-based suggestions to assist in drawing
Plenty of drawing tools (freehand drawing, color picker, shapes, text, fill, zoom, resize, rotate, etc.)
Keyboard shortcuts
Download and share options
Pricing:
AutoDraw doesn't charge for its services. It's a free tool.
4. Let's Enhance
Let's Enhance is an image enhancer and editing software used for resizing images without losing quality. Many times we face the problem of uploading images because of their incorrect size. And in an attempt to increase their size, we often lose out on the quality or their resolution.
With the help of this AI tool, you can take any low-resolution image and increase its resolution up to 4 times. Plus, you can enlarge your image up to 16 times its original size, keeping the quality intact. The software allows you to improve image quality, fix blurry images, and adjust tones and colors, all with one click.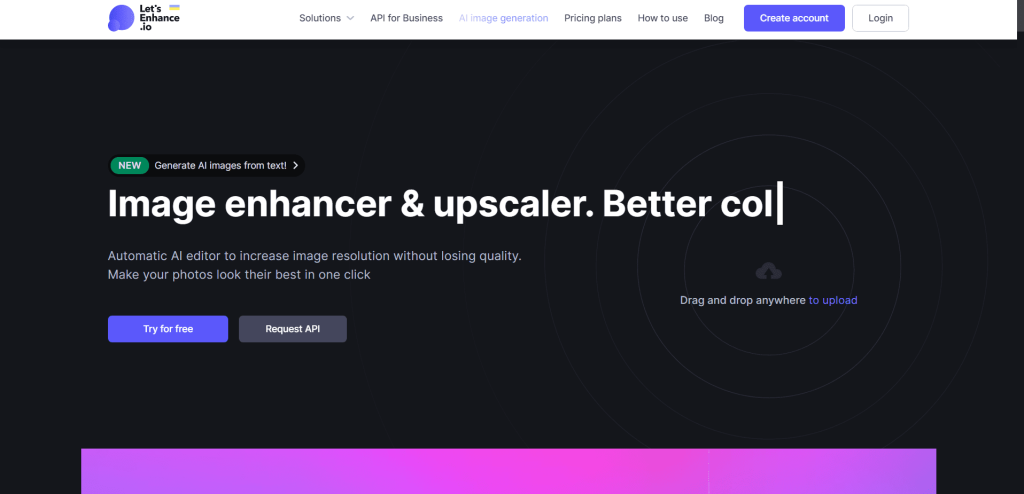 Key Features
Accurate face detection
Image upscale
Color and tone correction
Cloud storage
Custom algorithm
Smart Enhance algorithm
Pricing
| | |
| --- | --- |
| 10 free credits | $0 |
| 100 credits | $12/month ($9 billed annually) |
| 300 credits | $32/month ($24 billed annually) |
| 500 credits | $45/month ($34 billed annually) |
Uizard is an AI design tool that can create UI mockups for websites, desktops, and web and mobile applications within minutes. It's not a replacement for website designers, but it helps non-designers get an idea of how their website would look. You simply have to upload your sketch, and the AI will scan it and turn it into a prototype that can be used for your project.
5. Uizard
The software comes with many pre-built design templates with drag-and-drop elements that you can use for your designs. You can also share the designs with your peers and get their feedback. Today, Uizard has a community of 400k users worldwide and creates 8k projects every week.
Key Features
Rapid product prototyping
Digital product wireframing
Pre-made templates and widgets
Real-time collaboration
Pricing
| | |
| --- | --- |
| Free | $0 (create 3 free projects every month) |
| Pro | $15 ($12 per month if billed yearly) |
| Business | $39 (billed yearly) |
6. Remove.bg
Remove is another image editing software mainly used for removing backgrounds from images. Sometimes you only want the main element of a picture and not its background. Maybe you want to use a different background or separate the picture from the noise surrounding it. In such a case, it often becomes challenging to remove the background without disturbing or altering the main object. That is where remove.bg comes in handy.
While most other image editing tools follow a detailed process for removing the extras from your image, remove.bg does this job in a single click. It can even handle the most challenging edges and makes the process very simple. It also supports bulk editing and integrates with adobe photoshop, a full-fledged image editing software.
Key Features
AI-enabled algorithms
Adobe Photoshop integration
API documentation
Design templates
Download options for Windows, Mac, and Android
Pricing
| | |
| --- | --- |
| Free plan | $0 |
| 200 credits | $32/month |
| 500 credits | $166/month |
7. Designs.ai
Designs.ai is an online design software created with a vision to make design accessible to all. Through this tool, you can create thousands of designs for your marketing content. It helps you to create logos, graphics, videos, and mockups.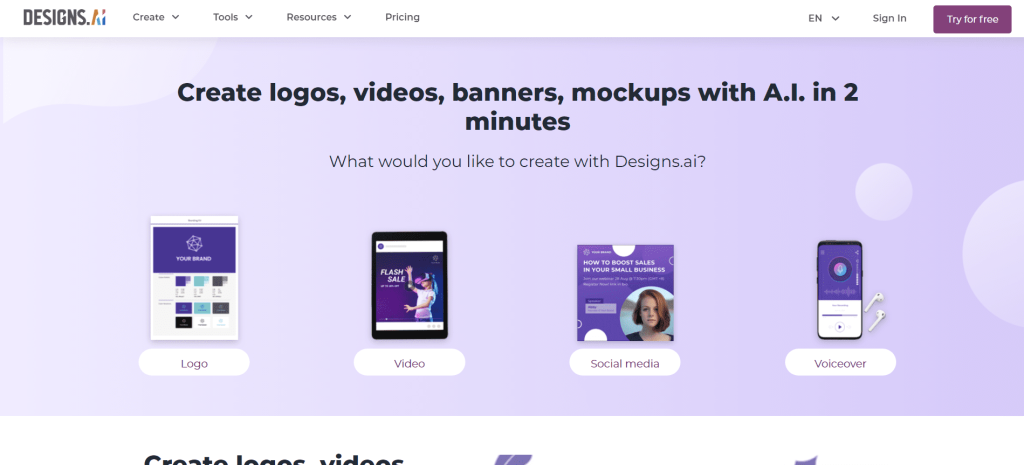 With its smart editor and wizard tool, you can save a big chunk of time that goes into brainstorming ideas for your marketing campaigns. The tool has a library consisting of 20k design templates and over 10k icons to choose from. Besides, it also allows easy collaboration on projects.
Key Features
Easy to use
High-quality graphics
Scalable vector graphics
Color matcher
Team collaboration
Unlimited downloads
Pricing
| | |
| --- | --- |
| Basic | $29 per month |
| Pro | $69 per month |
| Enterprise | Customized |
8. Fronty
Fronty is a free online service that allows you to create a website quickly. You don't need any designing or coding knowledge to create websites through this app. This AI-powered tool generates HTML CSS codes based on a user-uploaded image. All you have to do is upload an image of your website design and choose your preferred colors. The tool will study different elements of the image and prepare a code that would be used for building your website.
Key Features
AI-based image-to-code converter
Online layout editor
Website hosting
Custom domain
Sassy Cascading Style Sheets
Search Engine Optimization
Pricing
| | |
| --- | --- |
| Freemium | $0 |
| Pro | $4.92 per month |
| Advanced | $9 per month |
9. Deep Art Effects
Deep Art Effects is an image processing and editing tool that can convert your images into artworks with a single click. With over 120+ art styles, the app has more than 2 million users worldwide and has generated over 200 million works of art. It partners with some of the most well-known companies like Samsung, Huawei, and Globus.
Besides generating artwork, the software also helps in image refining. You can edit the background and foreground of the images, increase resolution, resize, and design according to your favorite artists' styles. The app also offers API integration.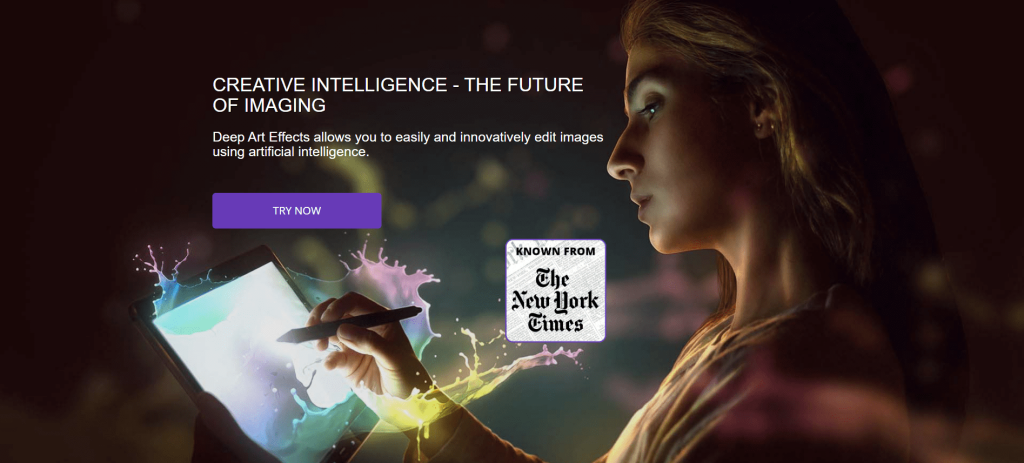 Key Features
Automatic cropping of image
Automatic grayscale
Generative Adversarial Networks (GAN)
Selective render for background and foreground
API integration
Available as a desktop and mobile app
Pricing
| | |
| --- | --- |
| One-month subscription | $9.90 |
| 3-month subscription | $25 ($8.33 per month) |
| One-year subscription | $80 ($6.66 per month) |
| One-time purchase | $129 |
Related Links:
Final Thoughts: Best AI Design Software (2023)
Design is an essential element of content marketing. Many digital marketers use graphic designs along with text content to deliver their messages effectively. It makes sense because people are more drawn to visuals and colors. A blog that contains images has a greater potential to attract higher traffic than one that merely contains textual information.
These days, there are plenty of AI design tools that marketers can use for creating designs. Even if you have little knowledge of designing, you can easily create designs or enhance images with the help of these tools.
Different designing tools are suited for different needs. For example, if you want to draw something, you can use AutoDraw. If your focus is more on colors and palettes, use Khroma. To change the size or resolution of an image, Let's Enhance is the perfect tool. So, the choice comes down to your specific requirements.
AI design tools can be a huge help to designers. If you haven't used any till now, try once. You will love it!