Have you spent hours scrolling through stock image websites and still not found the perfect image you had in mind? Using the same stock images as everyone makes your content look generic and also affects your SEO and rankings.
Now imagine a perfect world. You type in a description of the image you are looking for, something that you can't find anywhere else and would cost a lot for someone to create.
Select from a bunch of style options, and the AI presents you with the image you had in mind in a few seconds.
Sounds too good to be true? Now there's a software (called Jasper Art) that can easily do that for you, and I'll take you through it today.
Overview of Jasper Art
Jasper Art is a tool that combines artificial intelligence and machine learning to generate hassle-free, ready-to-go images, all with a simple text description.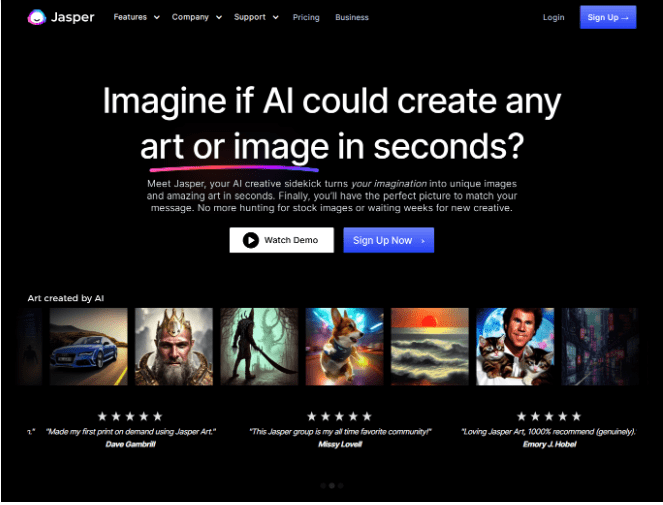 The images generated don't contain watermarks, and you can readily use them for different purposes.
It covers various styles you can choose from, such as sketches, paintings, and 3D animations to hyperrealistic images.
I've used Jasper Art as a writer because I always need to add images to my blogs and social media posts. Hiring someone else to do those tasks for me always gets expensive. While I've tried using other image-generating apps, the result never came out the way I wanted.
This problem made me want to try out Jasper Art for myself and see if it was worth the hype and the price tag.
What makes Jasper Art different?
Jasper Art uses DALL-E 2 to generate its images, and it is one of the best AI image generators. OpenAI created this, and it utilizes a version of the GPT-3. This software is already used in Jasper's popular text-generating AI.
DALL-E 2 launched in April 2022 and is a powerful AI system that can create hyperrealistic images and art from text descriptions. It can also work in different styles and combines concepts to create unique results.
DALL E also has a separate image-generating software at an affordable price. I've compared it to Jasper Art, and you can find it once you read through this post.
How has Jasper helped me?
As a writer who works on blogs and social media posts, I always need graphics and images to go along with them. I never find the exact photos I'm looking for, and using the same pictures as everyone made my content look generic.
I decided to try out a bunch of freely available image-generating software, and the results never came out the way I wanted. They had difficulty processing my requests, and the images came out distorted.
The free versions also didn't have the hyper-realistic photos I wanted to create. That is when I heard of Jasper Art's launch and purchased it.
As I started using Jasper Art, the images came close to what I had in mind. The results were so much better than the other software I had tried. If something didn't come out perfect in the first go, I could always tweak the description for a better result.
Who is Jasper Art best for?
The possibilities with Jasper Art are endless, and creatives in almost every field can use it.
Content writers, social media managers, and content marketers can use it to create graphics for blog posts and social media posts
Graphic artists and other artists can use it as inspiration to create artwork and illustrations
Writers and producers can use it to create storyboards
Businesses and marketing agencies can use it to create websites, ads, graphics, and so much more
Before you explore all the possibilities of using Jasper Art, let's see how it works.
How to start using Jasper Art
While it can be intimidating when you hear about the complexity of this tool, the software is pretty easy to use. The interface is also straightforward and allows easy navigation.
As soon as you sign up and choose a plan, it directs you to Jasper Art's dashboard, which looks like this: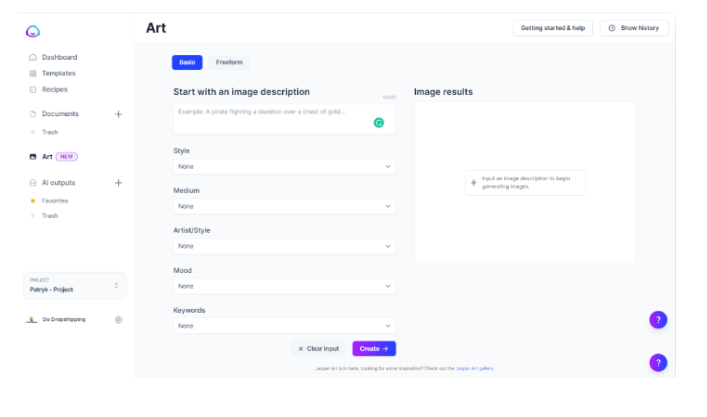 There's a place to input your text description and a series of other options based on the mode. Every time you click the create button, you'll be presented with 4 images.
There are two modes, basic and freeform.
Let's explore how both of them work and their differences.
Different modes in Jasper Art
Basic mode
The basic mode is what you should go for if you're a beginner at AI Image generation and could take the help of additional prompts to reach your desired result.
First, you need to start with a basic image description. Jasper gives you a text box with a 400-character limit which is enough to get your description in.
It is best to keep your description simple, and you can choose your preferred style from the given options. For example, ' a cat taking a nap ' or ' breakfast in an Italian countryside '. Jasper allows you to use any descriptions that come to your mind. You also use the names of famous personalities, and it will generate those pictures for you.
After describing your image, you get multiple options to choose the style, medium, mood, and additional keywords that will further help your result. The options come with a drop-down menu so you simply have to choose what kind of image you want.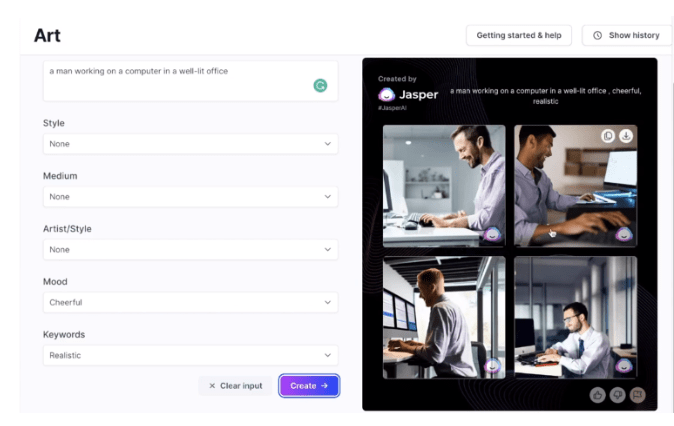 To create this set of images, I typed in "a man working on a computer in a well-lit office". I chose the mood as cheerful and the keywords to be realistic, and this is the result I came up with.
Freeform mode
Freeform is great to try out if you've gotten used to the basic mode and are confident about your image-describing skills.
It gives you more power over the image being generated without the set of extra options. Your description alone will generate the image, giving you more control over the results.
Just make sure to let your description have all the details you want so that Jasper can create it for you.
In this case, I only typed in the description "Painting of two dragons fighting a warrior in a castle" and these were the results produced. While the warrior might be missing, the images still came out pretty great.
The trick with freeform is to include your preferred style in the text description like I've done with painting and got the desired result.
Below are some tips you can follow to get the best results out of Jasper Art.
Tips to get the best out of Jasper Art
Be descriptive – use Jasper's textbox to type in for the exact image you want and be as descriptive as possible. Input as much context as you can to get the best image. (for example, add close up or distant shot depending on the image you want)
Separate details with commas – while adding additional info to your description, always separate the details with commas (for example ' 2 girls picking flowers in a meadow, daytime, hyperrealistic' ). The commas help Jasper pick up those individual details easily.
Getting hyperrealistic photos – Add words such as insane detail, professional photograph, detailed, ultra-realistic, or hyper-realistic to your description to get the most detailed-looking photos. This helps Jasper add those attributes to your images.
Try different descriptions – If an image doesn't come out the way you wanted, go back to the description and adjust it to get your desired result. Remove anything that you were not looking for and add more details according to the image you have in mind. Play around with descriptions until you get your desired result.
Moving on to some of the pros and cons of using Jasper Art
Pros of using Jasper Art
Extremely fast – After writing the text and hitting the create button, Jasper Arts takes only a few seconds to generate images. This especially helps when you're in a time crunch and looking for images for your blog, website, or social media. Instead of paying someone and waiting, it helps you save both time and money.
Watermark-free- You don't have to stress about watermarks on your photos, the photos come out looking professional, and are ready to use.
Easy-to-use interface- It doesn't take that long to figure out how to use the application, and you can easily start generating the pictures you want.
No restrictions – Once you purchase the plan, there is no restriction on how many images you can generate.
Wide range of styles – Jasper art has a range of styles including artwork, illustrations, and hyperrealistic pictures. You can even generate artwork in the style of artists like Van Gogh or Andy Warhol. All you have to do is to describe what you want, and Jasper Art creates it for you.
Cons of using Jasper Art
Copyright issues – The art created by AI cannot be copyrighted, which means they are royalty-free and anyone else can reuse what you post. This also means you should be careful while generating images and not infringe on someone's copyright such as logos or images of popular people.
Struggles with text and human subjects- The current bug with Jasper Art is that it struggles to create images with text and human subjects. Words come out jumbled and human subjects look distorted.
This is showcased in this example where the human subject's eyes look distorted –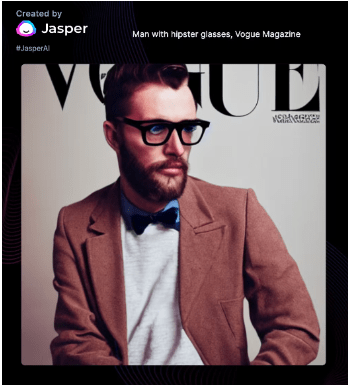 Jasper Art's team is working on resolving these issues and hopefully will improve this in the next few updates.
Doesn't have an image input option – Unlike some other AI image generators that let you upload an image for reference, Jasper Art only allows you to input text to create images.
Pricing of Jasper Art
The current pricing for Jasper Art is $20 per month/per user. Once you purchase the tool, there are no limits on the images you can generate.
Previously you could only use Jasper Art tool if you already had Jasper's AI tool. The minimum cost for that was $49 USD. This has changed since then and users are free to purchase the Art tool separately.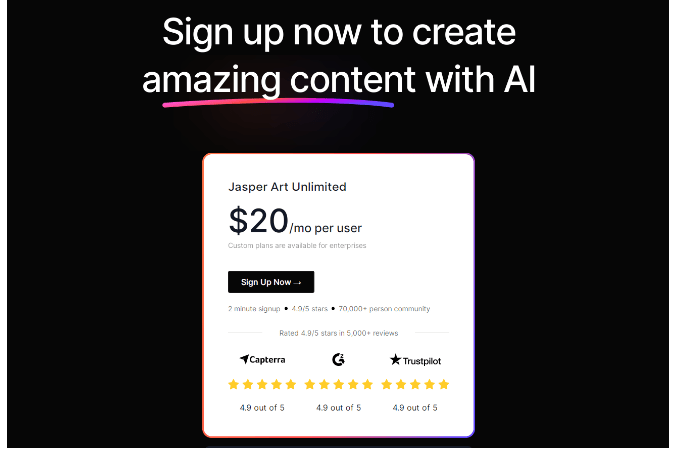 Something to keep in mind is that the current pricing is only for the launch and will be subject to change in the future. So now is a great time to try out the tool if you're interested.
Jasper Art Alternatives
Dream by Wombo – Dream is a free-to-use AI image generator that doesn't even require you to sign up. There is a 200-character text box that lets you describe your image. You can scroll down to choose the style you want, and it even lets you input an image as a reference. It isn't as accurate as Jasper Art. A lot of the time the images come out slightly distorted, and the input needs to be constantly tweaked. This is still a good risk-free option to explore if you're completely new to AI image generators and just looking to try them out.
ImgCreator – ImgCreator is an AI image generator whose basic tools are free to use when you create an account. However, some features can only be obtained by purchasing the pro version, such as realistic photos, 3D designs, and illustrations. The free option still has a ton of styles to choose from and is similar to Jasper Art's interface. This is a great option to check out if you're happy using the styles that are available for free.
Dall E – Dall E is an image generator by OpenAI, the same image processing software used by Jasper Art. Dall E has 50 free credits for users, and you can purchase additional credits. It doesn't have the option to choose styles like Jasper Art but has the option to upload a reference image. The results are similar to Jasper Art, and you also get 4 results. Their pricing is on a credit basis and relatively cheaper than Jasper Art. You get 115 credits for $15, though the images you can generate will be limited.
Related Read:
Is Jasper Art worth the Investment?
Jasper Art is a great option at $20/ per month. If your job is content creation, Jasper Art will save you both time and effort. If you're a professional content creator or a business owner then it might be worth your investment. It saves you the cost of hiring a graphic artist for your website or social media. But, if you're a student or new to content creation, you're better off trying free or cheaper alternatives before purchasing Jasper Art.
Faq On Jasper Art Review:
Can I try Jasper Art for free?
Of course, you can try Jasper Arty for free as it offers 5 days of free trial to try this tool.
Can I publish the Jasper AI image on our site?
Absolutely, you can publish Jasper AI images on your site, blogs, for creativity, and many more.
Does Art use credits?
Jasper Art doesn't use credits, you can create as many images as you want.