If your website is not getting enough visitors, it's probably because it is not SEO optimized. In short, if you optimize SEO well, the chances of your website being ranked higher in any search engine will increase.
To boost your SEO, you can use AI SEO tools that can save you a lot of time and effort.
With the current developments in our world, artificial intelligence can do anything. AI SEO tools use artificial intelligence to help your website to have a higher search engine ranking.
AI SEO tools can instantly examine your website to look for any errors and help you improve it. This will give you more traffic and a better ranking. AI SEO can make you rule the SERPs and make your content go viral.
Here are the top 10+ AI SEO Tools of 2023
| | | | |
| --- | --- | --- | --- |
| S. No. | SEO Tool | Best for | Price |
| 1. | Surfer SEO | Website audit and research | $49 per month |
| 2. | SEMrush | Competitor analysis and Google advertising solutions | $199 per month |
| 3. | Ahrefs | SEO marketing and rank tracking | $99 per month |
| 4. | WriterZen | Topical authority, checking plagiarism, and content creation | $27 per month |
| 5. | Frase | SEO and content optimization | $14.99 per month |
| 6. | Outranking.io | Content strategy, working with a team of 10+ people | $79 per month |
| 7. | Copy.AI | Blog writing, copywriting, and checking plagiarism. | $49 per month |
| 8. | RankIQ | Content briefs, advanced keyword research, and rank tracking | $49 per month |
| 9. | INK | Higher Google ranking, content strategy, and website audit. | $44 per month |
| 10. | BrightEdge | Optimizing and estimating content performance | Customized Pricing |
1. Surfer SEO
One of the widely used SEO tools out there, Surfer SEO is a cloud-based, data-driven tool to help you grow your website from scratch. Use it for a website audit, researching, writing, and optimizing your SEO strategy.
It helps you figure out what you were doing wrong and what you can do to fix it.
So if you want a tool that helps you with SEO and has the added benefit of content strategy, Surfer SEO is a very reliable option.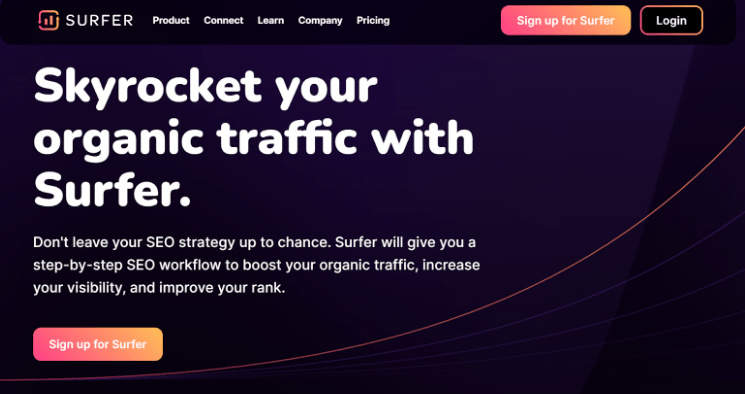 Key features
The star feature is their content editor tool that allows you to analyze your keywords and compare them to your competitors.
The top-notch audit tool analyses the content on your website. It tells you how to turn your old content that doesn't rank on search engines into a heavy-traffic page.
With the grow-flow feature, even as a busy person, you can get daily insights about your website. It's possible because of the data-driven and compact information it provides to save time.
Pricing
The basic plan is $49 per month
The pro plan is $99 per month
The business plan is $199 per month
Free trial: Surfer Seo comes with a free version. They also have a money-back guarantee.
2. Semrush
SEMrush is an SEO platform that gives you the benefit of growing your business with SEO, content marketing, competitor analysis, Google advertising solutions, and Social media marketing (SMM).
The best feature of this tool is that even with limited knowledge of SEO and advertising, it's easy to understand. The world's leading brands like Samsung, Forbes, and Decathlon use it too.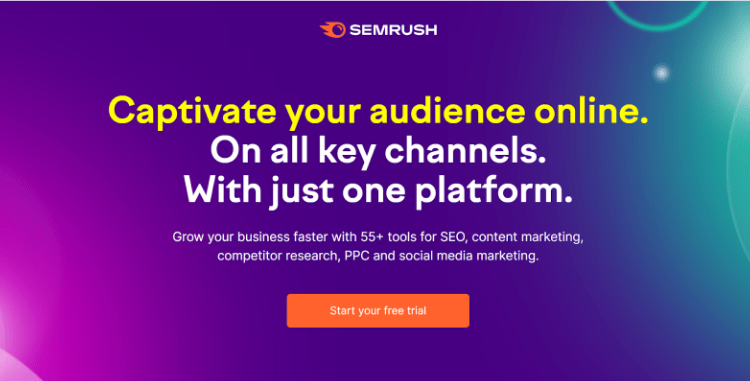 Key features
For SEO optimization, you get access to keyword research, website audit, on-page SEO, rank position tracking, analytics for backlinks, competitor analysis, and many more.
You get an SEO writing assistant that scores you based on SEO optimization, tone of voice, and readability.
The market research tool has features like competitor and market analysis, paid advertising, and competitor PR monitoring.
Pricing
The pro plan is $199 per month.
The guru Plan is $229 per month.
The business plan is $499 per month.
Free trial: It comes with a free 7-day trial for all of the plans.
3. Ahrefs
Ahrefs will grow your website with better rankings and a higher traffic rate. This tool has a fan base among the top industry leaders in the world.
Brands like Facebook, Pinterest, LinkedIn, Adobe, and eBay use Ahrefs.
Ahrefs provides tutorials for every tool included in their package to make it easy for anyone to use. Whether you're a beginner or a pro, Ahref's got your back.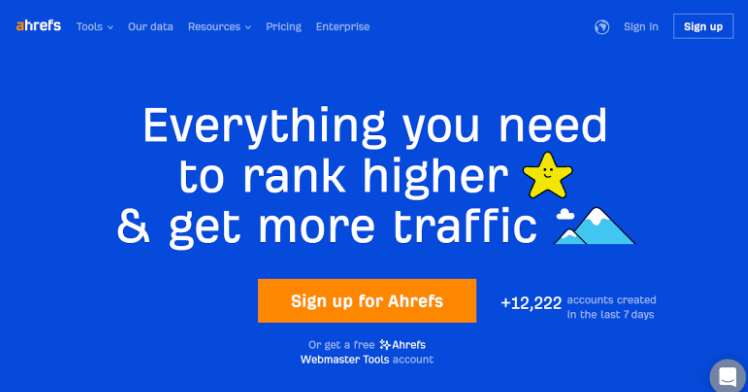 key Features
The site explorer tool tells about organic traffic, paid keywords, pages with the most backlinks, and outgoing links.
The content explorer tool gives you insight into gaining organic traffic by focusing on the marketing part of SEO.
Rank tracker delivers your website's reports by comparing them to your competitor's websites directly into your inboxes.
Pricing
The free plan for website owners gives you access to the Ahrefs Webmaster tool.
The lite version starts at $99 per month.
The standard plan starts at $199 per month.
The advanced version starts at $399 per month.
The enterprise version starts at $999 per month.
4. WriterZen
WritenZen focuses on building topical authority for your website with the help of the Google database. Where other brands focus only on increasing Google ranking, WriterZen aims to create content that the audience loves.
A remarkable feature of this tool is that you can book a free 20 minutes call with WriterZen's team to discuss what's best for your website.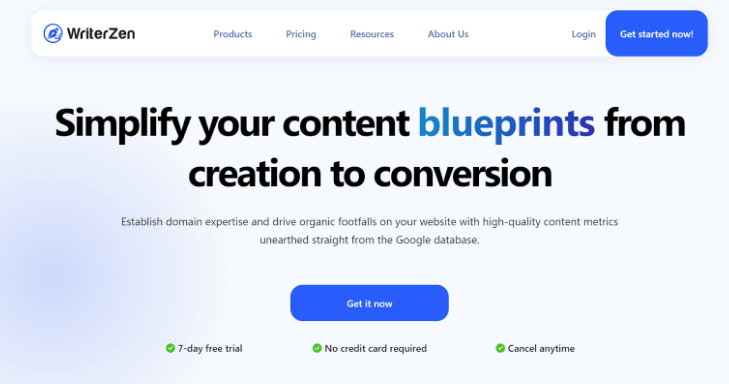 Key features
The topic discovery tool helps in creating a blueprint of topics that make you the content authority figure in your niche. It is a unique feature that other SEO tools don't have.
With the content creator tool, you get to structure, outline, optimize, and competitor-proof your content easily.
Good content must be plagiarism-proof. WriterZen's plagiarism tool can help you make your content 100% authentic
Pricing
The basic plan is $27 per month.
The standard plan is $41 per month.
The advanced plan is $69 per month.
Free trial: WriterZen provides you with a 7-day free trial
5. Frase
Frase is an SEO and content focussed tool that helps produce better-optimized content. It was the number 1 AI program with a rating of 4.8. You can use its AI for content writing as well.
It is one of the best content optimization tools out there because it can create well-researched and high-converting content in minutes.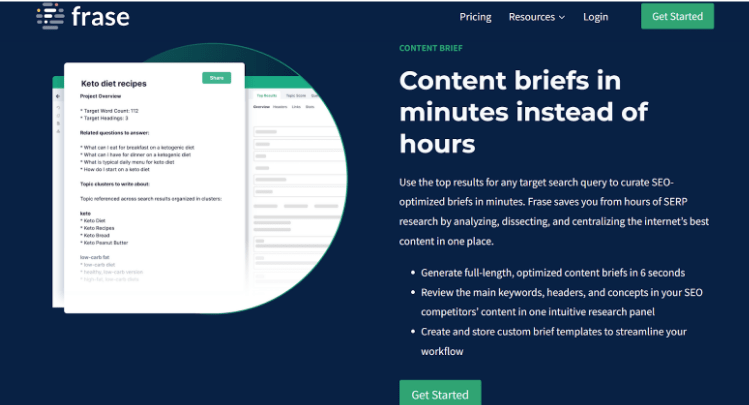 Key features
The content writing tool can write entire paragraphs for you. You just have to select the "write for me" option. You'll be able to write introduction paragraphs, strategic copy, headlines, and many more.
After comparing with your competitors, you can identify what type of content you must include in your blog.
Use content analysis to identify what content needs to be refreshed and why your website is not ranking as it was supposed to be.
Pricing
The solo plan is priced at $14.99 per month.
The basic plan is $44.99 per month.
The team plan is $114.99 per month.
Free trial: You get a 5-day trial for only $1.
6. Outranking.io
Outranking is an SEO-based content optimization tool used by leading brands like NBC News, zoomsphere, and Fastspring. They claim to be the only AI-powered SEO platform that helps you leverage your data and research process.
It's the most flexible tool for optimizing SEO, planning your content strategy, and working with a team of 10+ people on board.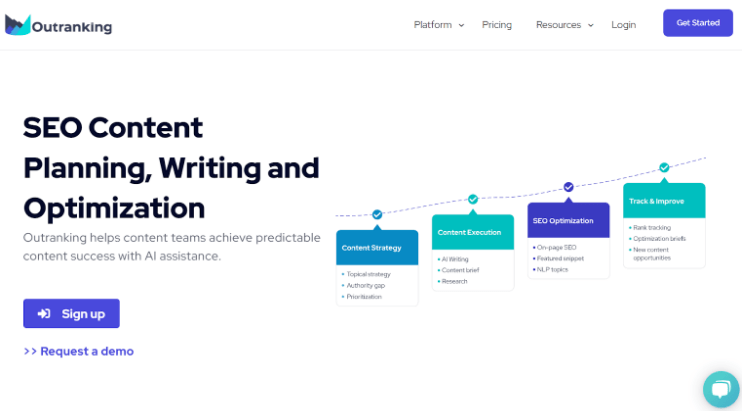 Key features
Its AI writer tool can create well-researched, premium-quality, and long-form SEO-optimized content.
Just like WriterZen, Outranking also helps in creating topical content that aims at building authority in the industry. It's all possible using SEO, data, and artificial intelligence.
The content marketing tools guarantee that you will be done with 80% of your first draft of copy within 15 minutes.
Pricing
The solo plan is $79 per month.
The pro plan is $149 per month.
The company plan is $219 per month.
7. Copy.AI
Widely used by renowned brands like Microsoft, Ogilvy, and Nestle, Copy.AI is an excellent AI SEO tool for blog writers, social media managers, and email copywriters.
Copy.AI can make you write blogs with 10 times greater speed, create amazing social media posts, and write high-converting e-mails.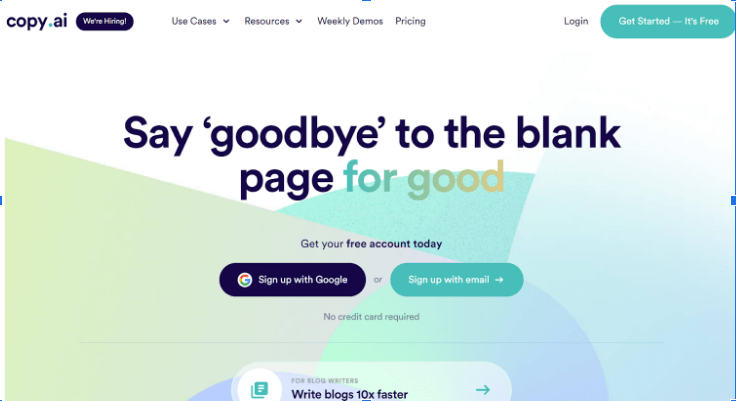 Key features
This tool lets you create catchy e-mail subject lines that increase the click-to-open rates.
Copy.AI can be used as a Google Chrome extension.
You can create better product descriptions, social media copy, website copy, sales copy, and even blog posts with the help of its tools.
The plagiarism checker with Copy.AI gives accurate results. It's easy to use and gives you the result in just a few seconds.
Pricing
The free plan allows only 2,000 words per month without any credit card details.
The pro plan is $49 per month.
8. RankIQ
This AI SEO tool has openly challenged its competitors, SurferSEO, Ahrefs, and SEMrush. They say it is better than its competitors because it provides content briefs, advanced keyword research, a rank checker, and niche keywords.
This tool is designed only for bloggers or business owners with blogs. It helps with SEO and a wide variety of other features too.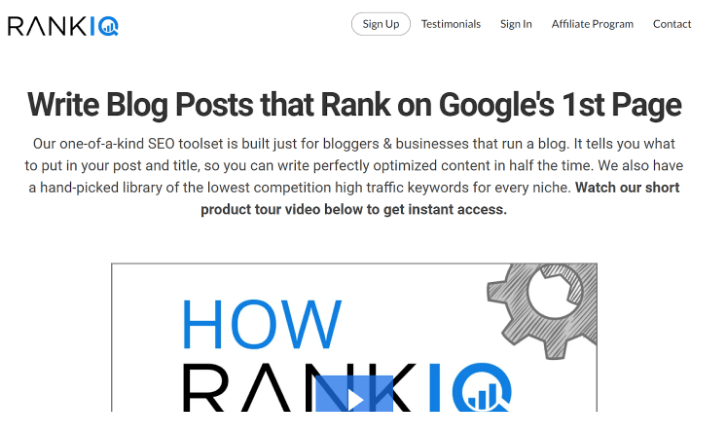 Key features
If you want to create an outline for your blog that will rank better on the google algorithm, RankIQ is the best option. You will be able to identify topics that will be pushed forward by Google.
The writer assistant at RankIQ will tell you what you should add to your content for a higher ranking.
There are a lot of blog posts that do not perform well. So to make the non-performing posts perform better, RankIQ will optimize their content in as little as 30 minutes.
RankIQ can analyze the top 30 SERP results to give you a look into what title will work best for your content.
Pricing
RankIQ costs $49 per month.
Free trial: RankIQ does not have a free trial.
9. INK
INK is an AI SEO tool that is best for people with limited SEO requirements. Even with no knowledge of SEO, anyone can rank higher on google. INK has managed to attract 1,000,000 visitors by using INK's AI SEO tool in 3 years.
If you want your website to be ranked higher on Google and convert like crazy, you will want to use this tool. INK says that the chances of your content being discovered on the first page will raise by 450% if you use their tool.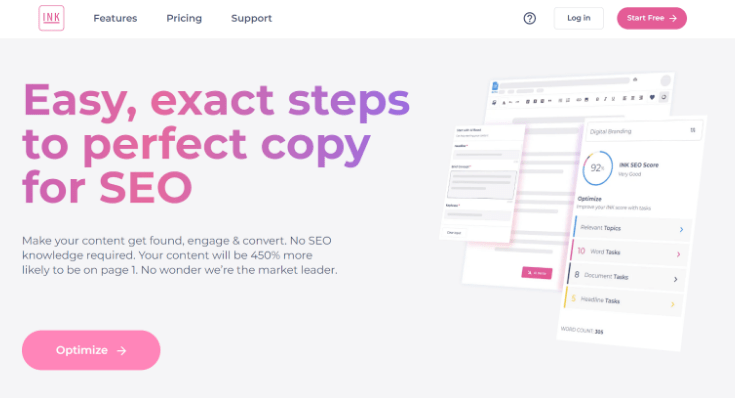 Key features
The SEO score tool will analyze your webpage and tell you what needs to be improved and by how much.
The SEO rocket tool can build an audience of 1,000,000 visitors in only 6 months. This tool includes goal setting, content strategy, the framework of the audience, and website structure.
The word optimizer tool will analyze the difficulty level of a sentence and adjust it according to your audience's requirements.
The document optimizer tool will help you with structural changes.
Pricing
The creator plan is $44 per month.
The professional plan is $89 per month.
The SEO rocket plan is $443 per month.
10. BrightEdge
BrightEdge is a search engine optimization solution that helps in content marketing operations and generates organic traffic using Artificial Intelligence (AI) technology. It also helps marketing agencies to find trending topics based on the conducted website analytics.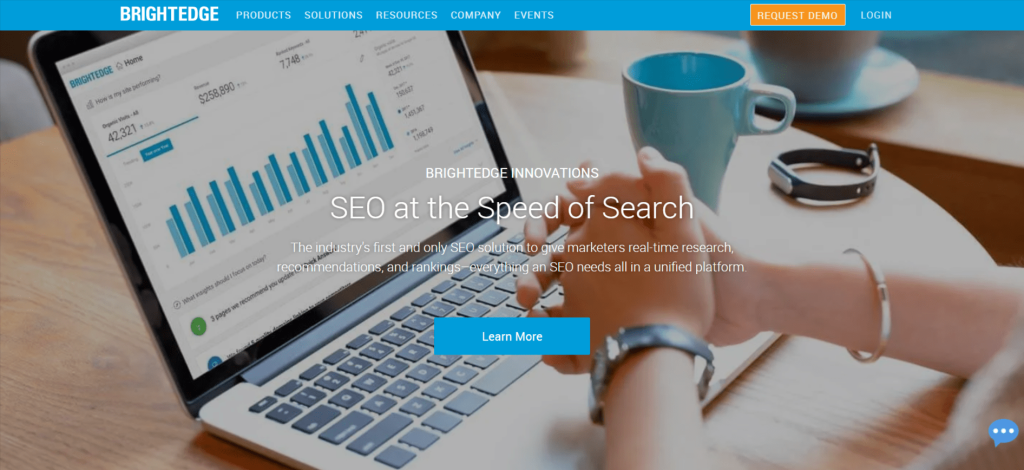 With the help of BrightEdge AI system, you can easily discover search trends, implement action based on the result, and automate keywords. In this way, you can assist content in the right way with the use of keywords and target a suitable audience. Its content discovery features advantages to determining high-value content ideas and offers tips to improve content ideas.
Key Features
Content performance recommendation
Customize dashboard, forecasting, and reporting
Content centric marketing
Competitive analysis
Project management
Pricing
Customized Pricing
Related Read:
Key Takeaways – Top AI SEO Tools
AI-SEO tools can be very beneficial if you want to bring your website to the top from scratch.
So you should analyze what you want the SEO tool to do for you. As a content writer, you might only need a keyword optimization tool. While, as a start-up owner, you might be more interested in google advertising, SERP ranking, or tools that help you build authority online.
Choosing the right SEO tool will be easier this way.
You might also want to compare the prices of different plans and pick the best one that fits your budget and gives you all the necessary tools.