Artificial Intelligence's benefits are not something the marketing industry is not aware of. The latest AI marketing tools are increasing the efficiency of marketing campaigns every day and helping businesses worldwide count in the most sales they've ever made.
But most new businesses get confused about the AI marketing tools they should choose to maximize their investment gains. Are you one of them as well?
If so, then worry not. Our team members have spent considerable time trying out the leading AI marketing tools in the marketplace and picking the best among them for your ease of choice. To know all about them, make sure to read till the end.
What Is Artificial Intelligence?
Artificial Intelligence is like something which could not be capable in explained in words. Though AI typically means developing an intelligent machine.
One can access Artificial Intelligence in many ways, as AI involves machine learning, big data, deep learning, and many more. AI solves many problems and makes human work simple.
Although, involving AI with marketing, effectively changes a little bit with the market. The main reason behind is that doing something which is not all brands are not doing, this offers you a cutting edge over them.
Different Types of AI Marketing Tools That You Need
AI marketing tools are a whole category of different categories of tools in them. Some of the most distinguished types of AI Marketing Tools are as below.
Email Marketing AI Tools: Such AI tools help the email markets gain better open rates, deliverability, revenue, and click rates.
Content Marketing AI Tools: Content Marketing AI tools help you create useful content, such as infographics, chatbots, news feeds, etc., based on your targeted audience's needs and wants.
Chat and Messaging AI tools: Artificial intelligence can now converse using the modes of chatting and messaging, which you can use to communicate with your active customers on social media.
Ecommerce AI Tools: Such AI tools compile and decode the amassed customer data to deliver a better user experience and achieve better conversion rates.
Analytics AI tools: Analytics AI tools handle the analytical aspect of marketing and loosen your need to hire a digital analyst separately.
AI Tools: In a Nutshell
Now that we know about the different types of AI tools let's have a look at the list of the best AI marketing tools and which category of AI tools they fall to.
Seventh Sense: Best tool for creating strategized emails
Phrasee: Best tool for composing appealing email text
HubSpot SEO: Best AI tool for handling website SEO
Grammarly: Best tool for managing and enhancing website content quality
MarketMuse: Best tool for building content strategies
ChatFuel: Best tool for creating automated intelligent Facebook Messenger bots
Yotpo: Best tool for assessing and analyzing customer reviews
List of AI Marketing Tools
Here is a detailed overview of AI marketing tools.
1. Seventh Sense
Seventh Sense has artificial intelligence that profiles the behavior of your targeted audience to send an email that catches their attention among the other hundreds of emails coming into their mailboxes.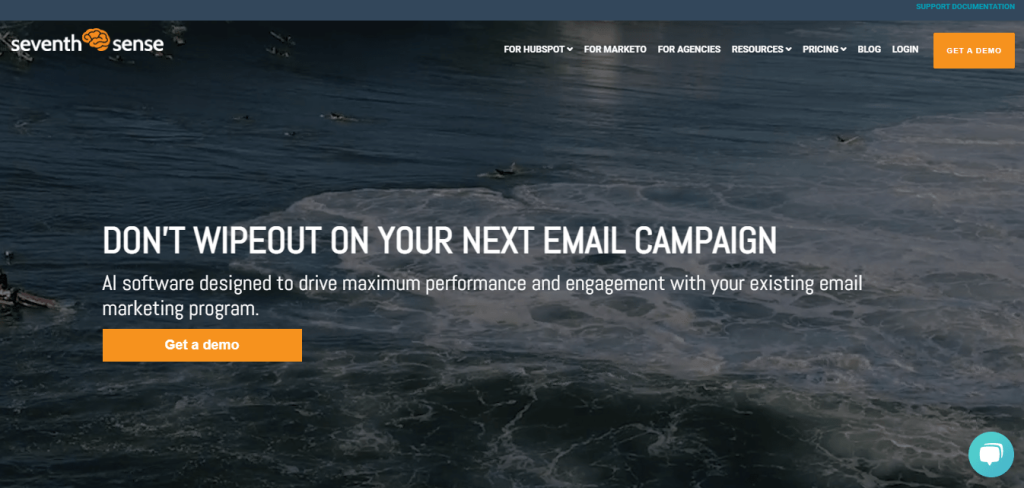 Seventh Sense uses its AI to determine when the targeted customer is most likely to open their mails. Sending the right mail at the right time increases the chances of it getting opened by the user by a noticeable percentage.
The only catch is that it mainly works with HubSpot and Marketo customers.
Key Features:
Increasing the open rates of your emails
Behavioral Profiling
Determining the right time to send an email
Works with HubSpot and Marketo
2. Phrasee
The chances of your sent emails getting opened depend upon the legitimacy and exactness of your subject line. Phrasee understands this, and its AI comes up with ways to help you write an appealing subject line that could increase your open rates.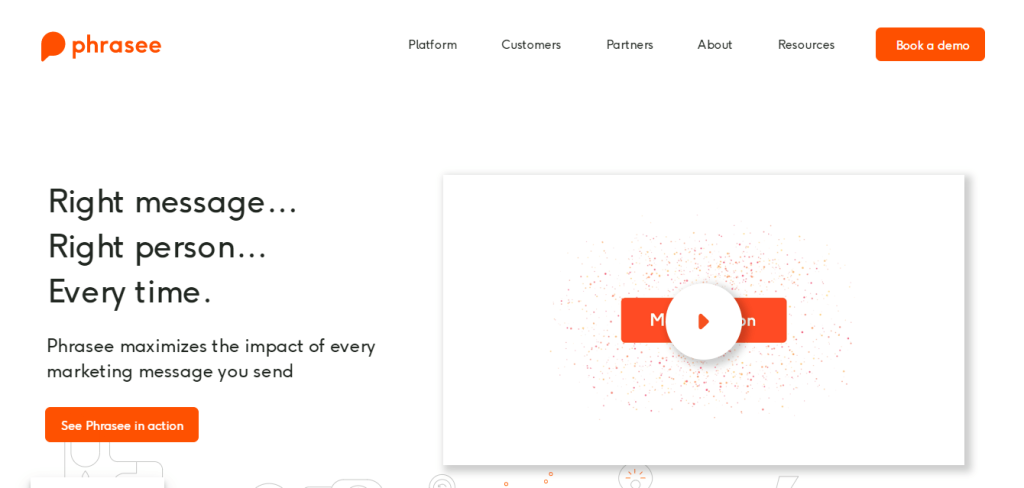 The AI of Phrasee simply uses the data-driven insights of your brand to generate a million natural-sounding copies that resonate with your brand's voice. The tailored language models it uses to ensure that every copy you send to an individual hits the home run and gets it opened.
Phrasee uses an end-to-end work model. Therefore, after getting the results back from you, its prediction model rebuilds and learns how to best reach your audience from the response of your audience.
Key Features:
Instant generation of a million human-sounding copies
Copy variant creation that resonates with the brand voice
Tailored language model created for each customer
Learns and adapts from the customer response on its previously generated copy variants
Processes end-to-end
3. HubSpot SEO
HubSpot has become an AI tool that is a must-have for every business that markets online. The tool uses machine learning to understand how various search engines line up content when a search is done. Therefore, with the help of its reports, you can make your web pages rank above your competitors whenever a keyword related to your content is searched for.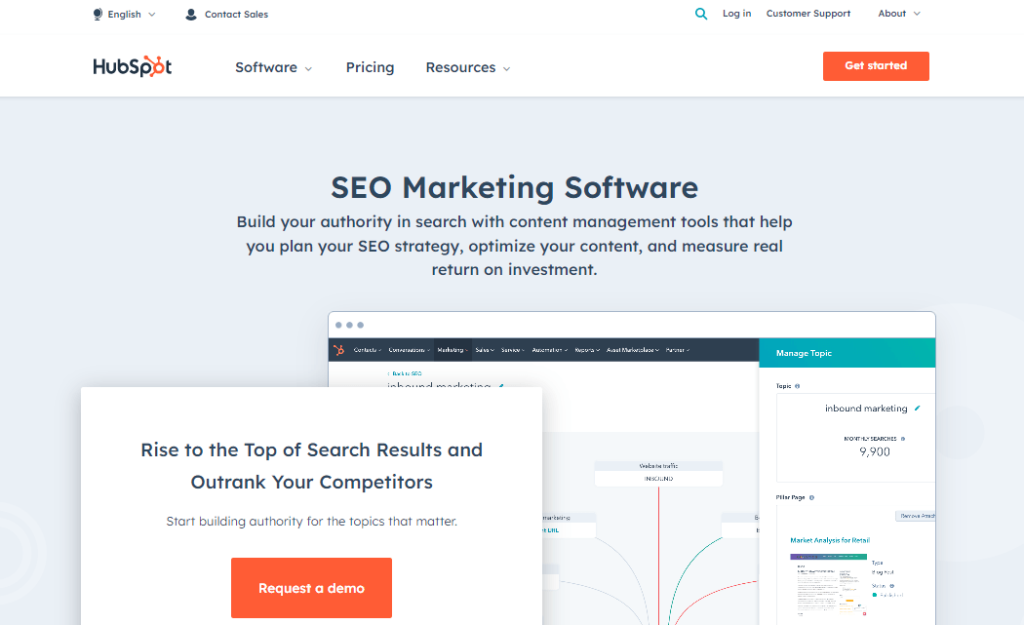 Search engines are known to put the web page that makes best organizes their content around the related core subjects. HubSpot SEO helps you find the core subjects and topic clusters of your content topic and base your content around it to get a better ranking.
HubSpot SEO also displays the metrics of your content, including its competitiveness and relevancy, with which you can form a better content strategy and various topic clusters.
Key Features:
Discovers the rank for the topic your content is based on
Suggests the right core subject and topic clusters to base your content around
It can be integrated with other HubSpot content tools
Provides various SEO-related metrics
It helps in improving your search engine rankings
4. Grammarly
Grammarly is an AI tool that every writer and content creator uses. Not only does it checks the spelling of your draft, but it also does a thorough check of your content to identify other grammatical and logical mistakes, such as punctuation, structural, and contextual mistakes.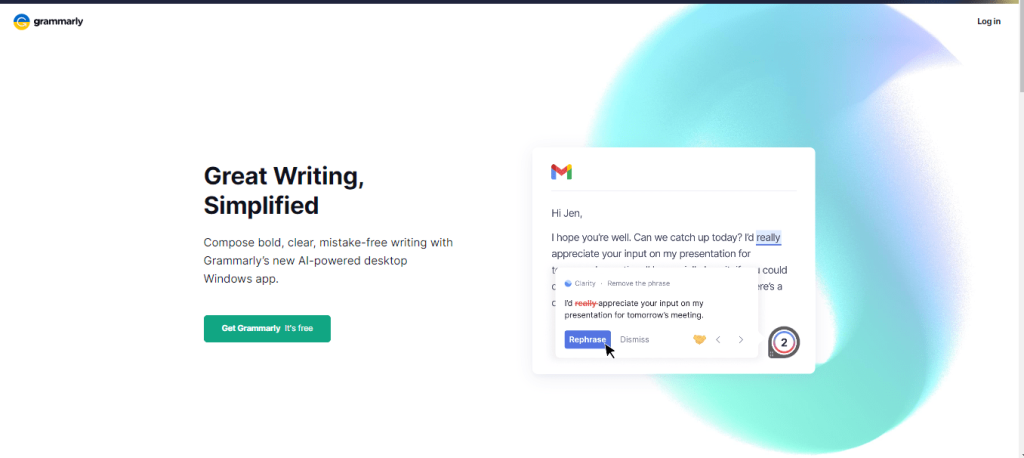 It also provides suggestions for bettering the style and clarity of your content. Most bloggers and other forms of content writers never publish their works without first passing them through Grammarly.
Key Features:
It can be integrated as a plugin on various web platforms, including Quora, Google Docs, LinkedIn, etc.
Provides the service of plagiarism checking
Checks the style and clarity of your writing
It provides different filters to check your writing in a certain way.
5. MarketMuse
MarketMuse is an assistant that uses its AI to help online marketers build strategies for publishing their content. The tool provides you with the right keywords according to your specific topic, with which you can get better results for your content campaign.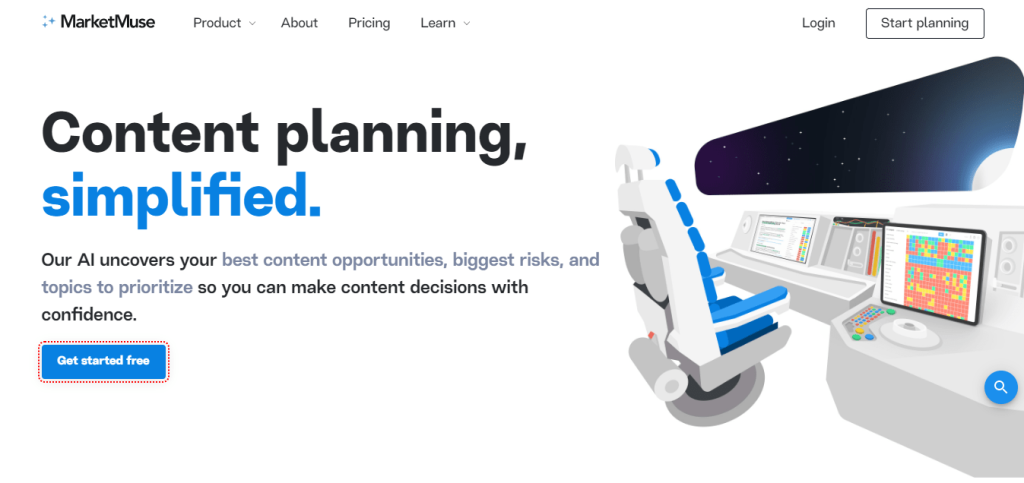 Other than that, MarketMuse analyses your content to find the gaps you can fill with new missing content, which can enhance and affect the rankings of your content on search engines.
Key Features:
Content strategizing
Targeted keywords displaying
Analyses content and find fillable gaps
Increases your content rankings on search engines
Content comparison with thousands of articles
6. ChatFuel
Facebook Messenger is a leading method of contacting businesses and e-stores. ChatFuel understands this and helps users automate their Facebook Messenger replies with the help of smart bots.
These bots lead your potential customers to the purchasing page and answer their purchase-related queries. Therefore, you have a 24×7 working sales rep to whom you don't have to pay a monthly salary.
Key Features:
Provides 24×7 working chatbots
Automates Facebook Messenger conversations
Uses bots to send ads to potential customers
It helps you in managing your time
Automates FAQs to connect warm leads with the purchasing page.
7. Yotpo
Yotpo consists of a deep learning tech core that helps you make better business decisions by assessing your customer reviews. It joins the dots between the key topics that led your customers to your product pages.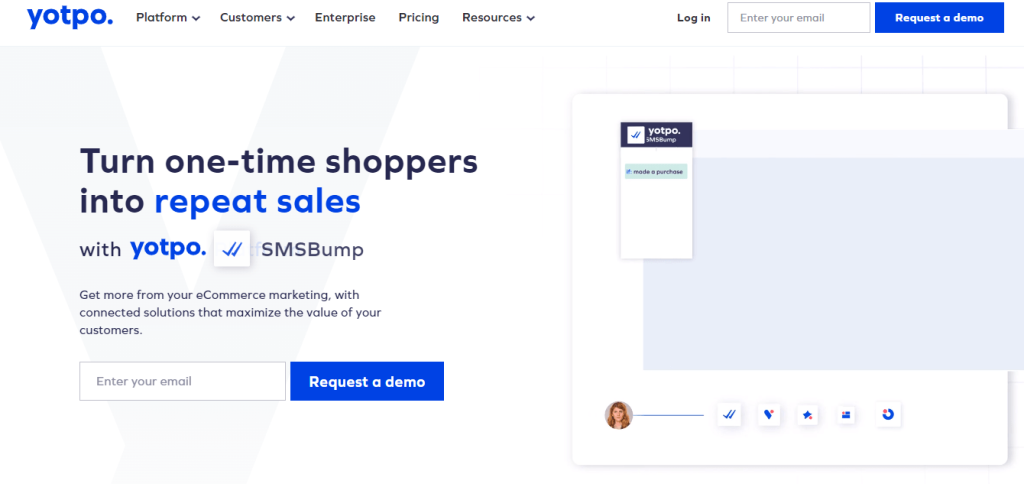 By extracting all the relevant reviews from your past sales, it presents them in a way that you can use them to convert new leads. Yotpo is an AI-powered moderation tool that uses a scoring method to score each review and flag each review consisting of negative sentiment.
Key Features:
Streamlines the review filtering method for buyers
Analyses customer reviews to help improve your products' sales
Can be integrated with renowned ecommerce platforms, including Magneto, Shopify, and BigCommerce
Scores good reviews and flags negative reviews
Points out the key topics that lead to your product sales
Related Read:
End Note
AI-powered marketing tools have become a must-have in the times that we live. They consist of enough workability to complete the work of various professionals with a better and more efficient method.
All the tools we have discussed today are water droplets in the sea. The options are overwhelming. But this also ensures that whatever your marketing need may be, there is always a solution out there. Hence, make sure to have faith in your marketing campaign and believe that you will find the right AI marketing tools to ease your work and reduce costs.