Artificial intelligence is no longer an unknown concept. Almost every successful organization is using it in some form.
Today, AI technology is touching every aspect of a business. It is being increasingly used in the marketing and advertising fields. So much so that now you can even create images with its help.
Yes, you heard it right! AI can help you with image creation. That means you don't have to be a pro graphic designer or a professional artist to create images for your content. These AI image generators can do that for you at a click of a button.
Most of these AI tools have a simple process of image generation. You have to input the text, and they will generate the image of your choice.
So even if your input is as bizarre as "a lion eating pizza", the tool will generate the exact image for it. And that's the beauty of these text-to-image converter tools. They give room for a lot of creativity and experimentation.
You can create landscapes, animes, animals, cartoons, and even real people. Plus, there are different styles available in most of them. So you can choose as per your preference. 
Top AI Image Generator: In A Nutshell 
If you are in hurry and do not have any time to read the full article, here we have given a quick overview of all the AI image generators. 
| | | |
| --- | --- | --- |
| Sr. No. | AI Image Generator | Best For |
| 1. | Jasper Art | Best for creating different style images |
| 2. | NightCafe | Best for creative images |
| 3. | Dall-E | Best for the creating animal illustration |
| 4. | Mid-Journey | Best for painting style art |
| 5. | Deep Dream | Best for creating realistic images |
| 6. | Dream By Wombo | Good for the beginners |
| 7. | BigSleep | Best for creating authentic images |
| 8. | Deep AI | Best for creating rare images |
| 9. | Artbreeder | Best for the editing generated images |
| 10. | StarryAI | Best for owning images |
10+ Best AI Image Generators In 2023
In this post, I have listed the top 10 AI image generators that will give you unique and high-quality images in seconds. Let's check them out!
1. Jasper Art:
Jasper Art is a relatively new feature of Jasper AI software, which was introduced in August'22 and has become a popular choice among artists and content creators. This tool can create unique & highly-personalized images with the help of Advanced AI technology. All you have to do is provide a brief description of what you want, and it will create the exact image that you imagined.

For example:- If you give it a description like "a pigeon eating burger on a beach," it will create exactly that for you. No matter how crazy your input may sound, it will generate the desired image. With this tool, you can create hyper-realistic images, cartoon-style pictures, and more.
One thing I love about Jasper Art is that it gives you images that are free from watermarks. The tool is in the beta phase right now, where they are constantly making improvements and adding new features to it.
Features:
Create 100% original images through simple text inputs
Get watermark-free images
Create four images at once
Create pictures of different styles
Multi-language support – so you can give text inputs in your preferred language
Chat support available
Pricing:
The prices start at $20/month. However, it doesn't provide any free trial.
2. NightCafe:
NightCafe is a popular text-to-image converter that can generate high-quality images in different styles. It has various preset effects, ranging from cosmic to oil painting. This tool runs on multiple algorithms to give you different types of images, which include the Artistic algorithm, Coherent algorithm, and Stable algorithm.

It also has an advanced mode where you can control different attributes of the image, such as its aspect ratio, quality, runtime, and more.
The tool requires you to add your credit card details, but it also comes with a free trial and offers several ways by which you can "earn" credits through community participation. You need to sign up to try the tool. Once registered, you then get five daily credits for free to create your artwork.
Features:
Get ownership of your creations
Has a good number of algorithms
Gives many control options to advanced users
Options to earn credits through community participation
Many social features and a supportive community
Bulk-download your images
Video creation tools
Get a print version of the generated images
Pricing:
Hobbyist: $9.99/month for 100 credits/month
Enthusiast: $19.99/month for 250 credits/month
Artist: $49.99/month for 700 credits/month
Professional: $79.99/month for 1500 credits/month
3. Dall-E:
Dalle-E is another powerful text-to-image generation tool that creates hyper-realistic and visually appealing pictures. It can create illustrations and product designs and generate ideas for artwork. When you input your text, it will generate multiple options for you to choose from.

One of its best features is the paintbrush tool, which allows you to add details like highlights and shadows to your image. With the paintbrush, you can create more complex images with multiple layers.
One drawback of Dalle-E is that it's not open to all. You have to register on the platform and join their waiting list. But for those who are eager to use the platform, they have an open version too, which is Dall-e mini.
Features:
Quickly create shockingly realistic images
Create unlimited images for free
Draw multiple objects
Image regeneration tool
3D and visual perspective
Easy-to-use interface
4. Mid-Journey:
Mid-journey is an excellent AI image generation tool known for creating images extremely fast. Like most other tools, it will generate the image based on your text input. The more detailed the text description, the more detailed the image. What makes it different, however, is that it can also create photos of celebrities and public figures.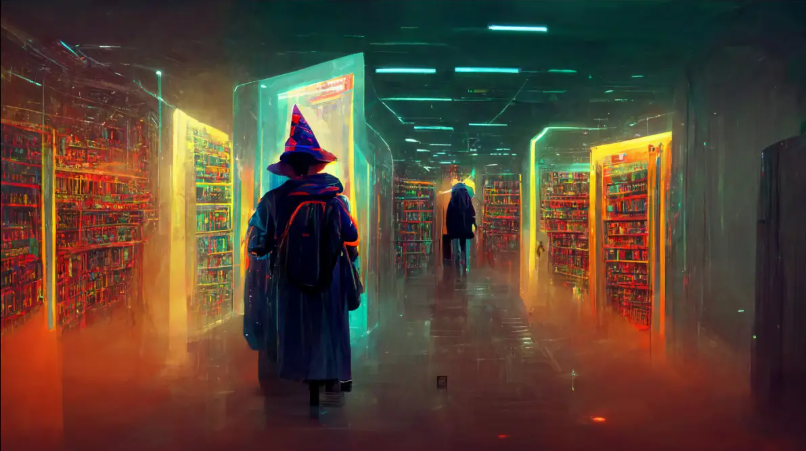 Mid-journey came into the limelight when one of its users won an art competition using an image created with the help of this tool.
If there's one downside to this software, it is that the tool is currently hosted on a discord server. So, you have to join this server and use discord commands for image creation. It can be tricky at first, but it gets easy after a point.
Features
Beginner-friendly
Quick image generation
Excellent image quality
4 image outputs in one go
5. Deep Dream:
Deep Dream creates digital art using a neural network that has been trained on millions of images. You can select from three styles – Deep style, Thin style, and Dream style. Plus, it allows you to choose a category – such as landscape or animals, before creating an image around it.

The specialty of this tool is that it makes your pictures look like they belong to a different time or place. It also has an "energy" and "recharge" system that helps determine how quickly an image gets processed.
You can sign up and use the tool for free. However, the paid plans offer additional features such as storage options and higher resolution options for the pictures.
Features
Three unique styles – Deep, Thin, and Dream
Different painting options
Animal illustrations
Landspace and objects
Image preview available
Digital Analytics
6. Dream by Wombo:
Dream by Wombo is an AI image generation tool produced by a Canadian Startup named Wombo. Like many other tools, it has a simple process of image creation. You have to write a sentence, select a category, and the tool will do its magic!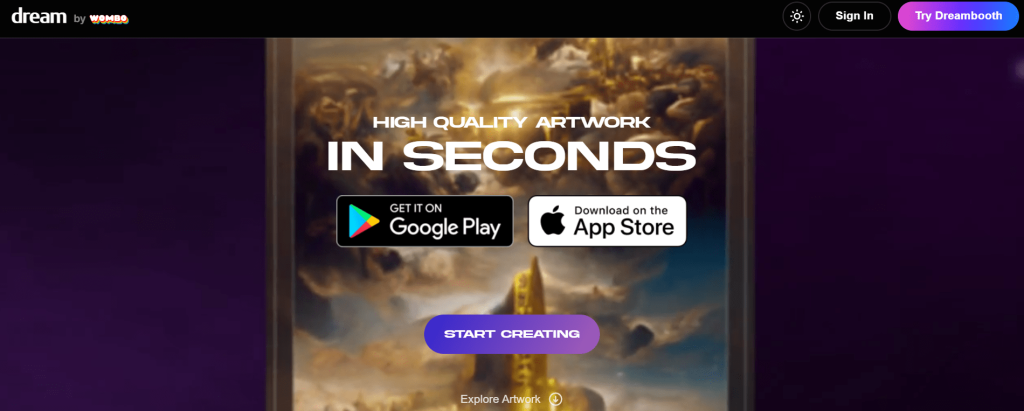 One thing I love about this tool is that it also allows you to upload a reference image, which you can use to create an image that matches your vision.
The best part is that this tool allows you to create unlimited images without any restrictions on features and at no additional cost. So, it's ideal for students and those who have little budget.
Features:
Easy to use
Various art styles
Unlimited image creation
Convert photos into cartoons
Sell your images as NFT
7. BigSleep:
BigSleep is a sophisticated AI text-to-image generator that helps you create life-like images. It is equipped with all the necessary features that help you edit, assemble, and store all your generated images safely. Plus, it runs on a Python-based program that ensures good speed and smooth functioning.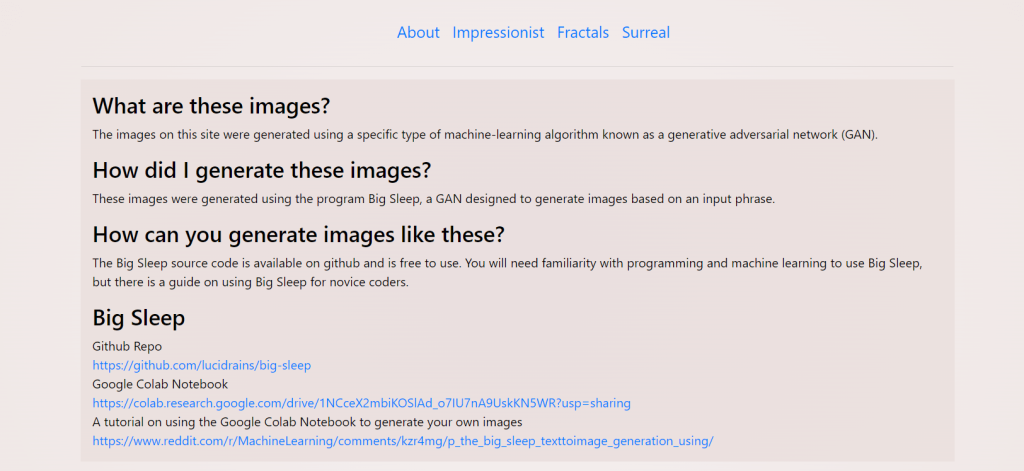 This AI tool generates images via a generative adversarial network (GAN). In this network, the generator model generates the image, whereas the discriminator model determines if it is real or fake. That is how this software is able to create strikingly realistic pictures.
Features
Beginner-friendly
Open source
Generative adversarial network (GAN) -based
Diversified image patterns
High-resolution images (up to 1024 x 1024)
8. DeepAI:
DeepAI is an open-source image creation tool. With this tool, you can create unlimited images, and all of them will be unique. The tool provides a lot of variety and diversity. Additionally, you can alter the colors, textures, and level of detail in every image.

When you type an illustration, the software will instantly produce a vector image that is resolution-independent. With tools like StyleGAN and BigGAN, you can create realistic photos. And with the help of the CartoonGAN tool, you can turn photos into cartoons.
The tool is free to use. And since it is web-based, there is no need for downloads or other setups to use this software.
Features
Open-source platform
Control over details of each pic
Resolution-independent vector images
Create realistic images with StyleGAN and BigGan
Create cartoons using CartoonGAN
Quality customer support
9. Artbreeder:
It's a unique AI image-generation tool that generates an image using a combination of several images. So you can create completely original photos from the existing pictures in your gallery. With this software, you can generate thousands of vivid art illustrations and store them safely in your Artbreeder account.

This tool gives you several categories to choose from – landscape, animes, portraits, animals, and many other types of art. It also allows you to change facial features, such as skin color, eyes, hair, etc.
Features:
Image quality enhancer
Various styles and categories
High resolution
BigGAN, StyleGAN
Store illustrations in folders
Download the images in JPG and PNG formats
10. StarryAI:
StarryAI is known for creating images that have a fantasy style to them. As the name suggests, it is best at creating nightscape images. It offers greater personalization for images than any other AI generator with its unique granular tool.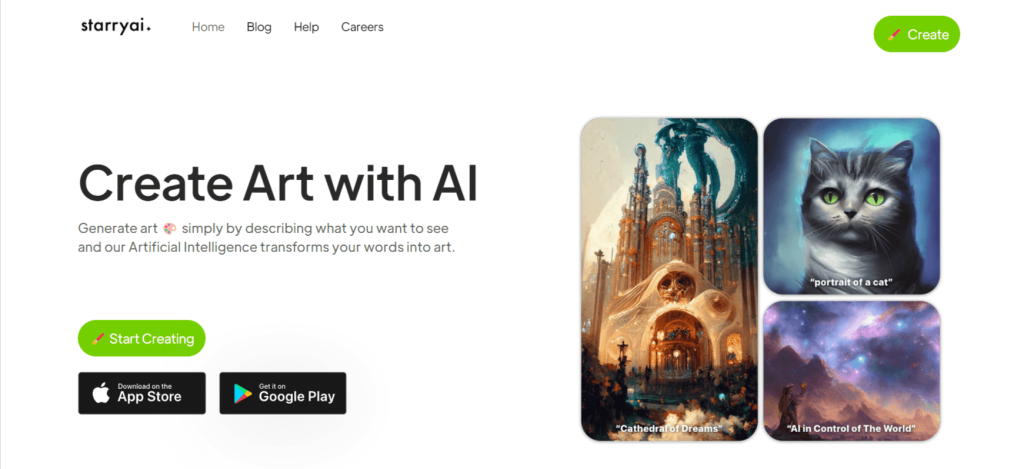 To create an image, you have to enter your text and select from two options – Altair and Orion. Altair allows you to create abstracts, while Orion is used for creating fiction-based pictures. Next, you have to choose a style and an appropriate background for the image you want to create.
One great thing about this software is that it gives you complete ownership of the generated images for both personal and commercial use. It is a free NFT generator, which is basically its USP.
Features:
Easy-to-use
More than 16 different styles
Aspect ratios
Allows full ownership of images
Free NFT generator
Related Read:
Final Note
Infographics play a big role in the success of any content creation campaign. Most people are instantly drawn to pictures. When you see a blog post that has pictures, you're more likely to read it. This is especially the case with topics like travel, food, and fashion simply because images are visually far more appealing than mere texts.
That's why organizations nowadays invest in AI tools for image creation. These tools can generate images almost instantly. You can get any type of picture that you have in your mind without having to search through thousands of images on the internet.
Currently, there are many AI image generators available on the market. I have hand-picked the best ones for you in this article. Just know what features you want and choose the tool accordingly.