A logo is the most-priced possession for a brand. It connects them with their audience. Like the Puma cougar and Nike's swoosh, the best brands are known by their logo.
Therefore, your brand must have a logo that conveys the right feeling to your customers. Creating a logo is not an easy task. It needs an equal mix of vision and skill. That's where the AI logo generators can come to your rescue.
These AI tools are fast and smart. By giving a few inputs, like your brand name and slogan, you can create a logo in minutes. They also have custom templates to refer to. Some of them even come with a free trial.
Top 10 AI Logo Generators: In A Nutshell
The tools may differ in the features they provide. Hence, you must choose the one that best fits your needs. If you are stuck on the choices, take a good read of this post.
| | | | |
| --- | --- | --- | --- |
| S. No | Tool | Best fit for | Price |
| 1. | TAILOR BRAND | Complete brand creation | $19.99 |
| 2. | LOGO AI | Beginners with no design skills | $29 |
| 3. | FIVERR | Experts with good design experience | $30 |
| 4. | WIX LOGO MAKER | If you need expert help | $20 |
| 5. | BRANDMARK | Fast processing | $25 |
| 6. | LOOKA | Beginners with limited budget | $20 |
| 7. | LOGOMASTER | For unlimited edits | $29 |
| 8. | DESIGN HILL | Enterprises with large requirements | $20 |
| 9. | FreeLogo Design | Low budget | $39.99 |
| 10. | LOGO | Ease of use | $10 |
10+ Best AI Logo Generators In 2023
1. TAILOR BRAND 
Tailor Brand is a good place to gear your business. From logo to website, it gives all that you need.
To get a logo, all you have to provide is a name and a tagline. It will also ask you for advice on the icons and styles. In minutes, you will get a perfect blend of art and skill. However, to get the logo, you need to create an account first. You can also connect with your Google account.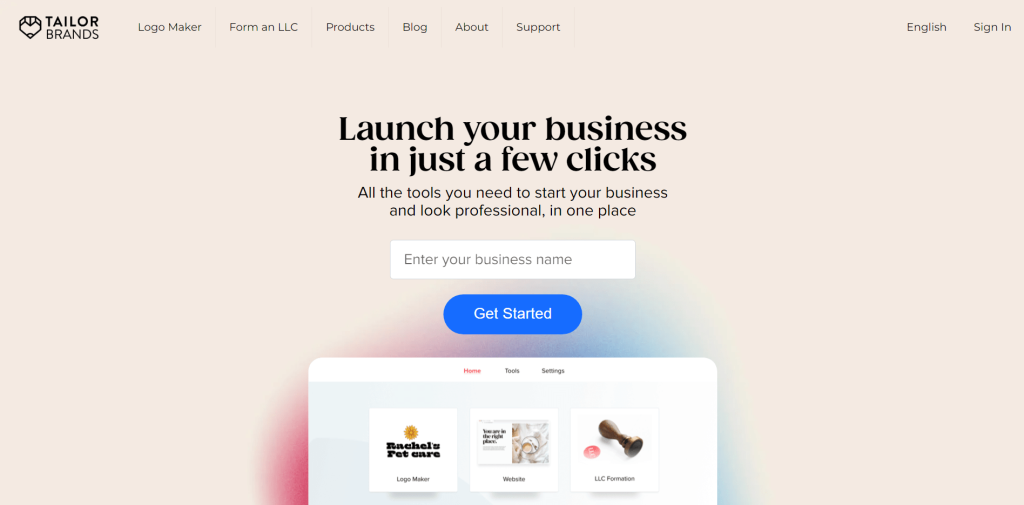 Features
Tons of icons and styles
If you do not want custom icons, you can also create your own concept
Helps you trademark your logo
Supports seven languages
Pros
Easy to use
Offers three plans to choose from
provide blogs to make a logo
Cons
Customer support is not the best
No refunds
Pricing and Plans
| | |
| --- | --- |
| PRICE | PLANS |
| Basic | $9.99/month |
| Standard | $19.99/month |
| Premium | $49.99/month |
2. LOGO AI
Take a quiz and get it done. Logo AI is simple as that. Logo AI is similar to the Tailor brand, but you don't need to pay or even have an account to get your logo.
So, if you are only looking for a logo idea, this is the place. Without the hassles of signing up, you can get a logo done. But, to download the logo, you need a plan and an account.
This tool also has many custom logos to help you start. You can edit the logo for color, icons, text, etc. And the best part, it lets you download in any format like PNG, PDF, JPG, or vector source files.
Additionally, Logo AI also gives freelance services. You can get a logo done for $50.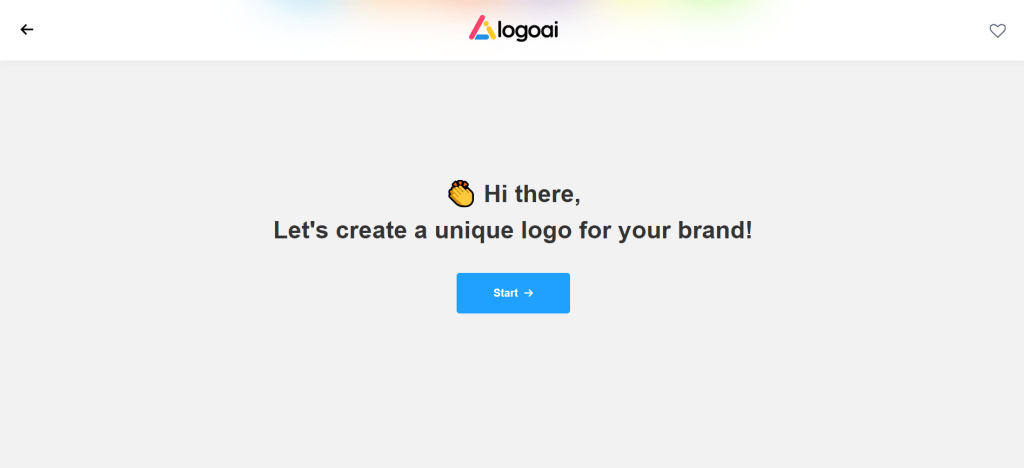 Features
Lets you download the file in any format
Good interface
Lets you make edits for three days from the date of purchase
Pros
It is free to design a logo. Only pay to download it.
Create a video or GIF with the logo
Cons
Very costly
High quality only for the premium plans
Pricing and Plans
| | |
| --- | --- |
| PLAN | PRICING |
| Basic | $29 |
| Professional | $59 |
| Brand | $99 |
3. FIVERR
Tell them your business. Define your look. Then let the AI do the rest. Logo-making has never been easier. But with Fiverr, all it takes is a few clicks.
This tool has a lot of custom logo ideas that make it easy for novices. You can choose one and make the needed changes.
This tool sells its services in two plans. The base plan starts at $30. For all the plans, you can get full retail rights. But, the social media kit and brand guide are open only for premium plans.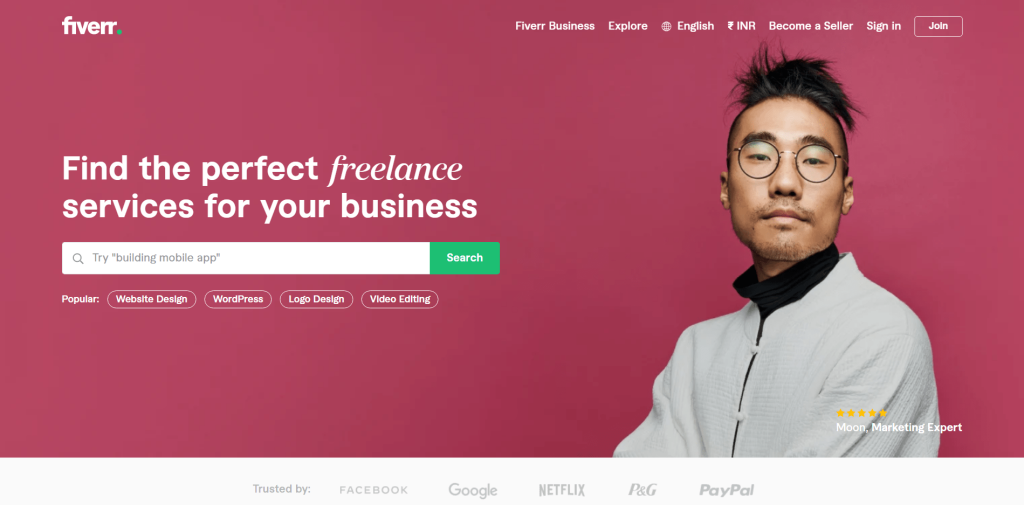 Features
Get your logo in vector files
Gives full commercial rights
Pros
Easy-to-use interface
Good customer support
Cons
Not good when you need complex designs
Pricing and Plans
| | |
| --- | --- |
| PLAN | PRICING |
| Basic | $30 |
| Advanced | $60 |
4. WIX LOGO MAKER
If you are a novice but want to dig deep into logo making, this is your tool. Among all other free plans, Wix gives you the most useful features. You could edit the way you like, and all you need is some time to invest.
Like Fiverr, you will get full rights to the logo and can use it anywhere you want. It will keep you safe from legal troubles.
You could also get a logo for free, though the quality might not be great.
If you need more leverage from Wix, you can also use its premium plans. The base plan comes at $20.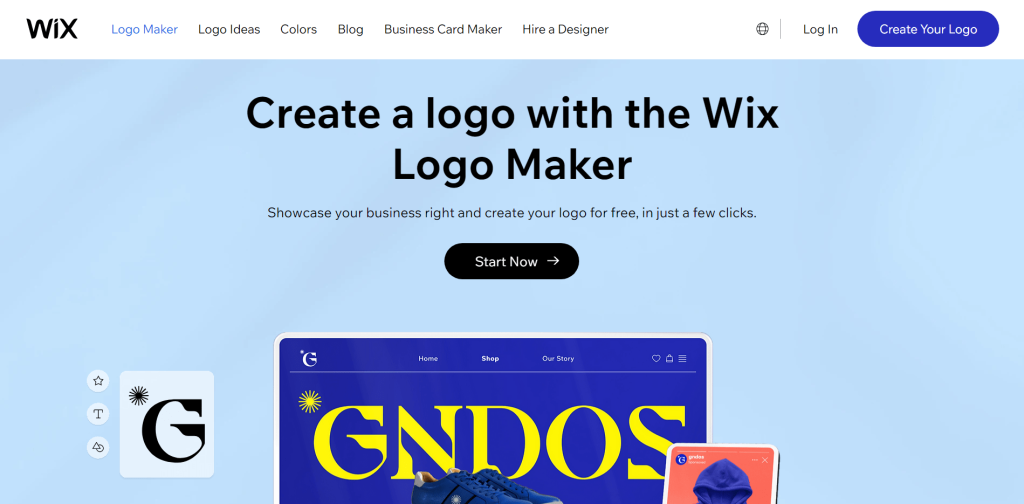 Features
Allow up to 10 GB of storage space
Logo files for social media
18+ languages support
Pros
Good customer support
Helps you in designing business cards
Cons
Premium plans are expensive
The design might seem very simple
Pricing and Plans
| | |
| --- | --- |
| PLAN | PRICING |
| Basic | $20 |
| Advanced | $50 |
5. BRANDMARK
Brandmark is a complete AI logo maker. It is best for novices who have a good budget but a tight deadline. Since the tool can do everything on its own, all you need to do is to answer the questions properly.
The tool gives full legal rights over the logo and you can get them in any format that you want. It also gives you endless edits after the purchase.
In addition, you can also use it to create cards and letterheads.
It has three plans, and the base starts at $25.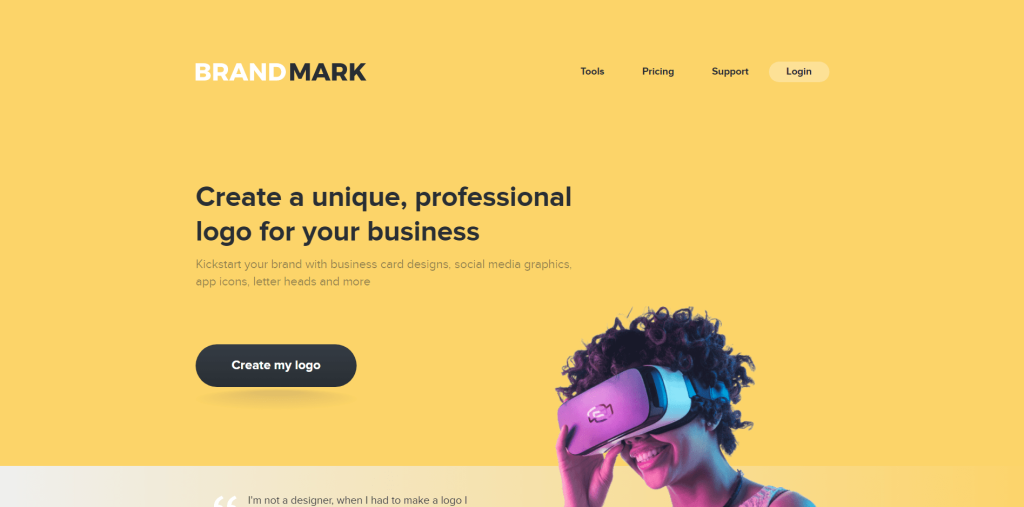 Features
Lets you edit after the purchase
Good customer support
Supports multiple formats for download
Pros
Easy to use
Offers full legal rights
Cons
No free trial
Logos can look similar
Pricing and Plans
| | |
| --- | --- |
| PLAN | PRICING |
| Basic | $25 |
| Designer | $65 |
| Enterprise | $175 |
6. LOOKA 
Looka is the easiest AI logo generator on the internet today. In five minutes and a few clicks, you will get a logo. This AI tool knows no limits when it comes to ideas. Hence, you will have a lot of choices to choose from.
Looka can get your logo in high-res JPG, PNG, or vector files. You can also edit the color and styles. The logo created is royalty-free, so you can use it anywhere.
You can also get Looka services in three plans. The base plan starts at $29.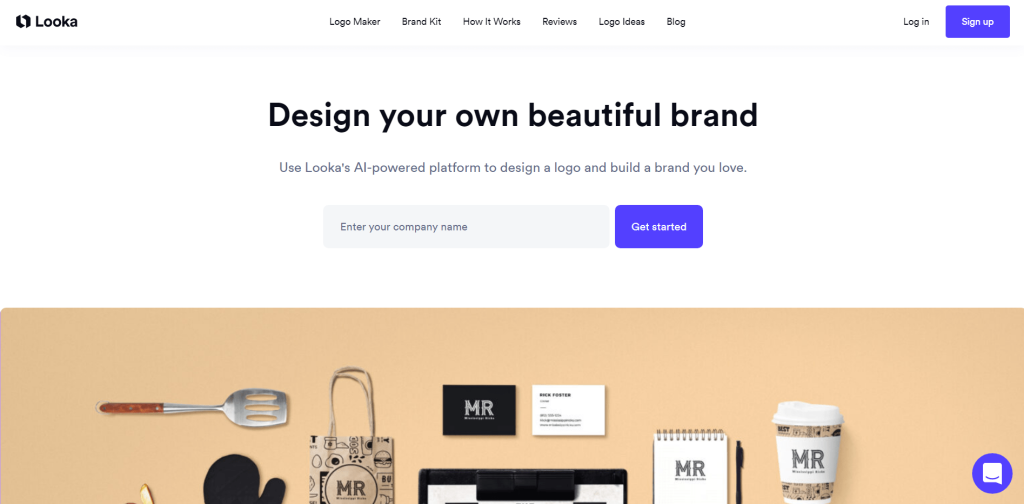 Features
Allow post-purchase changes
Create a logo in the guest mode
Supports JPG and PNG formats
Pros
More than 2000 logo ideas to start from
Easy to use
Cons
Pricing and Plans
| | |
| --- | --- |
| PLAN | PRICING |
| Basic | $20 |
| Premium | $65 |
7. LOGOMASTER
Logomaster is a devoted AI tool for making a logo. It has a clear and refined web that makes it easy to use.
If you are not happy with the first logo, edit and re-download. The tool allows that too.
With a few inputs like the brand name and industry, AI will give its tips. Then you can start your work on any one of them.
You can use this tool in three plans; Basic, Premium, and Enterprise. The base plan starts at $29.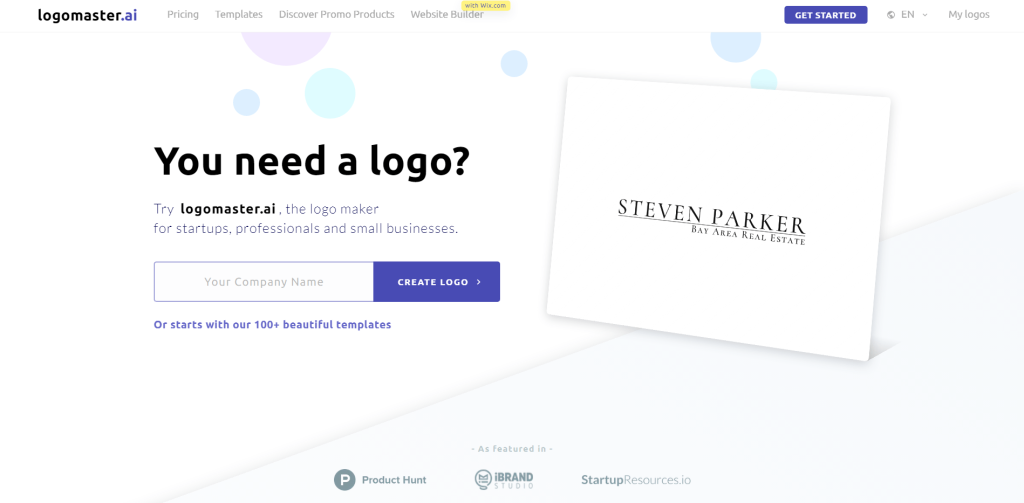 Features
Output in high-res PNG files
Supports all color mixes
Pros
Get watermarks for the logo
good filters
Cons
Pricing and Plans
| | |
| --- | --- |
| PLAN | PRICING |
| Basic | $29 |
| Premium | $69 |
| Enterprise | $109 |
8. DESIGN HILL
To use this tool, you don't need any design skills at all. Just be clear about your need and use adequate keywords. The AI tool will do the rest.
Design Hill has large custom libraries from where you can choose a model logo. You can also use those built by the AI tool.
You can create a logo without any plan but to download the same, you must have an active and paid account. Design Hill has three plans and the base plan starts at $20.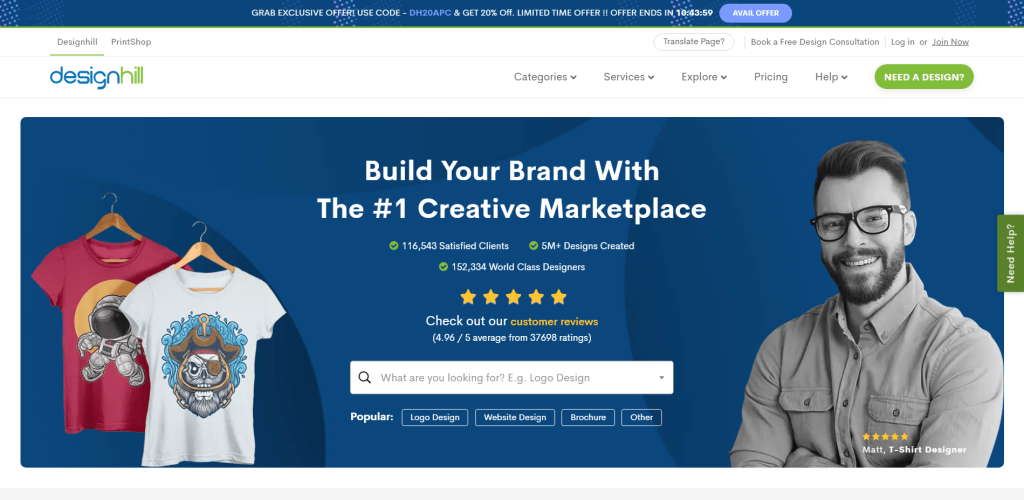 Features
Full legal rights for the logo
24*7 live support
Pros
Access through multiple devices
High-res logo files
Cons
Pricing and Plans
| | |
| --- | --- |
| PLAN | PRICING |
| Basic | $20 |
| Premium | $65 |
| Enterprise | $199 |
9. FreeLogo Design
What if someone can help you create a logo for FREE?? Many tools allow you to create logos for free but require you to pay to download them. But with FreeLogo Design, you can create and download logo designs without paying anything,
You can design as much as you want, for no cost. It gives you more than 35 logo types, so you don't need to start from scratch. However, to create high-resolution designs, you will have to pay.
It is also fast. You can get the logo in less than 3 minutes. This tool also lets you download in PNG format.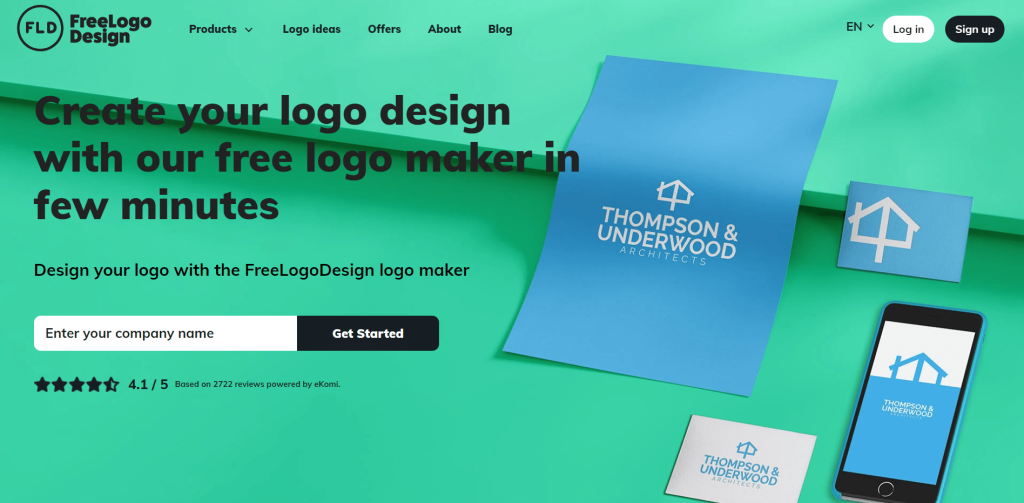 Features
More than 2000 templates
Add-on features
Pros
Download files in any format
Get legal rights for the logo
Cons
Need premium plans for high-quality logo
Pricing and Plans
| | |
| --- | --- |
| PLAN | PRICING |
| Low-resolution | Free |
| High-resolution | $39.99 |
| Premium | $59.99 |
10. LOGO
Art and AI are a good combo. Great if it is cheap. In that sense, LOGO is the perfect tool. The monthly plan costs only $10. But they can give you all you need in a logo.
This AI-driven tool gives you high-quality logo files in no time. Furthermore, it allows endless edits to your files along with lifetime customer support. So, this is worth every penny you invest.
But you also need to be wary of the features they provide. They might not be as vast as others with their premium plans. But this is the best fit for those who need a cheap source to get their logo done.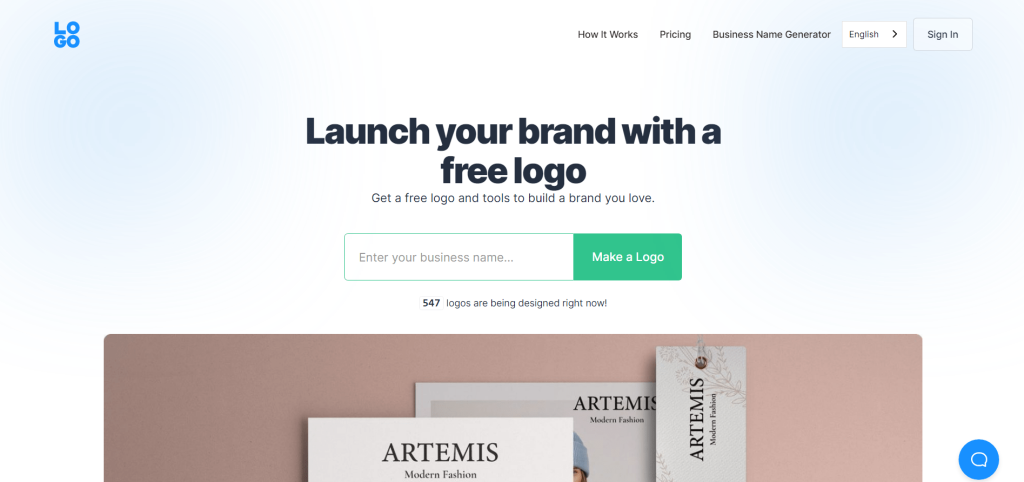 Features
Transparent background
High-quality logo in PNG format
Pros
good customer aid
easy to use design steps
Cons
Pricing and Plans
| | |
| --- | --- |
| PLAN | PRICING |
| Free Plan | Free |
| Brand Plan | $10 |
Related Read:
Conclusion
AI covers all that humans cannot. AI logo generators are great tools to bring life to your brand. But you need the best one to meet your needs within the budget.
Some tools allow endless edits after you buy. While some allow that only for a few days.
It also makes sense to select a tool that has good customer support so that you don't get stranded. Tailor Brand is a good choice if you wish to use all their extra services like web design etc. But, if you need only a loyal logo maker, get one like the Logomaster.