Looking for the Best AI Writing Software? If yes, then you have landed at the right post.
As the number of Startups is growing with every passing year, so is the content creation industry. 
In today's time, every new business wants to build its online presence. And what better way than connecting with their customers through engaging stories or value-packed content?
Creating a single piece of content is not a lot of work. But creating thousands of content pieces certainly is. That is where AI writing assistants come in handy!
Note that they are only "assistants", not writers themselves. Because if they were, companies wouldn't hire copywriters anymore.
You can use these AI-powered tools to speed up your content creation process and generate content in bulk.
But there's one problem – guess what? There are TOO many of them on the market today. So which ones are good?
11+ Best AI Writing Software In 2023
To make it easy for you, I have compiled a list of the top 11 AI writing software in this blog. You can try any of them based on your budget and requirements. 
1. Jasper AI: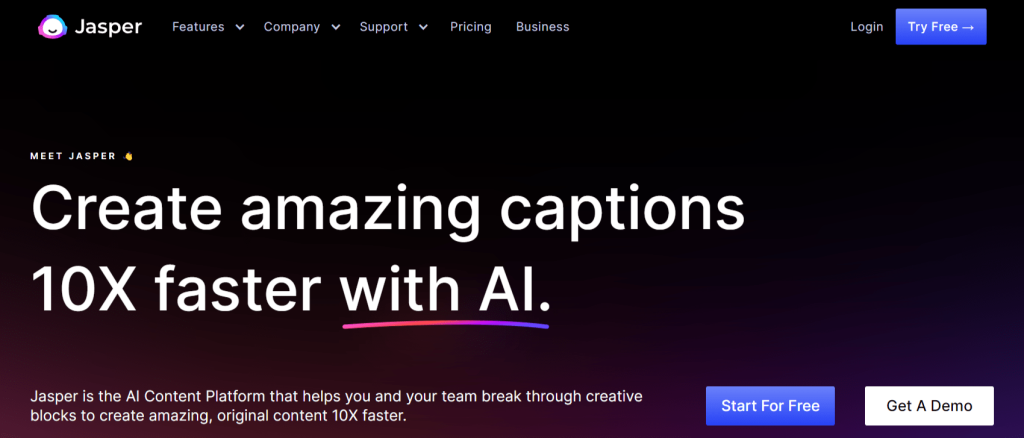 Jasper is the most popular writing assistant that uses artificial intelligence to produce highly engaging content. It has various attractive features and templates to assist you in writing different types of copies. It is by far the best copywriting software I have come across. It's the most highly rated software by users. 
Key Features:
Boss mode – helps you create premium quality full-length blog posts
50+ writing templates
Text rephraser
Copyscape integration
Live chat support
Plagiarism detector
25+ languages support
Voice dictation feature
Pros:
Best software for writing full-length blog posts
Easy and intuitive interface
A lot of flexibility in using it
Cons:
Not very good with technical topics
Sometimes the content may not be factually correct
Pricing:
Starter: starts at $29/month (billed monthly)
start at $24/month (billed annually)
Boss mode: starts at $59/month (billed monthly)
starts at $49/month (billed annually)
2. Rytr: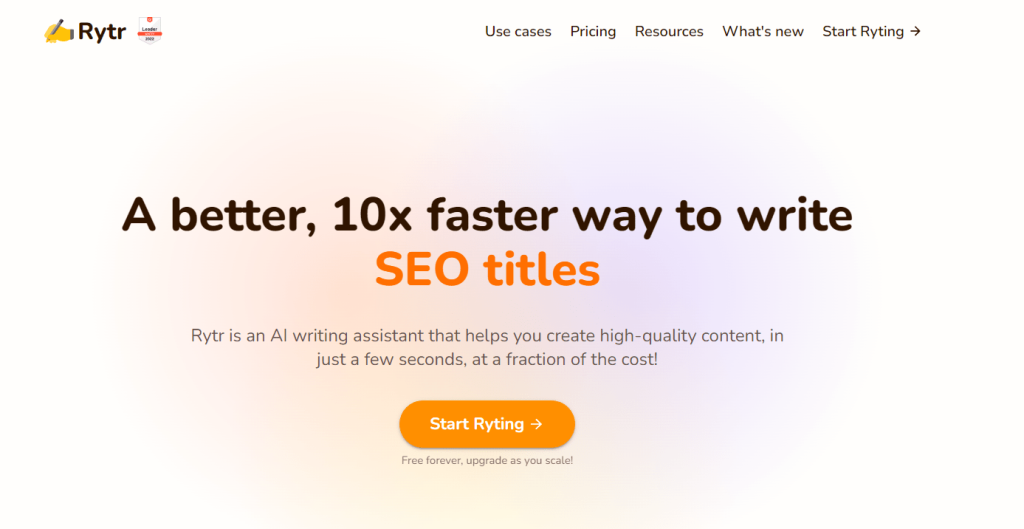 Rytr is the most budget-friendly ai software best used for creating marketing copies. With Rytr, you can create content of almost any type, be it blog posts, reviews, sports articles, business articles, tech articles, etc.
Key Features:
Create multiple copies with its 30+ writing templates
Write full-length blog posts with the long-form editor tool
Ensure your content is unique and original with a built-in plagiarism checker
Integration with SEMrush to make your content SEO-friendly
20 different speech tones to choose from
Integration with Grammarly to look for grammar and spelling errors
Pros:
Compact user-interface
Many tones of voice
Forever free plan
Cons:
Output quality could be better
Lacks third-party app integration features
Pricing:
Forever Free Plan: $0
Saver Plan: $9/month; $90/annually (2 months free)
Unlimited Plan: $29/month; $290/annually (2 months free)
3. Anyword: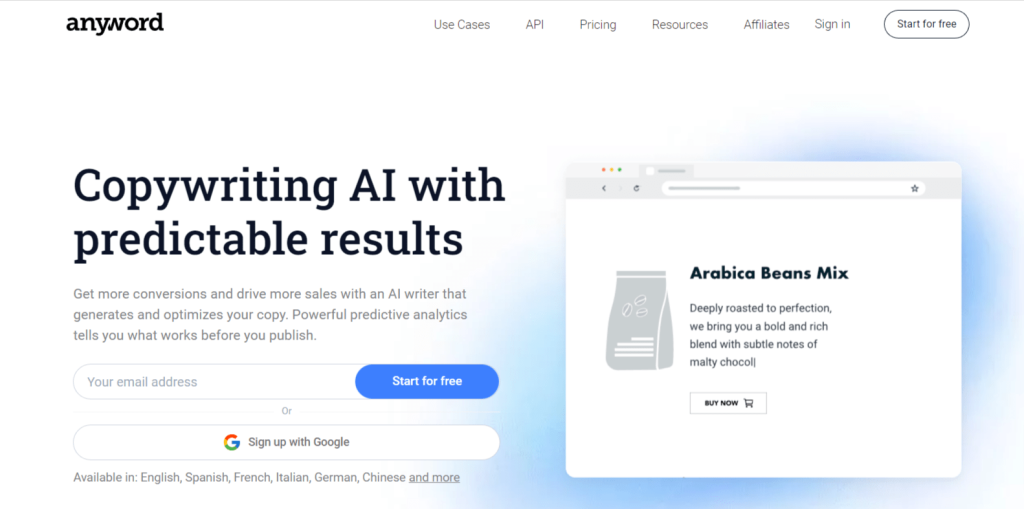 Anyword is a powerful AI writing tool that helps you write engaging copies using its unique AI technology. Known for producing sales-driven content, it enables you to create content that gets you more traffic and conversions.
Key Features
Make your posts more engaging with its predictive performance score feature.
Tailor your messages as per your target audience using custom mode.
Make your writing more humorous/serious/professional by choosing the right tone.
Rephrase your sentences using the sentence rephraser tool.
Check for plagiarism with its plagiarism detector.
Create full-length blog posts including blog title, outline, introduction, main body, and a conclusion paragraph
Pros:
Clean and smooth interface
Easy to use
In-built AI technology that produces unique and more engaging content
Cons:
Expensive software
Does not offer grammar check
Pricing:
Starter Plan: $29/month (billed monthly)
$24/month (billed annually) plus two months free
Data-Driven: $99/month (billed monthly)
$83/month (billed annually) plus two months of free
4. Copy AI:
CopyAI is a multipurpose AI writing software with which you can create different types of content. Using CopyAI, you can overcome writer's block as it helps generate ideas and create unique & creative copy. It's best for creating small copies such as digital ads, social media posts, Instagram captions, meta descriptions, product descriptions, etc.
Key Features:
It has almost 90+ pre-built writing templates to suit all types of content
Create full-length blog posts using the blog post wizard
Improve your sentences with the "simplify sentences" tool
Compelling subject lines that improve your email open rates
Can write content in 25+ languages
Provides access to chrome extension
Pros:
Allows you to create a free account with 100 free credits
Provides a 24*7 easy-to-message system customer support
Cons:
The UI needs improvement
Does not provide any SEO-related features
Pricing:
Pay monthly: starts at $49/month
Pay yearly: starts at $36/month
5. Writesonic: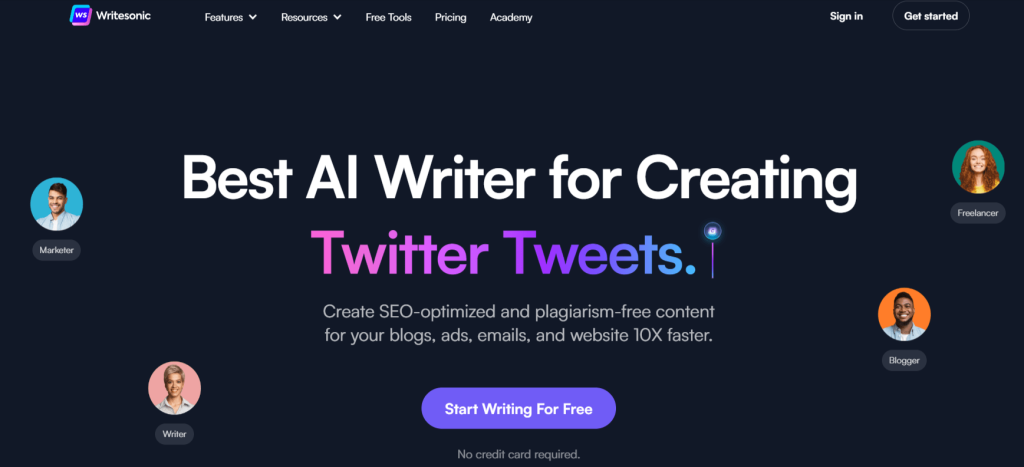 Writesonic is a writing assistant designed for larger teams having multi-purpose content needs. It's not just great at creating small ad copies but works equally well with writing long-form content. With more than 60+ powerful tools, it helps you write 3x faster and with greater efficiency.
Key Features:
Offers plugin feature for Microsoft, Dropbox, Zoho docs, etc.
Insert images directly in your blog using the Automatic Image Generator
Export your document in its original text format using the Rich Text Editor tool.
Make your content error-free with Grammar checker
Write effective copies using PAS AND AIDA copywriting frameworks
SEMrush integration to make your content SEO optimized
Pros:
20+ languages support, including English, Spanish, and French
Option to create a free account with ten free credits
Quality customer support
Cons:
Pricing:
For short-form content – it starts at $15/month (billed monthly)
starts at $10/month (billed annually)
For long-form content – it starts at $19/month (billed monthly)
starts at $13/month (billed annually)
6. Copysmith:
Copysmith is an enterprise solution that mainly caters to eCommerce store owners, marketing agencies, and in-house marketing teams of large organizations. It's the perfect writing software for teams having bulk content requirements or wanting to work together on multiple projects.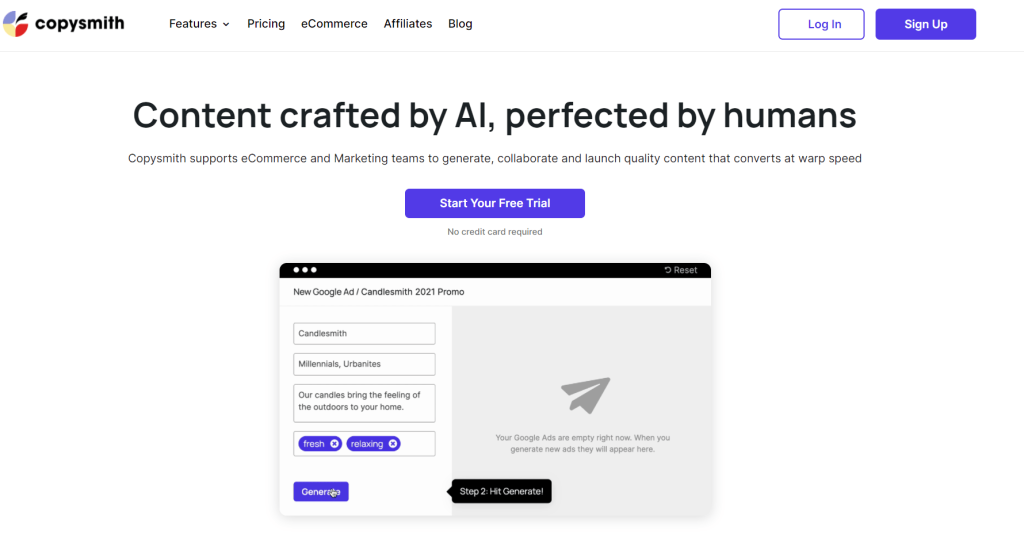 Key Features:
Easy collaboration and workflow management with in-app collaboration features
Integration with various third-party applications, including Shopify, Google Ads, Zapier, Frase, WooCommerce, and more.
Create SEO-friendly product descriptions for multiple products
Bulk content generator
Built-in plagiarism checker
Long-form editor for blog posts
Access to chrome extension
Pros:
Simple interface; easy to use
Offers a free trial
Cons:
Not good for creating blog posts
Pricing:
Starter – $19/month (for individuals)
Professional – $59/month (for growing teams)
Enterprise – Contact the website to know
7. Grammarly:
Grammarly is the ultimate writing assistant that checks for grammar, punctuation, and spelling errors. Not only that, but it also helps you improve on various aspects of writing, such as using the right adjectives, sentence structure, tone, etc. Copywriters can use Grammarly to make their copies more readable, professional, and engaging.
Key Features:
Performance and readability score – measures the quality of your content and gives it a rating out of 100. This is based on four parameters – word count, character count, reading time, and speaking time. The readability score indicates how difficult it is to understand your text. It's based on average word length and sentence length.
Writing goals – gives a direction to your writing by allowing you to specify your ideal audience, tone of voice, domain, and intent/objective.
Suggestions – Grammarly scans your text, underlines the errors, and provides suggestions on –
1. Correctness – grammar, punctuation, and spelling
2. Clarity – removes unnecessary words and makes your text more concise
3. Engagement – makes your copy more engaging
4. Delivery – helps create the right impression on the readers
Built-in plagiarism checker
Pros:
Best software to correct basic errors and grammar mistakes
Offers in-depth explanations for every type of error
Even the free version contains many features
Cons:
Sometimes provides incorrect suggestions
Can't replace a human editor
Pricing:
Monthly Plan: $30.00/month
Quarterly Plan: $20.00/month
Annual Plan: $12.00/month (most popular)
8. Article forge:

Article forge is an affordable content solution for entrepreneurs & marketers who have bulk SEO-focused content requirements. It is known to be extremely fast and can produce articles in a matter of 60 seconds! It wouldn't be wrong to call it the Cheetah of AI softwares!
Key Features:
Create and post content directly into WordPress
Insert links, images, and keywords easily into your text
Make your content SEO-rich with the help of multiple SEO integrations (SEO Autopilot, Word.AI, RankerX, etc.)
Pros:
Get keyword-focused articles at lightning speed
Great for bulk content generation
Cons:
The content generated is not of top-notch quality
Sometimes does not produce desired results
Pricing:
Basic – $27/month (billed monthly)
$13/month (billed annually)
Standard – $57/month (billed monthly)
$27/month (billed annually)
Unlimited – $117/month (billed monthly)
$57/month (billed annually)
9. Quillbot:

Quillbot is essentially a paraphrasing tool. It helps you to rewrite existing content in a different style, tone, etc. It's an excellent choice if you have pre-written articles and want to rewrite them in a different way or a different language.
Key Features:
Integration with Microsoft – you can work on an MS-word document and use quillbot alongside as it is integrated with the software.
Article summarizing – This tool quickly scans your entire article and lists its main points. You can use them to write a quick summary of the article.
Freeze word – You may not want to change a few words or adjectives in your text. You can retain them by using the freeze word tool. This is a very innovative feature offered by this platform to help maintain the quality of your article.
Complete article editing – Most AI tools rephrase sentence by sentence, which takes a lot of time. With quillbot, you can rephrase your entire text in one go and save a substantial amount of time.
Pros:
Great tool for repurposing existing content
Comes with a free grammar checker
No sign-up is required to use this tool
Cons:
Character restriction
Does not always give good output
Pricing:
Monthly – $9.95/month
6 months – $6.66/month
Annual – $4.17/month
10. PepperType AI: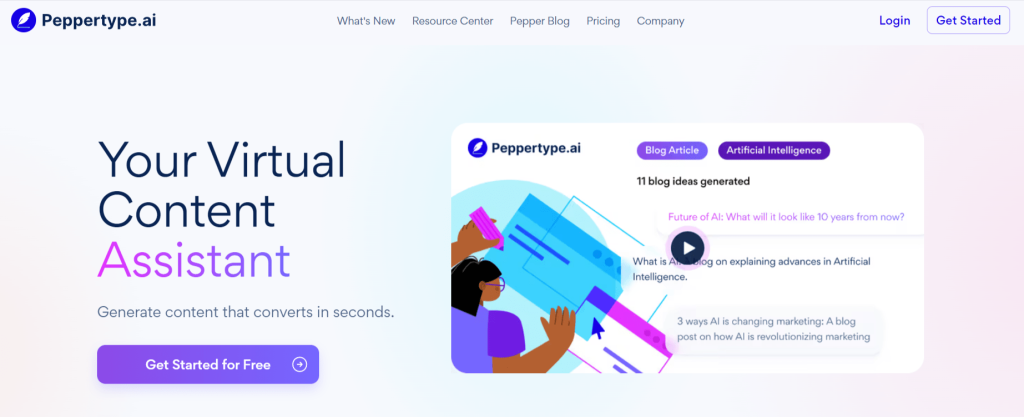 PepperType AI is another AI-powered content writing platform that is known for speed and efficiency. It can help generate content ideas and scale your content creation business.
Key Features:
Customized AI model trained 
30+ content templates and use cases
AIDA, BAB, and PAS copywriting formulas
Custom widget and Integration
Bulk content generation
Plagiarism and grammar checker
Pros:
A simple 3-step process for generating content
Straightforward use
Cons:
No stand-out feature
Not so reliable for grammar check
Pricing:
Personal – $35/month (billed monthly)
$25/month (billed annually)
Team – $199/month (billed monthly)
            $165/month (billed annually)
11. WordAI: 
WordAI is the content spinner that recreates the original content into a uncommon form of itself which contains the same meaning of the original content. The main disadvantage of this software is that you need to give the content to get unique copies. The new generated article will be different form the original in form of sentence clarity, flow, and clarity.
Key Features:
AI based article spinner
Corrects grammar and spelling mistakes
Integrate with Copyscape
Spin article in bulk
Generate uncommon titles for articles
Pros:
One click rewriting
Heightened quality
High volume usage
Rewrites pass Copyscape
Cons:
Has monthly word limit
Need more pricing option
Pricing:
Monthly Plan: $57 per month
Yearly Plan: $27 per month (billed annually)
Related Read:
Final Note
If you are a business owner, a marketer, or a copywriter, you must try AI writing software for once.
Not only do they help you create content 10x faster, but they also provide you with a bunch of content ideas when your mind stops working.
In this blog, I have listed my personal favorites which are tried & tested by myself.
At the end of the day, no single tool is 100% perfect. But you can measure their pros & cons and make a wise decision.
Do take the free trial if provided by the software!