Would you like to know how much Jasper costs? How can you choose the most suitable Jasper plan for your content requirements?
We have got your back to clear up all the confusion of Jasper AI pricing.
Since AI writing tools allow you to create better content faster than you've ever been able to create it before, the demand for AI writing tools is increasing daily.
Jasper AI is among the top AI content generator software worth watching in 2023.
With this tool, you can permanently erase writer's block and publish content (including long-form content) 5x faster, regardless of which industry or niche you're in and how long it is.
Let's look at Jasper AI pricing for 2023 and make the most informed choice depending on which package suits your requirements best.
Jasper AI Pricing Plan
Three kinds of Jasper plans are available in 2023 – Starter, Boss Mode, and Business – each tailored to meet your individual content needs (plans are based on words).
Starting plans start at $24 per month billed annually and $29 per month billed month-to-month and go up based on features and content volume you plan to create.
Jasper offers a free 5-day trial that allows you to evaluate the software before purchasing a subscription plan.
See what each plan has to offer.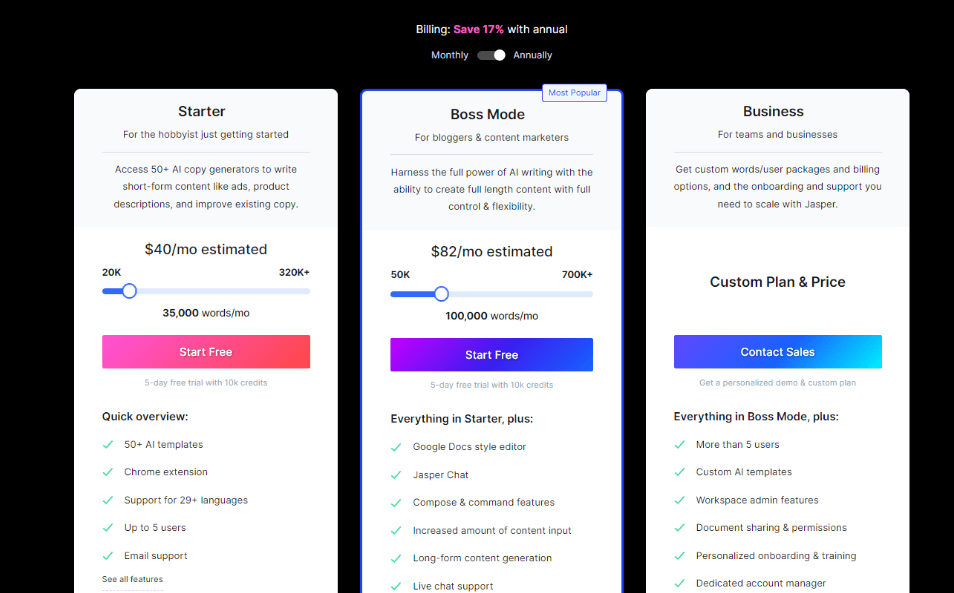 Starter
Starting at only $29 per month, Jasper AI's entry-level plan or the Jasper Starter plan can be had for as low as $24 per month if billed annually.
You may reach the monthly limitation, so if so, you can purchase a bonus pack ($10 for 5,000 Words) that will roll over and never expire.
Ideal for
People anticipate short posts
Headlines that capture the attention of readers
Describe products in a compelling way
Posting on social media, etc.
Pros
From only $29 per month, you can enjoy competitive pricing
A monthly word count of 20,000 words is possible
Get access to all 50+ templates
There are no limits to Project folders
Collaboration with unlimited account users
25+ languages read and written
Cons
Short copies are restricted
There is a limit of 600 characters for input
Boss Mode
With Jasper AI's most popular plan, you can get started for only $59 per month or only $49 if you pay annually.
Like the Starter plan, you can customize this plan to generate up to 5 million monthly words for $3600. It is possible to generate up to 5 million words per month on this plan for $59 per month.
In the event that you exceed your plan's monthly limit, a bonus pack will be made available to you, which will never expire and will roll over to the next month.
Ideal for
Business owners who want to automate their copywriting work to scale their business
High-quality, original content created by SEO & Content Writers
Fast-moving agencies eager to deliver client work
Books and stories written by authors.
Those who want to write long, high-quality articles
Pros
Suitable for long-form articles
Monthly credits of 50,000 words
An unlimited number of revisions
A look back at 3,000 characters
Commands available in Jasper
Recipe access
A mode for SEO
Use Copyscape to make sure 99.99% of your work is original
It's built-in Grammarly Basic to make sure you don't make mistakes
Support by Chat Priority
Cons
Business — Custom Pricing
If you're running a huge business that needs to generate a lot of content, Jasper's Business plan is right for you.
As this is a custom plan, Jasper will need to provide you with a quote according to your specific needs.
Among the features of this subscription are the following:
Limits on word count
Allowances for custom users
Limit content per user
An account manager who is dedicated to you
Session training
Tech support at a premium
Why Choose Jasper AI Boss Plan?
The Jasper Boss Mode unlocks all of Jasper's power and makes writing long-form, SEO-optimized content 5X faster.
Jasper Boss Mode's distinctive features are here to show you!
Create SEO-friendly, Original Content
Unlike the Starter plan, where Jasper scans just 600 characters (around 100 words) before writing, Jasper Boss Mode reads the previous 3,000 characters before writing. Thus, Jasper Boss Mode produces higher-quality and relevant content.
To maximize your ranking on Google, you may also integrate the SurferSEO tool within Boss Mode.
Providing Long-Form Assistance to Jasper's Documents
When you unlock Jasper's Boss Mode, you gain access to Jasper Documents, using which you can write with AI, and edit and format your content like you would in Google Docs.
Plus, it has a long-form editor, so you can quickly write blog posts, stories, and even books.
SEO-Friendly Jasper Commands
Jasper's Boss Mode offers another enormous advantage. Commands allow you to direct Jasper precisely what to write like a BOSS.
Using an example, write about how you were excited about traveling to Los Angeles. Before you know it, you will see a story that captures the reader's attention.
In addition to this, Jasper's commands can efficiently write a blog post. Sit back and relax while Jasper writes your creative copy.
Recipes
Using recipes, you can write content extremely fast by using a series of Jasper commands. If you don't have your recipe, you can use one shared by the community.
Related Links:
Conclusion
This article has given you a summary of the Jasper AI pricing plans, their pros, and cons. When starting a blog that makes money, we recommend Boss Mode. If your budget is tight, Starter is the best option.
Is AI content as good as human-written content?
Somehow, it does. However, it's still necessary to edit what you put into the document and to add a human touch now and then.
In several ways, Jasper AI can be integrated into your workflow and make it more effective. From beginning to end, it's perfectly feasible to use it to come up with a complete blog post.