What if I tell you we have 9 AI Drawing generators that you can draw and paint without picking up your brush?
In this blog post, I will discuss 9 AI drawing tools that can turn your words and images into photorealistic paintings with a few clicks.
I know it is difficult to select the perfect software for your requirements. So, I will take you through each tool, explaining its key features, pricing, ratings, and who it is best for.
By the end of this post, you will be able to choose the right tool for your specific content needs. So whether you're a seasoned artist or a curious beginner, read on to discover the best software to help create beautiful art in 2023.
Top 9 AI Drawing Generators: in a Nutshell (2023)
| | | | |
| --- | --- | --- | --- |
| Sr.No | Drawing Tool | Best for | Price (starting at) |
| 1. | Jasper Art | High-quality images | $20 per month |
| 2. | Picsart | Advanced editing tools | $1.87 per month |
| 3. | Fotor | Text-to-image and image-to-image generation | $8.99 per month |
| 4. | Nightcafe | Artist Community | $4.79 per month |
| 5. | Dall-E 2 | Adding multiple layers | Custom Plan |
| 6. | Dream by Wombo | Beginners | Free |
| 7. | Prequel | Anime, fantasy, and cartoon art | $4.99 per week |
| 8. | Photosonic | Bloggers and content creators | $10 per month |
| 9. | Craiyon | Free and unique images | $5 per month |
9 Best AI Drawing Generators To Create Art In 2023
Here we have listed the Best AI Drawing Generators To Create Art. So without any delay let's have a look.
1. Jasper Art
Rating: 4.7/5
Jasper Art is the best tool available in this list. It lets you experiment with different art styles like 3D, abstract, Pixar, anime, and many more. Jasper takes text prompts and turns them into high-quality images.
The images you generate will be random and unexpected. So your prompts must be creative and detailed to get accurate results.
You get only 4 outputs generated in one go. These images are free from plagiarism or watermarks.
Key features
A shallow learning curve makes it easy to get used to the interface.
You can create unlimited unique images.
You get a wide range of styles to choose from.
The art feature can create memes too.
Power users get advanced settings with Jasper Art.
Jasper understands different languages for text inputs.
A 5-day trial is available.
Pricing
| | |
| --- | --- |
| Boss Mode | Enterprise |
| $20 per month | Custom pricing |
| 5-day free trial | 5-day free trial |
2. Picsart
Rating: 4.4/5
Picsart is a free photo editing tool that is similar to Jasper. It uses your text input and artistic style preferences to generate unique images. The artistic style includes Hosukai, psychedelic, steampunk, cinematic, pastel colors, and many more.
A striking feature of Picsart is that it generates multiple images for a single text input. Moreover, it gives quick results and is easy to use.
Key features
It generates an infinite number of images for a single text input.
It is free to use.
It has a list of various artistic styles to choose from.
Picsart has a simple drag-and-drop interface which is easy to use for beginners.
The in-house image editor enhances the look of the generated image.
A 7-day free trial for premium membership is available.
Pricing
| | | |
| --- | --- | --- |
| Free | Picsart Gold | Team |
| 0$ per month | $1.87 per month | $2.55 per month |
| Free version tools | Premium tools | Premium + Team management |
3. Fotor
Rating: 4.3/5
Fotor is a photo editing software that has recently released an image-generation tool. It has an easy-to-use interface that uses text prompts to generate pictures. In the free version, you get daily credits to generate 10 pictures, per day.
Key features
You can use text-to-image and image-to-image models to generate pictures.
There's no limit on the text input.
The featured gallery is an amazing source to find ideas for prompts.
There are 9 lightning effects and conversion styles available.
You also get 6 composition styles.
Pricing
| | | |
| --- | --- | --- |
| Fotor Basic | Fotor Pro | Fotor Pro+ |
| $0 per month | $8.99 per month | $19.99 per month |
| Basic editing tools | Advanced editing tools | Premium editing tools |
4. Nightcafe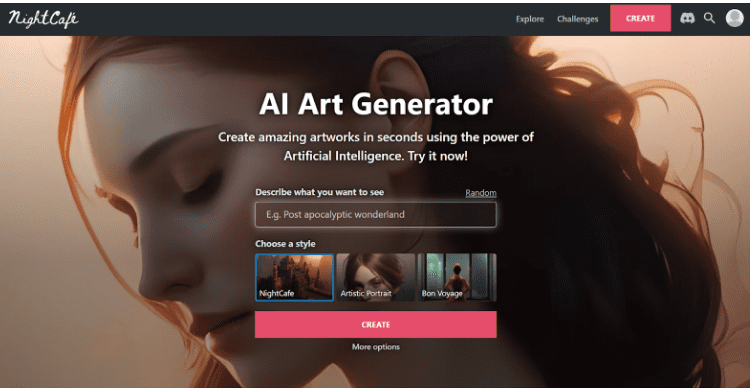 Rating: 4.5/5
Nightcafe is famous for having more algorithms and options as compared to other drawing generators. This tool is also easy to use and works in a credit system for image generation.
You can buy credits or earn them by participating in various art challenges on the platform.
It takes up to 30 seconds to generate a picture. Nightcafe understands basic English as text input to generate your desired image.
Key features
Nightcafe organizes online art challenges where thousands of people can enter or vote for their favorite image.
The art community is an amazing source to meet like-minded people.
It has many image styles to choose from.
You can generate a logo for your company.
This tool is free to use.
You can own your creations.
You can generate videos too.
Nightcafe allows you to buy a printed version of your artwork.
Pricing
| | | | |
| --- | --- | --- | --- |
| Beginner | Hobbyist | Enthusiast | Artist |
| $4.79 per month | $7.99 per month | $1.99 per month | $39.99 per month |
5. DALL-E 2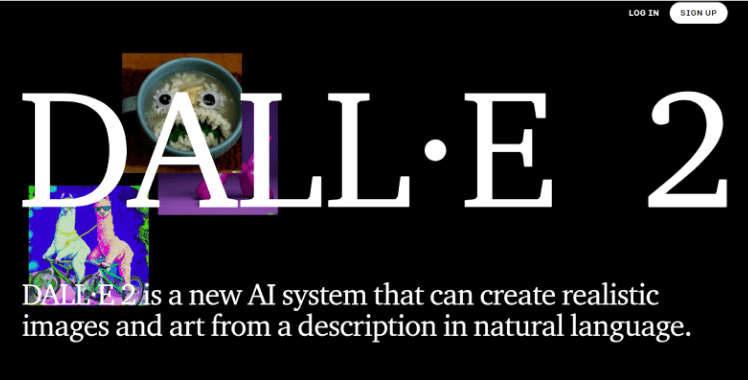 Dall-E 2 is a popular painting generation tool, developed by Open AI. It is based on a neural network and generates images from basic English text input like other tools in this list.
One drawback is that it's not as easily accessible as other platforms. To gain access to the full version, you must sign up for the waitlist and wait to be granted access. However, for those who can't wait, there is a limited version available called Dall-E mini (Craiyon).
DALL-E 2 provides a range of impressive features, but one that stands out is its paintbrush tool. This tool allows you to add small details like shadows, highlights, and layers.
Key features
This tool is free to use.
You can draw multiple objects.
The interface is easy to use for beginners.
You can customize or add multiple layers to your drawing.
This tool lets you design products too.
A free trial is available.
You have access to the paintbrush tool to enhance your drawing.
You can merge contrasting ideas or concepts to create a single painting.
Pricing:
To try Dall-E 2, you have to contact the Open AI team and choose a custom pricing plan. You can try Dall-E 2 for free too.
6. Dream by Wombo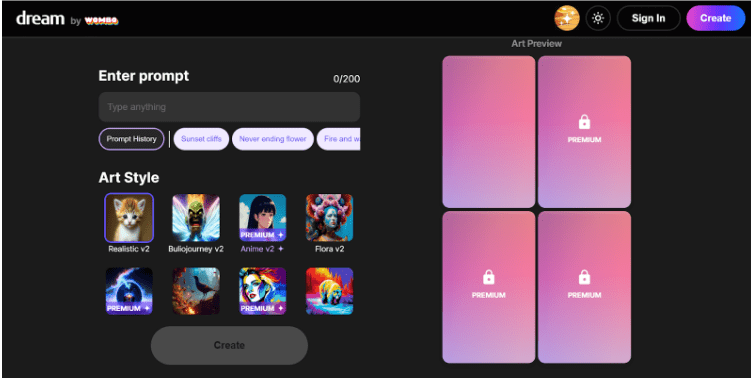 Dream by Wombo has gained a reputation as the top NFT creator tool. It was designed by a Canadian startup to help us convert real-life images into cartoon or simulated painting forms.
You get many art styles, including futuristic landscapes, expressionism, flora, and many more. There's a feature for remixing your existing NFTs into different styles.
Using Dream is incredibly easy. First, you need to create an account and input the desired text. Next, you can select the style you want for your image. After your picture is generated, you have the option to save it or create another by choosing a different style.
Key features
You can make NFTs with this AI tool.
You can recreate NFTs or enhance them with art styles.
You can convert real-life photographs into cartoons.
You get 100% ownership of the images you generate.
This tool is free to use.
Pricing:
Dream by Wombo is completely free to use.
7. Prequel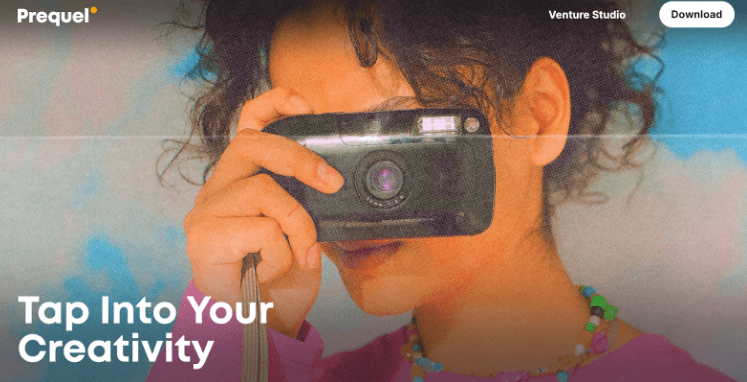 Rating: 4.4/5
Prequel is a photo and video editing app that gained popularity with its Cartoon filter. It offers more than 800 filters that use artificial intelligence to edit pictures and videos.
With Prequel, you can turn your real-life images into a comic book story, anime art, cartoons, and story covers. You can also use the app to add flowers, clouds, wings, and moving text like "Happy Birthday" on your pictures.
The tools you get with this app are – effects, the power of AI, retouching, filters, advanced editing, and video templates. Let's take a look at the key features of this app.
Key features
There are no advertisements on the app.
The venture studio at Prequel offers $10,000,000 as studio investment support to small artists for one year.
You can fine-tune the intensity of filters.
Prequel is very easy to use.
The most popular AI filters (anime and cartoon) are available in the free version.
Some AI filters work on videos too.
A 3-day free trial is available for premium filters.
Pricing:
| | | |
| --- | --- | --- |
| Free | $4.99 per week | $34.99 per year |
| Basic AI filters and effects | Premium filters and effects | Premium filters and effects |
8. Photosonic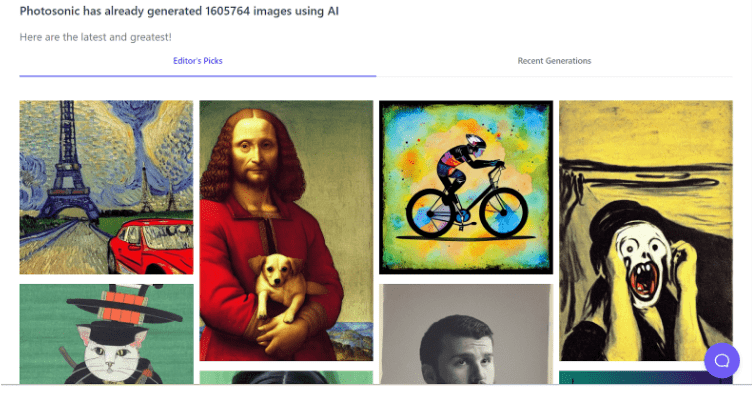 Rating: 3.6/5
Photosonic is a free software that allows you to generate AI images in two ways – by text prompts or by using an existing image.
This tool also offers art modes and templates that you can use for a particular style of art. Let's look at its key features.
Key features
You can download the images in HD.
The images are watermark free.
You get an image-to-painting converter.
You get the auto face restoration feature.
You can remove the background of images.
The community support is great.
You get beta access to new features in the paid version.
Pricing
| | | |
| --- | --- | --- |
| Free | Basic | Unlimited |
| $0 per month | $10 per month | $25 per month |
| 15 credits | 100 credits | Unlimited credits |
9. Craiyon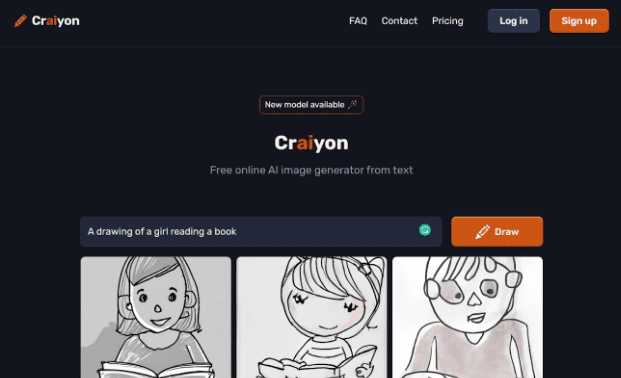 Rating: 3.8/5
Craiyon is a simple and free AI tool that was previously known as Dall-E mini. Craiyon was developed by researchers at Google and Hugging face.
It has an average output quality and takes around 2 minutes to generate an output in the free version. There is no need to sign up. You can directly go to the website and start using the tool.
Key features
You get 9 image outputs in one go.
You get unlimited AI images for a lifetime.
It is easy to use.
You don't have to sign-up or register to use this software.
You can get a printed T-shirt of your generated image.
Pricing
| | | |
| --- | --- | --- |
| Forever Free | Supporter | Professional |
| $0 per month | $5 per month | $20 per month |
Related Links
Wrapping up: Best AI drawing Generators (2023)
AI drawing generators can convert your ideas into digital paintings or customize them to your liking. However, some of these tools can be costly, while others may not offer the specific features you require.
So to avoid any regrets, you must research before investing in an AI image generator. Take the time to evaluate all the available features and pricing options to ensure that it meets your budget and requirements.
Once you have found an AI image generator that satisfies your needs, you can confidently proceed with the purchase.
I hope this blog post has helped you in selecting the most suitable AI generator for your purposes.
FAQs
What is an AI drawing generator, and how does it work?
An AI drawing generator is a type of software that uses a combination of machine learning and neural networks to learn from vast databases of images and styles, and then apply this knowledge to generate new and unique images based on user inputs.

Can AI drawing generators replace human artists?
Even with rapid advancements in AI technology, current AI drawing generators still lack the level of precision of skilled artists. So, they will not replace artists but facilitate them in creating better art.

What level of skill is required to use AI drawing generators effectively?
Using AI drawing generators doesn't require any specific artistic skill or knowledge. However, some familiarity with the software and its features is recommended to use it effectively.

Are there any legal issues surrounding the use of AI-generated artwork?
Since AI creates the artwork, it is unclear who owns the image rights. So, there are currently legal debates surrounding the ownership and copyright of AI-generated artwork. However, most tools in this list offer their users 100% ownership of the generated artwork.

How can AI drawing generators benefit artists and designers?
AI drawing generators can benefit artists and designers by providing a starting point for their creative process and helping them to generate ideas quickly. They can also save time by automating repetitive tasks and producing images faster.

Are there any limitations to what AI drawing generators can create?
Yes, AI drawing generators have some limitations. They are currently unable to replicate human imagination and creativity. They also lack the emotional depth and expression that humans can show in their artwork.