As a professional creator, you know that having the right tools is crucial for producing high-quality work. When it comes to animation, the right AI Animation Software can make all the difference in creating content that stands out.
But with so many options out there, it can be tough to know which software is the best fit for your needs. That's where artificial intelligence (AI) comes in.
AI-powered animation software can help you automate repetitive tasks, generate realistic animations, and optimize your workflow. Therefore, it saves you time and effort and allows you to focus on the creative aspects of your work.
In this blog post, we'll be exploring the top 10 AI animation tools. I have compared different options to help you choose the best one for your needs.
Top AI Animation Software For Professional Creators
Read on to discover the Best AI animation software options for enhancing your creativity and productivity.
| | | | |
| --- | --- | --- | --- |
| Sr. No. | Software | Best for | Price |
| 1. | Cascadeur | Small businesses | $22.5 per month |
| 2. | Adobe Character Animator | Illustrators | $52.99 per month |
| 3. | Blender | Animation studios | Free |
| 4. | Synthetik | FIlm and media persons | $199 (one-time purchase) |
| 5. | Radical | AR, VR, and gaming | $24 per month |
| 6. | Deepmotion | Animation studios | $17 per month |
| 7. | Rawshorts | Business owners and educators | $20 per month |
| 8. | Autodesk Maya | Film and media persons | $225 per month |
| 9. | Reallusion | Animation studios, VR, and gaming | $549 (one-time purchase) |
| 10. | Monstermash.zone | Animation Software | Free |
Top 10 AI Animation Software For Professional Creators In 2023
Here we have listed the best Top 10 AI Animation Software For Professional Creators. So without any delay let's get inside.
1. Cascadeur
Cascadeur is a powerful animation tool that uses artificial intelligence (AI) to make keyframe animations by generating rig, creating poses, and adding secondary motions. It is an excellent tool to create complex animations by layering multiple animations on top of each other.
It has been developed by a Russian company Cascadeon. The first beta version of this software was released in 2019. At that time, it managed to attract over 20,000 creators.
To work with this software, you can take control of the main movement points to create poses and motion. The rest will be taken care of by AI. All the postures and body movements will be positioned automatically and adjusted to perfection.
Best features of Cascadeur
Cascadeur supports multiple platforms, including Windows, Mac, and Linux, making it accessible to many users.
You get advanced editing tools for keyframe editing, motion bending, and fine-tuning animations.
Cascadeur allows you to create custom scripts using the built-in scripting language.
With the collaboration feature, users can work on animations as a team.
The free version has the complete animation toolkit which is perfect for small business owners.
Limitations of Cascadeur
Cascadeur may not be compatible with some software or file formats.
This tool is not beginner friendly. Some advanced features might be overwhelming for users who are just starting out.
Pricing
| | | | |
| --- | --- | --- | --- |
| Basic | Pro | Business | Enterprise |
| Free | $22.5 per month | $75 per month | Custom Price |
2. Adobe Character Animator
Adobe Character Animator uses motion capture technology to create realistic character animations. It is a simplified interface for users who are new to character animation or unfamiliar with Adobe Character Animator.
Various templates are provided in the starter mode. You can use motion capture technology and a webcam to animate objects. Editing is limited only to facial expressions and body movements.
When you are comfortable with the basics in starter mode, you can easily switch to full mode any time you want. This mode gives you access to advanced editing tools, and custom character customization, and allows you to create more complex animations.
Best features of Adobe Character Animator
The body tracker feature tracks your body movement through a webcam to animate the objects in your project.
You can add transcripts to your project. It will automatically sync the mouth movement of your character with the dialogue, making the speech more realistic.
Performance capture technology uses your facial movements to assign track points to your face. The track points track the movements of your face and sync it to the character's facial movements.
This software can be integrated with other Adobe Creative Cloud apps like Illustrator and Photoshop.
The motion library contains 350+ character movement templates built by professional animators.
Limitations of Adobe Character Animator
Adobe Character Animator is only compatible with the Windows and Mac operating systems.
The body tracker feature is not always accurate.
The software can take some time to load media causing restrictions in the workflow.
Pricing
| | |
| --- | --- |
| Starter mode | Creative Cloud All Apps |
| Free | $52.99 per month |
3. Blender
Blender is a comprehensive solution for creating high-quality 2D and 3D animations. It helps with character animation, visual effects, modeling, texturing, and much more. Blender supports majorly used hardware providers like Intel, AMD, NVIDIA, and Apple.
It is completely free to use, making it an attractive option for users who are working on a tight budget. Blender is a free professional-grade tool. Studios and professionals use it to create high-quality animations.
You also get access to an active community of users, developers, forums, tutorials, and other resources.
Best features of Blender
Blender is completely free to use because it's an open-source design.
Blender is compatible with a wide range of file formats and can be used on multiple operating systems.
You can use features like real-time rendering and editing animations in a non-linear fashion, which can help users work more efficiently and streamline their workflow.
Blender allows you to customize your interface layout with Python scripting. With this feature, you can customize colors, font, and size.
With the story art feature, you can draw directly in 3D. The tool includes brushes and strokes that let you draw 3D objects.
Limitations of Blender
The learning curve of Blender is steep. It is not beginner friendly and difficult to work with even with the basic functions.
The software is susceptible to bugs because it is an open-source design.
The software can crash when the files loaded are too heavy.
Pricing:
Blender is completely free to use.
4. Synthetik
Synthetik is an animation software designed to help users create high-quality 2D and 3D animations for film, television, games, and media. It includes features like real-time rendering, non-linear animation editing, and the ability to work with large amounts of data. This helps users streamline their workflow and get more done in less time.
It gives you access to tools like abstract art, mosaics, preset generation, image effects suite, vectorizer, automation moving art, and many more. The intelligent Painting tool uses artificial intelligence to assist you with rotoscopes and drawing.
Brands like MTV, Warner Bros, BBC, Sony Music, and Yale have used Synthetik. The system requirements for this software include Windows (7 to 11) and Mac (OSX 10.14 – OSX 13).
Best features of Synthetik
Synthetik includes an intuitive interface that makes it easy for users to navigate the software and access its features.
The MSG feature helps you generate visual imagery with the click of a button.
You can create computer-generated kaleidoscopic images and videos in real time.
You can add warping and symmetry effects to your animation projects easily.
Synthetik transforms videos into moving paintings with its automatic rendering tool.
Limitations of Synthetik
Synthetik is not free to use.
The learning curve of this software is steep, making it difficult to understand its features as a beginner.
Pricing
| | |
| --- | --- |
| Windows | Mac |
| $199 (one-time purchase) | $199 (one-time purchase) |
| Free trial available | Free trial available |
5. Radical
Radical uses 2D content to transform it into 3D content. It is a cloud-based software that uses machine learning to create animations. Its applications are wide, including the health sector, industrial sector, 3D films, AR/VR, gaming, and art.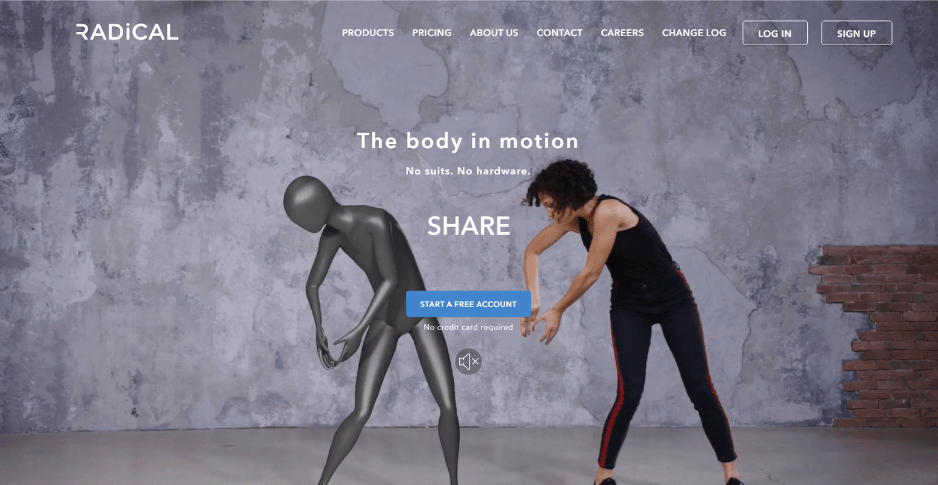 The artificial intelligence used here makes it very easy to create animations. You can shoot from any device of your choice – smartphones or professional cameras. You don't need a green background to shoot videos. Radical works well in any environment.
Radical can be integrated with Blender, Autodesk, Unreal Engine, iClone7, and Unity.
Best features of Radical
Radical can perform in any type of environment. It is so flexible that you can shoot videos in your living room or garden.
Radical has a customizable user interface, allowing you to tailor the software to your specific workflow and preferences.
It is easy to import and export graphics and animations.
Radical allows you to draw and animate using vector graphics. The vectors are scalable and resolution-independent.
Limitations of Radical
Radical supports limited export options such as GIF and AVI.
Radical does not support collaborative workflows, making it difficult for users to work on the same project with multiple people.
Pricing
| | | |
| --- | --- | --- |
| Creator | Producer | Professional |
| $24 per month | $84 per month | $234 per month |
6. Deepmotion
Deepmotion has been used by companies like Qualcomm, Samsung, and Intel. It uses artificial motion intelligence to create animations that are more natural than those created by traditional keyframe animation techniques.
It supports files like .MP4, BVH, GLB, and FBX. It is compatible with Windows, Linux, and other mobile platforms.
The motion brain feature uses dynamic motions, interaction, and immersion to create realistic animations. You just have to physicalize, select, train, integrate, and run the animation.
With a real-time body movement tool, you can synchronize your body movements with a 3D character.
Best features of Deepmotion
DeepMotion has a real-time preview feature, allowing you to see how your animations will look as you work on them.
It has built-in support for virtual reality.
It has a plugin system that allows you to extend the capabilities of the software with additional features and tools.
You can convert MP4, MOV, and AVI, into FBX, GLB, and MP4 formats.
Limitations of Deepmotion
DeepMotion has a steep learning curve and can be complex to use.
DeepMotion does not have built-in support for collaborative workflow features.
It lacks advanced 3D modeling tools.
Pricing
| | | | | |
| --- | --- | --- | --- | --- |
| Freemium | Innovator | Professional | Studio | Enterprise |
| Free | $17 per month | $39 per month | $83 per month | $299 per month |
7. Rawshorts
Rawshorts is a cloud-based animation software that will help you in creating premium-quality videos. It has pre-designed templates and drag-and-drop tools. It is intended to be user-friendly so that even with little to no experience in animation, you can create engaging content for your audience.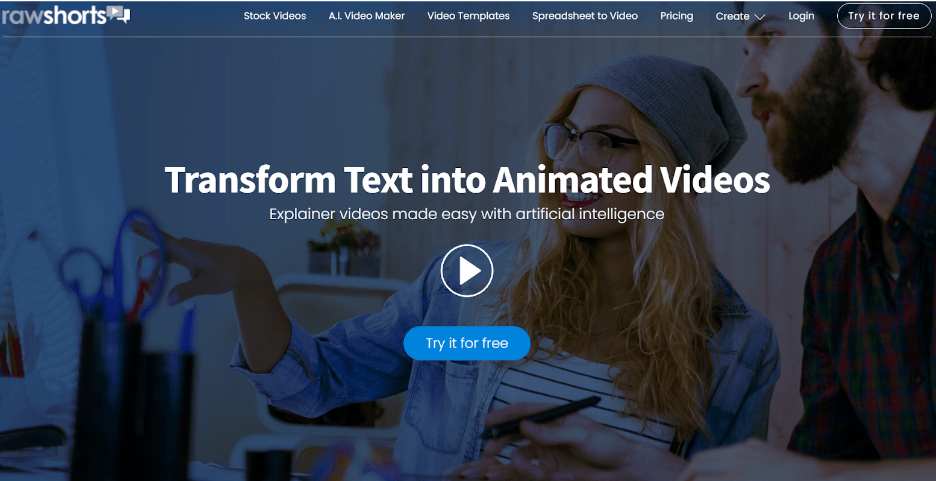 This software is often used for creating explanatory videos, promotional videos, and other types of marketing content. Business owners and educators can use it to create professional-quality videos without the need for expensive software or extensive technical skills.
Best features of Rawshorts
Rawshorts has a library of pre-designed templates and characters.
It is designed to be user-friendly, with a drag-and-drop interface.
You can add voiceovers and sound effects to your videos.
You can integrate Rawshorts with other social media platforms.
Download videos in multiple formats or share them directly on social media.
Limitations of Rawshorts
Rawshorts does not allow you to directly embed videos on a website.
It is a good tool for creating quality content but it does not offer as many design tools as other available in other animation software. So you cannot create complex animations using this software.
Pricing
| | | |
| --- | --- | --- |
| Starter | Essential | Business |
| Free | $20 per month | $30 per month |
8. Autodesk Maya
Autodesk Maya is a powerful 3D animation software widely used in the film, television, and video game industries for creating 3D animations, models, and visual effects. Maya is known for its extensive toolset.
This toolset has features such as – advanced modeling tools, texturing tools, dynamic simulations for fluids, cloth, and particle systems, non-linear animation, and timeline editing.
Best features of Maya
Maya has a wide range of rendering options. You can create highly detailed and realistic images for creating animations and visual effects for film, television, and video games.
Maya can be used as an integration with Adobe After Effects.
You get extensive documentation and support from Autodesk.
Fluid-like and cloth-like simulations are a unique feature of this tool.
Limitations of Maya
Maya is primarily a 3D animation software. Therefore, 2D animation is not as robust as other animation platforms.
Maya requires a high-end computer with a fast processor and plenty of RAM to run smoothly.
Pricing
| | |
| --- | --- |
| Trial | Subscription |
| Free trial | $225 per month |
9. Reallusion
Reallusion is a software company that develops tools for 3D character animation, facial expression analysis, and motion capture. It offers animation software (iClone) with plug-ins and mobile apps.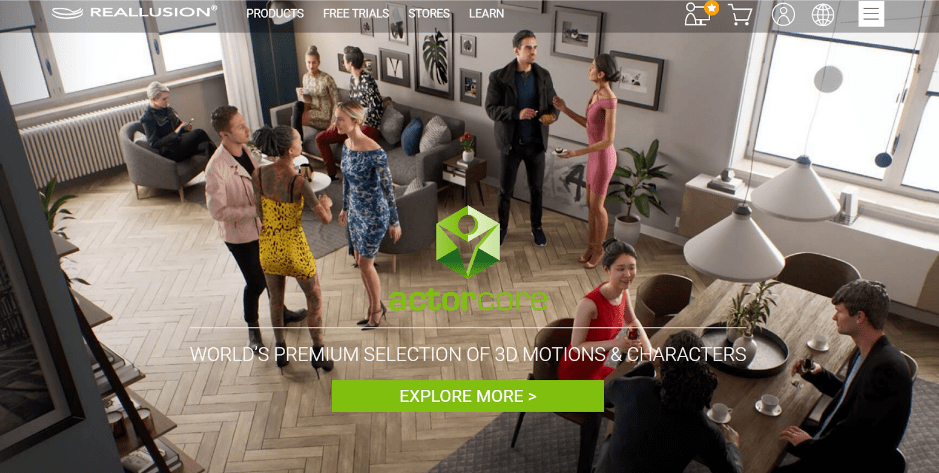 It is designed to be user-friendly and is intended for use by animators, educators, and individuals who want to create 3D content without the need for expensive or complex software.
Reallusion gives you a character creator tool for creating custom 3D characters. It also has a face filter tool for facial expressions, and a motion LIVE tool to capture the motion of objects.
Best features of Reallusion
Reallusion gives you a wide range of pre-designed characters, animations, and visual effects that users can access and customize, making it easy to create engaging 3D content.
There are tutorials for you to learn about the software's basics and advanced features.
iClone is a product by Reallusion that helps you create animation in real time using mocap production and scene storytelling.
The community at Reallusion offers great support to other users.
They offer a 30-day free trial.
Limitations of Reallusion
Reallusion is not suitable for you if you are not familiar with animation.
Reallusion is primarily designed as commercial software, making it expensive if you are on a budget.
The software can crash often if you use it on a computer with low RAM and an average processor.
Pricing
| | | |
| --- | --- | --- |
| Trial | 3D Character creation | 3D Character animation |
| Free 30-day trial | $249 (one-time purchase) | $549 (one-time purchase) |
10. Monstermash.zone
Monstermash is a free software. This animation software will help you draw any character you want. You can also turn it into 3D and animate it. This tool is mostly used for research purposes and evaluation. The best device to use this software is a tablet. You can draw your model and make changes accordingly for the best possible result.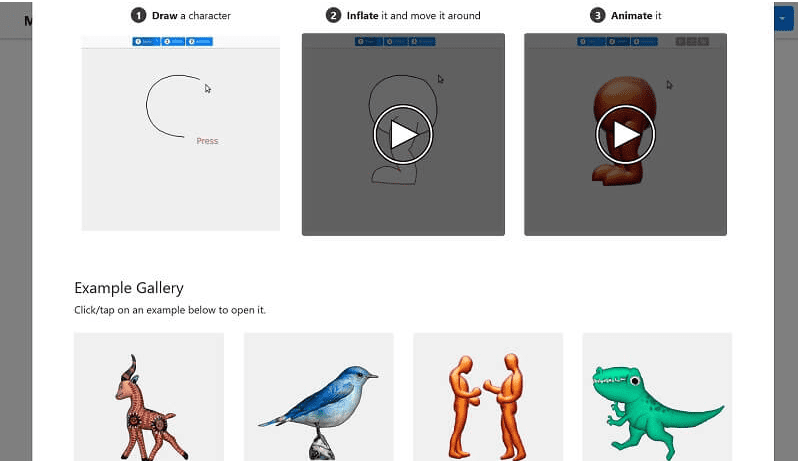 Best Features of Monstermash
It is Free
Open Source Project
Forum for Tips & Tricks
Limitations of Monstermash
Not good for small screens
Dependent on Internet
Only the gITF format is supported
Pricing
Free of cost.
Related Reads:
Final Thoughts: AI Animation Software (2023)
By leveraging the power of artificial intelligence, these tools can help you streamline your workflow and create more sophisticated and realistic animations easily. However, you must keep in mind that the needs of a content creator will be different from a game developer. Similarly, the needs of a filmmaker will be different from the needs of an advertiser.
Therefore, it is very important to look for the right tool based on the following factors:
Features
Pricing
System requirements
2D v/s 3D animation
It's worth noting that all the software options in this list can vary in features and may change over time, so you must do some research and compare the options to find the best fit for you.
Frequently Asked Questions: 
What is AI animation software? 
AI animation software is a computer program that generates animations with the help of machine learning and Artificial Intelligence. 
Can AI create animation? 
Of course, AI can create animations by using machine learning and AI algorithm. They can easily create personalized and sophisticated based on your command.