The use of AI Sales Software in business is growing rapidly. Almost every industry is adopting AI technology to streamline its processes and boost productivity. 
AI can help save time, automate routine activities, and give insights that humans might miss. It can also predict the needs of users and manage clients and databases. The possibilities are endless.
AI sales software helps the reps by saving time and closing more deals. Their primary job is to sort leads, automate/personalize conversations, and give predictive insights into future trends. Most importantly, it helps improve customer service.
Today I will walk you through the top 10 AI Sales Software that will help improve your performance and increase your revenue. 
List Of Top AI Sales Software: In A Nutshell 
If you are in a hurry or don't have much time to read the full article, then check this table which help you to choose the best AI Sales Software for you. 
| | | | |
| --- | --- | --- | --- |
| Sr No. | Software | Best For | Price |
| 1 | Warmer.ai | Cold outreaching prospects | Free Trial |
| 2 | Tact.ai | Providing a friendly way of interaction | Demo Available |
| 3 | Sales Director | Making data-driven decisions | Demo Available |
| 4 | Exceed ai | Automating meetings, calls, etc | Demo Available |
| 5 | Veloxy | Identifying potential prospects | $49user/month |
| 6 | Dooly | Qualifying leads faster and efficiently | Free |
| 7 | Clari | Providing data to boost sales | Demo Available |
| 8 | Drift | Building a connection via chatting | $2500/month |
| 9 | Hubspot Sales Hub | Handling all sales and marketing related activities in one place | Free |
| 10 | People.ai | Integration with Salesforce | Demo Available |
10 Best AI Sales Software For Marketers In 2023
1.Warmer.ai
Warmer.ai is an AI-powered software that writes highly personalized emails based on your prospect's Linkedin profile or website. With its dynamic email personalization, Warmer.ai is the best web-based app out there to help you increase your response rate and sales for your business.
With the freedom to choose the email objective, Linkedin or website links, and AI tools to analyze the data, this platform helps you take your cold- emails to the next level.
Built to handle multiple clients at once, Warmer.ai promises increased efficiency and reduced time crunches. You also get a customizable dashboard from where you can do all your operations in one place.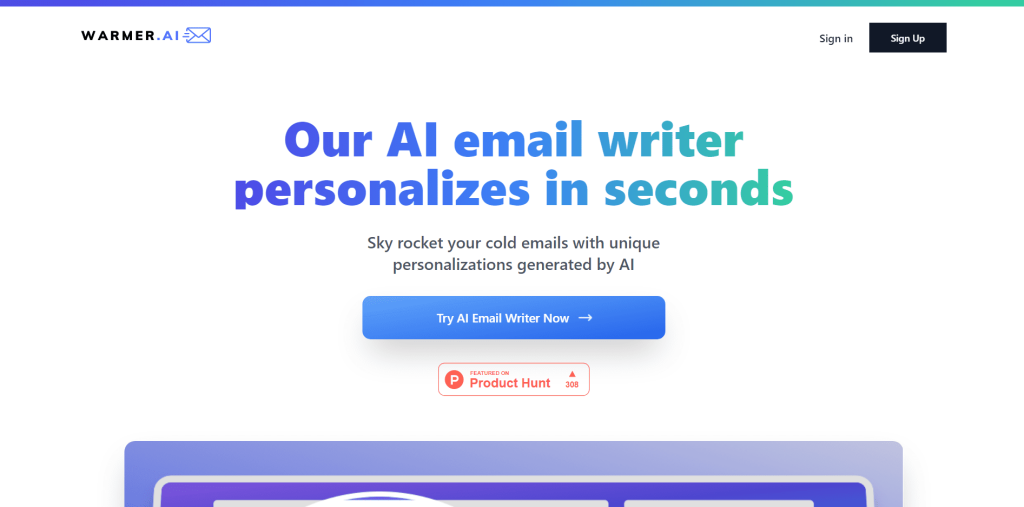 Some of the best features include:-
Easy to use. Just three steps to send your AI written email to prospects.
Scores your email based on readability and other factors
Allows personalization of emails
Pricing details:
Warmer.ai will give you a free trial. If you want to go ahead with the features, get a plan for your requirements.
2. Tact.ai
Tact AI is a business productivity platform designed to help organizations to maintain proper engagement with customers. This user-friendly software uses artificial intelligence to improve your sales and drive better outcomes by enabling field teams to communicate with customers in efficient and new ways.
It enables you to drive revenue growth by utilizing customer relationship management tools that connect your client's required data. It can include email, calendar, and social media, through natural text, touch, and voice conversational experiences.
It's used by some of the best companies in the world, including Salesforce Ventures, Venture Fund Of Microsoft M12, Novartis, etc.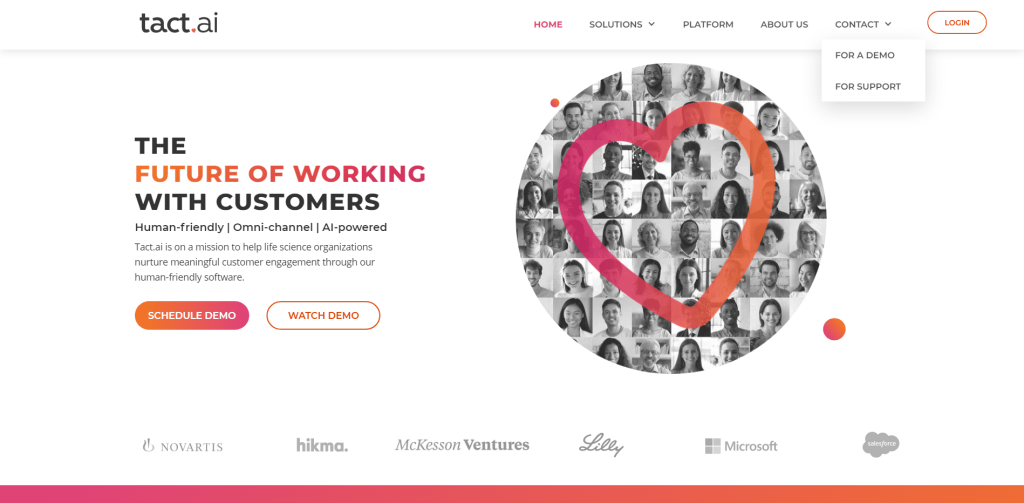 Some of the best features include-
It uses features like Tact Contact Player and Customer Friendly Email(CFE)
Extremely helpful for science organizations that aim to connect with people
Segments a vast pile of data into a comprehendible and manageable system
Pricing Details:
You can request a demo via their official website.
3. SalesDirector.ai
SalesDirector.ai is a revenue intelligence data platform for B2B sales organizations. Built to bring meaning to your sales data, SalesDirector.ai automates sales activity and gives you critical sales data insights and analysis.
It captures email, calendar data, and meetings from sales reps, eliminating data entry to deliver predictive insights about the business pipelines, behavior, and customer interactions.
Leading companies like MongoDB, JD Power, Digital Map, etc use this powerful tool.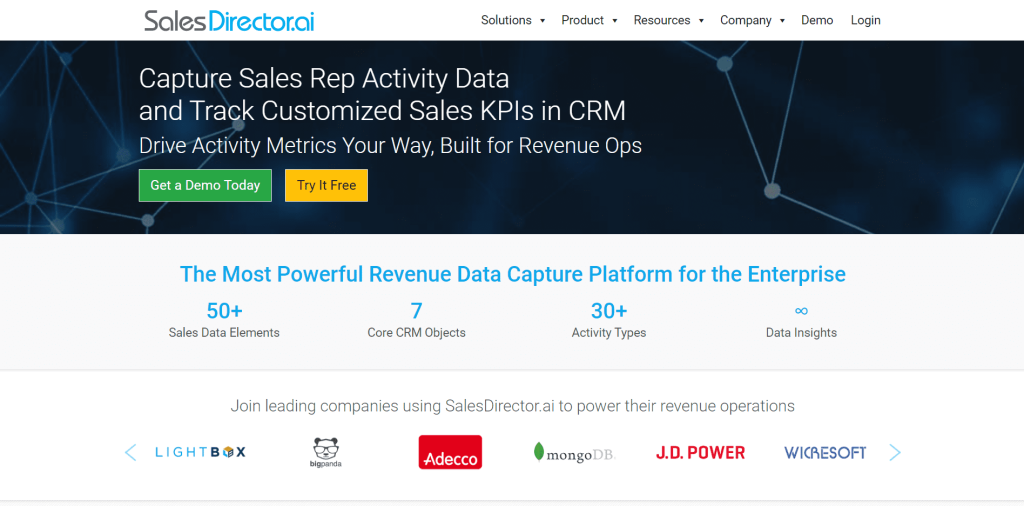 Some of the best features include:
Capturing the activities in Salesforce, automatically.
Capturing and creating new accounts and contacts, emails, and meetings into your CRM.
All the insights are delivered to the CRM
Supercharges your entire revenue stack.
Drive actionable revenue insights and makes the right budget decisions around sales, marketing, and customer success.
Pricing Details:
Request a demo through their official website.
 4. Exceed AI 
Exceed is a conversational marketing and sales platform that helps marketing and sales teams increase their pipeline of email and website visitors.
Exceed's AI assistant works every moment alongside humans to ensure every lead is followed up with, nurtured, and qualified using two-way email and chat conversations.
It books meetings and automatically updates your CRM and marketing automation platform as per the latest lead status.
Companies such as Elkem, LTSE, SugarCRM, and Hearst are exceeding their revenue goals using Exceed.ai by benefitting from its many offerings.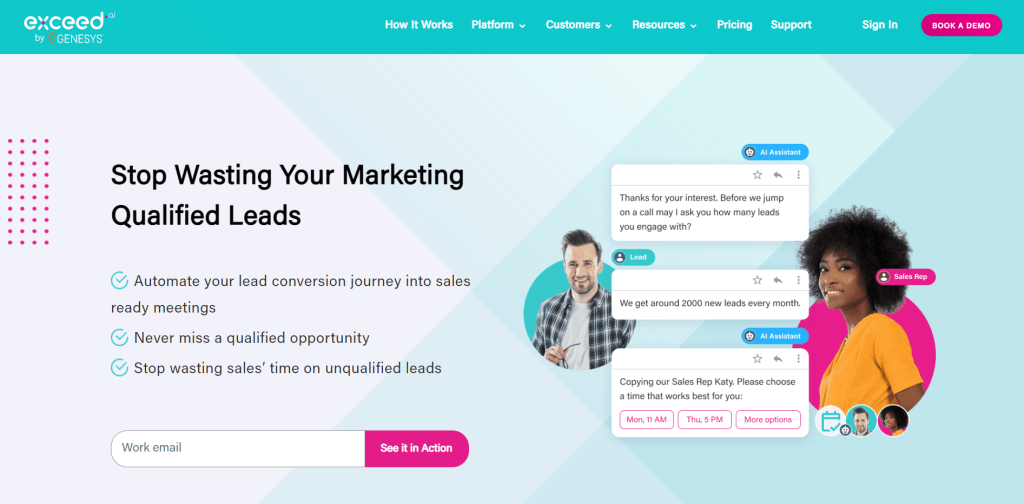 Some of the best features include-
Converts more leads into sales opportunities
Books more qualified meetings; optimizing your sales rep time
Revives existing neglected leads to maximize the investment
Webchat Bot to deliver a real-time, relevant, personalized experience
Maximizes your ROI on virtual events & webinars
Automates renewal process to keep the revenue stream flowing
Pricing Details:
Book a demo through their website or contact them for a quote.
5. Veloxy
This tool solves all sales-related problems with its powerful AI. You can improve your outside sales and inside sales. It is a must-have tool for all the sales managers out there.
Most salespeople spend 60% of their time doing miscellaneous stuff. Veloxy focuses on spending more time with prospects and increasing lead conversion by pushing out more content.
Used by T-Mobile, Shell, and Tommy Hilfiger, it integrates with Salesforce and other analytics platforms to provide relevant data.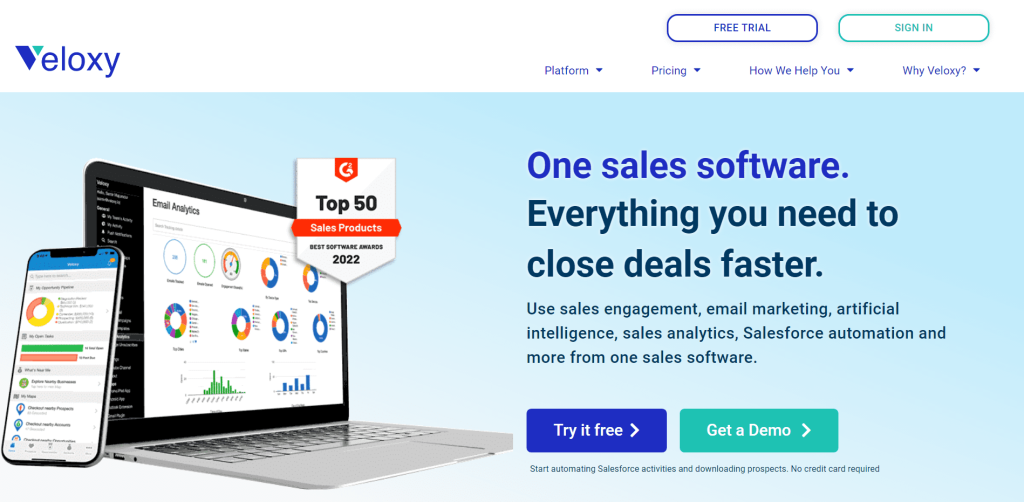 Some of the best features include:
Email tracking and data updation
AI identifies the prospects who might convert or opt out of the sales cycle
Automating the non-selling activities
Have a prospect discoverability based on geo-location
Pricing Details:
| | |
| --- | --- |
| Veloxy | Veloxy Lite |
| $49 user/month | $25 user/month |
 6. Dooly
This tool works best with Salesforce CRM and makes everything easy. It automates various time taking processes and eliminates unimportant activities. It enables you to collaborate with the right people to increase your productivity.
Dooly.ai helps sellers build an efficient pipeline and save time. Update the Salesforce faster, bring consistency and close more deals with your team!
One of my favorite features of Dooly is its AI-enabled smart notes. Just write down your meeting notes and Dooly.ai will give you actionable steps to help you achieve your goals.
Dooly.ai is being used by some of the top enterprises like Figma, Asana, and Intercom.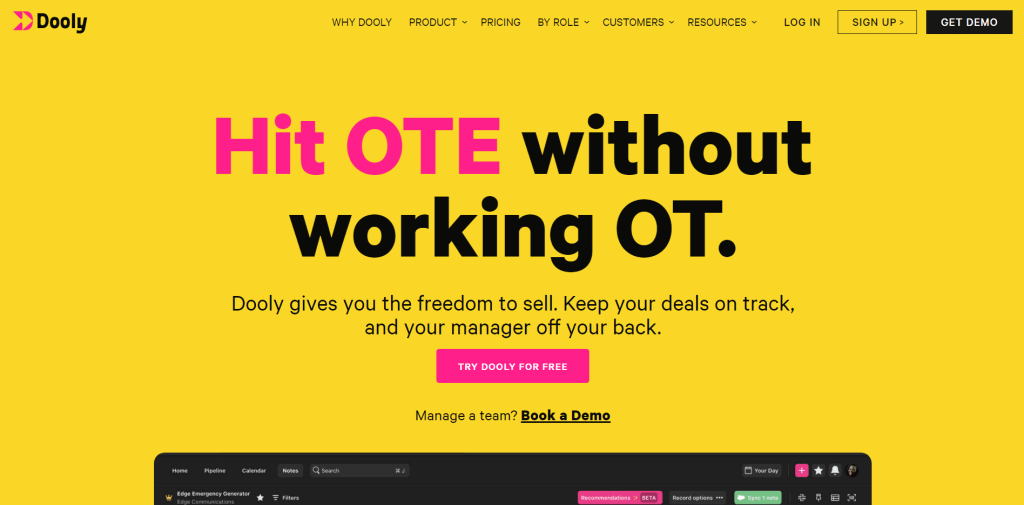 Some other best features include:
Saves time by forecasting and updating the pipeline in one click
Templates to ensure strategies are implemented
Syncing notes to Salesforce and with your team for more efficiency
Data security and safety
Pricing details:
| | | |
| --- | --- | --- |
| FREE | GROWTH | PREMIER |
| $0 | $30/user | $65/user |
7. Clari
Clari is one of the best platforms in the field of AI sales software. With the help of an incredible AI, Clari can provide actionable steps from insights and notes given to it.
It gathers all the data from the organization and its members, which includes meeting notes, marketing strategies, and emails. The AI synthesizes the collected data and creates an actionable plan.
Capri gives a detailed forecast for every prediction and automates the sales pipelines. Understand what is changing and why it is changing and make the best use of every opportunity to maximize your profit.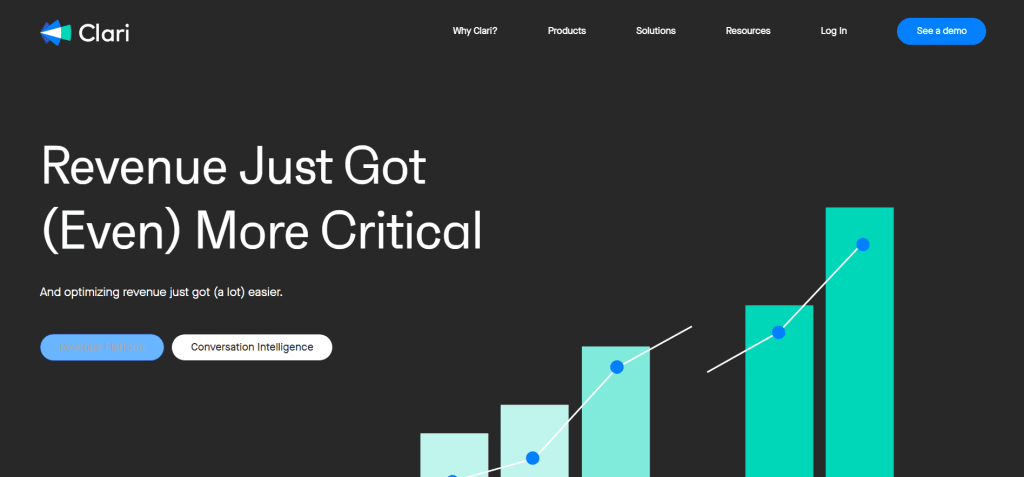 Some of the best features include-
Powerful AI-based projection for accurate predictions
Identify the gaps and allocate resources to your team with the help of AI
Identify risks and create forecasts for different revenue segments
Get complete visibility into rep activities
Pricing details:
Clari doesn't have a pricing model listed on its website but you can contact them for a demo.
8. Drift
Drift helps you with marketing, sales, revenue growth strategies, and conversions. It is one of the best-known sales tools on this list. It helps you to be more productive and close more sales deals.
This tool predicts the user's intention accurately and suggests prompts which they are more likely to engage with. Drift originally started out as a chatbox that used conversational marketing to drive visitors' engagement. It is used by top marketing and service companies like Adobe, Invison, Marketo, Datto, etc.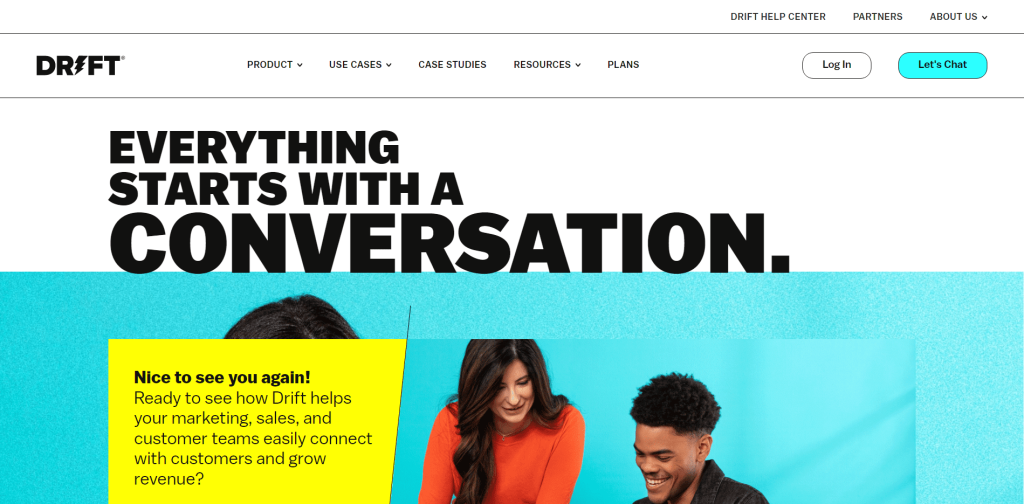 Some of the best features include-
The AI chatbox that is available in multiple languages to answer questions and qualify leads
Engaging with clients in real-time with ABM feature
Integrations with Google, Salesforce, MailChimp, etc
Real-time live chat feature to connect with potential customers
Pricing details:
| | | |
| --- | --- | --- |
| PREMIUM | ADVANCED | ENTERPRISE |
| $2,500/month | Custom | Custom |
9. Hubspot Sales Manager
Hubspot is a one-stop solution for all business-related problems. It is a CRM that expands into other branches like a marketing hub, a service hub, and a sales hub.
The sales hub uses the power of AI to offer services like email tracking, document management, sales automation, call tracking, etc. This platform can easily integrate with over 1200 tools across the Hubspot App Marketplace.
Used by Casio, Kahoot, Zapier, etc, Hubspot Sales Hub minimizes friction and clears the pipeline for success.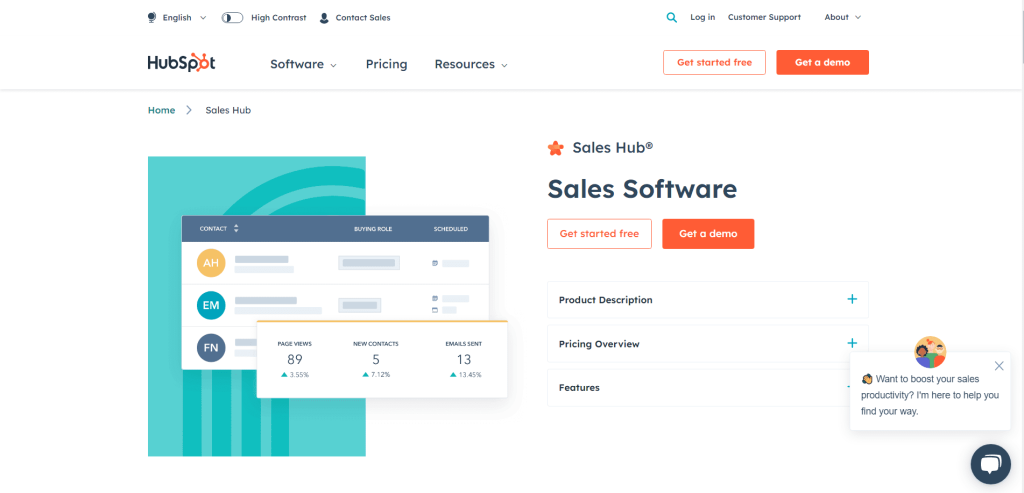 Some of its features include-
The AI reads through the calls to understand the reasons behind what's working and what's not
A live chatbot feature to engage with visitors
Schedule, record, and log the sales call directly from the browser into the system
Focusing on making deeper relations using ABM
Pricing details:
| | | | |
| --- | --- | --- | --- |
| FREE | STARTER | PROFESSIONAL | ENTERPRISE |
| $0 | $45/month | $450/month | $1200/month |
10. People.ai
Close more deals and increase your overall productivity with this fantastic AI Sales software. It engages with the right people at the right time and helps secure deals.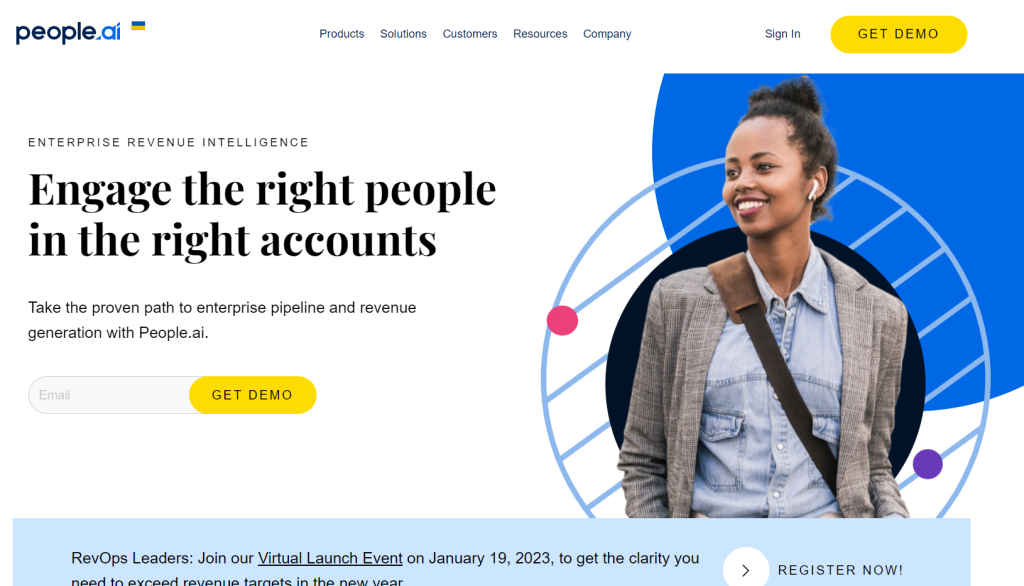 The AI analyzes data from the previous patterns of interactions and identifies the deals which are most likely to close. It focuses on creating a healthy pipeline. This happens through AI defining the personas of different accounts.
Predict the future accurately and minimize the risk to your business. Correct the course of your sales cycle and meet more targets.
Some of the best features include-
Integrations with Marketo, LinkedIn, salesoft, etc
Keep track of everything, including calls, calendars, meetings, etc.
AI also helps in predicting future sales trends, keeping your team updated
Streamline all accounts and opportunity management services
Identify the neglected activities and course-correct the sales cycle
Pricing Details:
Request for a demo on their official website.
Final Thoughts: Best AI Sales Software (2023)
There is more than 160 sales software available in the market today. Each one has its own strength and weaknesses. Some software focuses on a particular feature more than other features.
Ideally, the main goal of sales software should be to close deals, streamline sales processes and automate routine activities. The software you choose should be easy enough so that your team can understand how to use it.
AI is the best investment in the tech-forward world which can increase the ROI of any business. Take advantage of AI to boost revenue and accelerate your business growth.