The creative industries are increasingly affected by artificial intelligence, which is affecting more areas. AI painting generators now allow people without formal training in art to create art based on their ideas, even if they have never taken a systematic art course.
AI-powered painting generators could make art in the future. AI painting generation software can create portraits, landscapes, and abstract art, and it is even possible to emulate the style of artists.
Creating AI paintings online is possible. Alternatively, you can use a tool that generates AI images online, and the tool produces realistic images from text input.
Several AI-based painting generators have been introduced to the market in recent years. Throughout this article, you will find a comprehensive review of some of the most popular artificial intelligence painting generators on the Internet. Read on to find out more.
Top AI Painter Tools: In A Nutshell (2023)
| | | | |
| --- | --- | --- | --- |
| Sr.No. | AI Painters Tools | Best For | Pricing |
| 1. | Jasper Art | An all-in-one tool for creating images | $20/month |
| 2. | Stable Diffusion | A great choice for image-to-image art | Free |
| 3. | Photosonic | It is best suited to bloggers and content creators | Starts at $10/month |
| 4. | Deep Art | Ideally suited to API integration | Free |
| 5. | DALL-E- 2 | Suitable for creating realistic images | Coming soon |
| 6. | Fotor | Image-based NFT art generator | Starts at $8.99/month |
| 7. | StarryAI | Ideal for generating NFT Art images at their best | Free |
| 8. | NightCafe | Easily accessible | Starts at $9.99/month |
| 9. | Runway ML | Suitable for video editing and animation | $15/month for the starter plan |
9 Best AI Painter Tools For Creating Art In 2023
Here we have listed some Best AI Painter Tools for creating art. So without any difficulty lets have a look.
1. Jasper Art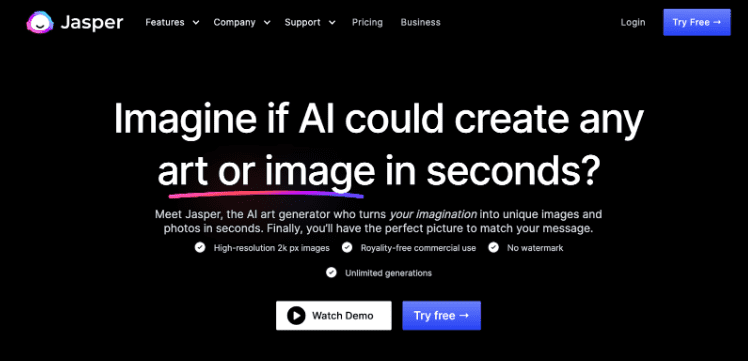 Using Jasper Art, you can create images from text input. Using the latest advances in artificial intelligence, Jasper Art generates unique digital art from your imagination.
With Jasper Art, you can experiment with multiple styles and find what works for you. Due to the nature of the AI image generator, it produces highly erratic results, so you will need to think cleverly about your prompts to obtain a reasonable result.
Still, one thing can be said for sure. A key benefit of Jasper is its ease of use.
The Jasper Art application allows you to create photo-realistic, cartoon-style images and every other type of art you can imagine. The tool will do the rest once you enter some text input.
The Jasper Art application is ideal for blog posts bored with generic stock images.
Key Features
Generating 100% original images by using AI.
Streamlines the process of creating images in non-English languages!
If you need assistance with the tool, a support chat is available.
To generate art, you can also use Jasper's copywriting templates.
The Jasper platform is also equipped with a world-class AI writing assistant that you can use to write blog posts or social media posts.
Pricing
Jasper starts at $20/month. Currently, there is no free trial available. Before you can see it in action, you have to pay.
2. Stable Diffusion
With Stable Diffusion, the text is converted to images using AI technology. The AI art generator that Stability AI comes up with has been created by a company that makes artificial intelligence.
AI art generators like this are among the latest products on the market. It can produce stunning images for free and is entirely free to use.
The browser version of the tool allows you to try it very easily. Create an image on their website by opening it. The license also allows free use of the tool for commercial and non-commercial purposes.
Key Features
Capabilities for converting text to images
Capabilities for image-to-image conversion
User-friendly
It is free to use demo versions.
Astonishing results
User-friendly for developers. Creating a Stable Diffusion demo is easy.
Pricing
This AI art generator uses stable diffusion and is free to use.
3. Photosonic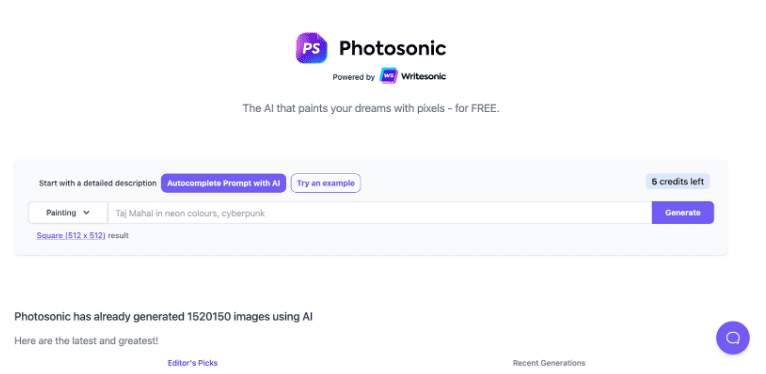 The Photosonic software supports a variety of art styles. You will therefore be able to find the perfect art style to suit your project. A photorealistic or cartoonish image can be created from the depths of your imagination.
Photosonic generates AI art in a variety of ways. A variety of styles, qualities, and diversity can be controlled in the output image.
Converting an image into a painting is one of the cool features.
Key Features
Various artistic styles are available.
Create paintings from images.
AI-powered text-to-image capabilities.
A capability to convert images from one image to another.
The interface is easy to use.
Pricing
The following three plans are in place:
A month of free use is available
$10/month for the basic plan
The unlimited plan costs $25 per month
Get a free trial of Photosonic today!
4. Deep Art
In Deepart.io, you can use the stylistic features of another image to draw the content of an image. The first image will determine the theme of your artwork. The website offers a few predefined styles after uploading photos. You will be notified via email as soon as your image is transformed into a painting. In free mode, there's a queue that increases the processing time because of the limitation on photo size.
Key Features
Create some realistic images from the text.
Make your projects funky by using your imagination.
Forever free to use.
Each prompt produces four output images.
Pricing
You can use this tool for free.
Unlike other online services, it does not require downloads or registration.
5. DALL-E- 2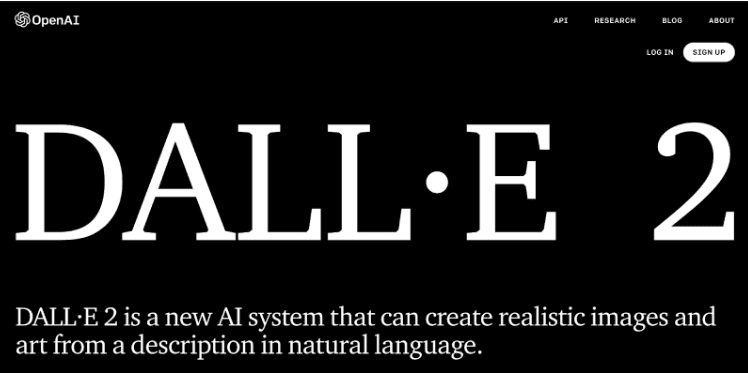 A DALL-E-2 image generator is an AI program that generates realistic images. Currently, this tool is only sometimes available. At this time, as of writing, you can join the waitlist to get access to this piece of software.
DALL-E 2, an AI image generation model from OpenAI, is among the best natural language processing models.
Image models such as this one are easy to use, allowing users to create professional images and designs. DALL-E 2 requires no technical expertise or artistic background to operate.
Key Features
Generating images from text
It is capable of converting images to images
Iterate over the generated images multiple times
Retouching and editing features
Pricing
It is not yet possible to purchase DALL-E 2. Get early access to the software by joining the waiting list.
6. Fotor
With Fotor, you can easily create NFT art using AI. Fotor does not require any technical knowledge or experience in the design field, and it is lightweight, making it easy for beginners to use.
You can create digital art in minutes with Fotor AI, and it doesn't matter what the technical details are. A total of 10,000+ templates are available for you to choose from, and there will be a template suitable to your project among this many available.
Fotor specializes in AI arts with a focus on NFT.
Key Features
Enhance your images or completely transform them using AI.
Enhance the output images with one click.
The ability to remove backgrounds. The NFT project, for instance, could benefit from this.
Highlight your images' colors with color splashing.
Pricing
Fotor is free to try. Trying the tool out before purchasing it is a great idea. You can choose from three paid plans:
The basic plan is free
You can upgrade to Pro for $8.99 a month
The cost of Pro+ is $19.99 a month
7. StarryAI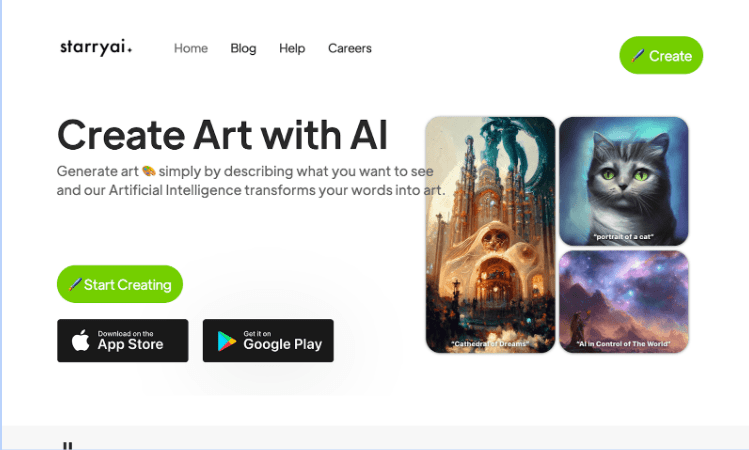 With StarryAI, you can easily turn your ideas into NFT art.
If you own an iOS device or a device that runs Android, it is well worth your time to test out StarryAI for free with your mobile phone. As a result, there is no limit to where you can generate art.
If you describe what you want to see in an image, you can also generate art!
Like most other AI art generators, StarryAI allows you to own the images you have created afterward, similar to most of them.
Key Features
There is a need for automatic AI art generation that doesn't require user input.
With the tex-to-image AI, you can turn words into art.
Create unique NFT art for sale using this free NFT generator.
Pricing
StarryAI is free to use.
8. NightCafe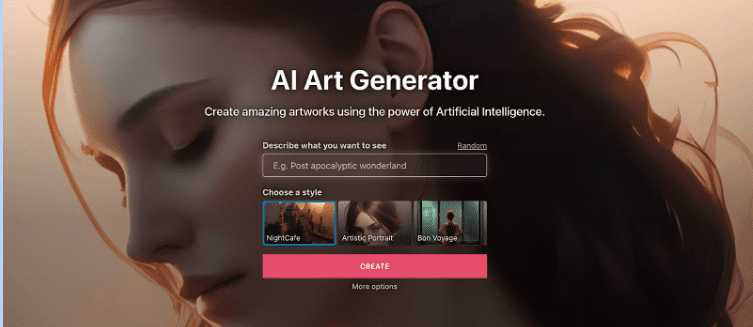 A famous AI art generator is NightCafe. Unlike other AI painting generators, it offers more options and algorithms and is easy to use, even for newbies. To take advantage of this service, you only have to go to their website and enter text prompts according to your imagination.
Upon clicking the button, you will have to wait for the piece of art in front of you to appear for up to 30 seconds. Credits are earned by participating in different activities at Nightcafe, and you can use them to make free images. Buying credits is also an option.
Key Features
System of earning credits.
Tool for creating videos.
A useful social feature.
Own the art you create.
Generators with more algorithms
Pricing
NightCafe is free to try!
The NightCafe AI art generator uses credits. Four different batches are available for credit purchases:
The AI Hobbyist subscription costs $9.99 per month for 100 credits
For 250 credits per month, AI Enthusiast costs $19.99 per month
Monthly fee of $49.99 for 700 credits
For 1500 credits per month, AI Professional costs $79.99/per month
9. Runway ML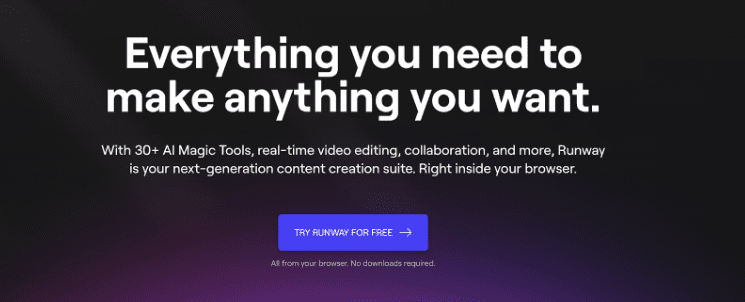 With Runway ML on the web, you can edit videos and photos powered by machine learning. A morphed result can be easily created with machine learning technology.
Video backgrounds can be automatically replaced. With a click of a button, turn any video into a green screen. AI-powered magic helps you easily remove unwanted objects. Get robust AI-generated metadata and analysis with a multi-band video stream format.
Runway Features
AI-powered algorithm simplifies the removal of unwanted objects.
The depth maps provided by Runway ML are precise right out of the box.
Analyze relative motion for a better understanding of how objects move. Suitable for all your effects.
Cloud storage allows you to store all your images and videos in one place.
Pricing
RunwayML offers following plans:
$15/month for the starter plan
A monthly fee of $35 is charged to the creator
A pro subscription costs $100 a month
Related Links
Conclusion: Best AI Painter Tools (2023)
That's all there is to know about AI art generators. Hopefully, some of these tools impressed you. The quality of AI art will only increase in the future, and new players can expect to see a great deal of improvement within the next year or two. If you are looking for next-level performance, we recommend you try Fotor and deep AI. Despite recommending two, the choice is yours and should suit your budget.