AI is ruling the world.
There is a high chance that your favorite company uses artificial intelligence.
The ads you saw today or yesterday were made especially for you.
About a decade ago, there was a big push toward internet marketing. Today, the urge is toward social media marketing. The attention span of consumers has decreased by 50% in the last few years. Thanks to the millions of content pieces they see on social media.
It has become more challenging to reach consumers and get their attention. So what can we do about it?
We can implement a time-saving and cost-efficient AI marketing tool. From filtering out messages to creating campaigns, AI brings the best results.
Most people buy things based on their emotional wants. AI tools can help create content that appeals to people's emotions. From creating eye-grabbing headlines to graphic designs and marketing to the right audience at the right time. AI does it quickly and systematically.
What Is An AI Marketing Tool? 
AI Marketing tool uses AI (Artificial Intelligence) technology to generate automated decisions. These are the decision on the data collected which interpreted and analyze market trends. The aim is to develop a marketing approach that predicts the buyer's next move.
All of the done is in real-time without conflict with an actual human. This ability to make an automated decision at a very speed makes an Artificial Intelligence marketing tool for the business awesome. 
List Of 8+ Best AI Marketing Tools
So what AI marketing tools are the best? Here is a list of the tools used by the top marketers in the world. You can use them according to your business needs and budget.
| | | | |
| --- | --- | --- | --- |
| S. No | Software | Best For | Price |
| 1. | Grammarly | Checks Grammar | $29.95 per month |
| 2. | Phrasee | Brand Language Optimization | $29 per month |
| 3. | Semrush | Leading SEO Tool | $119 per month |
| 4. | Surfer SEO | Content Strategy | $49 per month |
| 5. | Zapier | Markting Automation | $19.99 per month |
| 6. | Chatfuel | Chatbot | $11.99 per month |
| 7. | Browser AI | Competitive Intelligence | $39 per month |
| 8. | Influencity | Influencer Relationship Management | $148 per month |
1. Grammarly:
As the name suggests, Grammarly checks your grammar while you type. It provides suggestions in real-time to make your texts better.
The parts that are wrong or out of tune will get underlined in red. It can also spot inconsistencies and out-of-style word choices.

What I like about Grammarly is that I can use it as a chrome extension. I can use it anywhere, on email, docs, Instagram, etc.
How much does it cost?
There is a free version available for everyone.
For the premium version, you have to pay $29.95 monthly.
Pros-
Real-time grammar correcting- you can check the suggestions and improvements while typing! Isn't it great?
Highly accurate: It is highly meticulous with the grammar suggestions.
Simple to use: Anyone can use this tool with ease.
Cons-
The free version has limits: Grammarly allows only the basic features on the free versions.
Too many ads: Grammarly wants you to upgrade, which can sometimes become annoying.
2. Phrasee:
Phrasee tells you if your copy is constructive or not. It focuses on "brand language optimization." This tool has been on CNBC, MIT Technology Review, and The Times.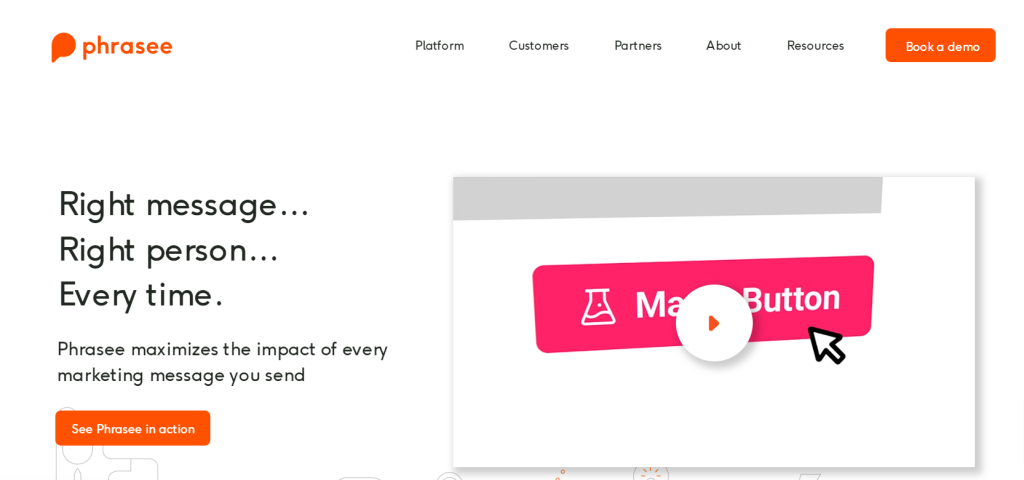 It is an AI-powered marketing tool that uses language and branding tones. It understands how brands use emails, social media, or push notifications. Machine learning technology enables it to sound like human conversations. These conversations are brand focused and very powerful.
My favorite part? Phrasee transforms marketing by increasing conversions, revenue, and CLT (customer long-term) value. Testing and optimizing becomes super easy with this tool. You can even generate high-performing messages in real time that sound genuine.
How much does it cost?
It offers a free trial and different packages for different needs.
$29 per month for Team start
$210 per month for Team
$369 per month for Ultimate
Pros-
Powerful AI: The AI is super powerful and one of the finest in the industry.
Multi-channel implementation: This tool is available on different channels. Use it on email, web, social, SMS, and push notifications.
Easy Integrations: It integrates seamlessly with your other tech stack. Adobe, Oracle, and Airship are a few examples.
Cons-
Difficult to grasp: This tool can be a little hard to use for tech novices. Try to contact their support team, which may help you out.
It takes time to give results: You won't see instant results. The AI will take time to understand the brand and produce quality content.
3. Semrush:
You must have heard about SEMRush before. It is one of the leading SEO tools in the market. It has helped hundreds of businesses with their digital marketing initiatives.
Semrush provides services such as-
SEO
content marketing
marketing research
market research
advertising
social media
agency solutions, all in one platform.
My favorite feature is the keyword finder. It lets you find the keywords your competitors are using. It also tells you how your site ranks against Google organic and paid results.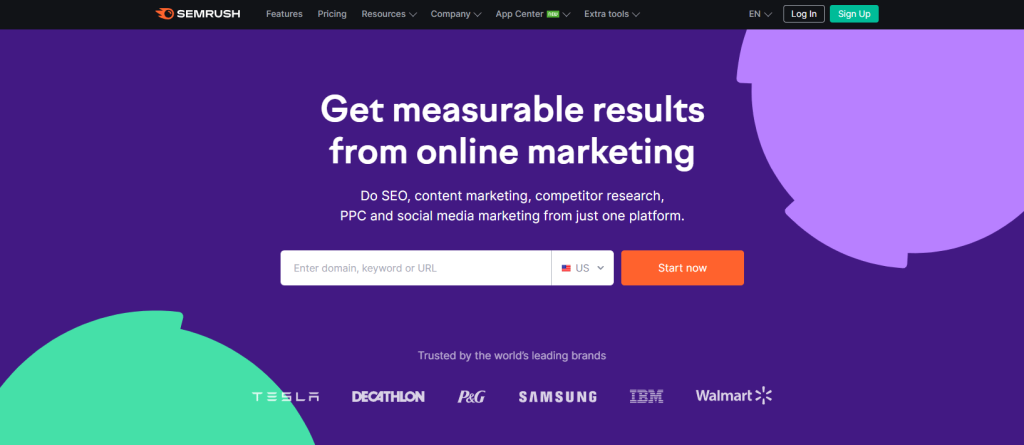 SEMRush understands the importance of SEO and how it can make or break any business. This fact is the prime reason why it is so famous among marketers.
How much does it cost?
$119 per month for Pro
$229 per month for Guru
$499 per month for Business
Pros-
Super easy to use: Everyone can use it easily.
Appreciable interface: Even though the data is vast, we can easily access it.
Provides you link building functionality
Cons-
Restricted: SEMRush only provides data from Google. Other search engines are not in their search system.
Expensive: Even with quality features, the price can be high for most companies.
4. Surfer SEO:
This tool is best for writing blogs, articles, social media, emails, and websites. All with the use of their easy-to-use AI.
While writing, this tool will asses your various categories like readability, length, and keywords. It will help to boost your site's ranking.

You need to choose your domain, niche, and target audience. And surfer will automatically give you insights that you can put in place.
It also provides suggestions on what to write to help boost rating, a feature I like the most.
How much does it cost?
It is available for :
$49 per month for Basic
$99 per month for Pro
$199 per month for Business
Pros
Content Strategy: It creates a strong content strategy with popular keywords to write good content pieces.
Page Audits: Surfur gives regular page audit reports to fix every content gap.
Cons-
The keyword research tool is not as advanced as its competitors ( SEMRush or Ahrefs)
Surfer does not give any freemiums or free trials.
5. Zapier:
If you are a business owner and want to make the best use of your time, try Zapier.
It allows you to build marketing automation and connection between other systems.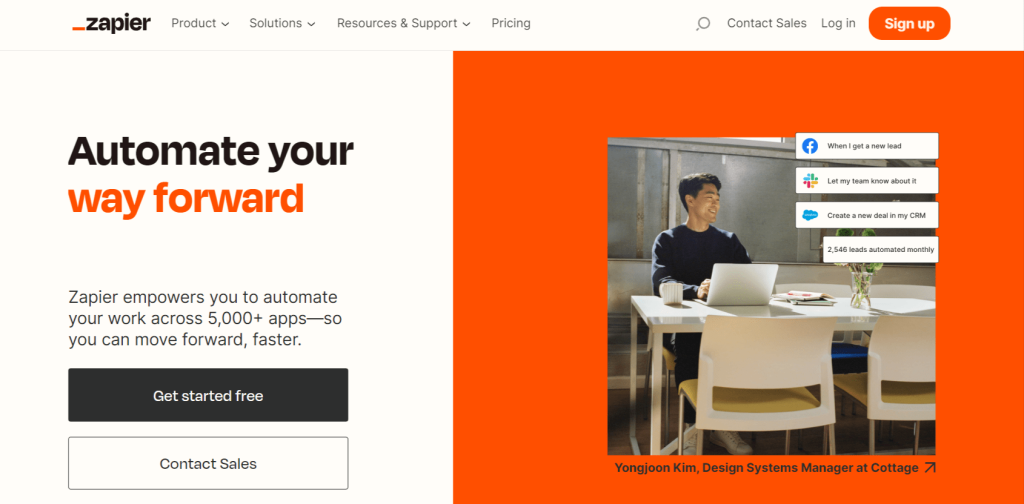 The goal is to save time, promote efficiency and reduce cost. Instead of rummaging through 20 tabs at once, go for automation.
The best part is that you don't need to code to use this automation. Instead, you get 3000 zaps and template integrations.
I can talk about the benefits all day long though you can learn about it from their online course "Zapier University."
How much does it cost?
It has a Free version and
$19.99per month for a starter
$49 per month for professional
$299 per month for a Team
Pros:
It becomes your assistant, which is an advantage for any business owner.
Anyone can start using Zapier from the beginning without any prior experience.
It also provides tonnes of resources to learn from.
Cons:
The free version contains very few tasks. I would love to try more features before going all out on it.
The zap often gets bugs and stops working in the middle. This bug is a problem for a few users.
6. Chatfuel:
This AI interacts with you! Chatfuel is the favorite chatbot for most businesses on Facebook and Messenger.
The idea behind an AI-based chatbox is to keep the consumer engaged even when you are not on your phone.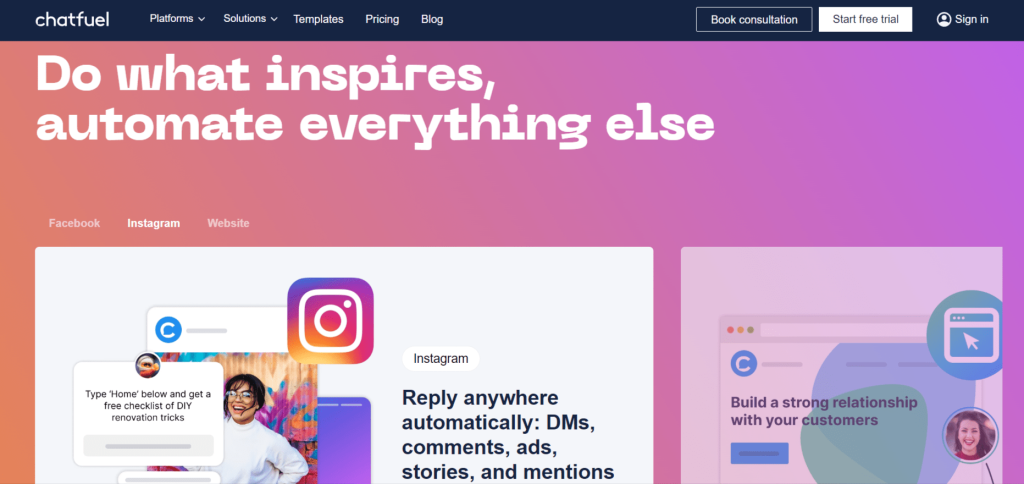 Whenever someone enters your inbox, the bot will send your pre-saved reply. This bit will answer questions, greet them, and do many other things.
Chatfuel helps you create a personality that interacts on your behalf. They can even interpret misspelled or non-grammatical responses too.
Plus, they are working with Facebook (Meta) to provide a smooth experience to all its users.
How much does it cost?
It has a free version
$11.99 per month for Business
$199 per month for Enterprise
Pro-
The interface is easy to understand and feels good to work with.
Any age group can handle this with ease.
Cons-
The templates provided were difficult to understand.
The free features don't offer clarity to the original offer.
7. Browse.ai:
Before you ask, no, this tool is not illegal. It is one of the best tools any business can use.
Use it to track your competition by extracting the data from any website. For this purpose, the AI uses Competetive Intelligence (CI). You can train your bot to fetch the data into a spreadsheet.

More than 2500 companies like Adobe, Amazon, and Hubspot benefit from this tool.
My favorite part is when the AI mimics human behavior to fool the captcha. This tool can benefit small, mid, and big business models and freelancers.
How much does it cost?
$39 per month for Starter
$99 per month for Professional
$249 per month for the Company
Pros-
This tool can access many data sources and access through controls and permissions.
It batch processes the data and presents it cohesively.
Cons-
You need to be aware of some technical terms before using Browse.ai
A team needs to be in place to make sense of the data received.
8. Influencity:
Influencity covers all the influencers on all the major platforms for efficient brand-to-influencer collaboration.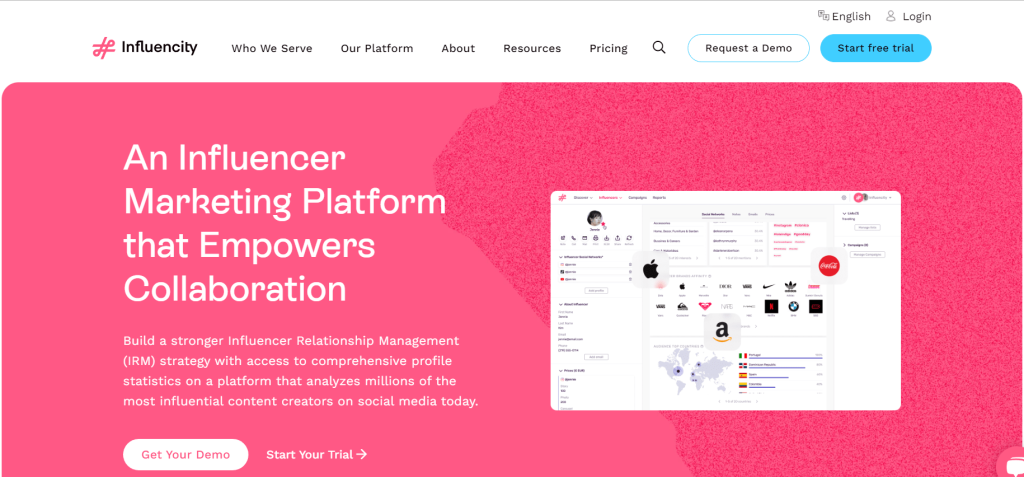 Influencer marketing has been on the rise for the last few years and is continuing to do so. Brands that spend hours finding the right influencer for themselves can enjoy this tool.
Get quick and up-to-date stats and create your influencer database with this tool.
How much does it cost?
It offers a free trial and a custom plan.
$148 per month for Basic
$398 per month for Professional
$998 per month for Business
Pros-
It is the best influencer database having many integrations with other platforms.
Adaptable to every type of business.
Cons-
Brands have to reach influencers outside of the platform.
Expensive in the long run.
Related Read:
Conclusion: AI Marketing Tools
AI is becoming more and more powerful. A lot of businesses are going to adopt this technology in their system. With these marketing tools, your marketing experience can become enriched and versatile.
As consumers, we can consume a wholesome, non-spammy brand advertisement.
The benefits of AI in marketing are huge for emerging companies. Try the tools you like the most and level-up your marketing experience.