Comic books characters and sci-fi have been the inspiration for many of the AI applications you see today.
As an example, Amazon Alexa was famously inspired by Jeff Bezos's love of Star Trek.
But which comic book characters should we be aspiring to with Artificial Intelligence today?
This list covers 5 super intelligent comic book characters using ai that can be an inspiration for developers of super smart beings across all the universes.
Want to know more about artificial intelligence? Try this beginners guide on AI.
1. Iron Man

Who could forget Tony Stark and his Iron Man suits? Kicking this list off on a high with a favorite of mine.
Comic Book series: Marvel
When first appeared: According to Wikipedia, Tony first appeared in Marvel Comics in Tales of Suspense #39 (cover dated March 1963), and received his own title in Iron Man #1 (May 1968).
How the character uses AI: Tony Stark's character uses artificial intelligence in the Iron Man suit. The suit has all sorts of unique skills and is able to calculate a multitude of solutions in moments depending upon the requirements.
2. Amedeus Cho

A hyper-intelligent guy who will go on to take over from Bruise Banner as the Incredible Hulk.
Comic Book series: Marvel
When first appeared: Amadeus Cho was first seen in Amazing Fantasy (volume 2) #15.
How the character inspires AI: Amadeus is a character with a super-genius mind. This intelligence manifests itself in his ability for pattern recognition. Being able to recognize and detect patterns within data is a critical factor in the success of a machine learning algorithm.
3. Ultron

Not all hyper-intelligent beings are good, some of the bad guys have powers too – meet Ultron.
Comic Book series: Marvel
When first appeared: Disguised as the Crimson Cowl, Ultron first appears in Avengers #54 (1968). Then in issue Avengers #55 (August 1968), the character is identified as Ultron-5.
How used AI: Similar to Amedeus Cho, Ultron has a genius intellect. Interestingly he is known for having creative intelligence and being able to repair himself. Self-repairing materials are a fascinating area of research with multiple applications across medicine and the other regions.
4. Brainiac 1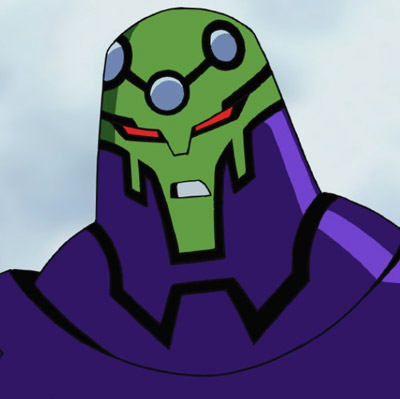 Ok, ok, in case you hadn't guessed I'm a bit of a Marvel girl, but that doesn't mean DC doesn't have any inspiration for Artificial Intelligence enthusiasts. Today I want to introduce you to Brainiac 1
Comic Book series: DC
When first appeared: Brainiac first appeared in Action Comics #242 (July 1958).
How used AI: Brainiac 1 is another an android robot. He has many mysterious powers that can be used to inspire artificial intelligence. Brainiac has incredible skills for calculations at speed with an advanced understanding of mechanical engineering, bio-engineering, and physics. All the fun things!
Ready to get started with Machine Learning Algorithms? Try the FREE Bootcamp
5. Vision
Another of our frequent fliers in the Avengers series has made the list, the artificial intelligent android, Vision.
Comic Book series: Marvel
When first appeared: Vision, as I describe him in this article, was the second Vision in Marvel comics and first appeared in The Avengers #57 (Oct. 1968).
How the character uses AI: Vision is an android. He is an artificial being and processes many of the talents coveted by developers of robotics. Vision has super-human senses, strength, and analytical capabilities. The AI possessed by vision uses general artificial intelligence and is able to use this intelligence for multiple tasks. This type of general artificial intelligence is much rarer and harder to develop than the typical machine learning algorithms you see.
So that's it. Those are 5 comic book characters using AI that can inspire developers of Artificial Intelligence.
Some of my takeaways from this are:
How can I make my algorithms better at pattern recognition?
What ways can these characters inspire the development of general intelligence?
It's not just intellect, how can we use AI for other applications like self-repairing materials?
What were your takeaways?
More importantly, who's your favourite comic book characters using AI? Let me know in the comments!
Ready to make your own AI? Get started here!
Love it? Pin it!